I bet you are thinking the must-have book for dog lovers is about dog training or pawsh designers and their pups. Actually, it's the picture book, I Am Not A Dog Toy written by Ethan Berlin and illustrated by Jared Chapman.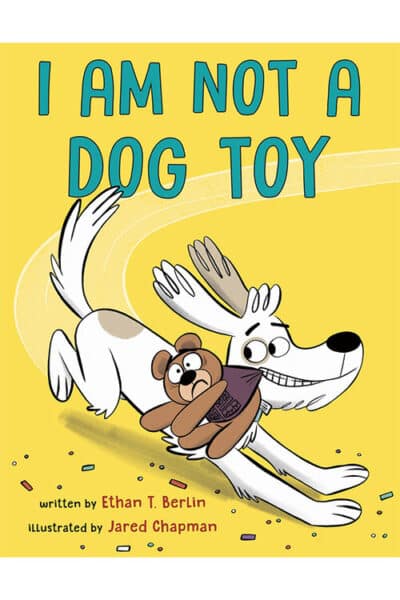 I am Not a Dog Toy is the story of Bear, the brand-new toy for a little girl who…is just not feeling it. Bear is desperate for her attention, but after multiple rejections, Bear catches the eye of a playful pup who takes him on the ultimutt play date. Although he had a super fun day, Bear cannot handle the identity crisis of being a dog toy. He doubles down to attract the attention of the little girl. Will Bear ever realize that Dog is the better friend?
I totally get Bear's dilemma. When I look at our dogs' bucket of toys, it looks like a mess of chewed bits and gnarly parts. But if you look closer, you can see there is love in every layer of slobber on those dog toys, and in the end, that might be all that matters.
This is an adorable book that is both hilarious and poignant—an excellent book for any kid or adult who loves dogs.
I expect no less from dear friend Ethan Berlin, who has been cracking me up since our high school theatre days, where he once flooded the entire art wing by hitting a basketball into a sprinkler with a baseball during a rehearsal break. He has come a long way since his days in theatre sports. He has become an Emmy Award-nominated television comedy writer, a producer, and a Junior Library Guild selected picture book author.
Ethan and his family have a charming standard poodle name Gracie Bell who is notorious for stealing his kids' toys and claiming them as her own. When I asked Ethan for any pet-friendly home improvement tips, he said his sons have been known to create a fortress of cushions to prevent Gracie Bell from stealing their toys. Unfortunately, the fortress was consistently breached but this, combined with watching his son learn the ins and outs of finding friends, lead to the hilarious story of I Am Not a Dog Toy.
If you are looking for that go-to gift for kids' birthdays, holiday presents, or just to inspire kids to read, I Am Not a Dog Toy is the on-brand gift for any dog lover. In my opinion, we need more books with dog heroes and this book fits the bill.
How to Find The Must-Have Book for Dog Lovers?
Ask for it at your local bookstore, or click on this link and order multiple copies for your favorite kids and adults.
This post may contain affiliate links and I may earn a small commission when you click on the links at no additional cost to you. As an Amazon Affiliate, I earn from qualifying purchases. You can read my full disclaimer here
Need more pet-toy content? Check out our other posts.