How to Successfully #FosterFail
It's August and the second anniversary of adopting our German Shepard…August. We were not super creative with the name choice, but there were other more significant decisions being made at the time. We were in the middle of our first #FosterFail. It ended up being a total success, but at the time, it was a painful decision between our love for this adorable being and the practicalities of our life. Here is our story of how to successfully #fosterfail.
The Phone Call

My husband was working on a project on the Tennessee River that summer. One day when they brought the boat into the dock, there was a sweet German Shepard in pretty bad shape hanging out near the pier. He had a collar, but it was rusted, and he had clearly been on his own for a while. They decided to bring him back home to get him some medical attention. They used a lifejacket to hoist him into the back of the car. One of the other archeologists sat in the back with the large pup on her lap. He was covered in fleas and ticks, but she comforted him all the way back into town.
On the way home, I got a phone call from my husband asking if it was okay if he brought a dog in for the night so he could bring him to the vet the next day. The answer was obviously yes. Although it was phrased like a question, it was truthfully more of an announcement.
The First Night

When we got him home, we put him on the back covered porch to keep him separated from the other dogs. Our cat Lottie Mae who weighs about five pounds soaking wet met us in the backyard. She slowly walked underneath and around this enormous being. I was pretty sure it was her end of days, but the German Shepard just sniffed her butt and wagged his tail a bit. That was it. We survived that tense moment. What would be next?
He was a big black German Shepard, his tail had a playful wag, but he looked a little scary. We gave him food, water, and a soft place to sleep. He did a little bit of eating and a lot of sleeping. The next day he got a bath and a trip to the vet. He had all the things, ticks, worms, and a solid case of Giardia. Once we got the all-clear from the vet, we brought him into the back bedroom. We put a baby gate on the door, so we could keep the door open and keep the dogs separated.
I couldn't sleep because I was both worried and scared of this new creature. I brought my pillow into the guest bedroom to keep an eye on him. He slept by the side of the bed. He was clearly used to humans. I did my best to look for his family. He was not chipped, and there were no missing dog posts from the small town where we found him.
Giving Him a Name

After a few days, we decided we needed to give him a temporary name. We cycled through the common names. He was Max for 48 hours. Then inspired by the kitchen calendar, we named him August – Augi for short. We planned to nurse him back to health and find him a new home. We had two dogs who had just started to get along. It had been an enormous amount of work, and I wasn't ready to again live in a total state of anxiety with pets who could erupt at any moment. Scout, our grumpy hound dog, slept in front of August's bedroom most of the day. I wasn't sure if she was protecting us or worried about him. Knowing now how it all played out, I know she was sizing up her new playmate.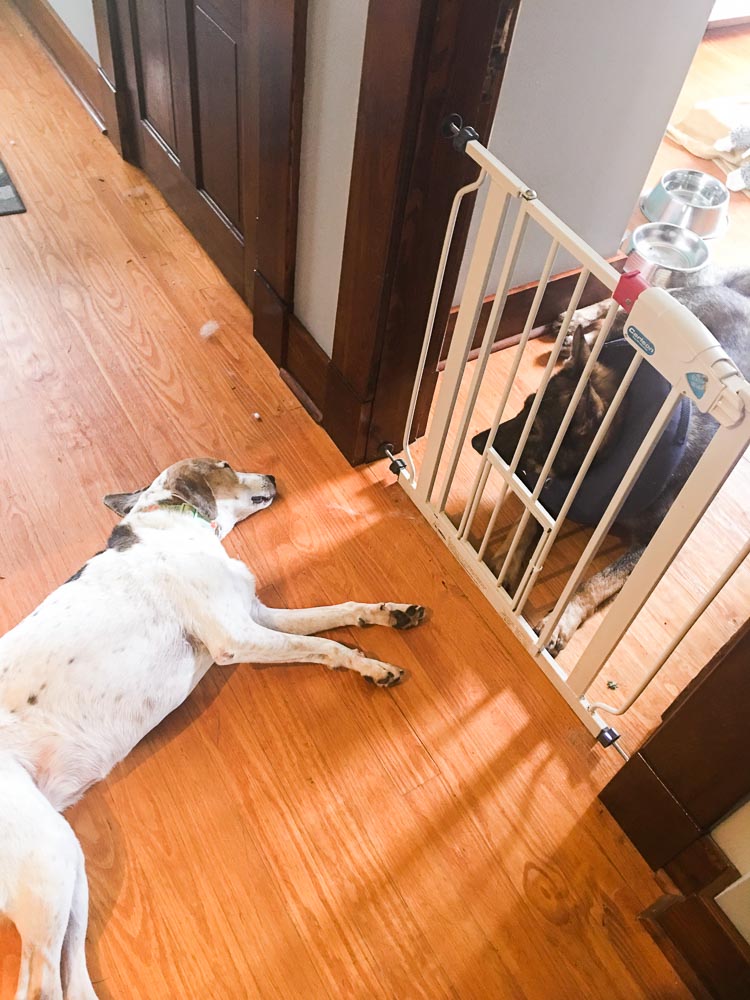 A Puppy Comes to Life.

As he started to feel better, his personality started to show up. The vet thought he was no more than two years old. He began to get some pep in his step and was super playful. He loved to snuggle but was also mouthy and a little rough. At one point, he jumped up on me to get a toy out of my hand and left bruises on my quads. He was kind and loving but a huge untrained puppy.
A Month of Destruction

In the first month, Augi clawed through a few sets of sheets, destroyed a pillow, rug, and any sock, shoes, or remote control he could find. He was still limited to one room and the backyard. The destruction started to pile up, and keeping the dogs separated became more difficult. It was time to find this guy his new family.
My Most Successful Instagram Campaign

With just one picture and couple hashtags, August became instafamous. We had two families that wanted to adopt him within a couple of days. I attempted to discuss it with my husband, but he kept dodging the conversation to the point where the two families were considering finding other options.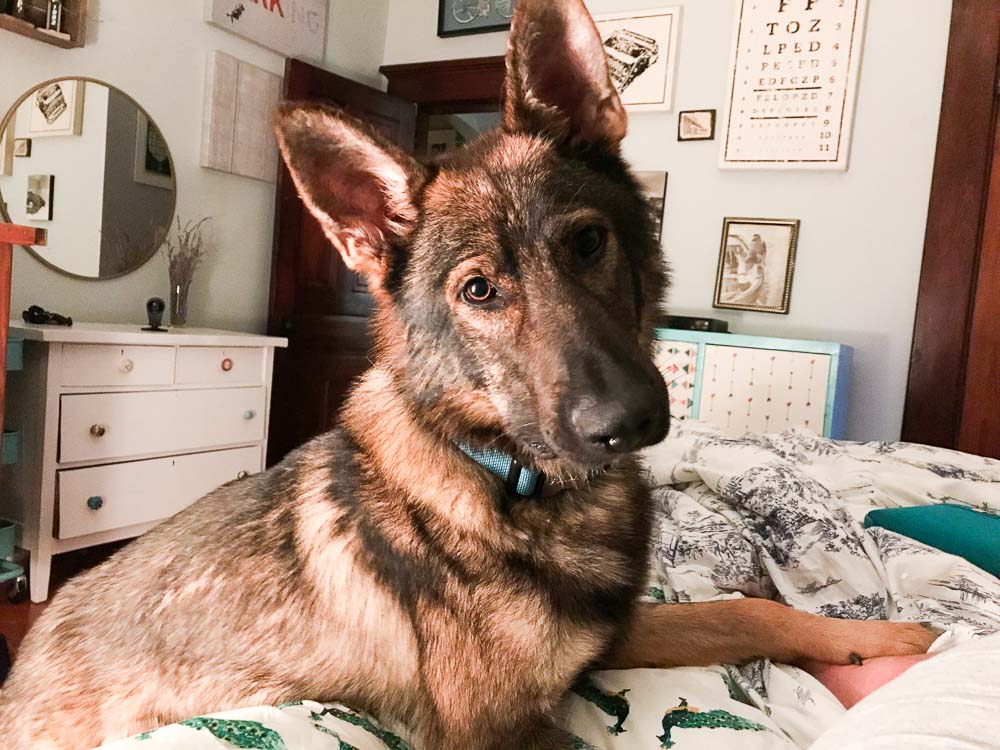 #FosterFails
When we finally sat down to discuss it, my husband confessed that after we named him, he kind of assumed we were going to keep him. All I could think about was the enormous amount of risk. We were actively managing the behavior problems of the two dogs we already had and adding a German Shepard to the mix seemed insane and irresponsible. We also lived in a 1,600 square foot bungalow! In the month that we expanded August's boundaries within the house, he destroyed hundreds of dollars of personal items. I wasn't sure this was a good plan for our dogs or for August. It wasn't about stuff. It was about safety. He never peed in the house, so he had that going for him.
We went to the vet for his check-up. She noted how long he had been with us and, with a big smile, said, "this is what we call a foster fail." Had we figured out how to successfully #Fosterfail? We had. The truth was August had totally captured our hearts.
The Test

We decided that we would do a trial run with the other dogs. I left the house and let my husband manage the situation. The dogs quickly perceive my anxiety and it makes it more complicated. My husband introduced one dog at a time. I soon received a text video of Scout chasing August around the backyard. Tails were wagging, and everyone was relaxed. The dogs had passed the test. We continued to supervise the situation, but this huge German Shepard was the most chill animal I had ever met. If Scout gave him the lip, he just redirected himself. We even saw improvement between the relationship of the other two dogs.
It was not all sugar and rainbows. We lost shoes, glasses, clothing, bedding, and many other items I have blocked from my memory.
Two Years Later
Today August follows me around the house. He is so tall you can pet him without bending over, so he just patiently stands next to you until you have a free hand. He loves to cuddle and always wants to play. Always. We now take him to doggie play camp three days a week, and he has neighborhood play dates with his BFF Murray on the weekends.

I can't imagine our life without August. He greets me by my bedside every morning when he hears me waking up. He is a lovable, sweet, and a part of our family. Sometimes he likes to sleep outside at night, and he is terrible on walks, so his history is still part of him. He has made significant improvements and no longer chews our shoes. However, if we forget and leave them out, he will sometimes hoard them with his other toys.
August was the most impractical decision we ever made, but I don't regret it for a minute. His #fosterfail was our greatest success. I totally support people who can train their dogs to sweet perfection. I know it is possible and I think it's fantastic. It's just not us. We have had to put out and manage some large fires, and that has made less time and mental energy to perfect the leave it command. I think we have given a few dogs a second chance, and I will take that over the perfect leave it command, any day.
If you have made an impractical choice for the love of a pet, take a moment to pat yourself on the back! We need more people and pets just like you. . Don't worry, Barking Bungalow will work on the practical pet-friendly solutions for your home so you can focus on loving your pets.
If you would like more information about fostering a pet check out this guide from petfinder.
If you want weekly updates on how to live in style with your imperect pets drop your email below.