Blush Pet Accessories – Valentine's Day gifts For Dogs and Cats
These blush pet accessories make a great Valentine's Gift for dogs and cats. Your pets will love them and they will look amazing in your home.
Blush is not your average pink. This subtle hue has been taking over the home and fashion world for years with no sign of slowing down. It's not your typical girly-girl pink. Some people call it Millennial pink or delicate pink, but no matter what you call it, the blush trend isn't going anywhere.
This desaturated pink screams sophistication. From modern dog crates to pawsh bandanas, These blush pet accessories will make your pet the most fashionable fur kid on the block and they make amazing valentine's day gifts!
This post contains affiliate links, and I may earn a small commission when you click on the links at no additional cost to you. As an Amazon Affiliate, I earn from qualifying purchases. You can read my full disclaimer here.
Fashionable Blush Pet Accessories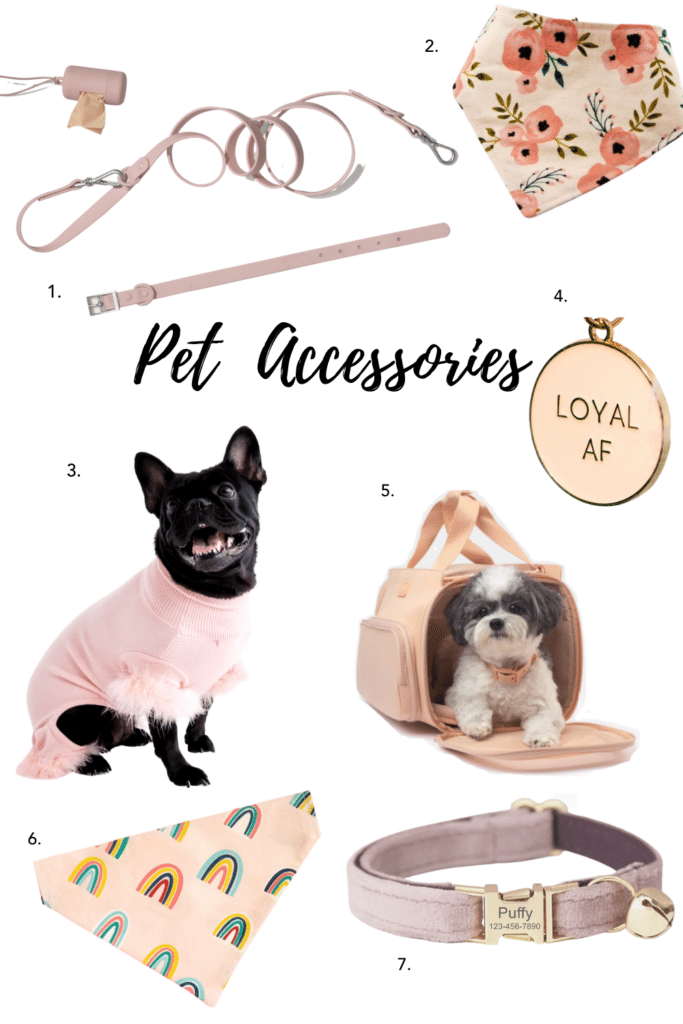 Wild One's Collar Walk Kit is both fashionable and functional. It have everything your need for a stylish walk.
Some dogs and cats are not made for "outfits," but these stylish bandanas are a great way to celebrate Valentine's Day in style without sacrificing style.
But if your dog is up for an outfit, this chic sweater from Maxbone brings a ton of swagger.
Let the world know you have the sweetest pup or cat with this loyal AF Dog Tag.
This is not your average pet carrier. It's crash rated for automobiles. Made by those smart kids at Digg's Pet, It's lightweight, has multiple openings, and is super comfy for your pet.
Let your cat be the cutest cat on the block with this blush cat collar from Amy Engraved Gifts.
No one wants a bunch of ugly pet stuff in their homes, and thanks to smart pet furniture and decor design options, you finally can have nice things. These Pet Accessories for the Home make great valentine's day gifts for your fur babies…and also for you!
Blush is a great color to use in our homes. It's can be used to layer neutrals or can create a stunning contrast when paired with deep royal blue. It's also a brilliant option for pets. It brings the lightness of a pale hue into the room, but it is much more forgiving when covering up paw prints.
Blush Pet Accessories for Your Home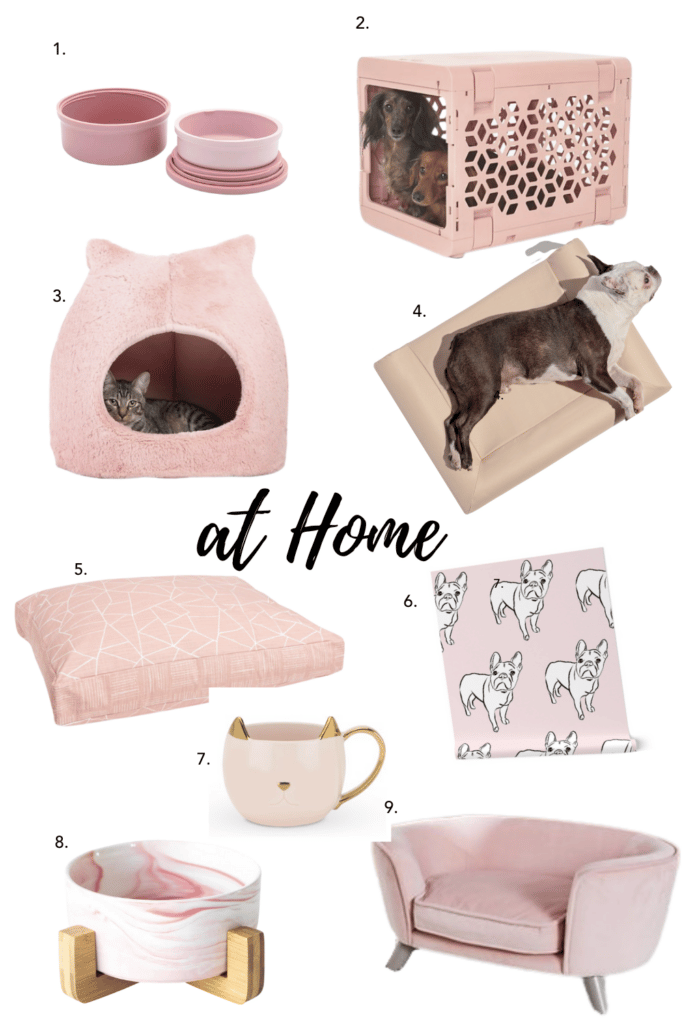 Thirsty on the go? These portable dog bowls will keep your pets hydrates when traveling.
This is not your ordinary dog crate by Kind Tail. Not only is super comfortable and looks great, but it's hyper-functional. It's collapsable for easy set-up and breakdown. A great option for travelers.
My three dogs and cat love their best friends by Sherri Dog beds. It's the number one pick in our home, and this adorable cat cave version is crazy cute.
This gorgeous pet bed by Wild One is washable and water resistant… and it's tres chic.
The Blush Dog Cover from Janery Pet Beds is another great option for stylish washable pet beds.
What's trendier than blush pink? Wallpaper and this adorable French Bulldog Wallpaper combine both trends in one.
Do not let your pet eat out of some old plastic pet bowls. Swap them out for these gorgeous marble pet bowls.
This sweet Pet Sofa makes a great lounging spot for small dogs and cats.
Blush Pet Toys – Valentine's Day Gifts for Dogs and Cats
How should you celebrate dogs' Valentine's day? Give the gift of play.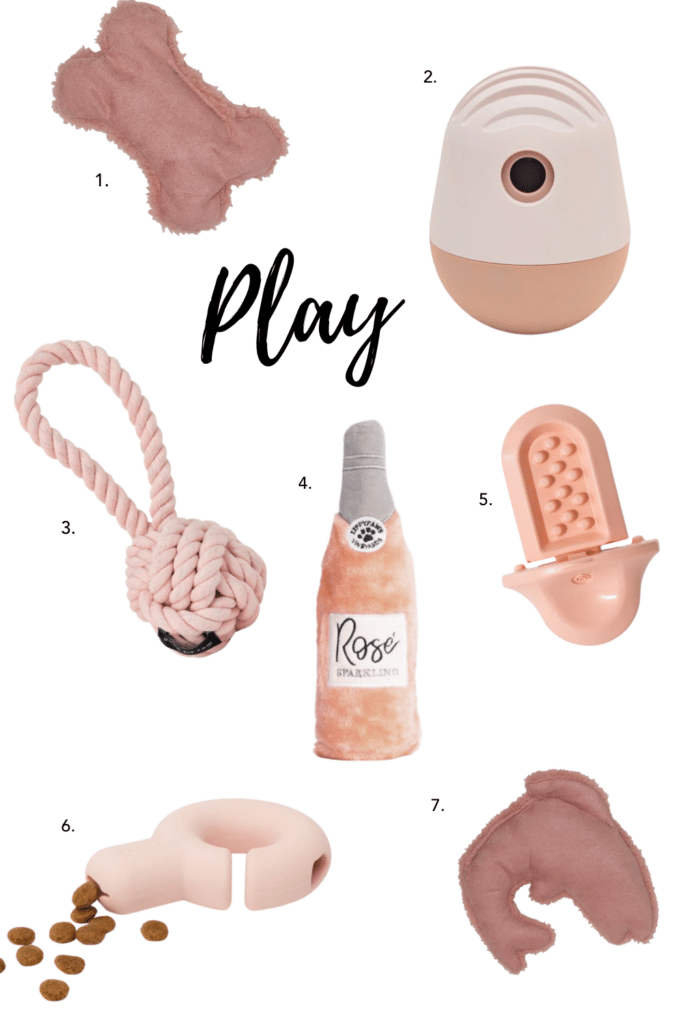 Not only do these blush pet toys make great Valentine's gift for dogs but they are some of our all-time favorite Pet Toys all year long. They make super fun gifts for dogs and a great way to celebrate a dogs valentine's day
West Paw creates durable and fun interactive Toys like the Big Sky Blush Bone and Trout.
The Game by Fable can be used as an interactive toy or slow feeder.
Maxbone is committed to creating stylish toys that dogs love and look good in your home, like their large rope toy.
The Rosé Crusherz Dog toy uses a recycled water bottle to make its playful crinkle sounds.
The Groov Training Aid by the brilliant team at Digg Pet clips to the side of your dog's crate to keep them calm and entertained when crate training.
The Falcon Toy by Fable is a multi-functional engagement toy with a sleek modern design.
At Barking Bungalow, we think of ourselves less as pet owners and more as pet parents. We want our fur kids to have all the nice things…like blush pet accessories. So, why not indulge them in a new toy for Valentine's Day.
For more stylish pet friends, check out our pet-friendly posts: