Modern Boho decor is a mix of eclectic textures and patterns with airy organic elements. It can weave in elements of rattan and macrame or be an explosion of pattern and layered texture. The joy of boho design is that it is an expression of your passions, whether that is travel, plants, or your pup!
Pet furniture no longer has to be basic. Share your passion for bohemian decor with your pup. Choose from one of these beautiful boho dog beds.
This post contains affiliate links, and I may earn a small commission when you click on the links at no additional cost to you. As an Amazon Affiliate, I earn from qualifying purchases. You can read my full disclaimer here.
Stylish Boho Dog Beds
Geometric Designs
1-3 The Boho Collection from Laylo Pets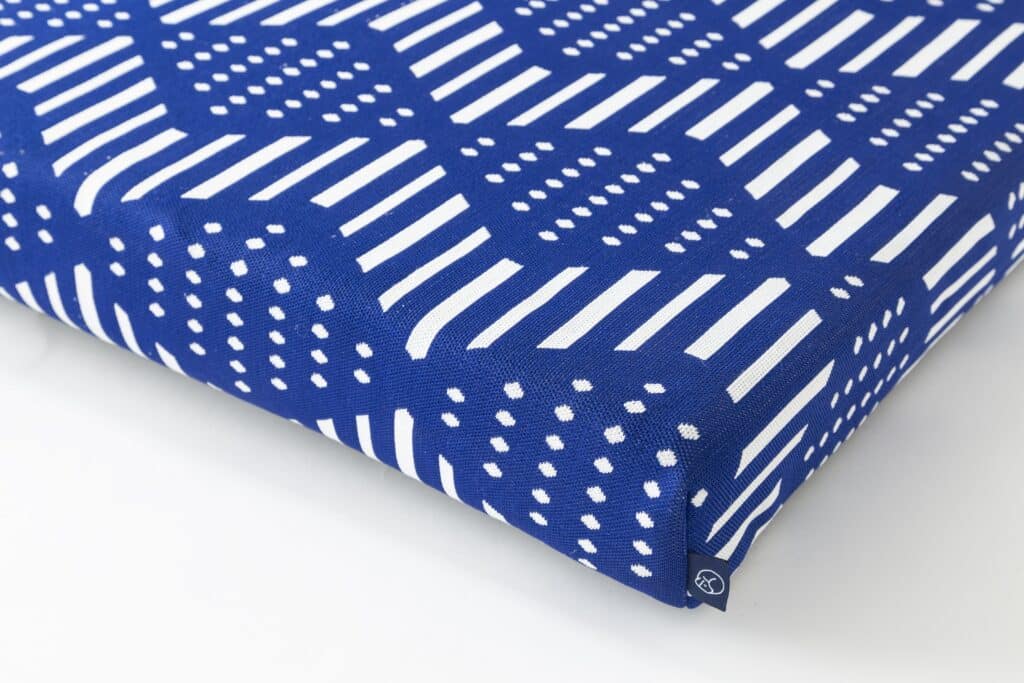 The Boho Collection from Laylo Pets features three stunning patterned Boho dog beds. They come in four sizes, including extra large, which makes them a great option for large dogs. You can purchase the whole bed or just the cover.
And for those of us who love to change things up on the reg and always need a backup, Laylo offers a discount when you purchase multiple covers for a single bed. This means you can have one gorgeous design in the wash while your dog is sleeping on another boho dog bed cover.
4 Modern Mud Cloth by SammysBedsandThreads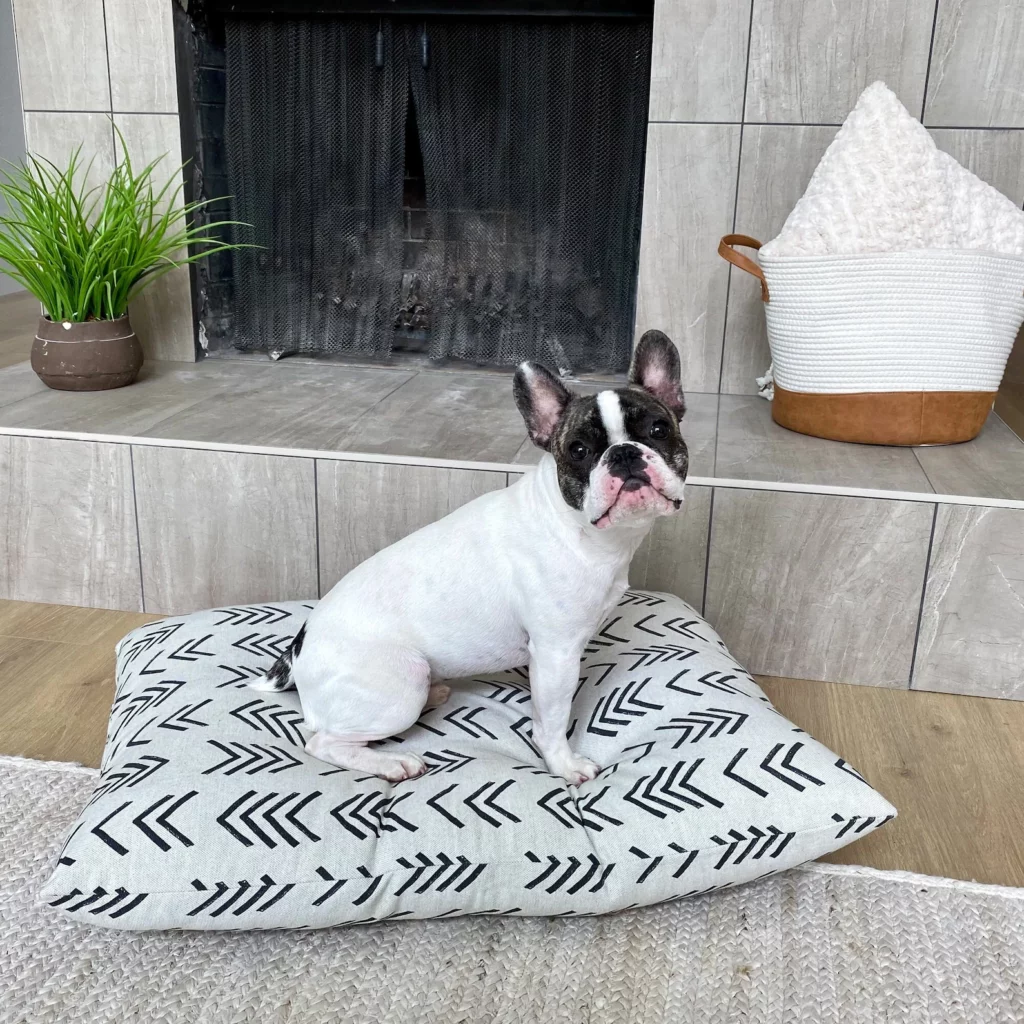 These Boho dog beds from Sammys Beds and Threads are made from luxury upholstery grade fabric, making them super durable. They are great for dogs that like to dig around when trying to nest in their bed.
I purchased the black mudcloth version last year to cover an ugly dog bed my husband purchased. Our German Shepard August loves it. We have to wash it regularly because he is such a messy pup, and it looks great after multiple washes. It comes in four sizes, including extra large so it's another great option for large dogs.
5 Herringbone Dog Bed Cover by WrenBirdLane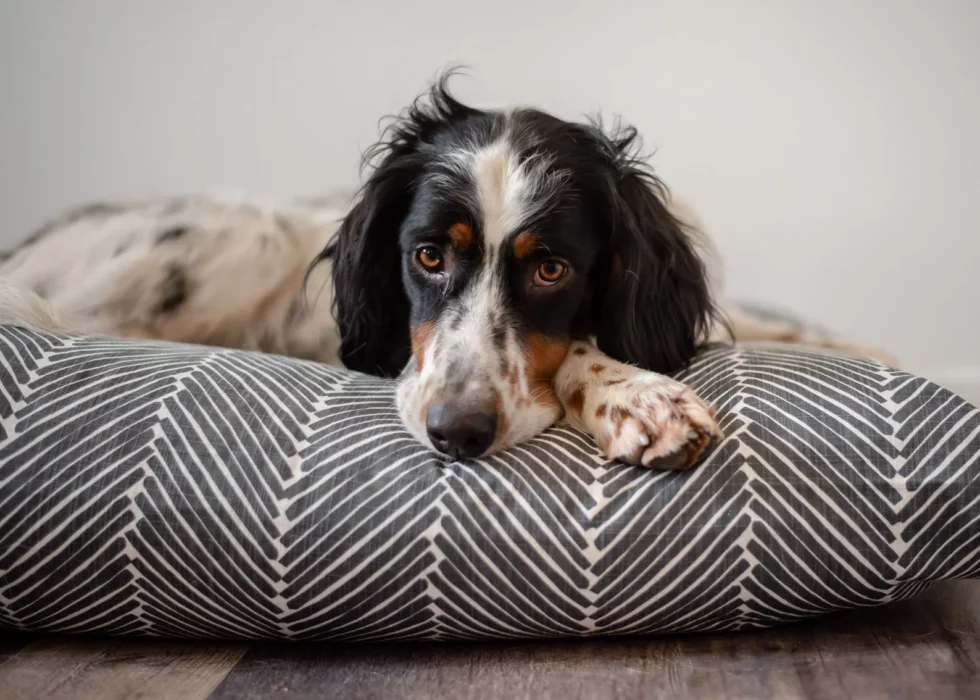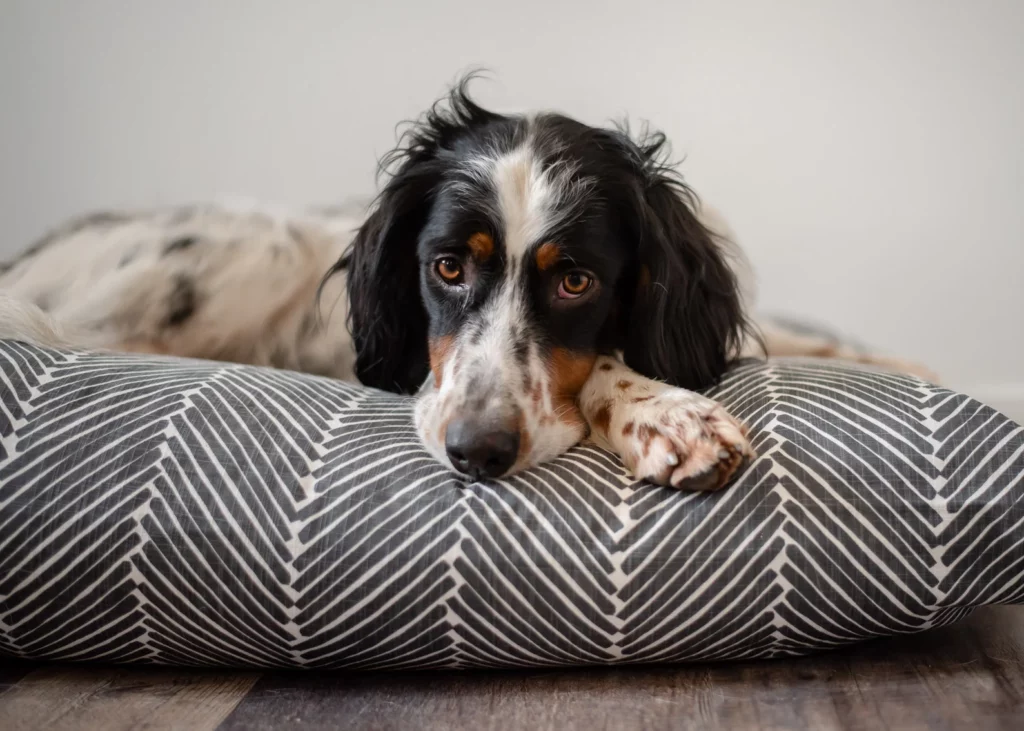 This organic herringbone patterned boho dog bed makes is a beautiful addition to any boho space. It comes in five sizes, including extra small and extra large. You can purchase just the cover or add on one of their premium inserts. It has an envelope enclosure which makes it a great option if your pup likes to chew on zippers and buttons.
Faux Fur
6 Best Friends By Sheri Donut Cuddler
We have four Best Friends By Sheri Dog Beds. Our dogs (and cat) love them! If your dog is a burrower or likes to rest their head on a bolster, this dog bed is for you. Our hound dog Scout, who has a light coat especially loves them in the cooler months because they are self-warming.
We have had them for years. We wash the covers and even the inserts regularly, and they are still in great shape.
The PupRug looks like a gorgeous luxe throw rug and adds a boho upgrade to any room. It's filled with orthopedic foam, making it a great option for senior or disabled pups who may need some extra cushion for their joints.
It comes in two designs, a gray shag rectangle and a more organic curve shape in white. There are plenty of size options, so even the most gigantic K-9s can have boho dog beds.
Rattan
8 Sunrise Rattan Dog Bed by PicnicImports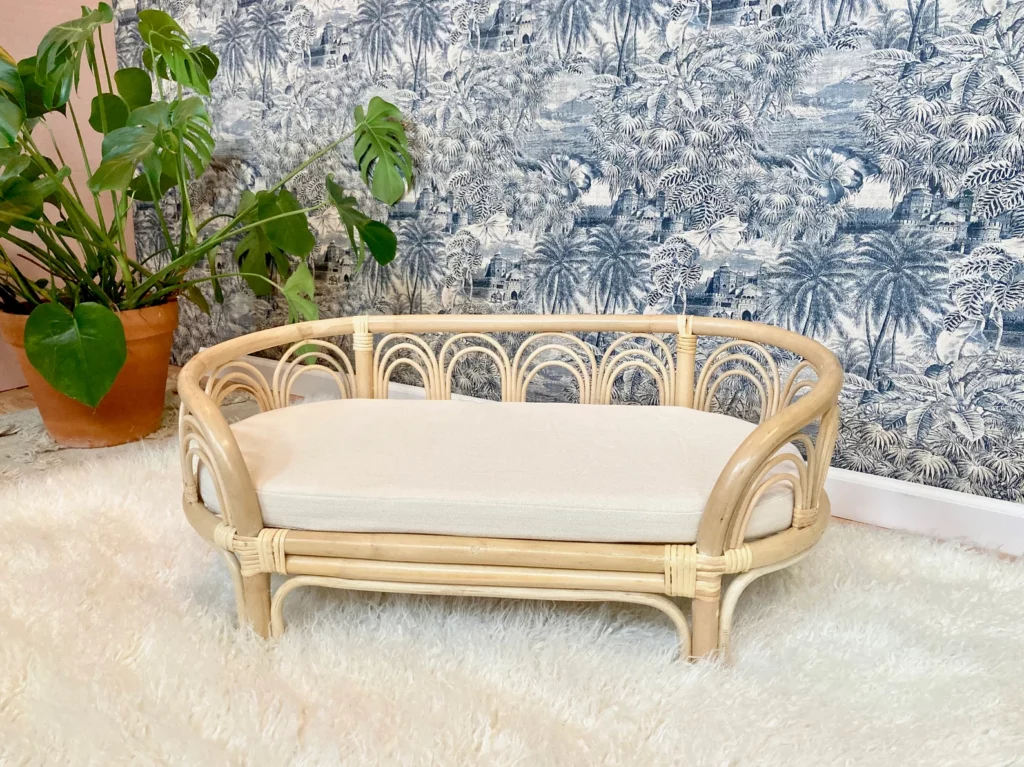 Picnic Import makes beautiful rattan furniture, including rattan daybeds and this matching boho dog bed version. Each bed comes with an off-white cushion with a washable cover. This is a stunning piece that will be a boho showstopper in any room.
9 Sausalito Rattan Dog Bed by PicnicImports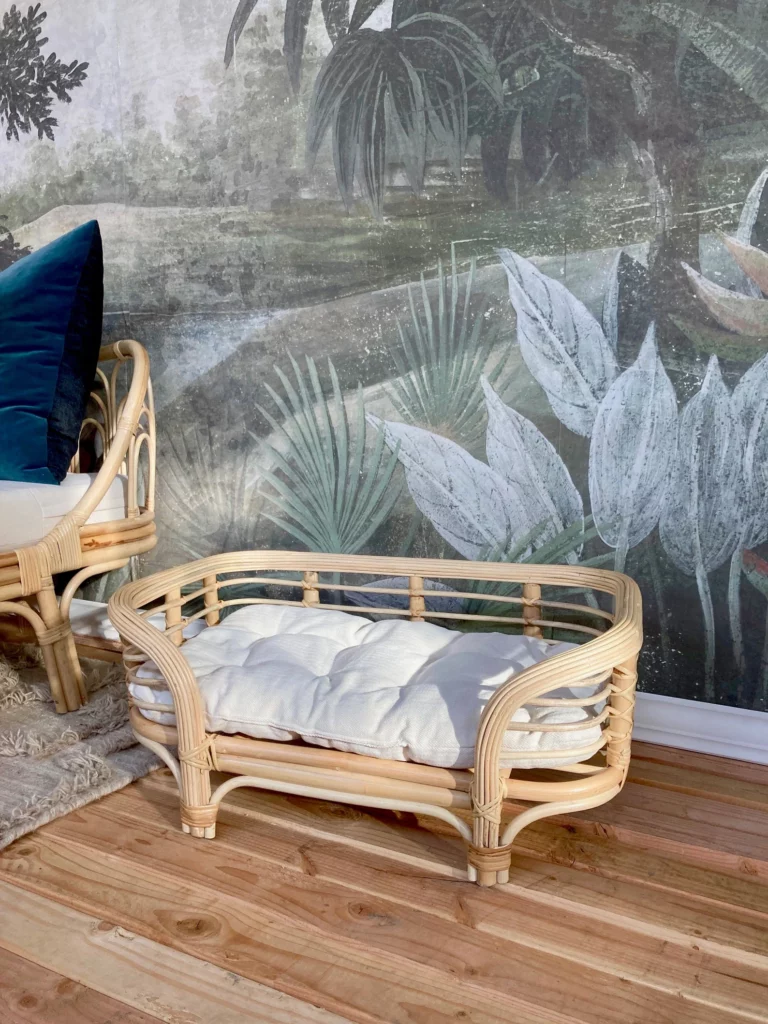 The Sausalito Rattan Bed is another boho dog bed from Picnic Imports. This version of the raised rattan dog beds is a little larger than the Sunrise. These handcrafted boho dog beds can run low on stock. Follow them on Instagram to track their supply.
Tassels and Tents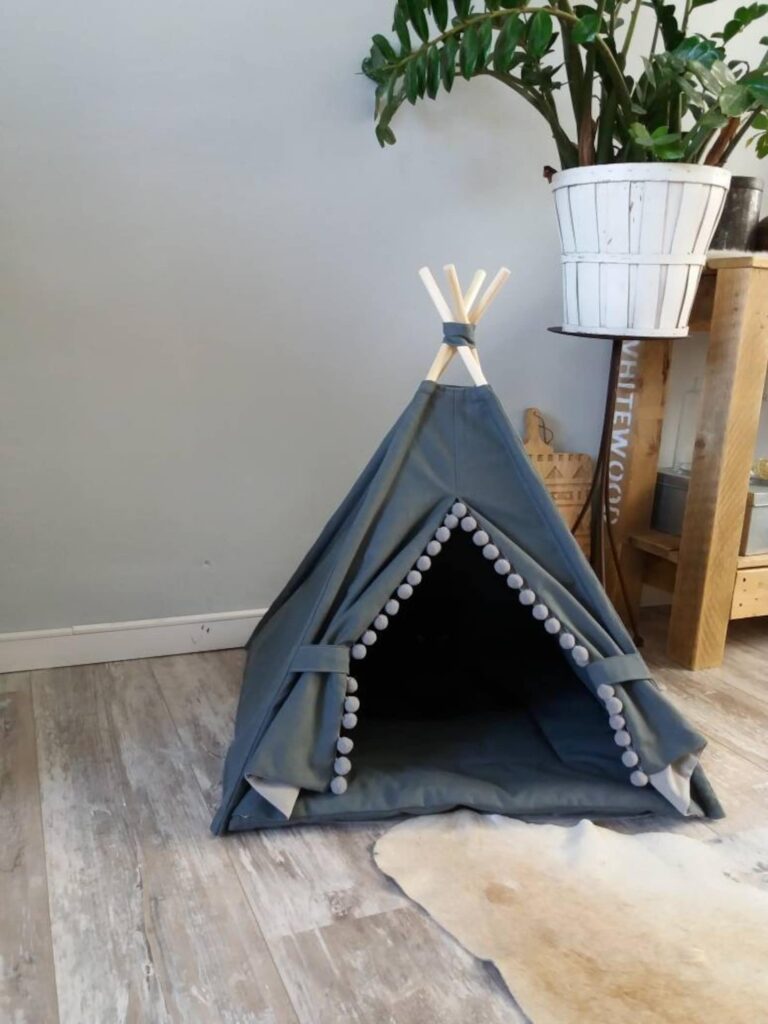 This boho chic pet tent is made of durable canvas materials and embellished with adorable pompoms. It comes in three sizes, and you can choose between white and gray faux fur or a canvas pillow.
This is the perfect choice for anxious pups or dogs who like their own private space.
11 Pom Pom Pet Tent by FurryMe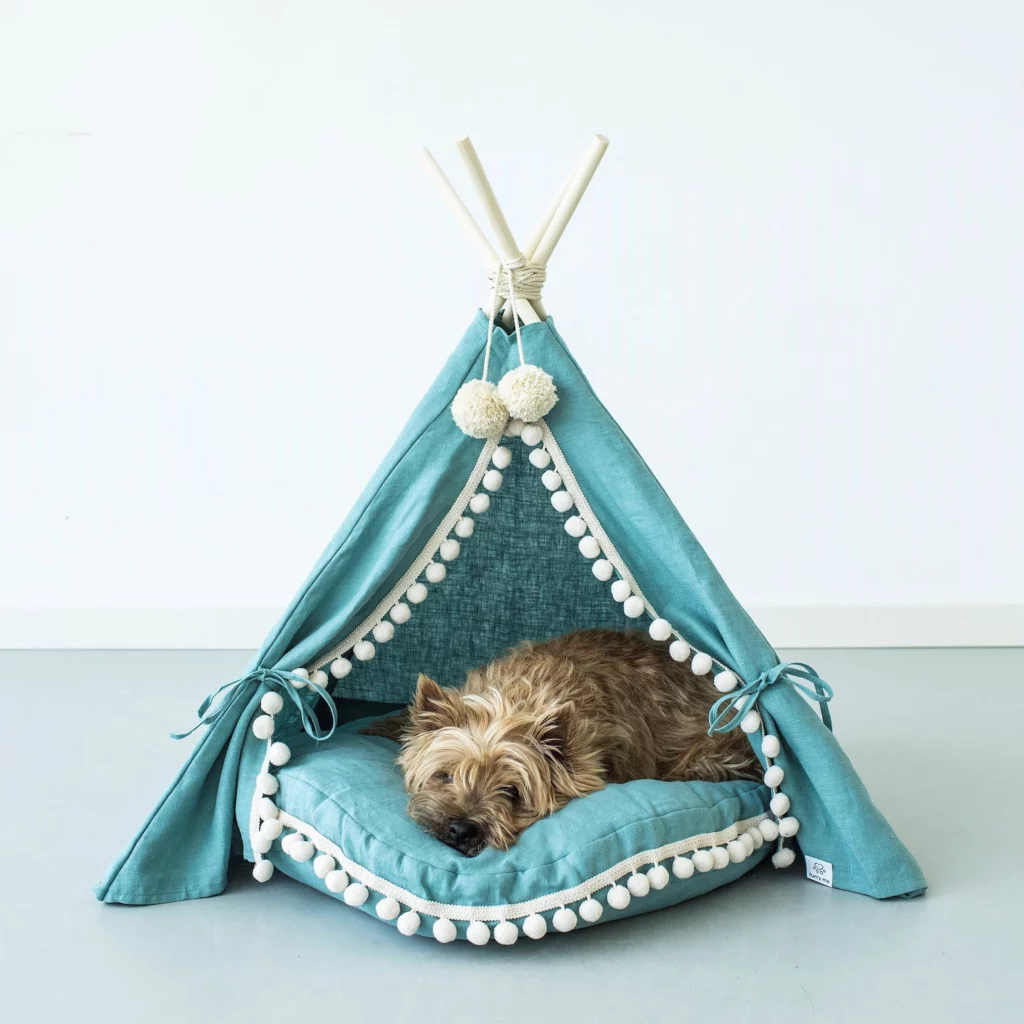 The blue pet tent by Furry Me takes it to the next level with pom poms. This sturdy Pet tent not only looks adorable, but it also stands up to the goings-on of your dog. It's made of linen, comes with a matching cushion, and comes in four sizes. It also has an LED twinkle light upgrade if your pup is not prone to chewing.
Terrazo
12-16 The Terrazo Collection from Laylo
Is Terrazo Mid-Mod or Boho? This eclectic pattern goes both ways, and the Laylo Terrazo line offers four versions of this stylish look in the boho dog beds. Laylo beds come with a travel-friendly handle, are accident and dig-resistant, and the cover is washable.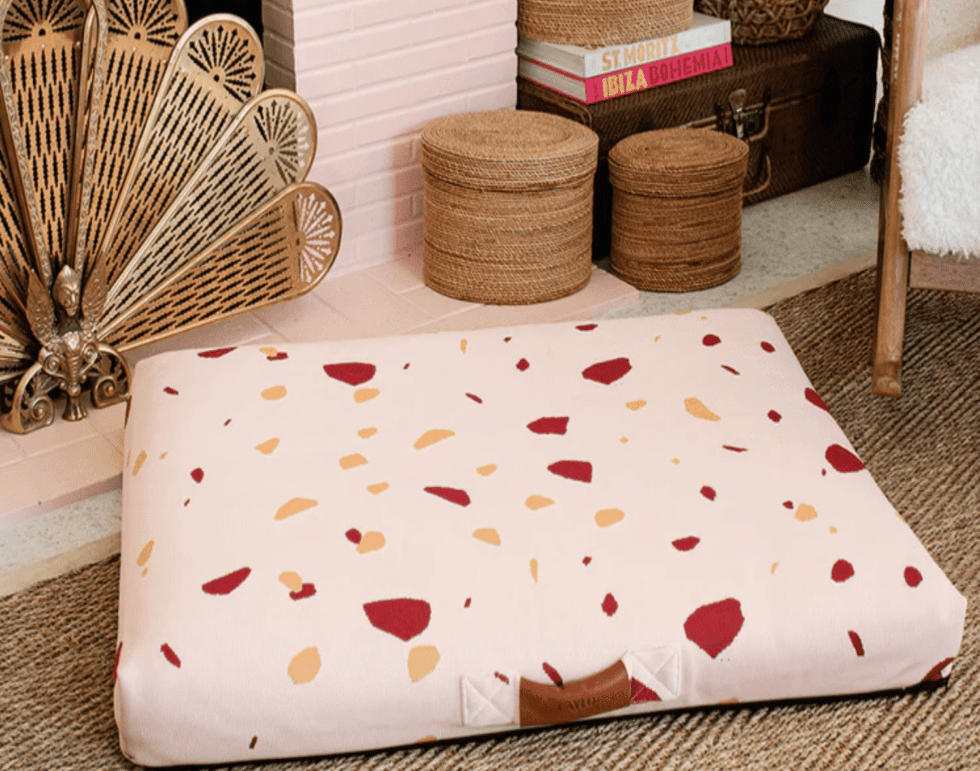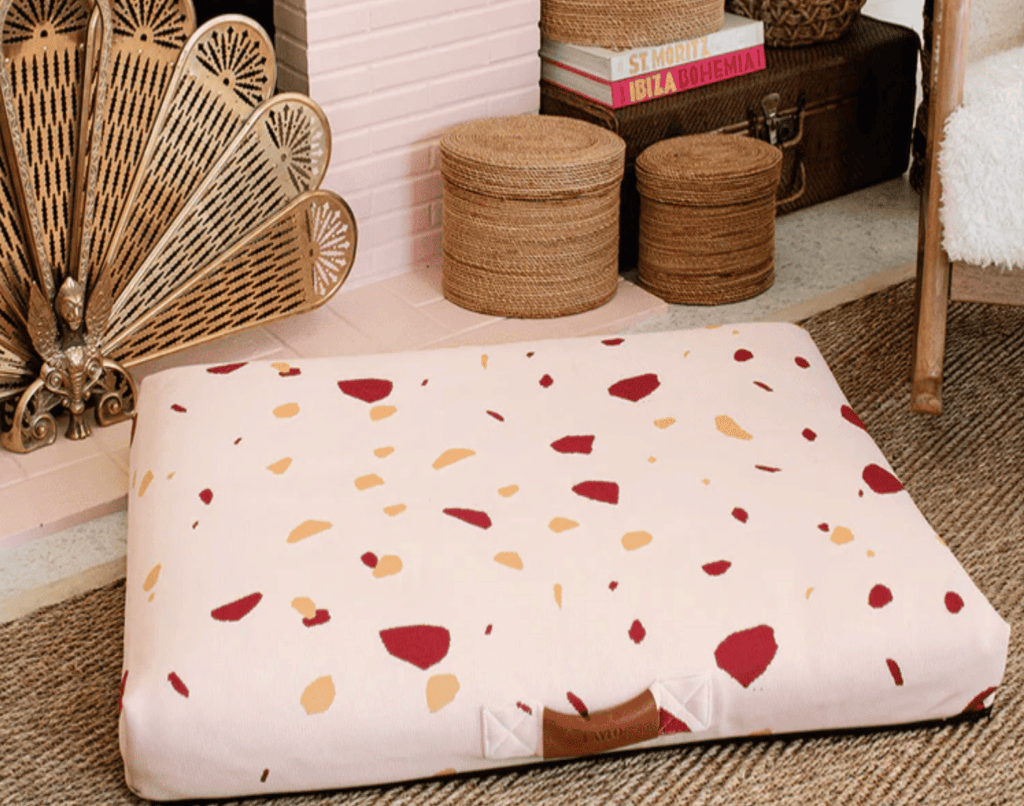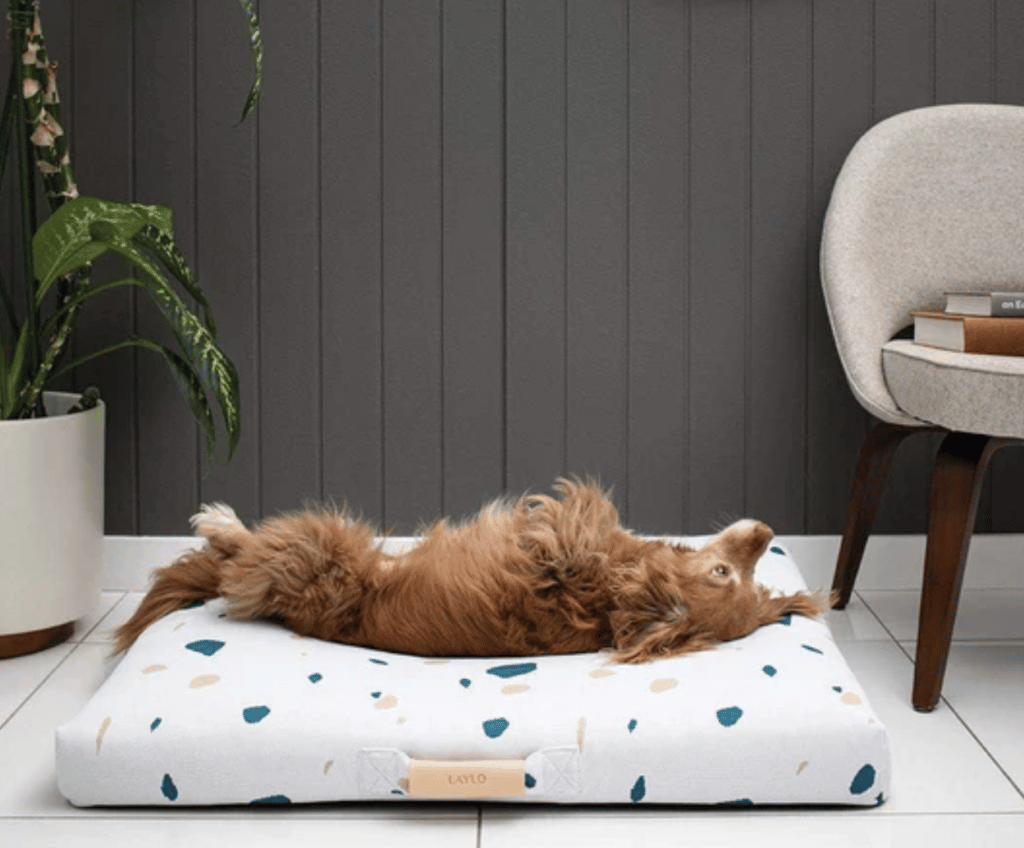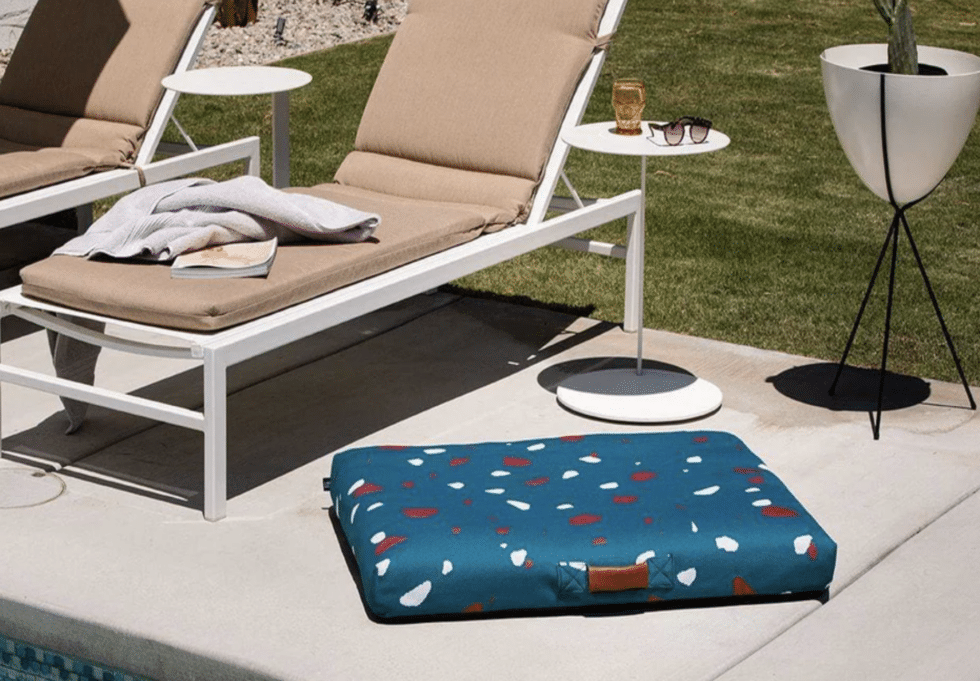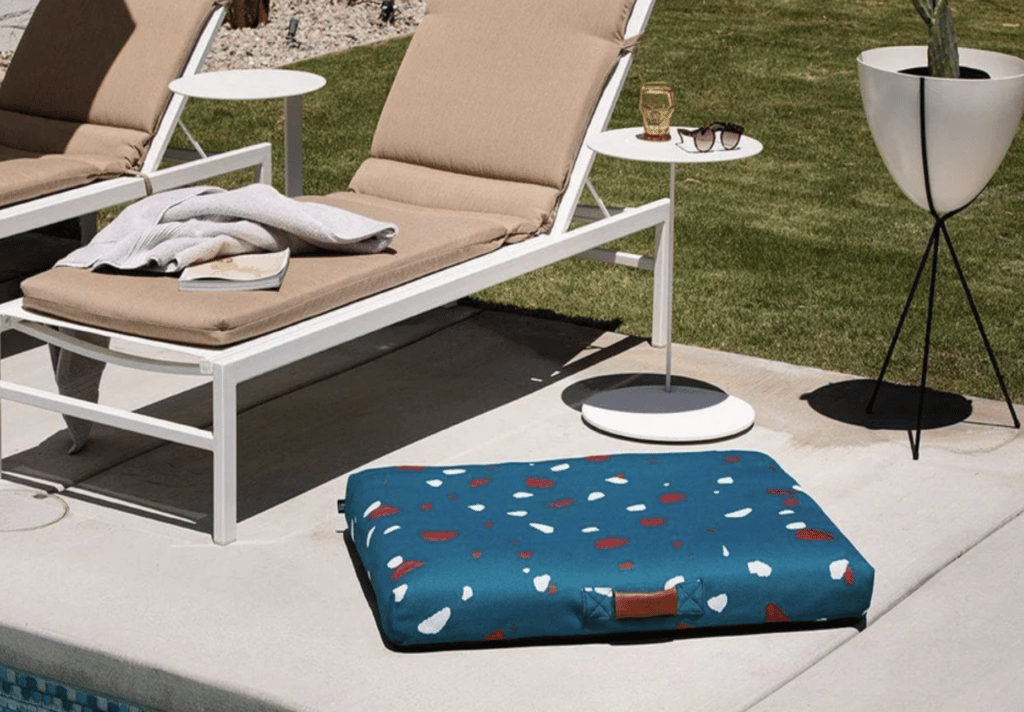 Can't choose a color? Buy more multiple colors for one bed and score a 25% discount.
Basket
17 Handmade Dog Lounger by DesignDua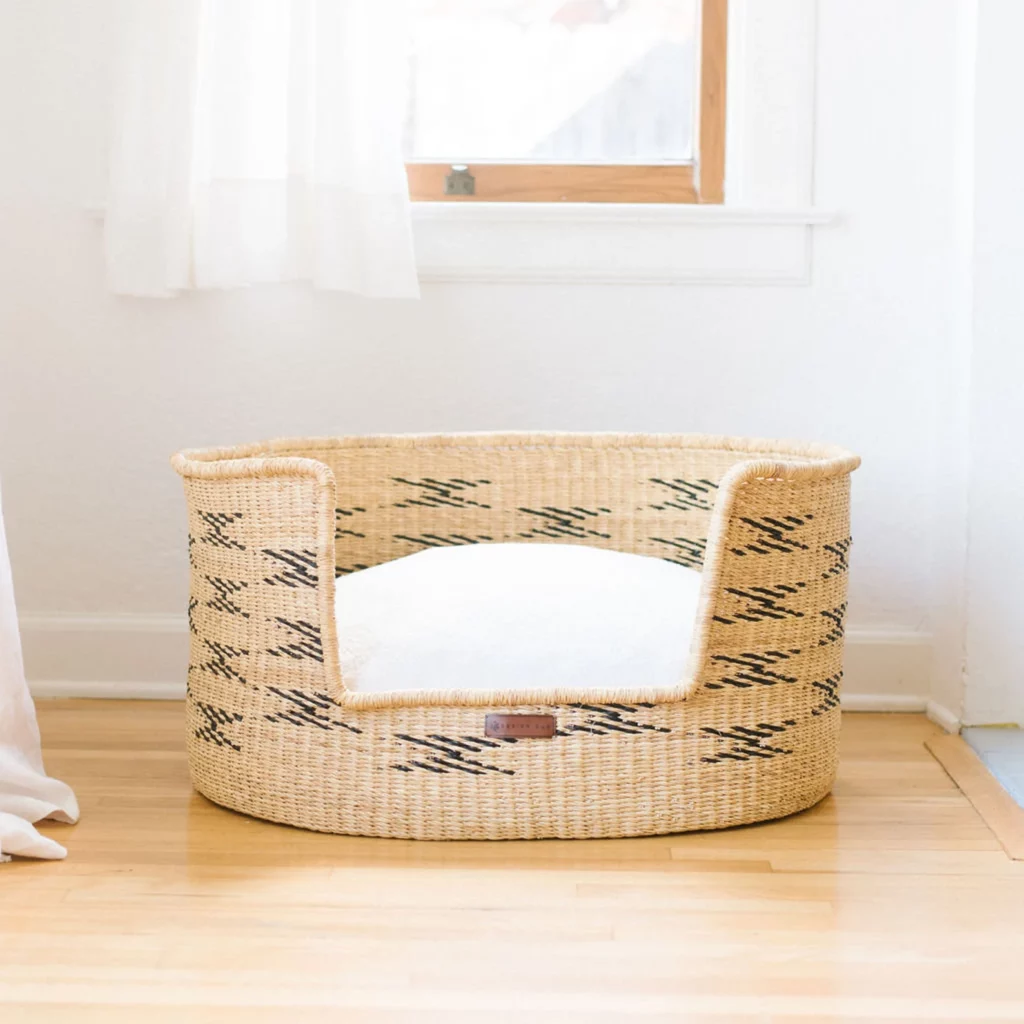 This handcrafted basket made from Natural Elephant Grass won HGTV's Best New Product award. It comes in multiple sizes, and you can order with or without the cushion.
18 Basket Bed with Black and White Pattern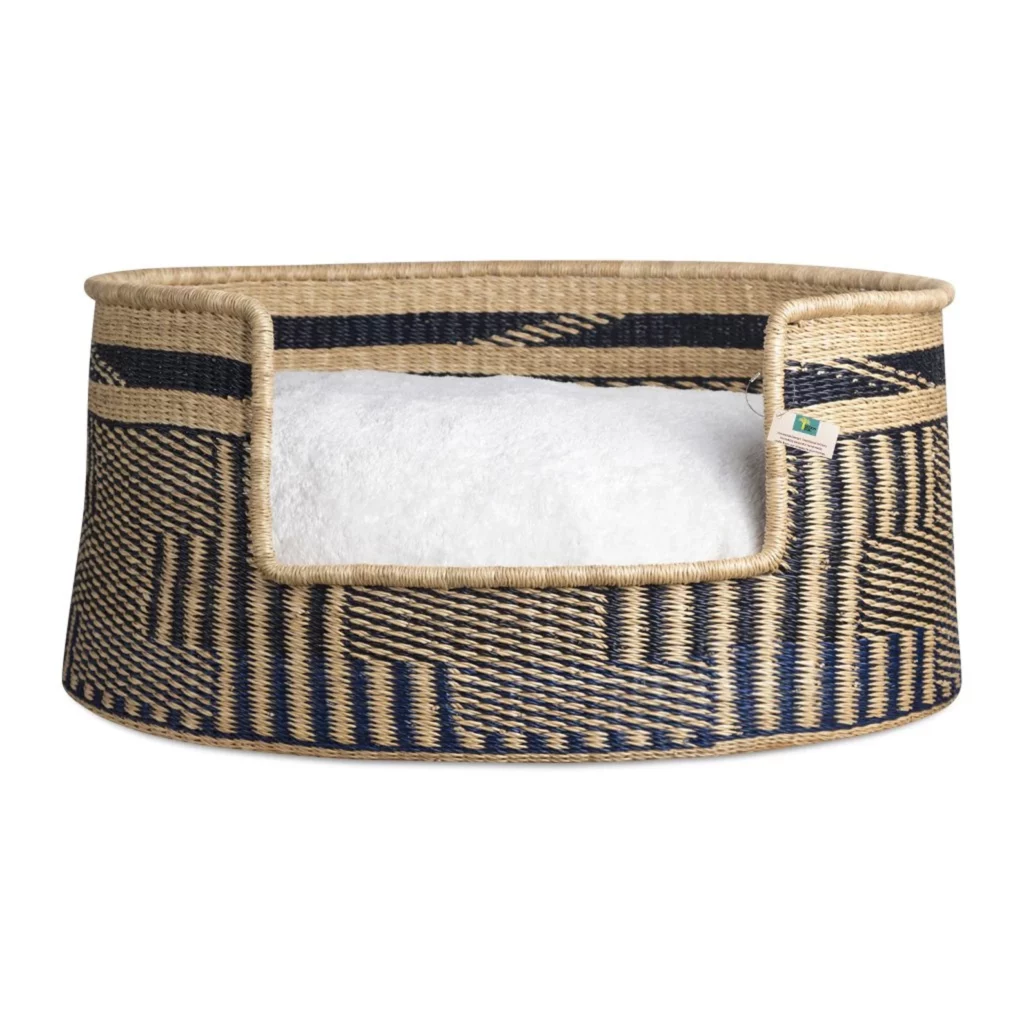 This version of the DesignDua boho dog bed also comes in multiple sizes and in both a blue and black pattern.
Pet Pals has been making pet products for over ten years. While this rope-style dog bed brings a soft and organic touch to your space, the bed is sturdy enough to stand up to your pets. This boho dog bed is great for small dogs and comes in two styles, a gray oval option, and a natural round version.
Ikat and Dyed Patterns
20 Luxury Dog Bed by Jessica Simpson
Who knew Jessica Simpson was into dog beds? This cozy bed with a side bolster has lovely Ikat-inspired patterns. It provides extra cushioning for senior and disabled dogs and is machine washable.
21 Boho Pet Sofa by CozzyPetStudio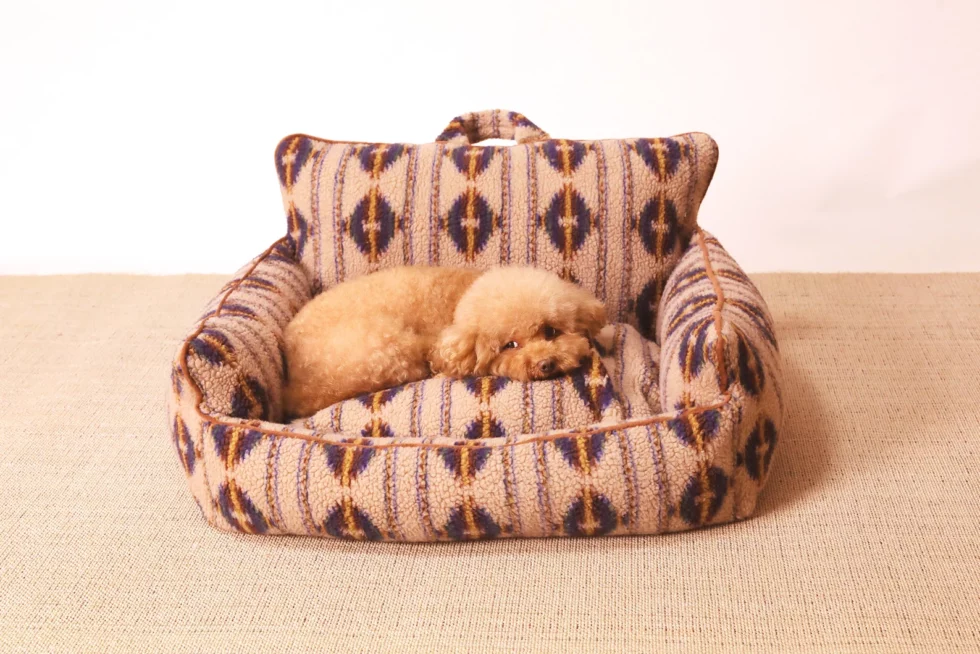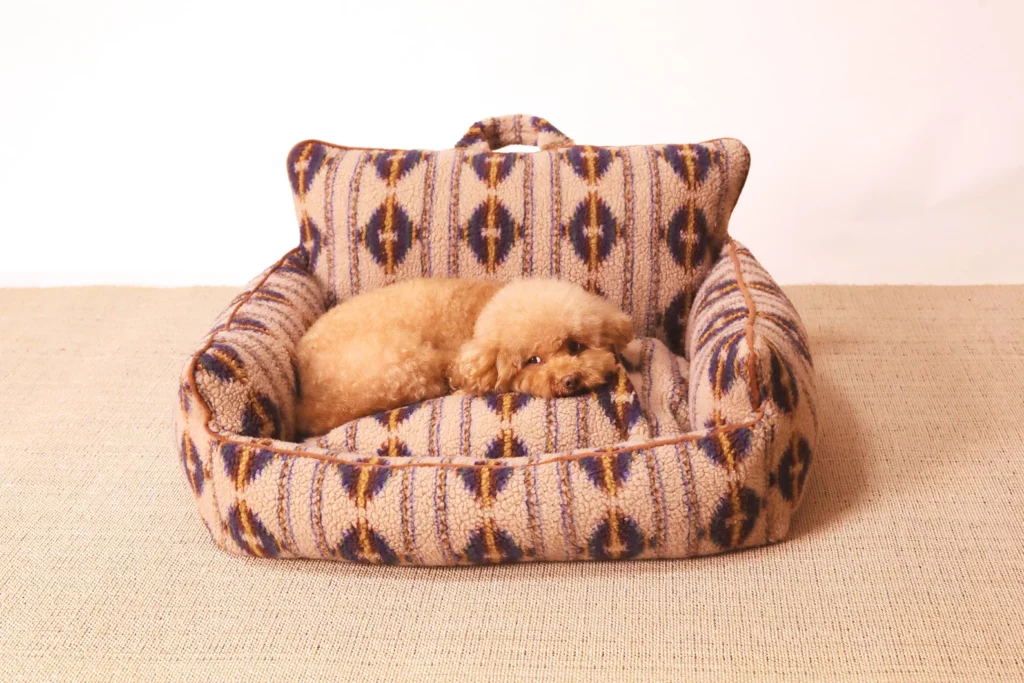 This boho dog bed with raised sides provides plenty of cushion for a cuddly pup. Choose from a variety of boho patterns in a washable faux sherpa fabric.
Muted Colors and Jewel Tones
22 Blush Velvet Dog Bed by ShareofAngel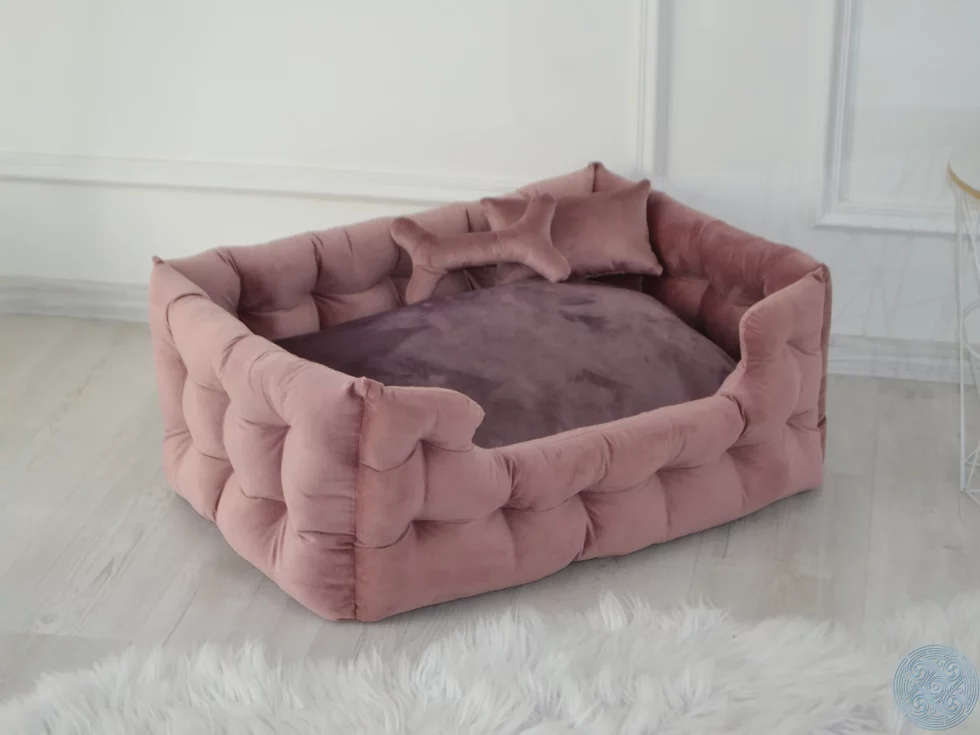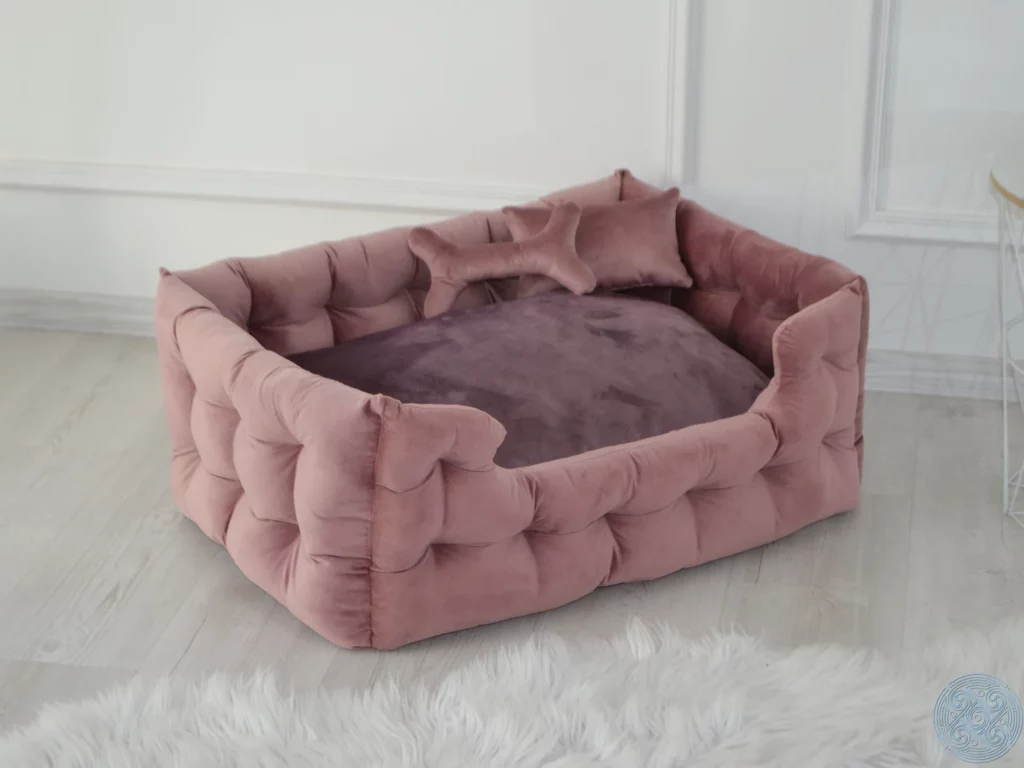 This handcrafted velvet tufted bed is made in Ukraine by Iryna Litvinchuk. She stopped production at the beginning of the war but is now back up and running. This boho stunner is made from washable anti-claw velour.
It comes in six sizes and every color you can imagine.
23 Blush Big Sky Nap Crate Pad by West Paw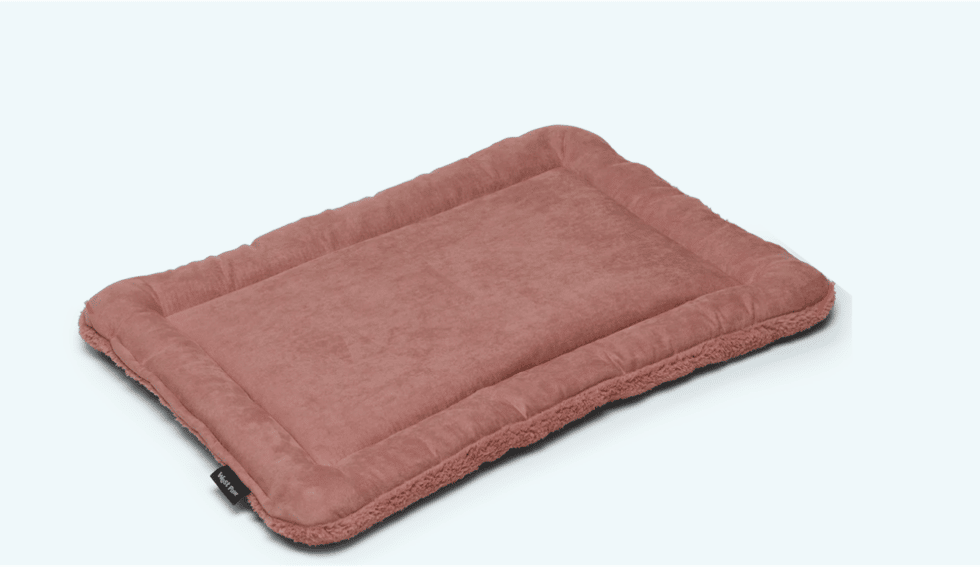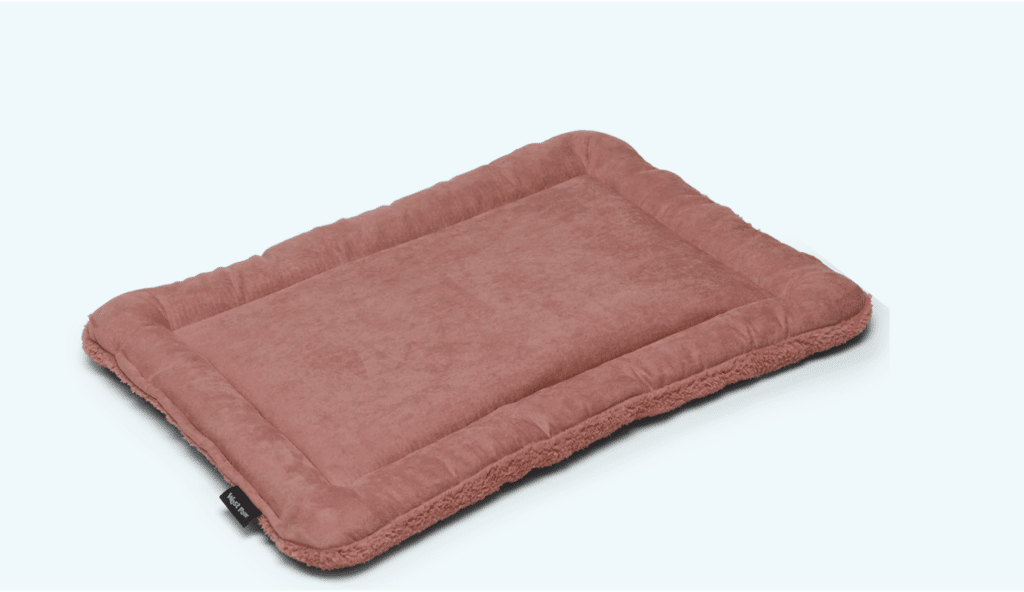 This super soft suede dog mat in Blush is a great option if you are looking for a boho pet bed that fits into a crate. It comes in five sizes and colors and is made from 100% recycled materials. Our pups are big fans of West Paw Products. They make great dog toys too!
24 Couch Style Bed by Joyinpet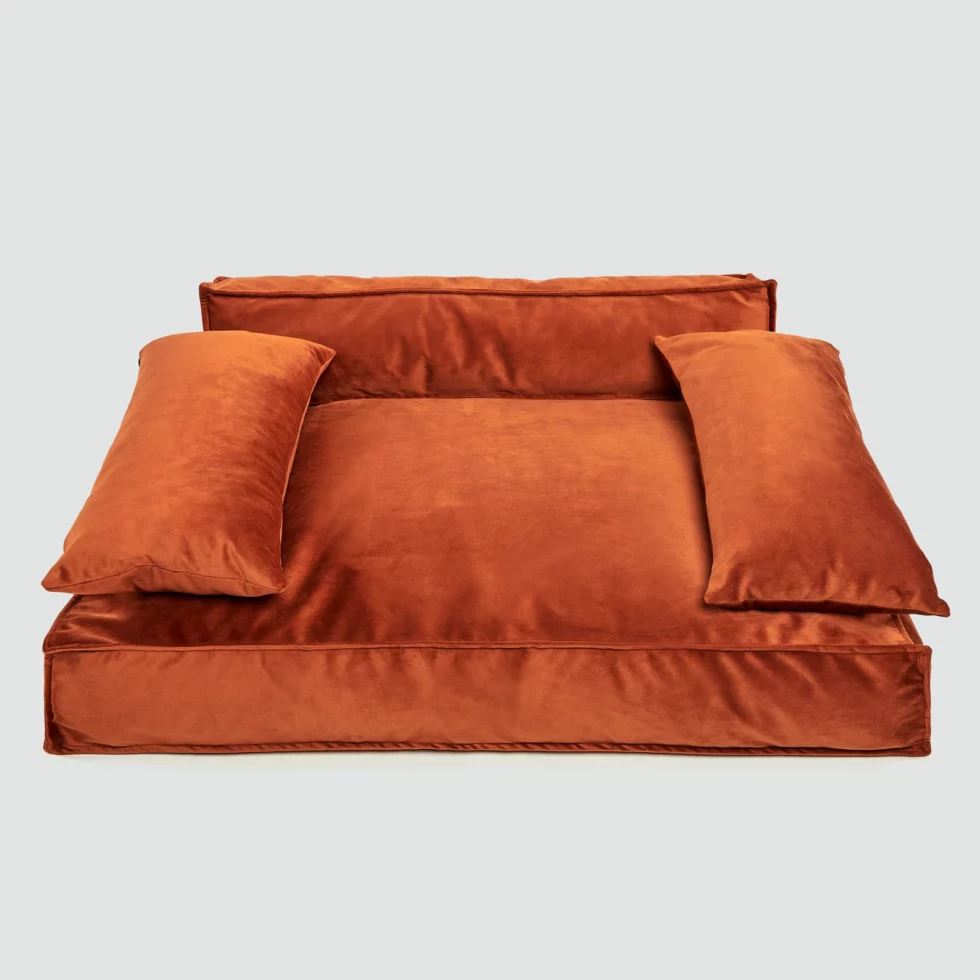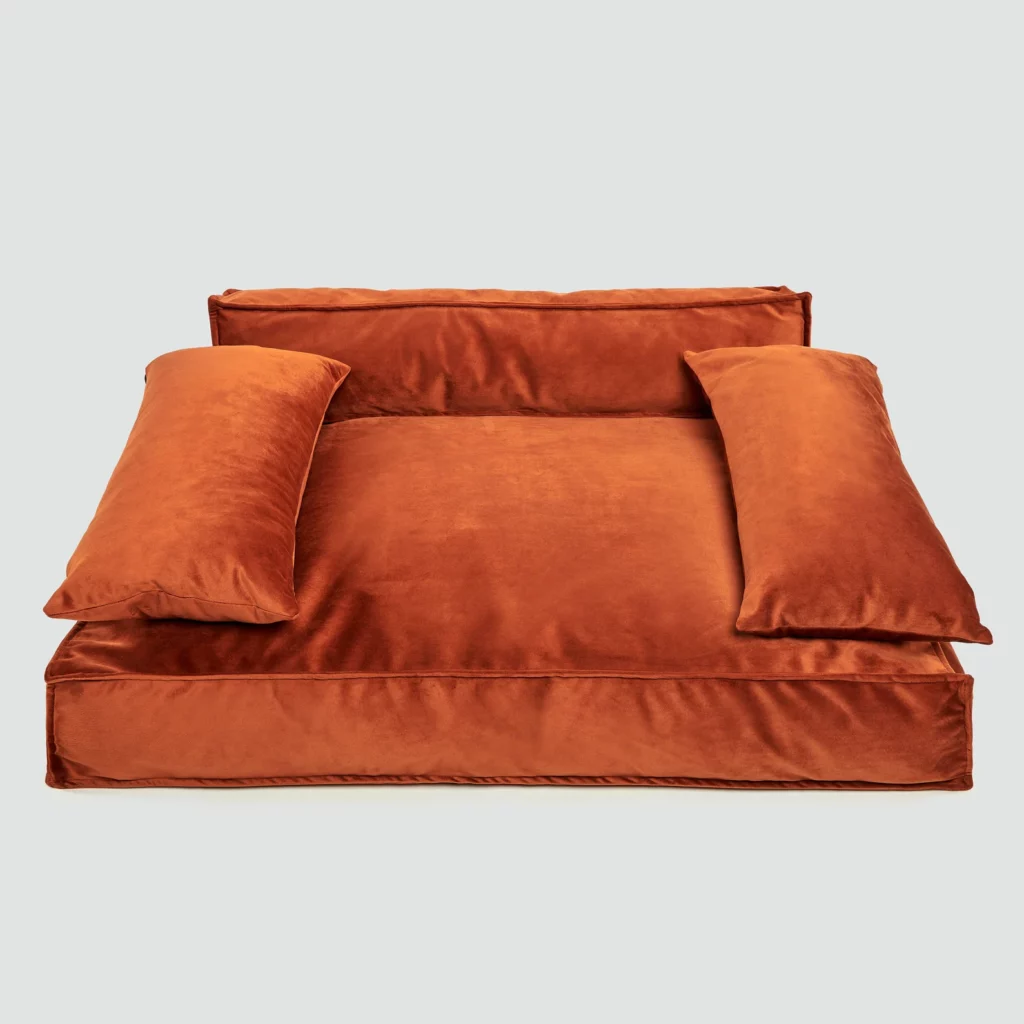 This Couch style Dog bed by Joy in Pet is the ultimate in boho comfort. If you are trying to encourage your dog away from your couch, this boho dog bed provides a great distraction. It comes in three sizes and tons of lush colors.
25 Plush Hexagon Dog bed by Joyinpet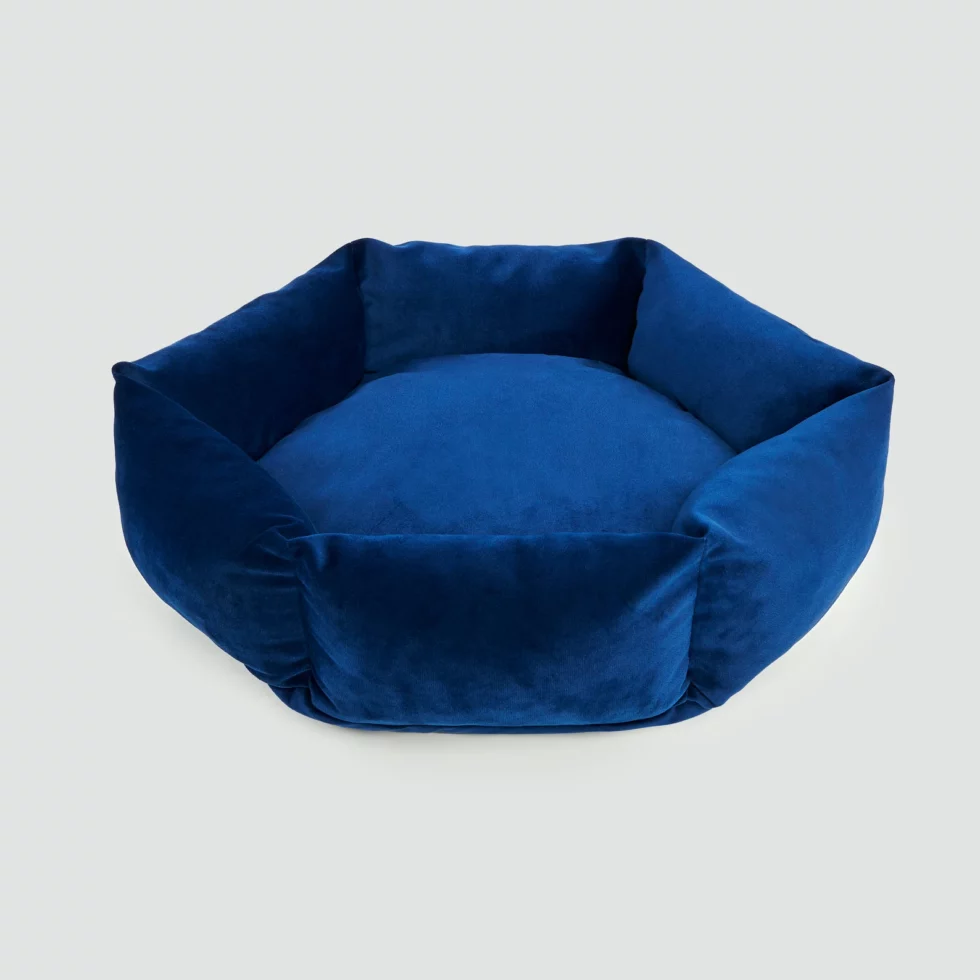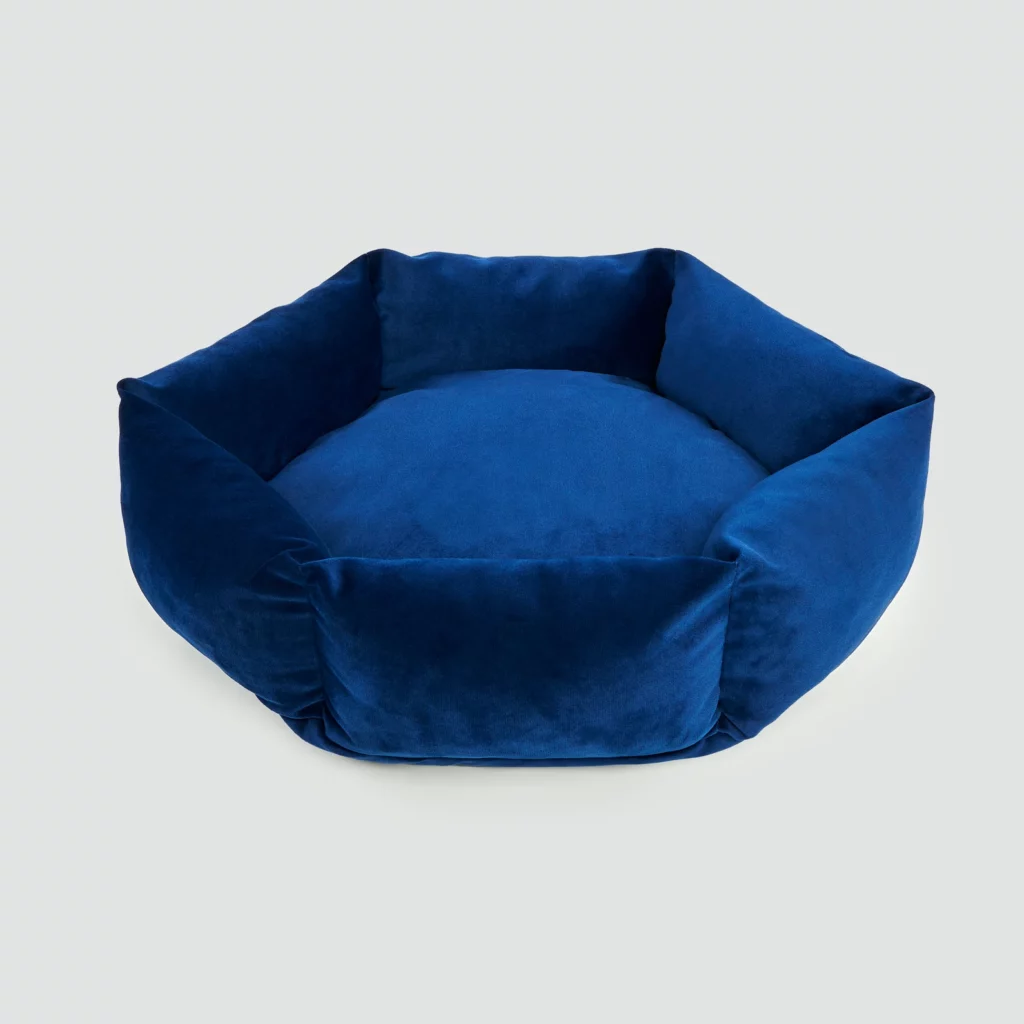 Also from Joy in Pet, this hexagon dog bed comes in four sizes and an amazing selection of colors. The side bolsters make this a great option for dogs who like to burrow or need an elevated place to rest their head.
Botanicals
26 Leaf Pattern Dog Mat by Happy and Polly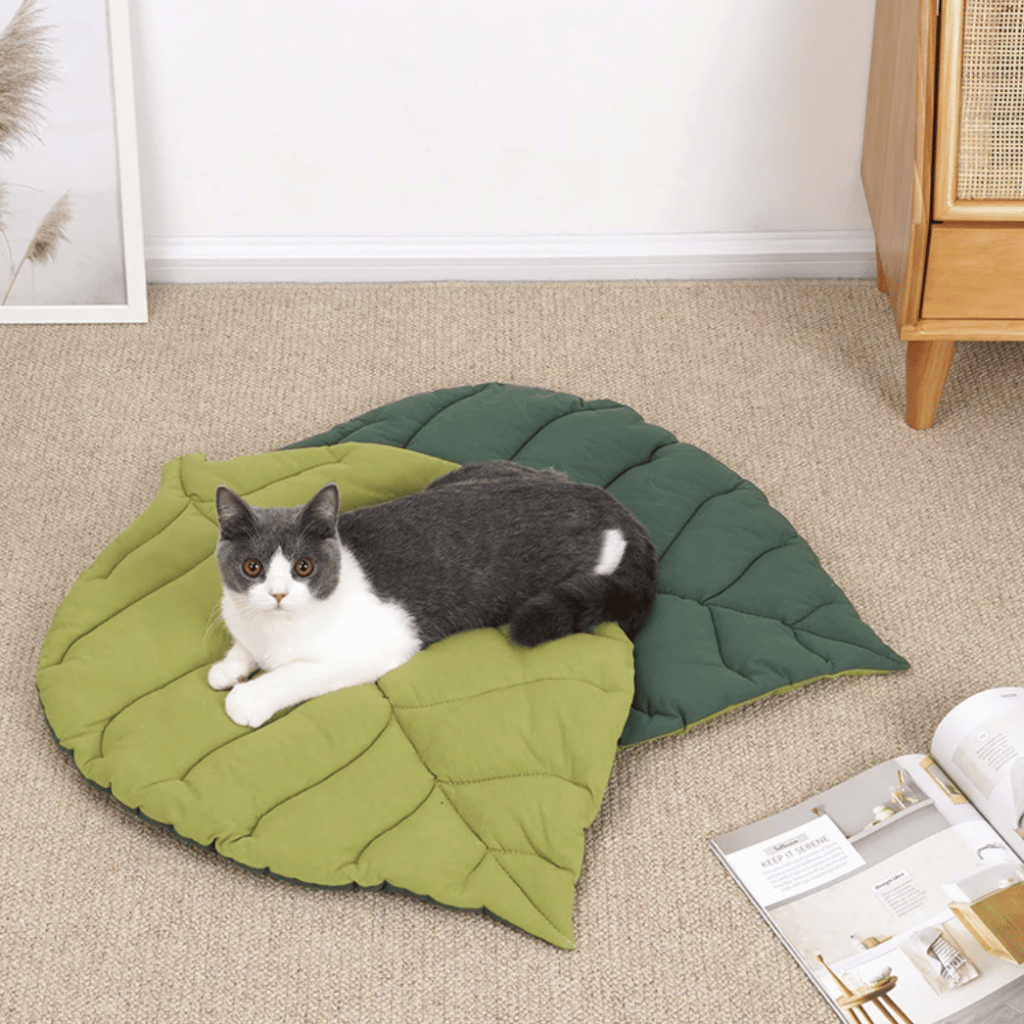 This Leaf pattern pet mat features a cat in the picture, but these lightweight boho pet beds are great for tossing on the couch or bed for an added layer of protection. They are super stylish and easy to fold up and store.
27 Floral Pattern Bed Cover by Anitascasa
Boho does not need to be neutral, and these floral patterned boho dog beds are here to make the case. These durable dog beds are made with indoor/outdoor fabric from Richloom. They are easy to remove for washing. This cover does not come with an insert.
28 Palm Print Bed Cover by Anitascasa
Similar to the floral print boho dog beds, this version, also from Anitacasa, comes in a fresh palm pattern.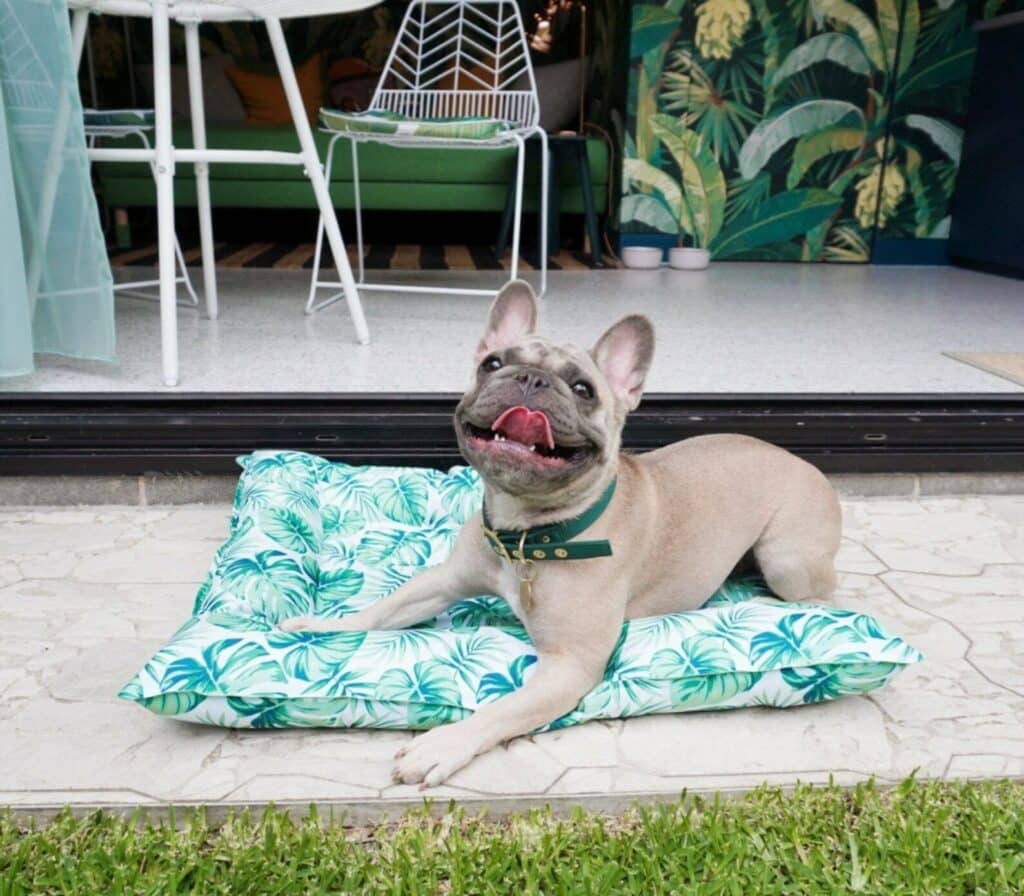 These botanical print boho dog beds by Barc and Bone has a cooling feature. Each bed is filled with pet-safe, non-toxic gel to absorb heat and cool down your pup. These are easy to clean, and cats love them too! Great for senior dogs who need a little help cooling down.
Tapestry
30 & 31 Faux Fur Snuggle Sack by Floofcouture
These tapestry-inspired sleep sacks provide the ultimate comfort and boho style for your dog. They are lined with faux fur and come in the most amazing designs. If you're jealous of all that comfort, don't worry they come in human size too. Be patient this product is handcrafted, and ships from the Netherlands, but these boho dog beds are absolutely worth the wait!
Floor Cushions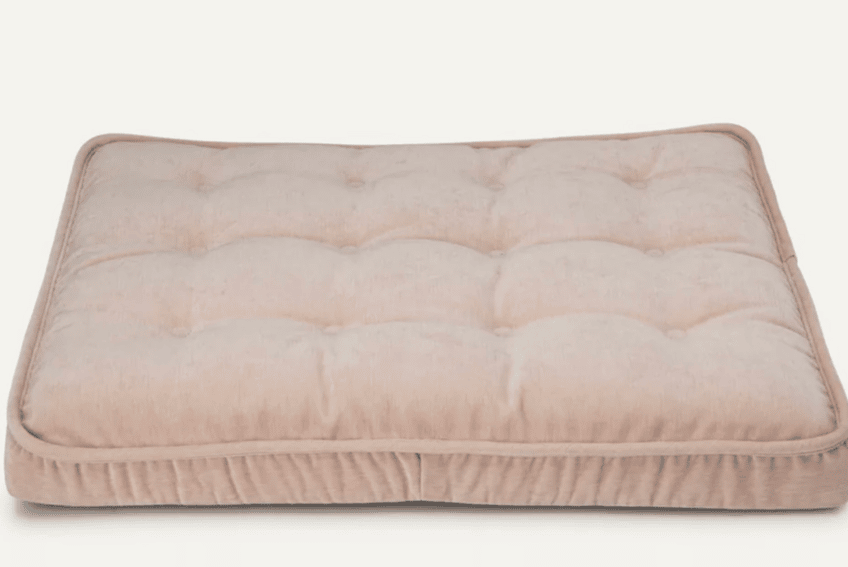 This Crate Mat in Dust by Maxbone has the boho Floor Cushion Feel. Its tufted details fit into any boho-style home and crate! It has an easy-to-remove washable cover and provides a thick layer of cushion. This is another great option for dogs on the go.
DIY BOHO Pet Ped
DIY Basket Bed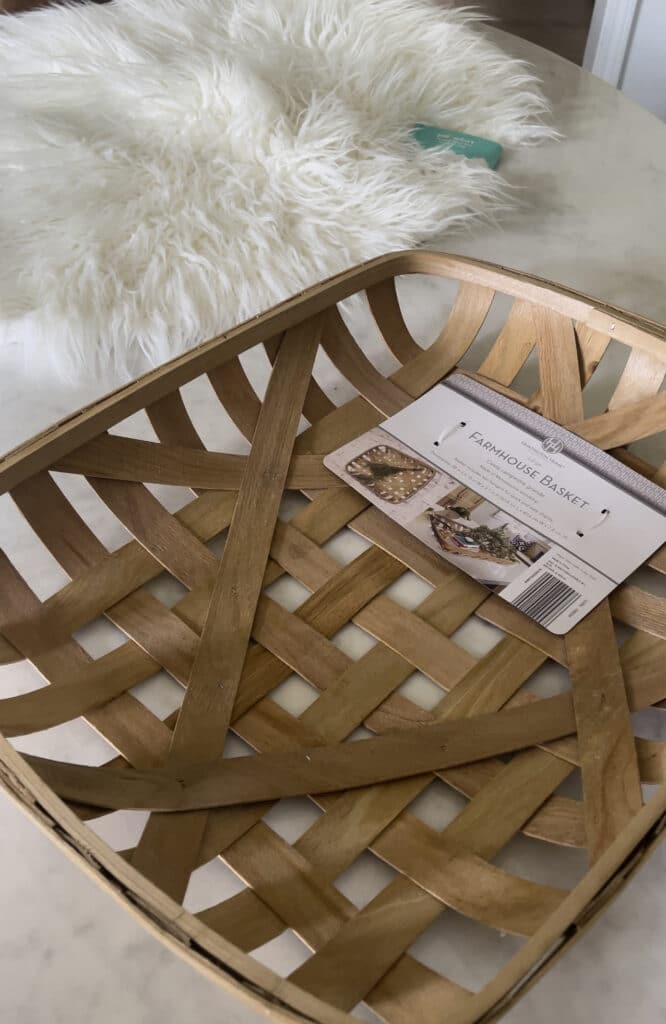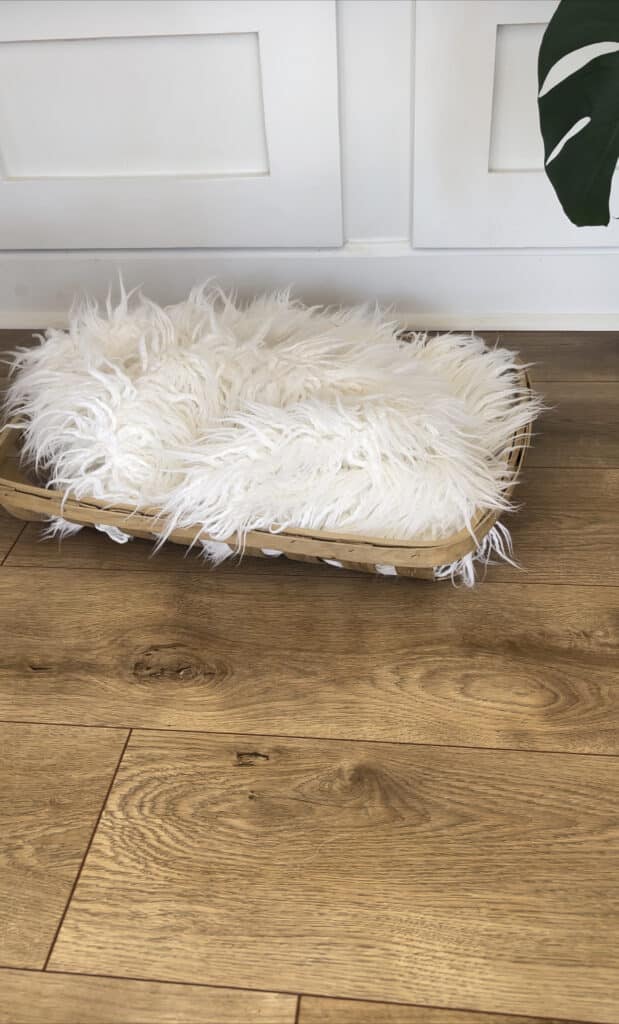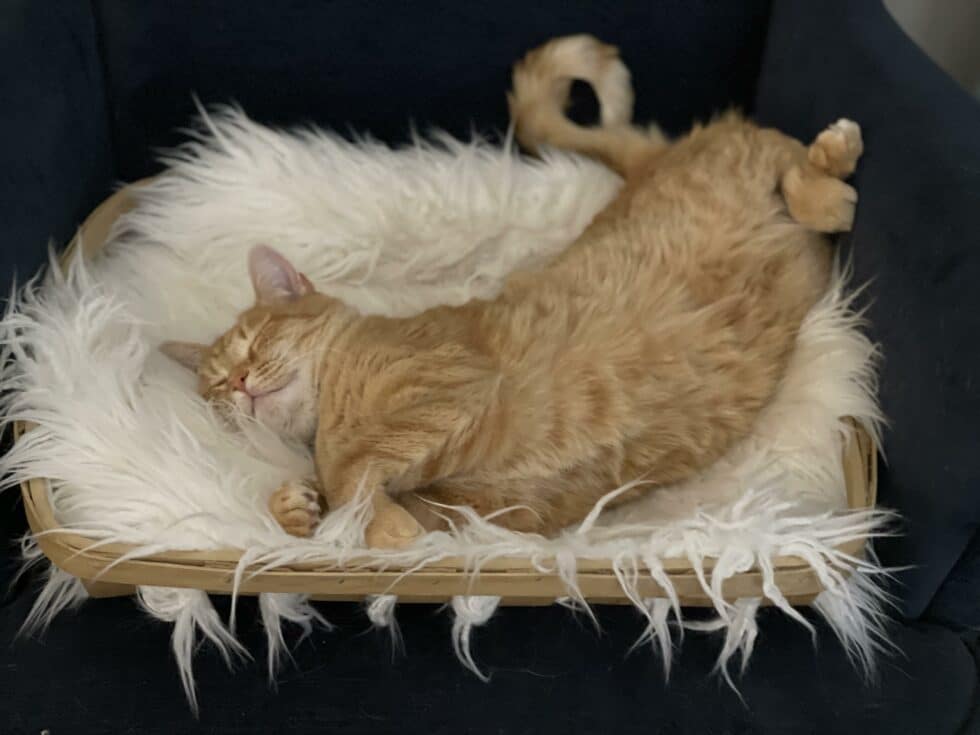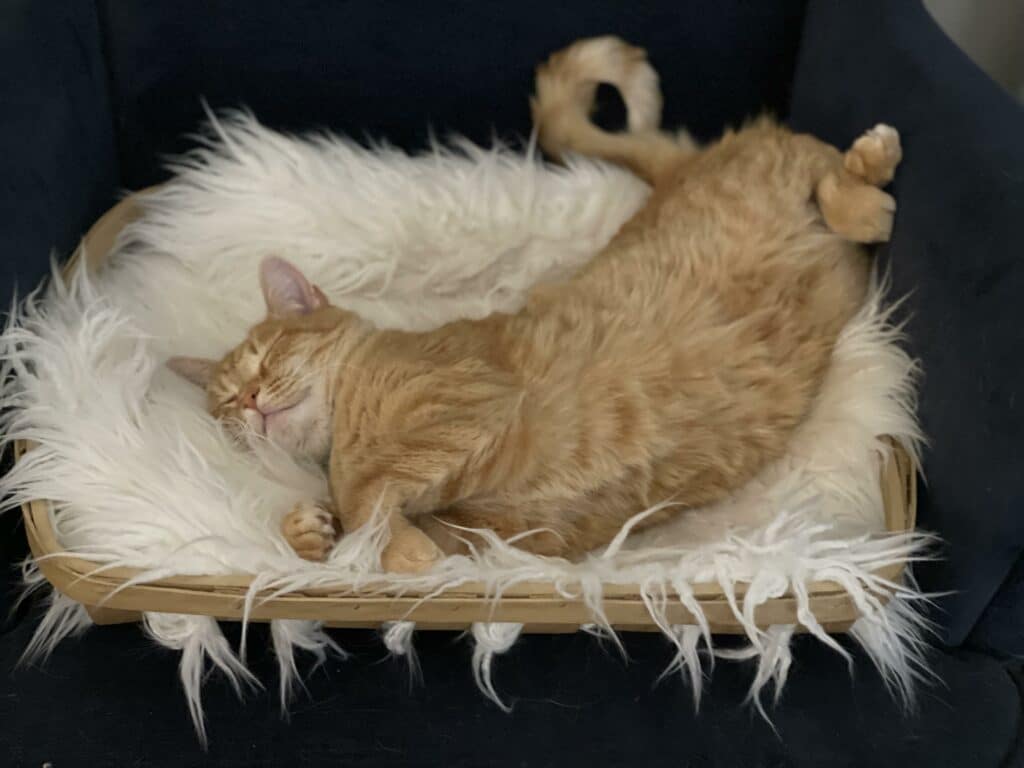 If you are not ready to commit to purchasing a Boho Dog bed, you can easily put together a DIY version. I purchase this flat basket from Aldi for about $9 and added a faux fur blanket from Target (about $11). I nested the blanket into the basket, and voila! Boho pet bed. Our cat loves this bed and sleeps in it every night. It's great for small dogs too!
How to Choose the Right Boho Style Dog Bed
Size
To find the correct size bed for your pup, measure them from nose to the base of the tail and then add 6-12inches. Also, consider what type of sleeper they are.
If they like to sprawl out across a bed, measure the full length of the sprawl. If your dog likes to cuddle into a ball, you can choose a tighter fit.
If you are considering an elevated bed like the Sunrise Rattan Dog Bed, make sure to weigh your pup and check any weight requirements.
For Boho, dog tents measure the height of your dog standing and make sure they can comfortably fit inside.
Sleep Style
There are four basic sleep patterns.
Burrowers like to dig and tuck themselves into a ball. Donut cuddlers and bolster beds are great options for these dogs.
Sprawlers like to stretch out. Large flat beds work best for these pups.
Leaners like to lean into the side of the bed. A great option is a flat bed with a bolster where they can stretch out and lean against the side.
Hiders are dogs that like to sleep in covered spaces. A crate with a plush crate pad or a Boho tent may be a great option for these pets.
Senior and Disabled Pups
Orthopedic or Tempurpedic beds are great options for senior or disabled pups. The additonal cushion and support are easier on their achy joints. Choose orthopedic options over typical large cushions. If your dog has stability issues getting in and out of a soft cushion bed can be difficult.
Chewers & Diggers
If your pup loves to chew, stay away from zippers, buttons, and embellishments. For diggers, choose a bed made of high-quality upholstery fabric or durable outdoor fabrics.
Temperature
For dogs with light coats or older dogs who have a harder time regulating their temperature, consider self-warming beds like the donut cuddler.
For dogs with thick coats or senior dogs who have difficulty cooling down in the summer, consider a self-cool mat.
Travel
If you and your pup are always on the go, choose a bed with an easy-to-carry handle and something that will fit into a car or carrying case.
Want more pet-friendly boho? Check out our other pet-friendly roundups.