Does it feel like your cat is always napping? They are not alone. Most cats sleep 12-14 hours a day.
Indoor cat tents make the perfect spot for your kitty to catch some shut-eye. And they look crazy cute. We rounded up 19 stylish cat tents. Whether your cat prefers a glamping vibe or more of an Alpine Chalet, we have the perfect tent for you!
Indoors or Outdoors?
While there are some amazing benefits to outdoor tents, this selection is for indoor use only. Please do not damage these gorgeous tents by leaving them out in the elements!
How We Selected These 19 Indoor Cat Tents
We are all about design here at Barking Bungalow, so that was the leading factor. We searched for options your cat will love and that would work for any modern decor. And, of course, we avoided any indoor cat tents that had any safety concerns to create our round-up.
Skip down to the bottom to read about measuring, placement, and more!
This post contains affiliate links, and I earn a small commission when you click on the links at no additional cost to you. As an Amazon Affiliate, I earn from qualifying purchases. You can read my full disclaimer here.
Best Indoor Cat Tents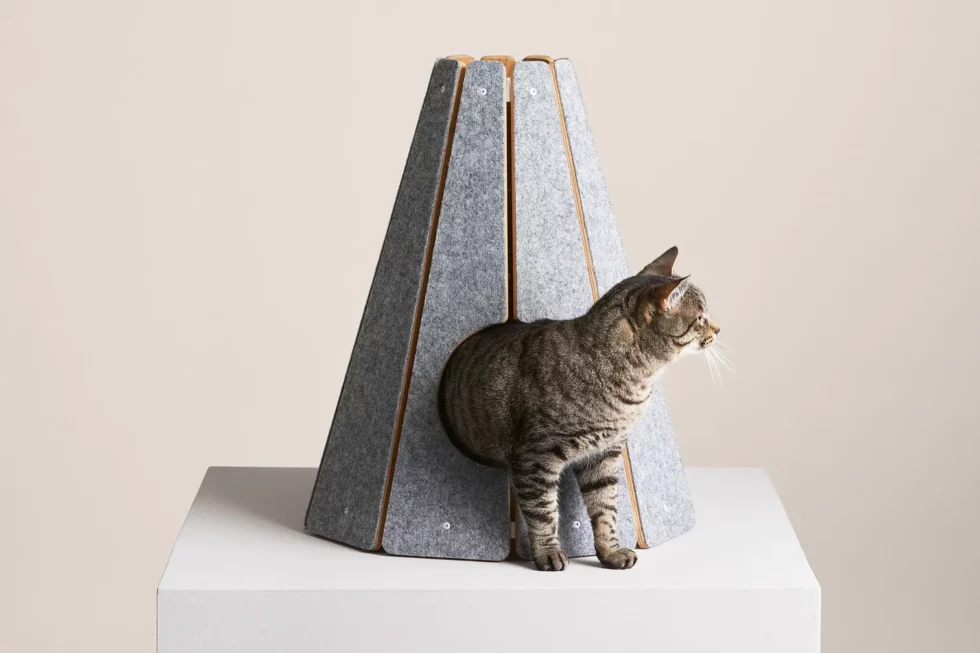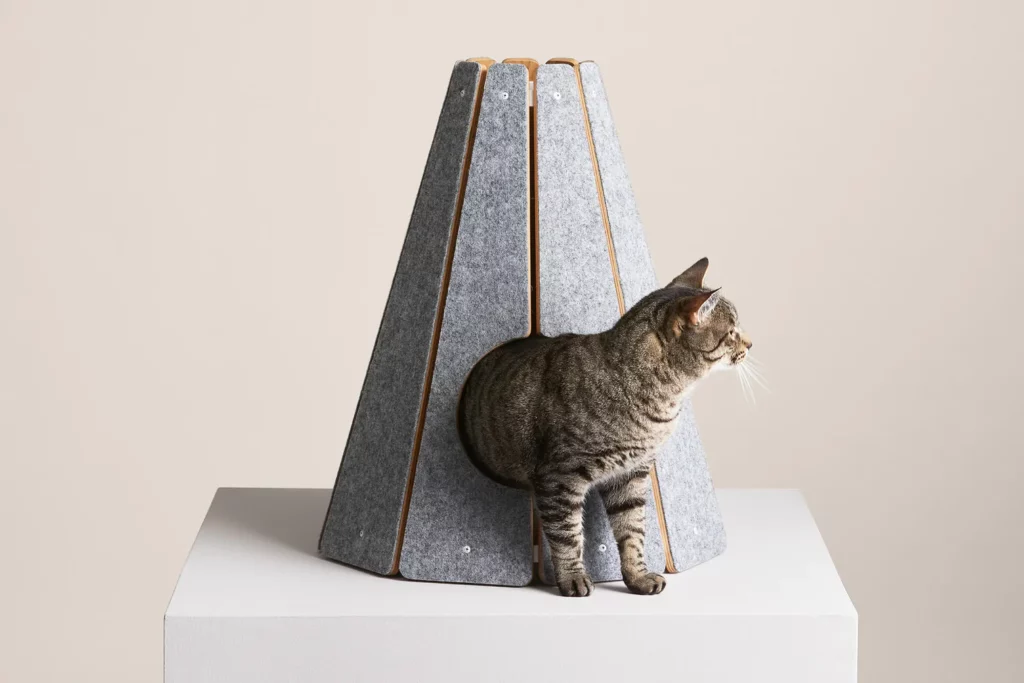 Dimensions: 19″W x 19″D x 24″H
Assembly: Includes tools for Assembly
Cleaning: Use a damp cloth to wipe wood and a lint roller for scratching surface
This cat tent has faceted panels with wood veneer on one side, and a scratch-resistant felt on the other. The bottom of the tent included a custom-cut faux fur pillow with a suede bottom that prevents slipping. The openings between panels allow your cat to keep an eye out on their surroundings while they are resting.
If your kitty does not take to the tent, Tuft & Paw will connect you with their cat behaviorist for some suggested tips and even a refund if that doesn't work.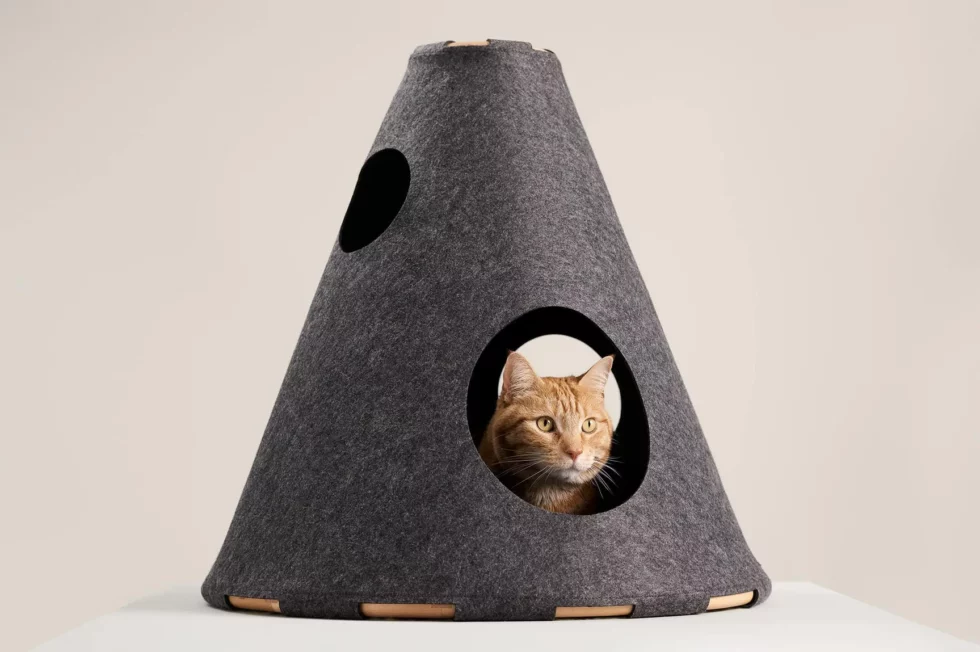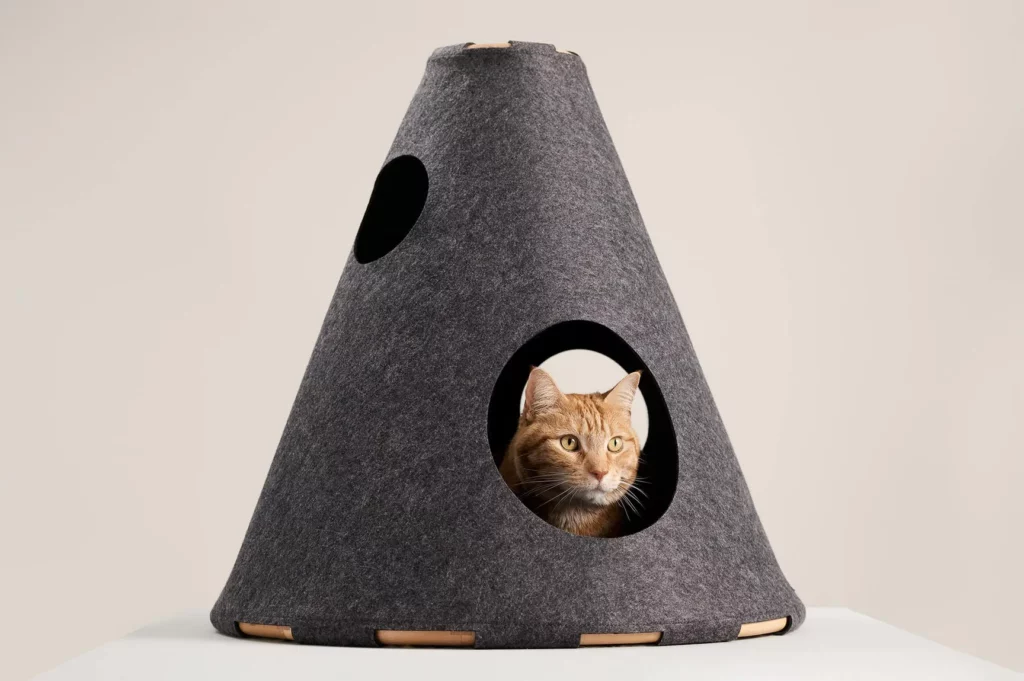 Dimensions: 19.5″D x 19″H
Assembly: Easy. No tools required
Cleaning: lint roller or vacuum is recommended for light cleaning. The base pillow cover is washable.
The Peekaboo is designed for the playful cat. It has three cut-out openings for sneaking a peak or making an exit. This stylish cat furniture comes in two colors and looks
amazing in any modern home. The wooden base bands keep the tent sturdy, while the luxe bottom cushion creates a comfy place for your kitty to nap.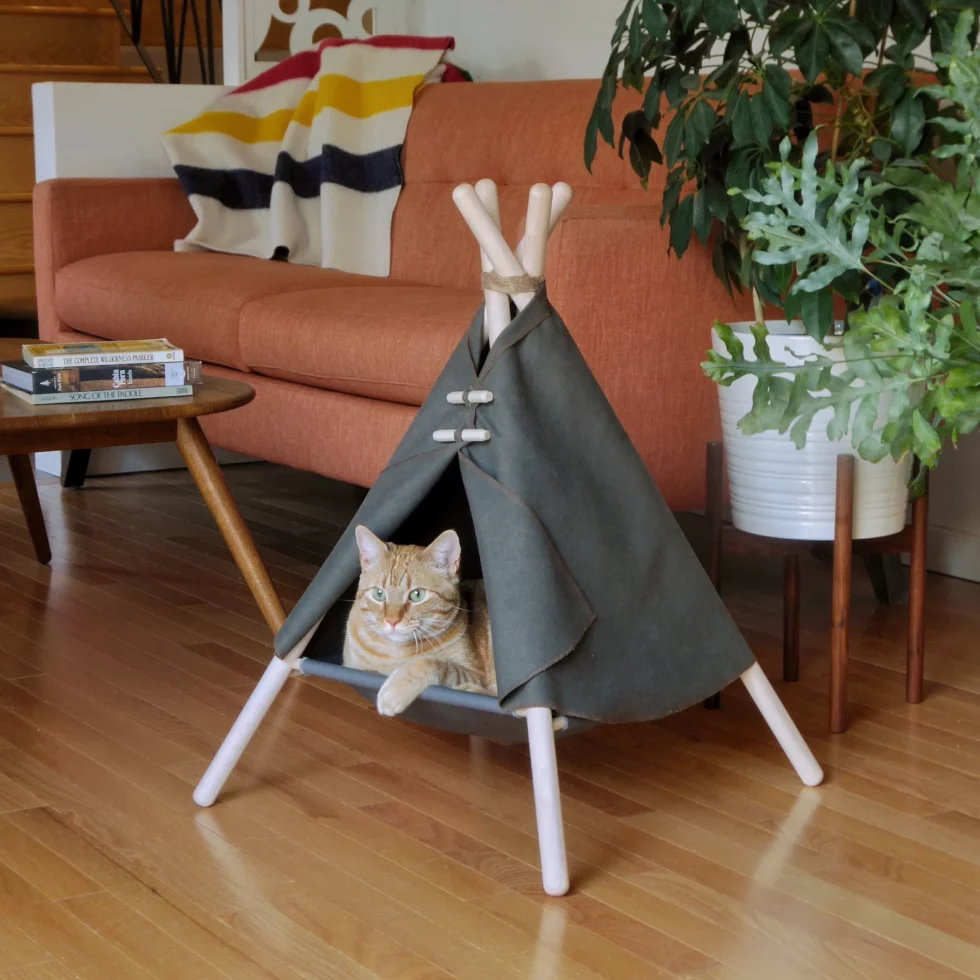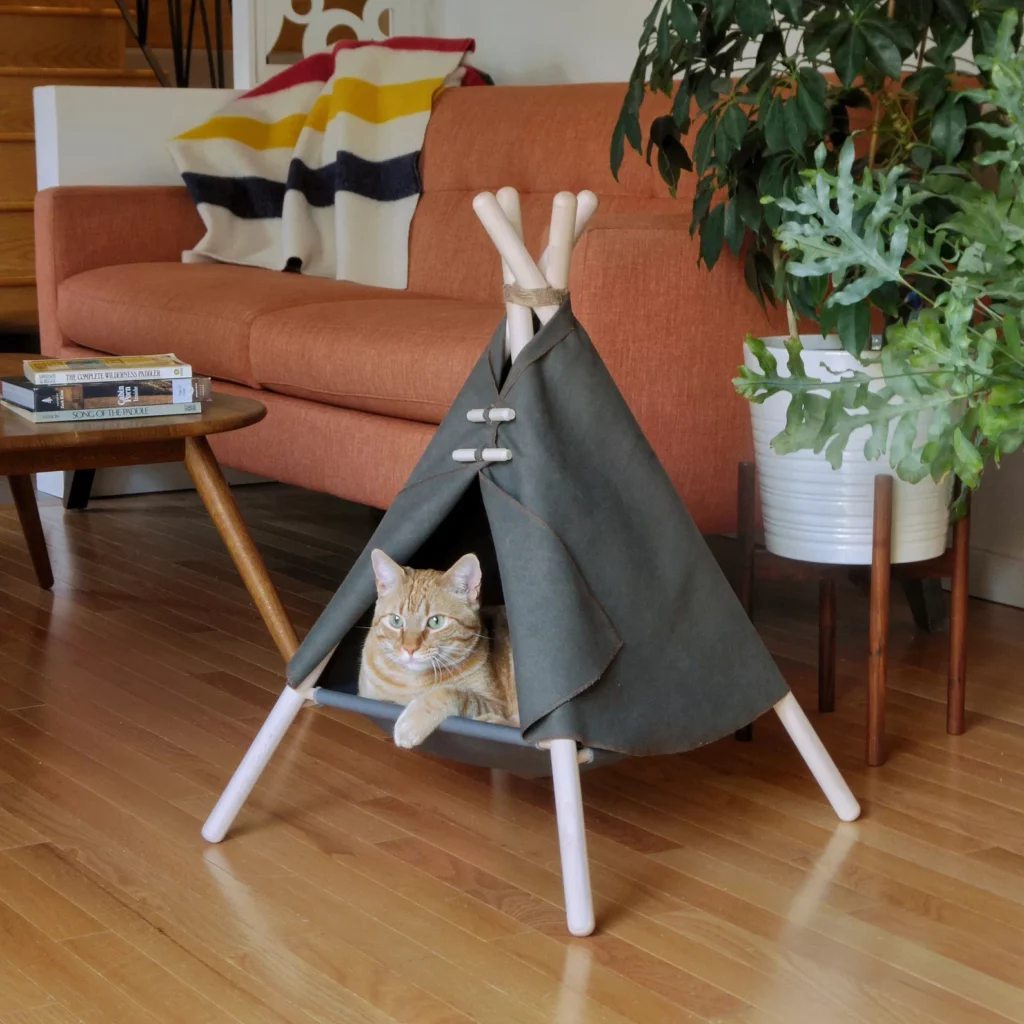 Dimensions: 5″ x 15″ x 28"
Assembly: Comes with an easy-to-follow video
Cleaning: Bottom can be washed on cold and air dried. The top should only be spot cleaned.
Is your fur baby ready for some indoor glamping at cat camp? Then the adventure indoor cat tent is the puuurfect fit with its stretchy hammock base! This chic cat tent comes in come six classy colors. It's made of sturdy maple hardwood and canvas, so you can easily move it around your home, even over a warm vent on a cool day.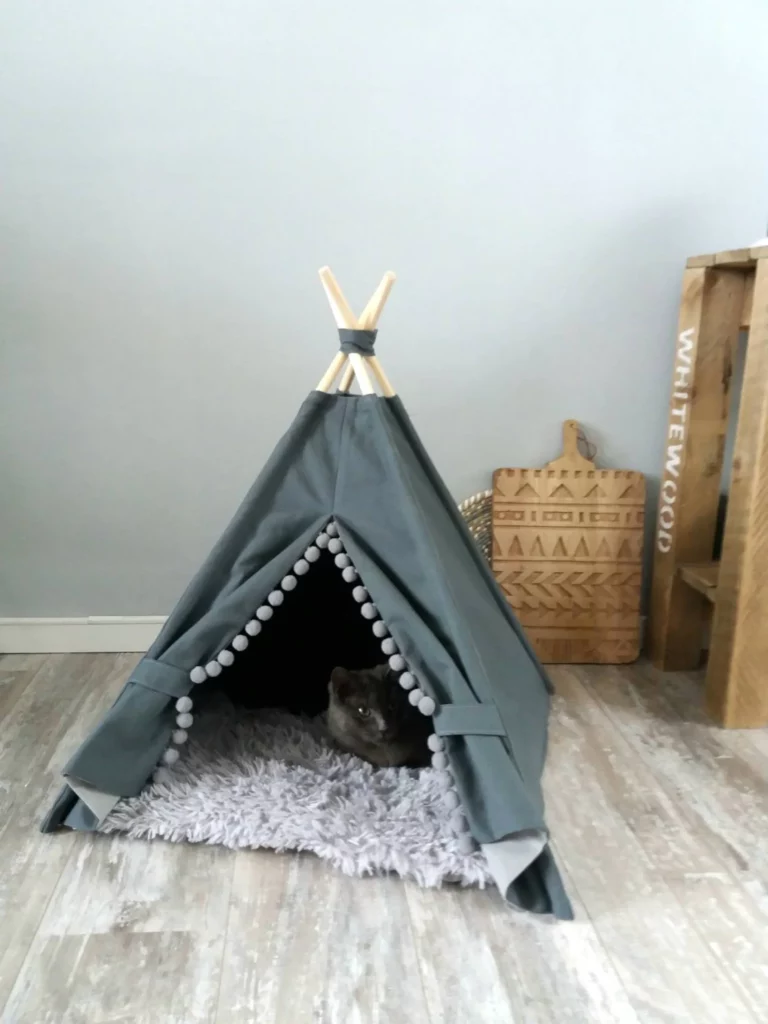 Dimensions: Three sizes (Small, Medium, and Large)
Assembly: Delivered ready to use
Cleaning: The bottom cushion is washable on cold. The top should only be spot cleaned.
This modern boho cat tent is beloved by hundreds of cats and dogs. Its pom pom and tie-back details make this pet tent a shows stopper in any room while also creating a lovely hideaway for your feline friend. This Etsy shop and tent get stellar reviews.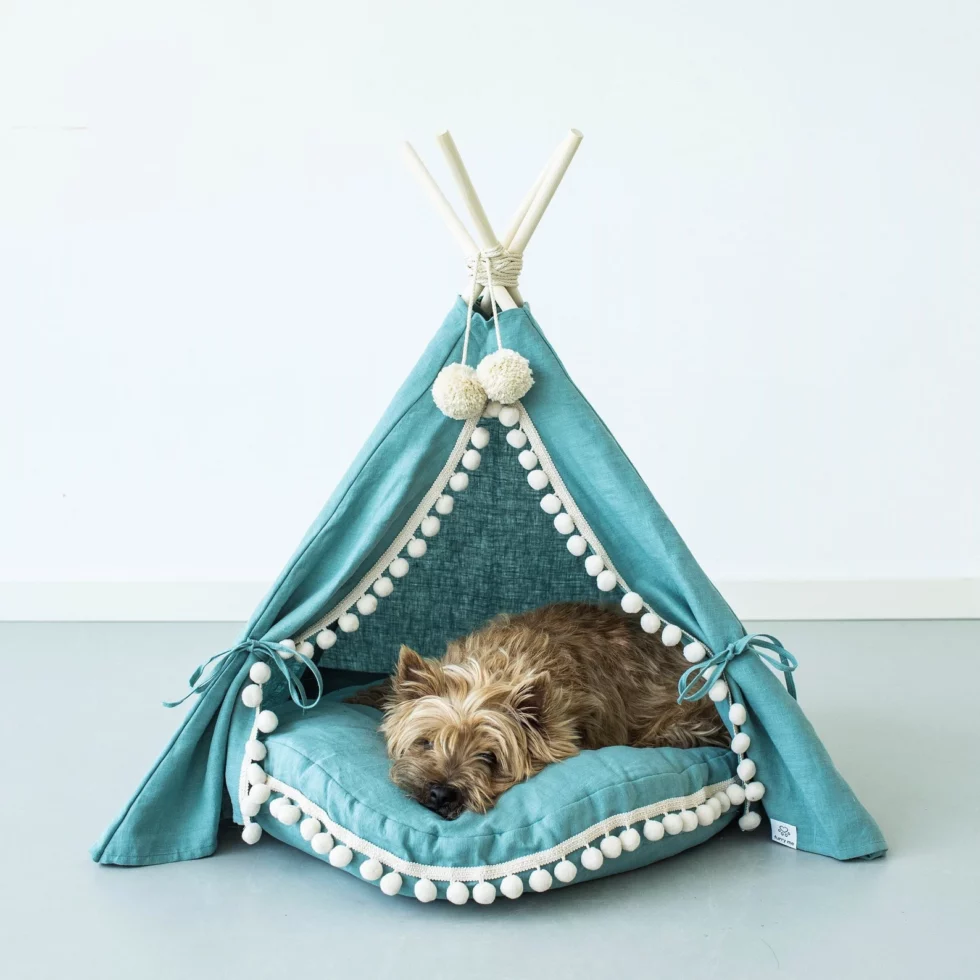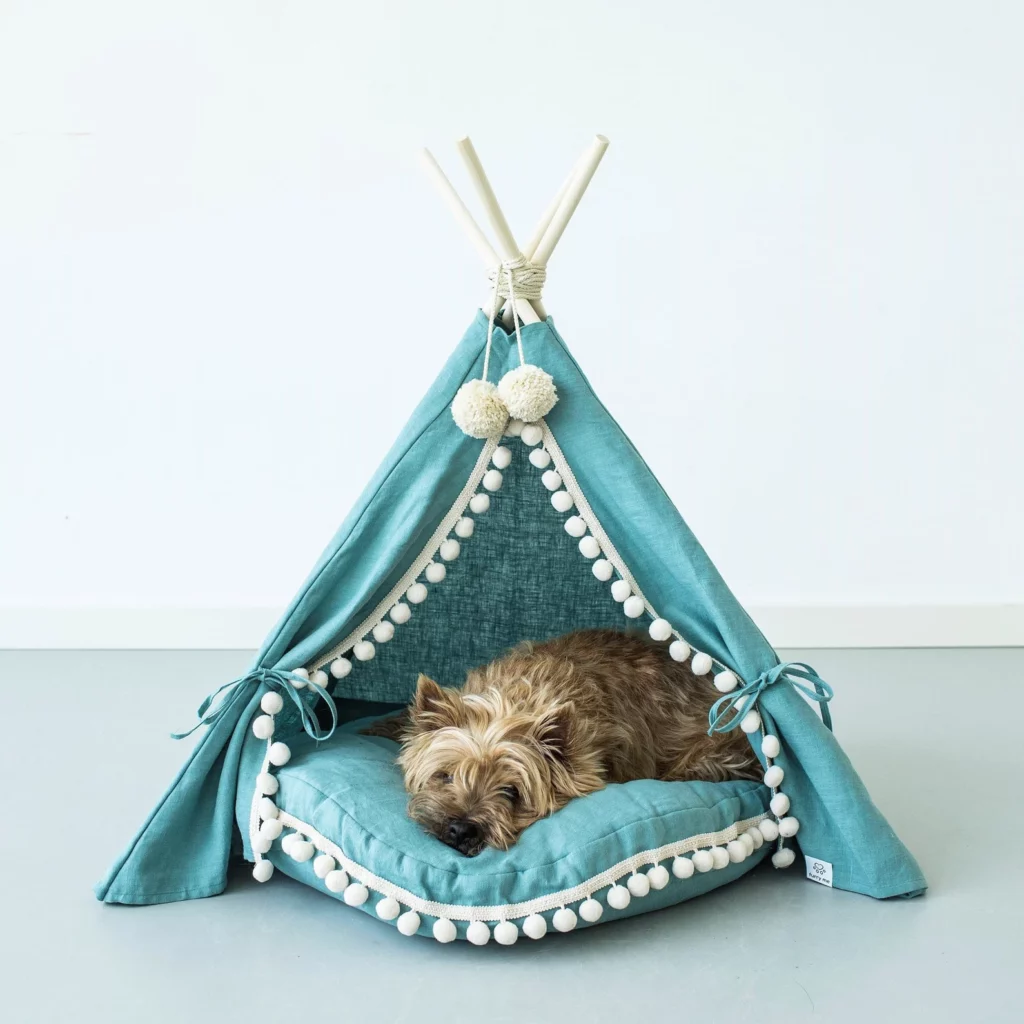 Dimensions: Four sizes (Extra Small, Small, Medium, and Large)
Assembly: Comes Pre-Assembled
Cleaning: Tent and cushion cover washable in cool or warm settings.
This adorable pet tent maxes out the boho style with pom pom embellishments. It's made of durable and eco-friendly materials like 100% linen and natural Aspen Wood. Add a pop of color to your space with the trendy blue fabric. Light up your cat's heart with the add-on LED light option.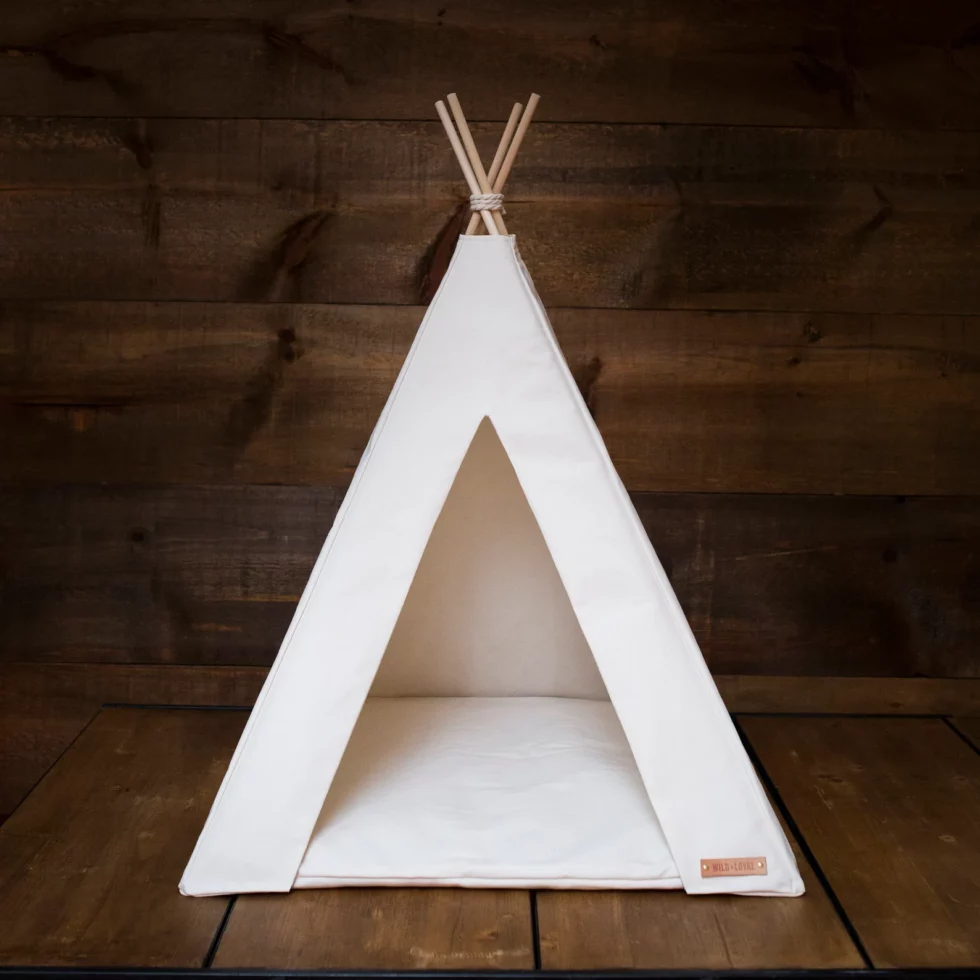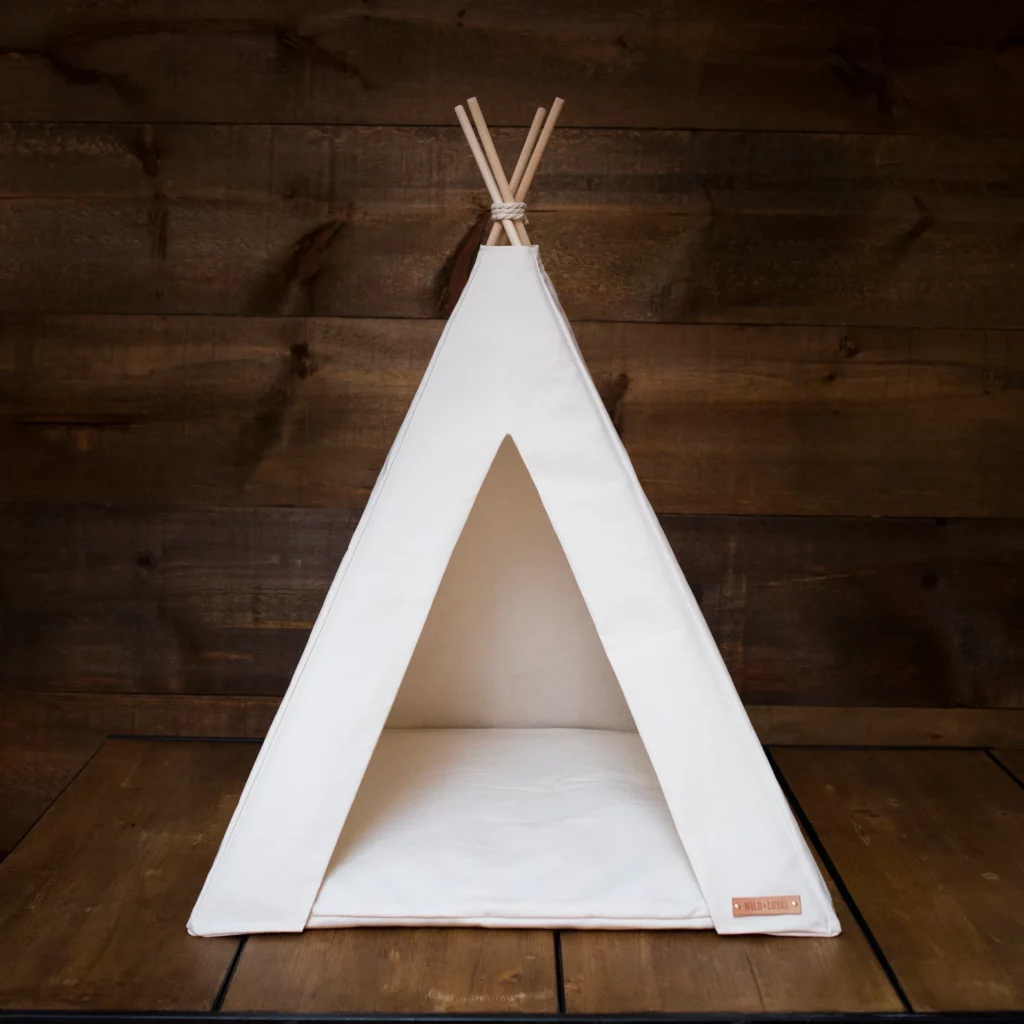 Dimensions: Three sizes 24"x 24", 29"x29", 36" x 36"
Assembly: Comes Pre-Assembled
Cleaning: machine wash, lay flat to dry
The clean line of this indoor cat tent makes this a sophisticated option for your home and fur baby. It's handmade in Canada and comes with a floor cushion, but you can also tuck your cat's favorite bed inside for personalized comfort. The door is always open, so this is a great option for cats who need less privacy.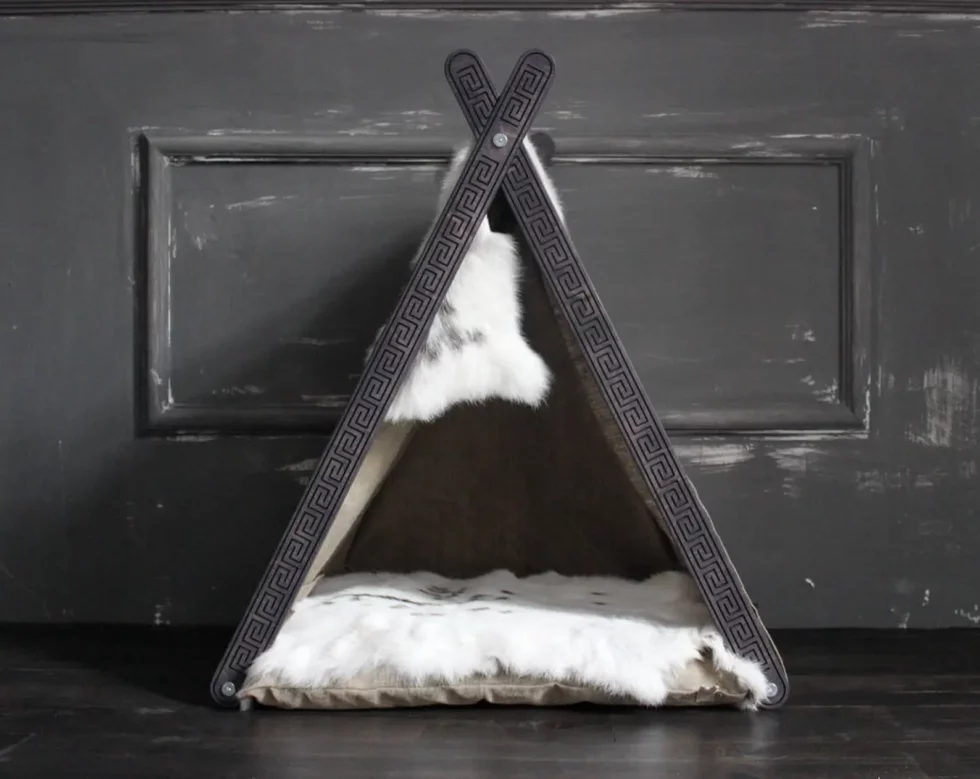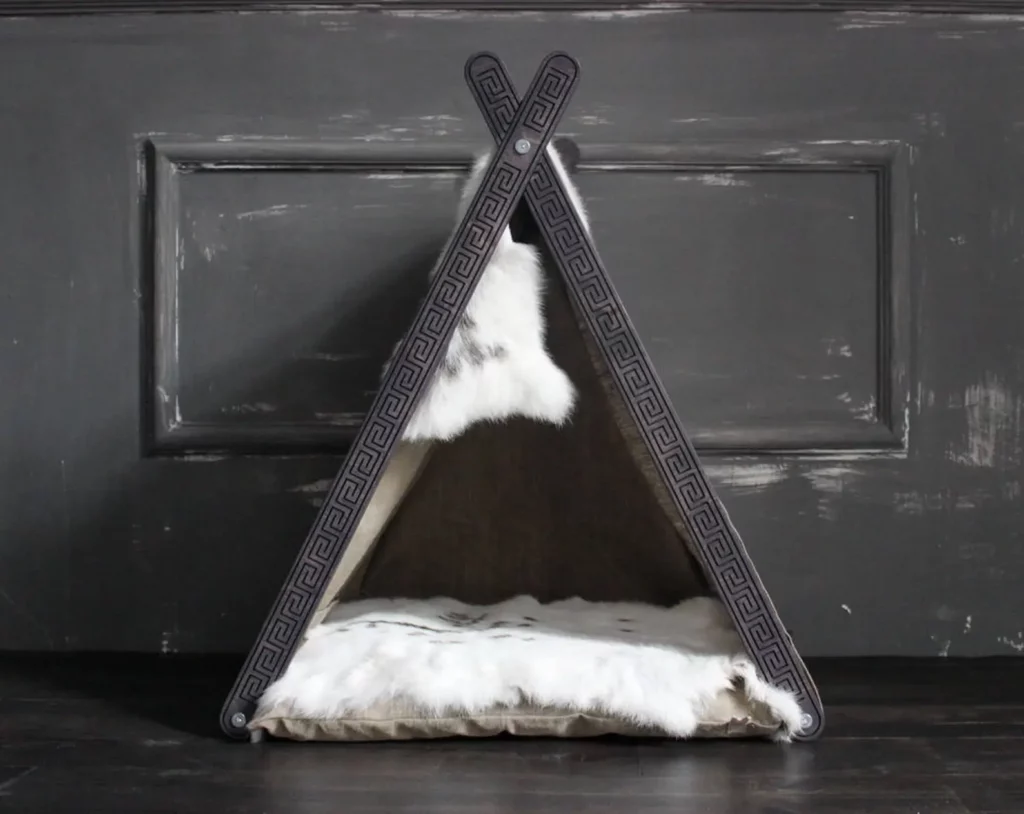 Dimensions: 23.6 х 15.7 х 26
Assembly: Easy to Assemble
Cleaning: n/a
CatsPlayFurniture, based in Ukraine, makes beautiful handcrafted cat furniture and this structured cat tent is a stunning part of their collection. The plywood structure has an intricately carved design. The side is made from linen and, for the ultimate cozy comfort, also comes with rabbit fur.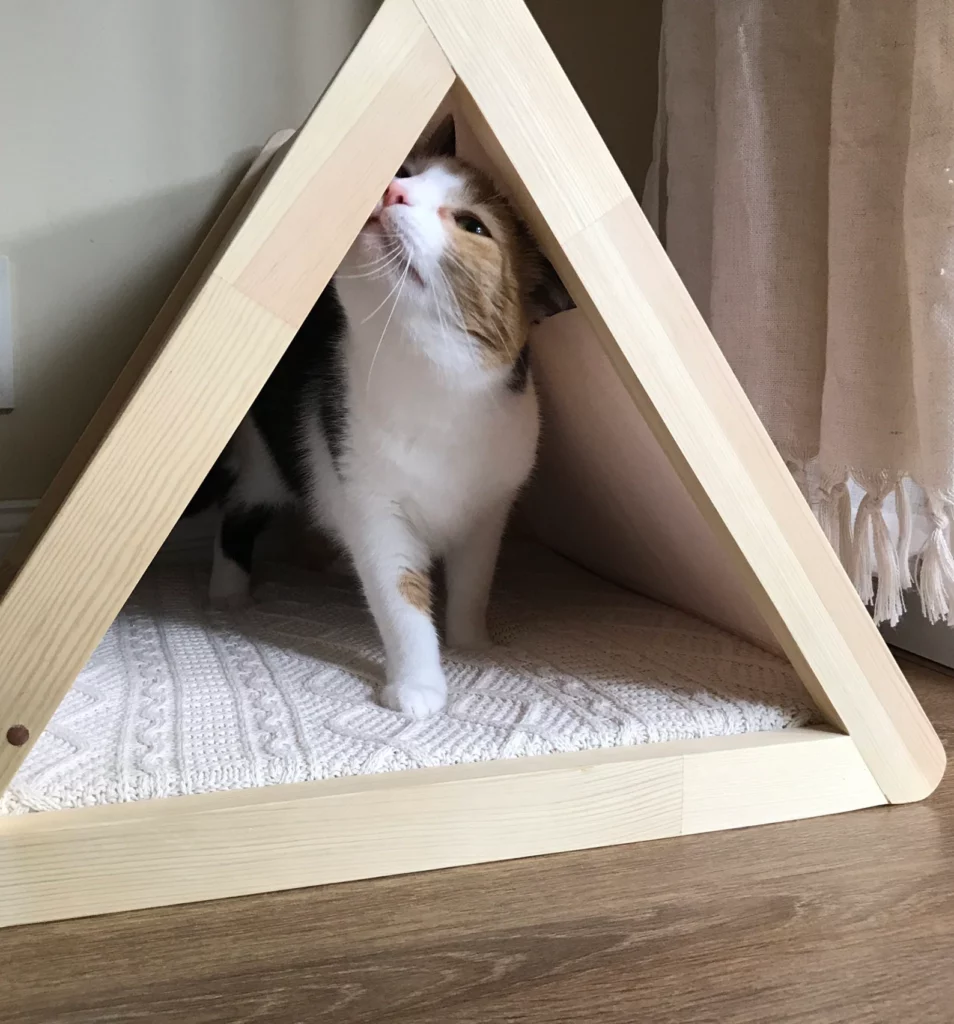 Dimension: 20.5 x 20.5x 15
Assembly: light assembly required
Cleaning: n/a
Part of the soft triangle series, these handsome indoor cat tents are made from durable materials like upholstery quality fabric, natural pine, Beachwood, and merino wool cushion. Catifyit sells multiple styles of modern indoor cat tents to check out.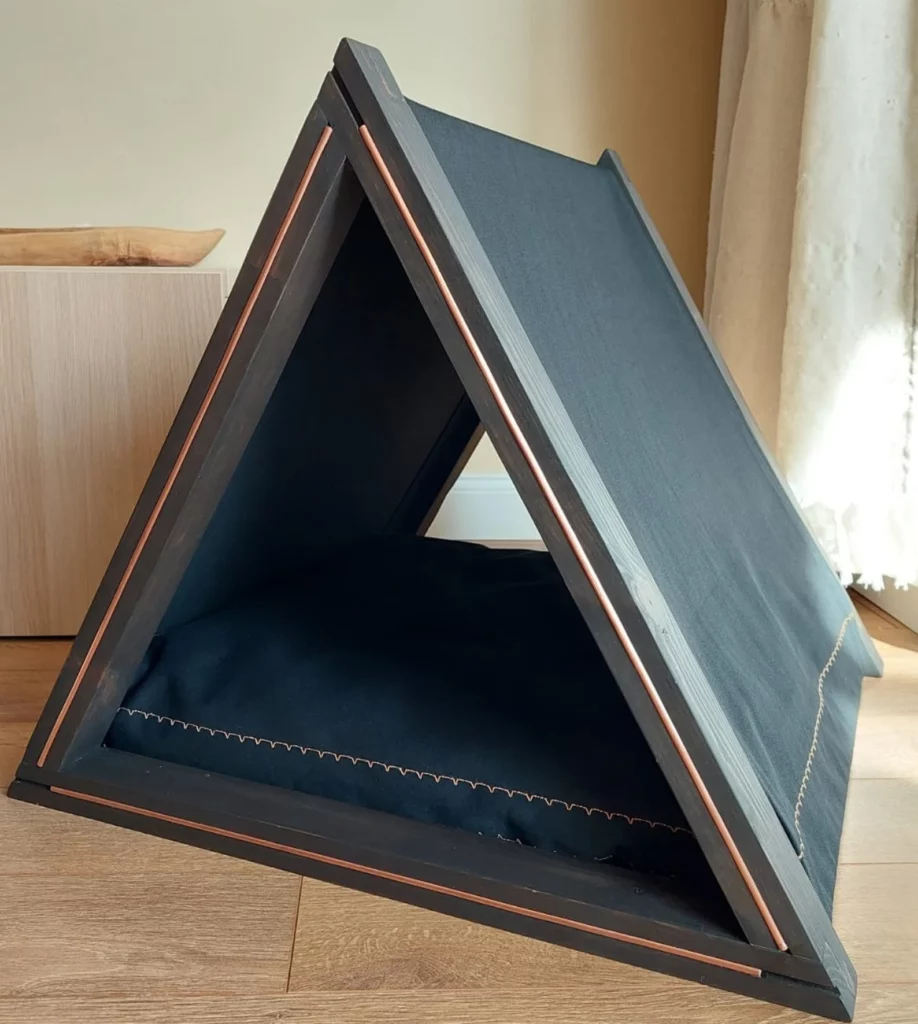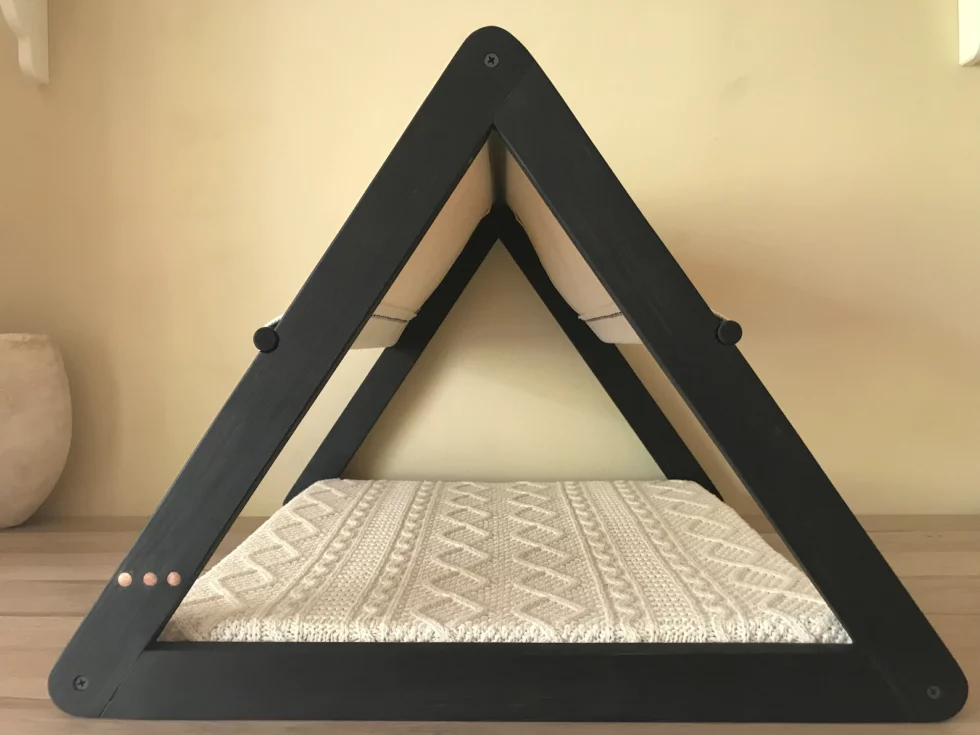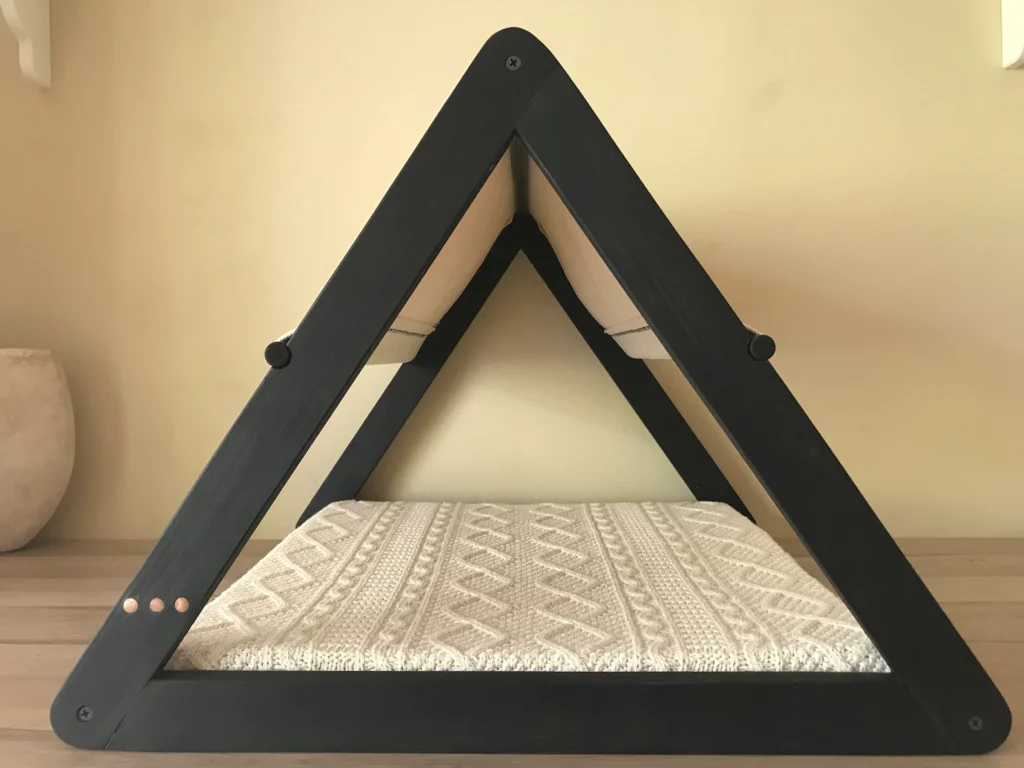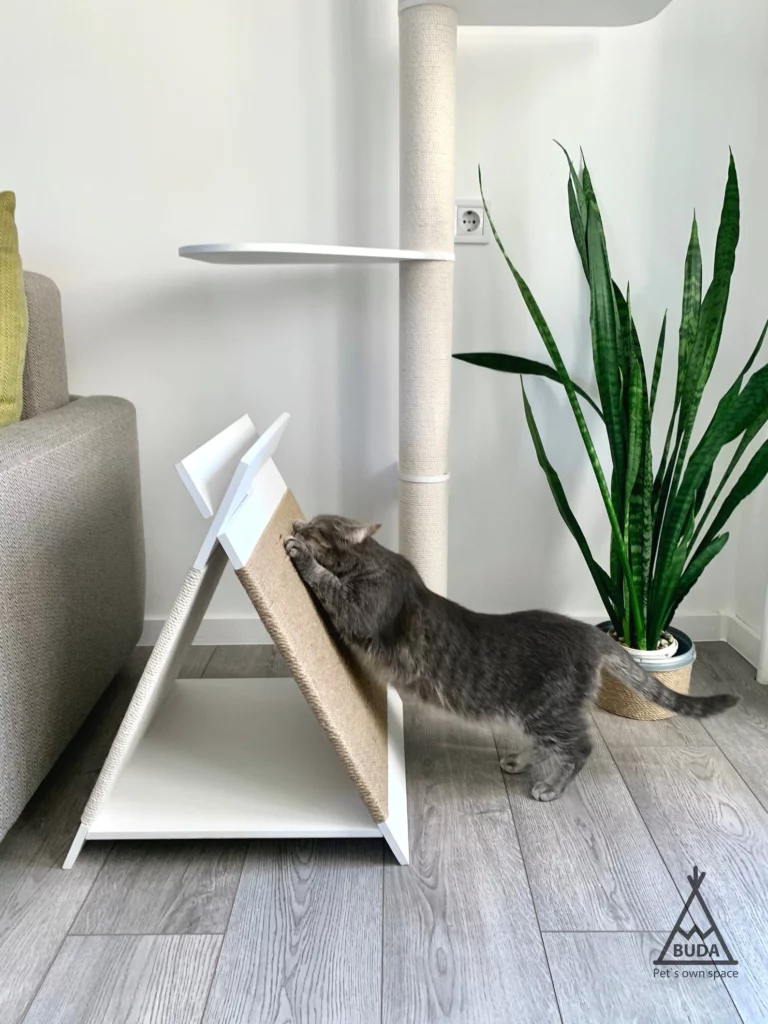 Dimensions: 22 x 18.1 x 17.7
Assembly: light assembly required
Cleaning: Easy to wipe down the surface
This is much more than a cat tent. It's a multifunctional complex. The inside of the tent provides a quiet place to sleep and features a sturdy side scratching post. If you live in a smaller space, this is a great way to combine cat furniture into an all-in-one piece. It is made of durable materials to stand up to your kitty scratching. Choose from one of three modern colors to match your home decor. No need to go outdoors with so much adventure inside. One thing to note, it ships from Ukraine, so allow time for delivery.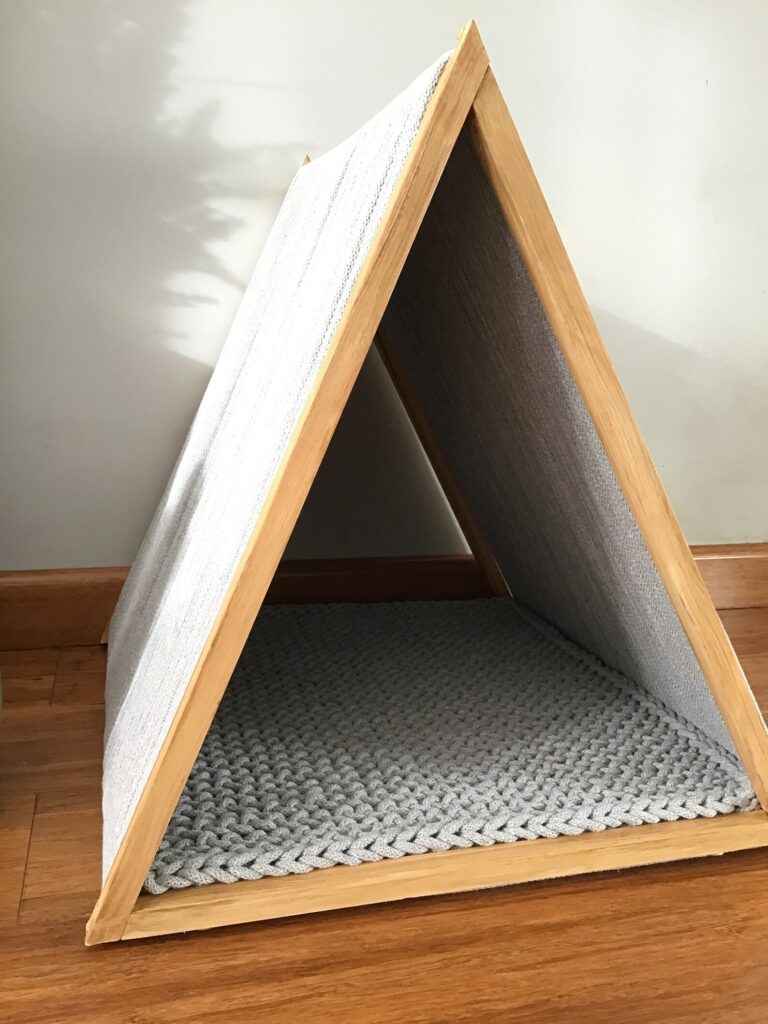 Dimensions: 17 x 17
Assembly: n/a
Cleaning: Replacement rugs are available
The 100% cotton cord rug flooring makes this boho cat tent unique. It comes in 18 different colors and is made of high-quality handcrafted materials.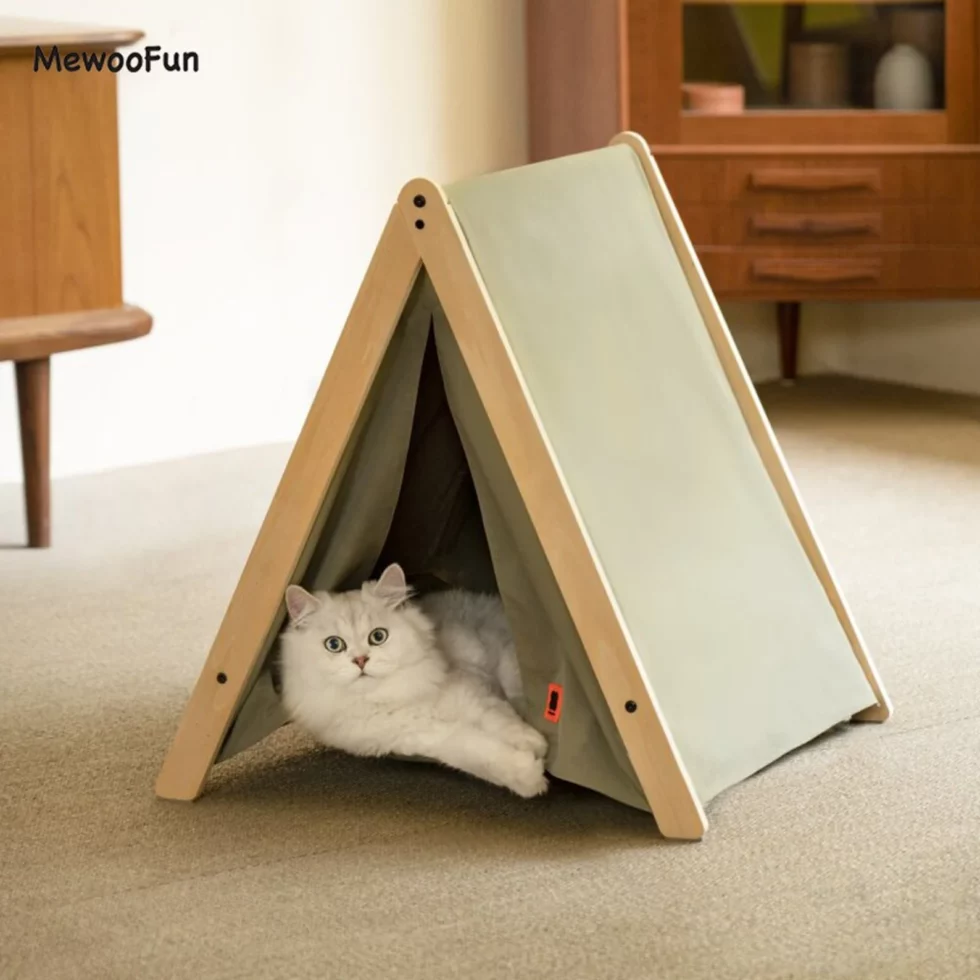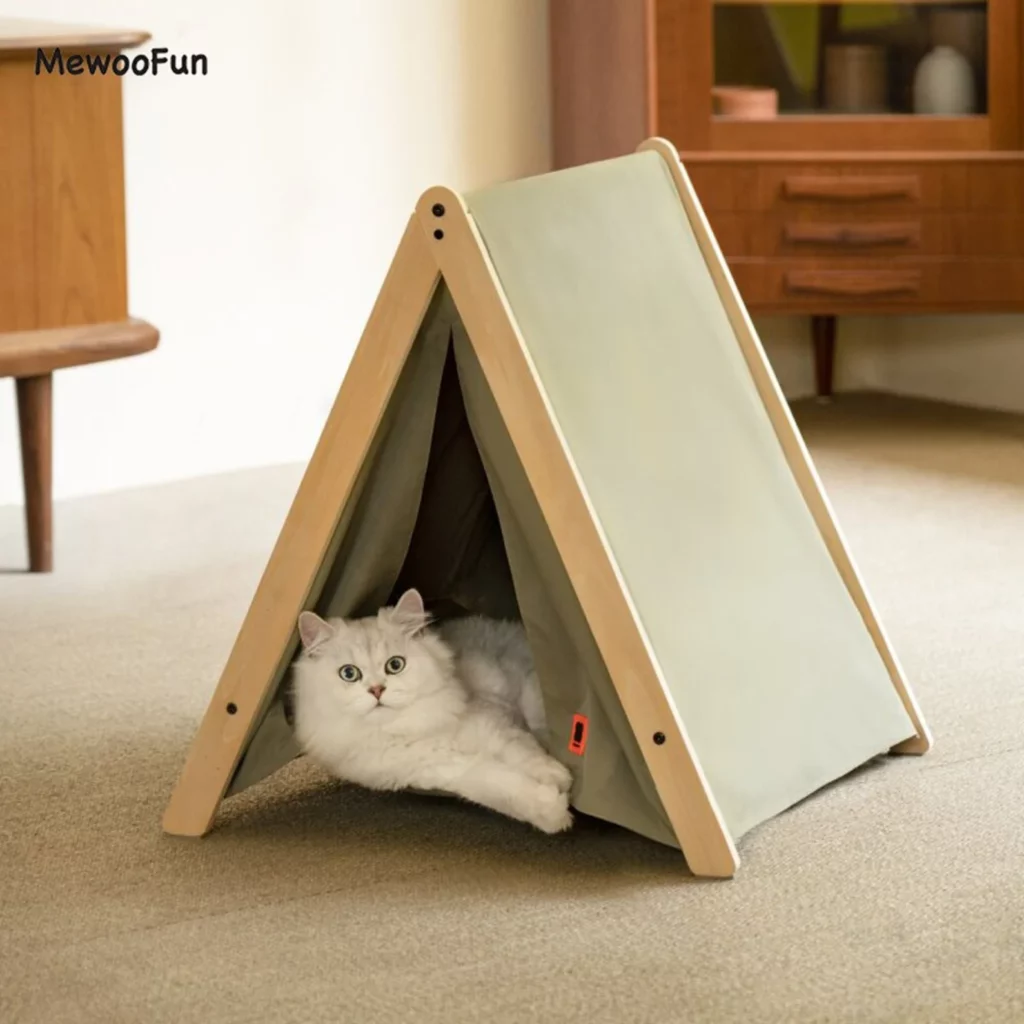 Dimensions:
Assembly: Easy to Assemble
Cleaning:.n/a
The affinity boasts a more durable cat tent made with thicker linen fabric and pine poles. It comes in green and yellow and has a hammock-style bed.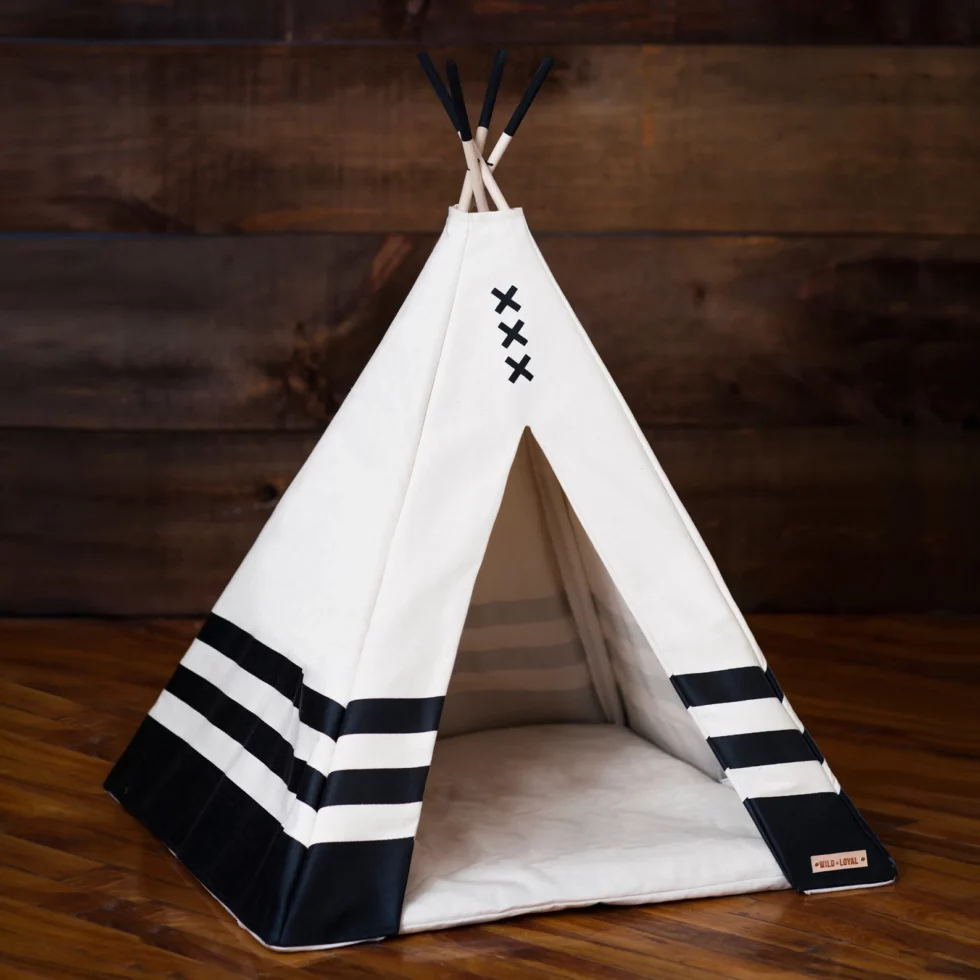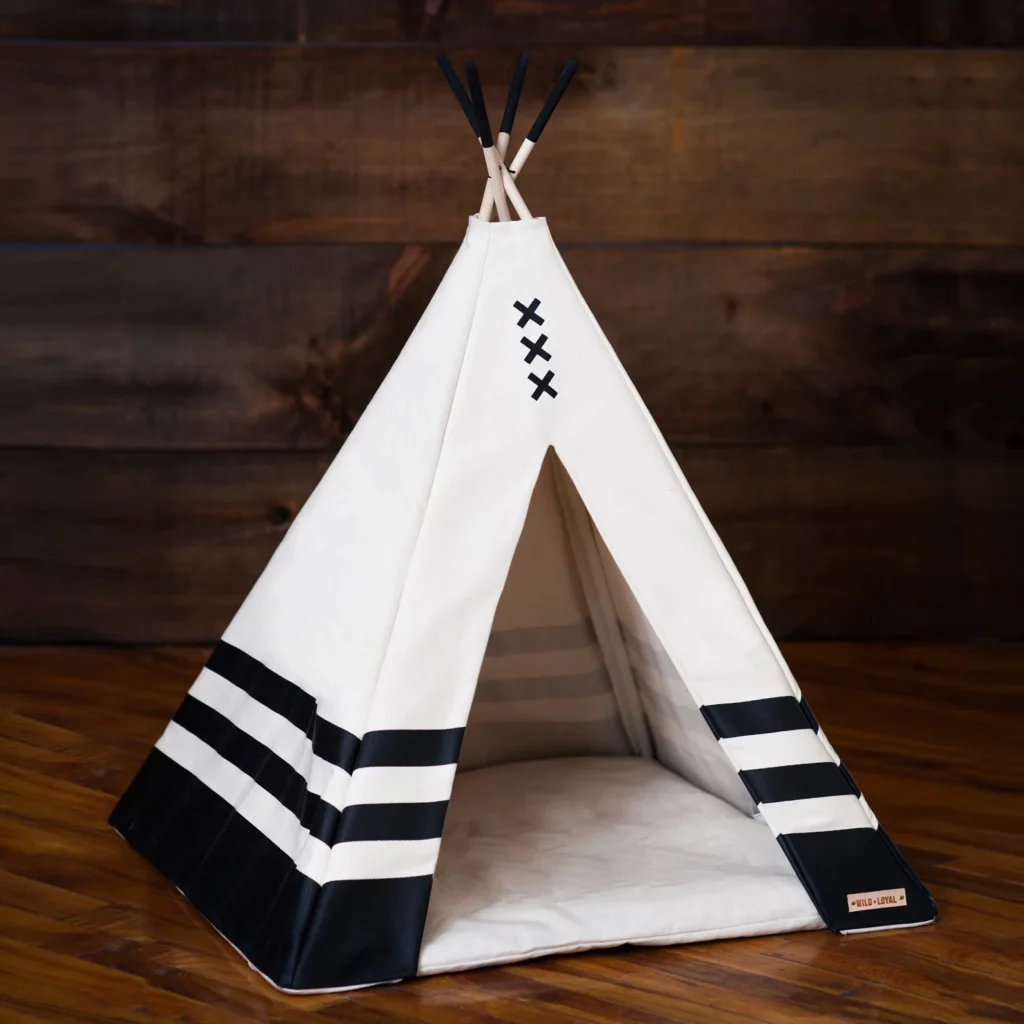 Dimensions: 24 x 24
Assembly: Comes Pre-Assembled
Cleaning: Spot Clean Only
We love the look of this fresh black and white design on this indoor cat tent. It's made of durable canvas and comes with a comfy cushy. Consider the add-on stabilizer kit for active pets.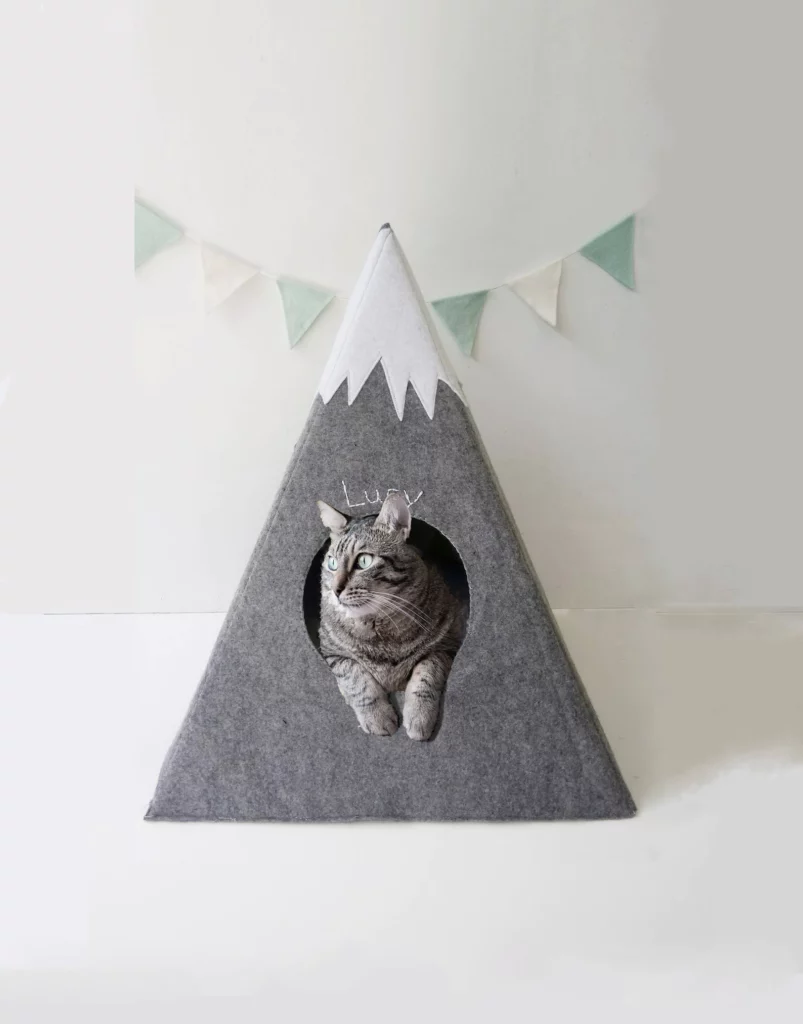 Dimensions: 15.7 x15.7 x 20
Assembly: on piece plus pillow
Cleaning: pillow is washable
This snow-capped indoor cat tent is made with a wool blend felt. It is folded into one piece and makes a great option when traveling with cats.
Dimensions: 23.5 in D x 23.5 in H x 28.75 in W
Assemby: Easy to Assemble
Cleaning: machine washable
This is a great budget-friendly option for indoor cat tents. If you want to find out how your cat interacts with a tent before investing in one of the other handcrafted design options, this tent is for you. It features a hammock-style bend and a feather play toy.
Dimensions: 16″L x 13″W x 13″Th
Assembly: one piece
Cleaning: machine washable
This is another one-piece cat tent. It has cushions on all sides and creates an almost cave-like experience for your cat. It's perfect for pets who love to cuddle in and get comfortable.
Dimensions: 23.6 x 22 x 21
Assembly: n/a
Cleaning: n/a
Let's go camping! This sweet cat tent by Ecomax is made of cotton canvas sides and comes with a soft fleece bed. This is another entry point indoor cat tent that has a touch of boho style. If you want to create the feel of a cat camp, this cozy abode will do the trick.
Dimensions: 20.47" x 20.47" x 17.51"
Assembly: Easy to Assemble
Cleaning: Made of wipeable plastic
The Smarty Cat Indoor Play Tent is less of a comfy retreat and more of an active hide-and-seek toy. The attached crinkle toy inspires hours of play. Check out the fun videos posted of pet parents enjoying their cats playing in and around the tent.
The Facts on Indoor Cat Tents
Benefits of Cat Tents
Cats like to sleep in small spaces. Their instincts tell them that they are vulnerable to prey when sleeping, and they look for protected dens for sleeping. The search for small spaces can get cats in trouble, and an indoor cat tent is an easy solution to protect them. Plus, they are totally cute.
Determining the Correct Size
There are a few things to consider when determining the correct size tent for your cat. In addition, to being able to fit inside, turn around and rest comfortably, you should make sure the front opening can fit them as well. If the bottom of the tent has a hammock base, check the weight recommendation.
Use the measurements with the review to determine how much space you will need to place.
Care and Cleaning Tips
You can purchase a fully washable tent or one that needs to be spot clean. You know your cat best. If you have indoor cats that is a mellow shedder, the spot clean option may work for your home. If your cat is like mine and tracks in dirt and tends to cause a raucous, go with the full-on washable one.
Placement
Cats enjoy having a little privacy throughout the day so consider placing your indoor cat tent in a spot away from daily activity. Make sure to avoid hazards like radiators.
Are They Okay for Dogs?
We selected these tents with cats in mind, but if your dog fits the size recommendation, there isn't any reason why they can't enjoy these stylish tents too. Any small animals will feel like camping in a pet tent.
Portability
If you travel with your pet, there are a couple of one-piece cat tents that are easy to carry and for your fur baby on the go. A space that already smells like them will provide comfort in new environments.
For more cat-friendly content, check these recent posts.