Pet-Friendly Mid-Century Modern Design Guide
Mid-Century Modern design elements have recently been working their way back into our homes. The clean lines, organic curves, and high functionality have a timeless appeal to design lovers. It's not the most effortless look to pull off if you have multiple pets, but possible with a little strategy.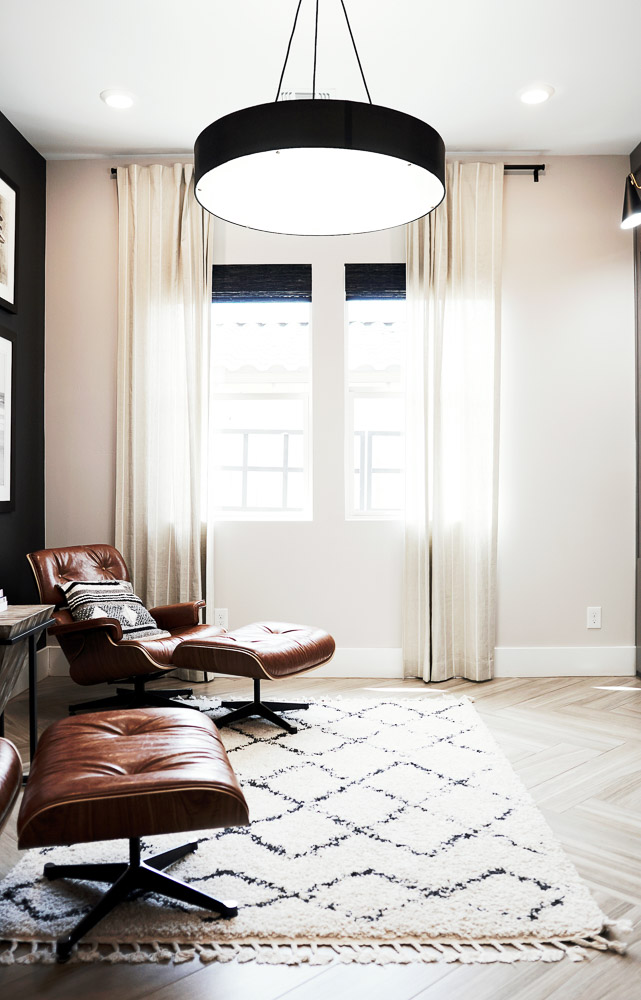 This post may contain affiliate links and I may earn a small commission when you click on the links at no additional cost to you. As an Amazon Affiliate, I earn from qualifying purchases. You can read my full disclaimer here.
The Basics
Mid-Century Modern emerged after World War II when suburban homeowners wanted more modern furnishings. With its roots from German Bauhaus design, the decor is streamlined as form follows function. Traditional material like wood is paired with non-traditional materials such as metal, glass, vinyl, and the now uber-trendy Lucite. Plastic was used as plastic and not to imitate wooden furniture as seen in these elevated dog bowls
or these lucite versions
Furnishings
Mid-Century Modern seating is low and streamlined. It brought us the iconic Eames chair, Barcelona Lounger, and Egg Chair. It's easy to spot a claw scratch on a plastic chair, but the upside is our pets are not typically attracted to these pieces. They are hard to climb on and don't offer pet-preferred cushions. An iconic design, like this shell dining chair, is a great way to bring a mid-century modern piece into your home that is less vulnerable to pet attention
If your cat or dog is a chewer opt for a verison with metal legs like this orange retro option.
Couches
Most MCM sofas and couches are typically tight upholstered cushions set atop deliciously chewable thin wooden legs. This Mid-Mod Cat Tunnel Bed is a fun take on the look. If your pet is a chomper look into couches with metal legs.
Joybird is positioning itself at the go-to for pet-friendly mid-century modern couches. You can customize your selection, choosing the shape, legs, and fabric. The design options look incredible. I don't have one, and the NY times reports they have some customer service issues. If you have a Joybird, let us know your thoughts in the comments section.
If you opt for a leather couch with a low MCM shape, be careful of versions with a soft buttery texture. They are easy to scratch and puncture with a rogue claw. Consider one with a durable leather (or pleather) in a Mid-Mod shape.
The Coffee Table Conundrum
MCM Coffee tables typically have a (breakable) glass or heavy marble top set upon thin tapered legs, in chewable wood or unstable hairpin. They are not so pet-friendly. If you have a playful pup that likes to run around or a cat that likes to walk along the top of your coffee table, you need something sturdy. Almost all MCM coffee tables include some pet-unfriendly elements with the exception of the Semisfera Coffee table. Another sturdy option is a low boxy version (which may not necessarily be true to MCM – just in case you are a purist)
Hairpin legs are an excellent option for an entryway bench or something that has the support of being against a wall. It is chew proof and looks perfectly mid-mod. It is also a great option for a mid-century modern dog bed.
Textiles
Mid-Century Modern Textiles keep the room grounded in neutrals and incorporate abstract Bio-morphoric shapes in mixes of turquoise, sunny yellow, bright orange. Ruggables has a great selection of rugs with mid-century modern designs. We have four Ruggables in our home, and it is the only way we could have carpets with three dogs and a cat. I do not make any money from this recommendation, just honestly believe in their product. They come in two pieces, and you can remove the top layer and wash it in a standard washing machine. We have two of the original ruggables, and there were some flaws in the design. The sides would roll up, and they shrunk over time. Our two newer versions do not have these same issues. They seem to have improved the design.
Here are some of my favorite mid-century modern options from ruggable.
The Open Concept
MCM is the origin of the residential open-concept, and I love the idea of light and air flowing from room to room. It loses some of its appeal when you add other people or pets. As much as I love my husband, I am less interested in is his music choices or work zoom calls when I am researching pet-friendly furniture options.
The open concept has also been an issue for pet management. For the first year after my husband and Mortimer moved in with us, Scout did not buy into the arrangement. She was reactive with other dogs, so we separated the house in two, giving one side to Scout and the other to Mort. The story has a happy ending; thanks to our veterinary behaviorist, the pups are now buds. Still, It took a crazy level of engineering to stretch baby gates across our enormous hallway to create separation.
Even now, we feed each of three dogs in their own room to any prevent food aggression issues. We have two interior doors in our home (not including bathrooms). We are maxed out when it comes to separating them. It's something to think about when buying a house. I know that every single person on House Hunters demands an open concept home, but how many pets do they have?
Art and Accessories
It's a little unrealistic to go floor to ceiling with the mid-century modern, especially with not-so-pet-friendly coffee tables and vintage finds being so expensive. A few well placed mid-mod accessories can give the space the feel without a total overhaul. Try an abstract art prints or the mid-mod classic starburst clock.
Check out our other Pet-Friendly Design Guides for Modern Industrial and Scandy Design.