How to Take Pictures for Pet Holiday Cards
Choose A Theme
Over 60% of American households have a pet, and why shouldn't they be in our holiday greetings? The first step to planning pet holiday cards is to pick a theme. Just keep in mind your fur-kids sensibilities. If you have a hyperactive dog, pictures of your pup dreaming of sugar plums dancing in their head may be trickier to pull-off.
Pet Holiday Card Theme Ideas
The Classic – Feature your fur-kid on the front porch or in front of your fireplace.
Cat Present – Cats love boxes, so wrap some four-sided presents up and let your kitty go to town.
Santa's Cookies – Try to capture the moment where your pup steals Santa's cookies or any holiday cookies.
The Lick – Nothing is cuter than your pet licking your face. Dig through your outtakes for candid options.
Dogs in Flight – Toss a ball in the air and catch your pup in flight. Choose a fast shutter speed to capture the moment. You can also try moving the camera with your dog, so you get them in focus with a blurred background.
Sweet Destruction – It's always amusing to see what destruction your dog creates. Set your dog up with their favorite chew things and let them go to town.
Shaming – Will there be coal in the stocking for Fluffy this year? Your holiday card is a great time to air out your cat or dog's bad habits.
Costume
One easy way to pull together a pet holiday card is to deck your fur-kid out in a costume. Coordinating the whole family in the same outfit is an even bigger win. Keep in mind all of the pet-related costume concerns, like making sure it doesn't restrict their movement or sight. The Halloween season is a great time to grab a pet costume while they are still in stores.
Pet Costume Ideas
• Holiday Flannels
• Matching Scarves
• Reindeer Antlers
• Santa Hats
• Pajamas
• Clothing for Snowy Weather
• Bow Ties, Neck Ties, Bandanas
• Elf Hat
• Christmas Caroler with Top Hat
• Holiday Tutu
• Wreath Collar
• NYE Formal Attire
Backdrops
To keep the focus on your pet, provide some contrast between your fur-kid's coat/costume and the background. Keep it simple so they can stand out. If your pet is rocking, bright Christmas colors stick with winter whites behind them. It's easy to create a magical winter wonderland with a collection of white blankets and linens. You can also use holiday wrapping paper or go outdoors on a snowy day.
Lighting
Natural light makes everything look better. If you are shooting indoors, try to be near windows where there is plenty of light. If you are shooting outdoors, try to avoid noon when the sun can be harsh and cast more shadows. If you are super dedicated, the best light is at Golden (doodle) hour. The first hour after sun break and the last hour before sunset.
Try to avoid the flash. It's just not flattering for our pups, and it can easily freak them out.
Relax
Before you begin your photoshoot, get your fur-kid super relaxed. Take them for a walk or have a fun play session. Try to figure out if they are more relaxed before or after having eaten. Groom them ahead of time, so you don't compound any of that anxiety with the photoshoot.
Let them smell the camera and the props. If they are wearing a costume, make sure you give them plenty of rehearsals before the big shoot.
Get Their attention
Here is where it gets tricky, literally. If your dog knows the stay command, out in some extra practice sessions leading up to the photoshoot. You can call their name and use treats to get their attention, but often it will lead to the dog or cat coming to you. If you want them to stay in place and look into the camera, you can try noises or squeaky toys. They can burn out on the sound, don't overdo it.
Some people put a treat right over the camera lens. There is also an app called Wag Cam with plenty of fun sounds that helps you keep their focus. Plan to take A LOT of pictures, but keep sessions short. Professional pet models only work for about 15 minutes before they get a long break.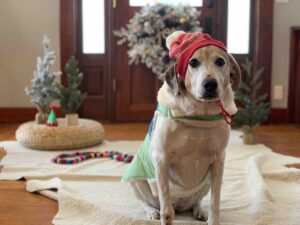 Perspective
Another way to shake it up is to play with perspective. Get on the floor at your dog and cat's level. You can also take a family photo and keep the pet in focus while cropping out the family's top half.
More Than One Dog
When you have more than one pet in the picture, it makes it more difficult. It's best to keep it simple, plan something candid or take single photographs, and create a photo mosaic.
Adding Yourself Into the Picture
There are some logistical challenges to taking the picture when you are in it. You can get a friend to take the photo or if you have one pet you can hold your pet and go the selfie route. Holding can make this all much easier.
Last winter, our local newspaper tasked us with taking a picture of the entire Barking Bungalow Pack, including me and my husband. Like everything in our lives, it was chaotic and totally hilarious. Even though our crew gets along, a lot of that peace is maintained through distance, which does work well for a tight shot of the family.
Since we had to be in it, we rigged up an iPhone in front of the TV monitor and mirrored the phone onto the TV. This way, we could look into the camera while checking the monitor to see if we were in frame.
We also used a remote with a Bluetooth connection to the camera. My husband held the cat in one arm (who wanted nothing to do with us that day) and the remote to the camera in his other hand. I had a hidden can of cheese wiz and a few treats to try to keep the dogs engaged.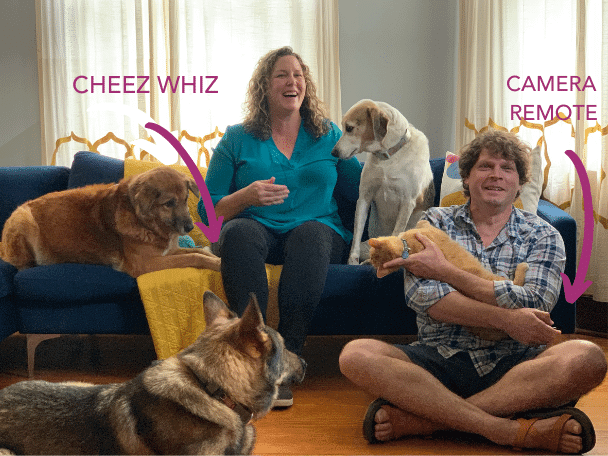 It's is far from the Walton's family photo…or even the Griswald's, but it is 100% us, and in the end, that is the joy in these pet holiday cards.
Wrap it Up with a Pun
If you are ordering your holiday card online, there are plenty of pet-themed holiday cards to choose from with clever phrases built into the design. If you want to create something on your own, here is a list of holiday puns for inspiration.
• Have a Meowy Christmas!
• Happy Howlidays
• Have a Purr-fect Holiday Season
• Feliz Naughty Dog
• Hoping Your Holiday Is Warm and Fuzzy
• Have A Howly Jowly Christmas
• May Your Holidays Be Furry and Bright
• Furever Merry
• Barking Around the Christmas Tree
• Let's Paws to Celebrate the Season
• Paws to Enjoy the Season
• Paw-la-la-la-la
• Furry and Bright
• Have a Ultimutt New Year
• Happy Holidays, Dog-gone it!
• Dachshund through the snow
• Up on the Wooftop
• Collie-fornia Holidays
• I Pugging Love…
• Happy Holiday from South of the Border Collies
• Cheers to getting Mastiff Presents
• 2022 Pit-Happens
• 2022 Shit-Zu Happens
• 2022 has Been Ruff
• 2022 was a Paw-ty
• Santa Claws
• Thanks Fur Everything
• Have a Furbulous NYE
• Merry Christmas, fur Real!
• Pawfectly Wonderful Holiday
• Have a Fetching holiday
• Have a Pawsome Holiday
• Furwell 2022
If you want more Pet-friendly tips sent right to your inbox, drop your email below.