We have a little bit of dog toy problem over here. They are so darn cute these days you have to buy one every single time you walk into a pet store. The dogs also get a heap of squeaky presents for K-9 Christmas, we buy used tennis balls in bulk for Scout and we have been bark-box subscribers for many years.
I firmly believe all these toys protect our shoes and chair legs from premature death. With three large dogs, we need a lot of things to chew on, but the retired toys start to pile up. We get rid of anything that gets broken down to a point where it's unsafe, but they make them pretty indestructible these days. We could just toss them, but we figured out how to use them to create a retired dog-toy herb garden.
A Solution for Heavy Garden Planters

We use pots and garden planters to keep the dogs out of different areas of the backyard. They protect the plants and shrubs. We can move them around to change up the dog's traffic patterns, which prevents the grass from getting worn down in any one area. It requires some very large planters to make this happen.

They are a beast to move around when filled with soil. However, old dog toys are light, so we add a layer of retired squeakers to create a false bottom. The bark-box toys have these rubber spikes around them that make them nice for drainage…but we still drill holes in the bottom of the planters to be safe.
This may seem like we are burying Woody from Toy Story in a bunch of potting soil, but we are actually giving these retired toys a new purpose.
I mean…there are a few particular squeaky toys that I have really enjoyed burying under tons of dirt so we never ever have to hear them ever again, but also recycling in great for the earth.
Here is a simple and fun project to put those retired toys to use, save the planet and create a beautiful herb garden.
Retired Dog-Toy Herb Garden

Step One: Toss your old squeaky toys into the bottom of a planter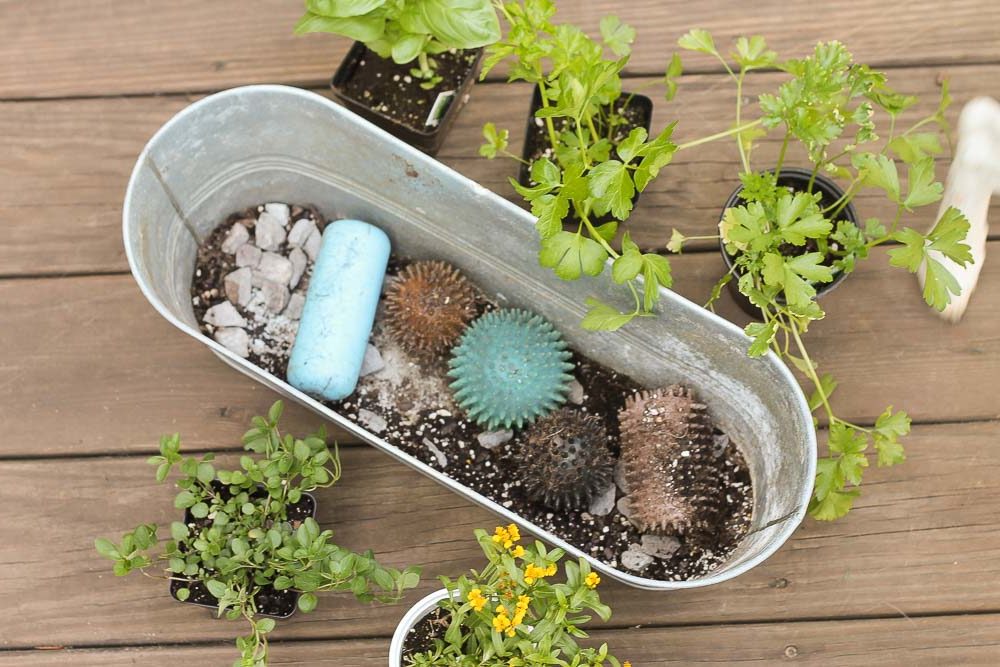 Step Two: Fill with a small layer of potting soil
Step Three: Add your favorite herbs.
Step Four: Add a final layer of potting soil

Step Five: Enjoy your delicious herbs while also knowing you have given a second life to your retired dog toys.
Drop your email below for more pawsome DIY projects!