13 Stylish Dog Carrier Totes
Whether you are heading to brunch or out of town for a weekend getaway, no one wants to leave their adorable pup at home. But, thanks to some innovations with pet carrier totes, you can bring them along in style. Whether walking around town or jumping on a flight to somewhere fabulous, these highly functional and stylish pet carriers will make traveling with your pup a low-stress affair.
WHAT ABOUT MY CAT?
My three dogs each weigh over 60 lbs. Sadly for them, they do not fit into a dog carrier tote. However, we have a cat Lottie Mae who is fiercely independent. We recently moved and required a carrier that would keep her safe while we were in transit. So, I initially did this research for her. I found a few pet carriers that were perfect for cats and a few that were a no-go. We will note when one of the totes is also cat approved
Measure Your Pet for the Right Size Carrier
The key to your dog's comfort in a carrier is to ensure it's the right size. They should be large enough to turn around and stretch out when lying down.

First, measure your pup from their neck (near their collar) to the base of the tail. Then, add two to three inches.

For the height, measure from the shoulders to the floor. If you choose a soft carrier, add two to three inches to the shoulder height. If you select a hard-sided carrier, add three to five inches.

Most manufacturers also list a weight for the carrier. It's essential to stay within these guidelines. This guideline is not about the fit but ensuring the bag's structure cab hold your pup's weight. Always size up!
The Right Choice For Every Type of Travel
Walking
If you are looking for a carrier to bring your dog with you as you walk around town, there are a few things to consider. Choose something lightweight and a style that will not overstress your body. These bags typically have less structure because the side of your body supports them.
Planes
On the plane, dog carrier totes need to fit under the seat in front of you, so something with a soft side will help to make it fit in place. Each major airline had specific requirements…because nothing is easy. Here is the information for American, Delta, Jetblue, and United. Check the airline's regulations for total weight (carrier + pup), the length, width, and height. Some carriers base that on the specific plane you are flying.
A few of the totes have options for easy clean-up. This feature can be super important for a long flight or if your dog is easily stressed out but new environments.
Cars
If you specifically want a carrier tote for the car, you need to check that it is crash test certified by the Center for Pet Safety. Unfortunately, there are no safety guidelines for pets in cars, but this team goes the extra mile to find the safest options for your pet. Also, ensure your pup is safely secured to a seatbelt to prevent accidents.
Trains
Amtrack requires your pet and carrier to weigh 20 pounds or less, and the carrier must fit under the seat. They also request that you trip be under seven hours. I think your dog will be down for that as well.
If you are more of a subway rider, the NYC MTA only allows pets "enclosed in a container and carried in a manner which would not annoy other passengers" – How could your pup possibly be annoying?
This post contains affiliate links, and I may earn a small commission when you click on the links at no additional cost to you. As an Amazon Affiliate, I earn from qualifying purchases. You can read my full disclaimer here.
BEST ALL AROUND
SMALL: Weight: (Up to 15lbs) Measurements: 17″ L x 11″ W x 10.5″ H
LARGE: Weight (Up to 25lbs) Measurements 19″ L x 11.75″ W x 11.5″ H
SAFE FOR CATS
The Roverlund Out-Of-Office is made of marine and mountaineering-grade fabrics for lightweight durability. The bottom is waterproof and has a washable fleece-lined dog bed for easy clean-ups. There are also huge pockets to store all your treats and poo bags. The shoulder strap converts into a sturdy leash and the handles can also be used as a backpack. The pocket inserts can be removed to conform to smaller aircraft
WHY YOU WANT IT: It's durable, can be used as a duffel or backpack, and is an excellent option for cats. It's also airline compliant.
STYLE FACTOR: This bag is a cutie. It comes in 6 fabulous color/pattern options.
DOWNSIDE: While the bottom is waterproof, there isn't a ton of absorption. Some reviewers suggest adding a pee pad below for more prolonged use.
THE BEST PLANE OPTION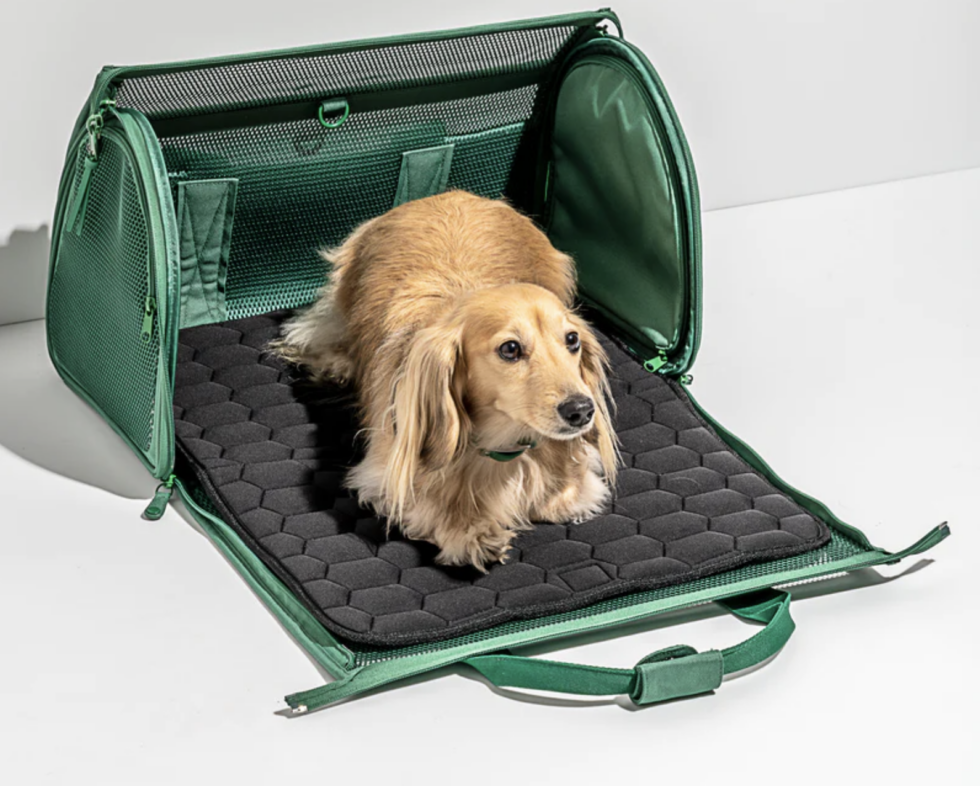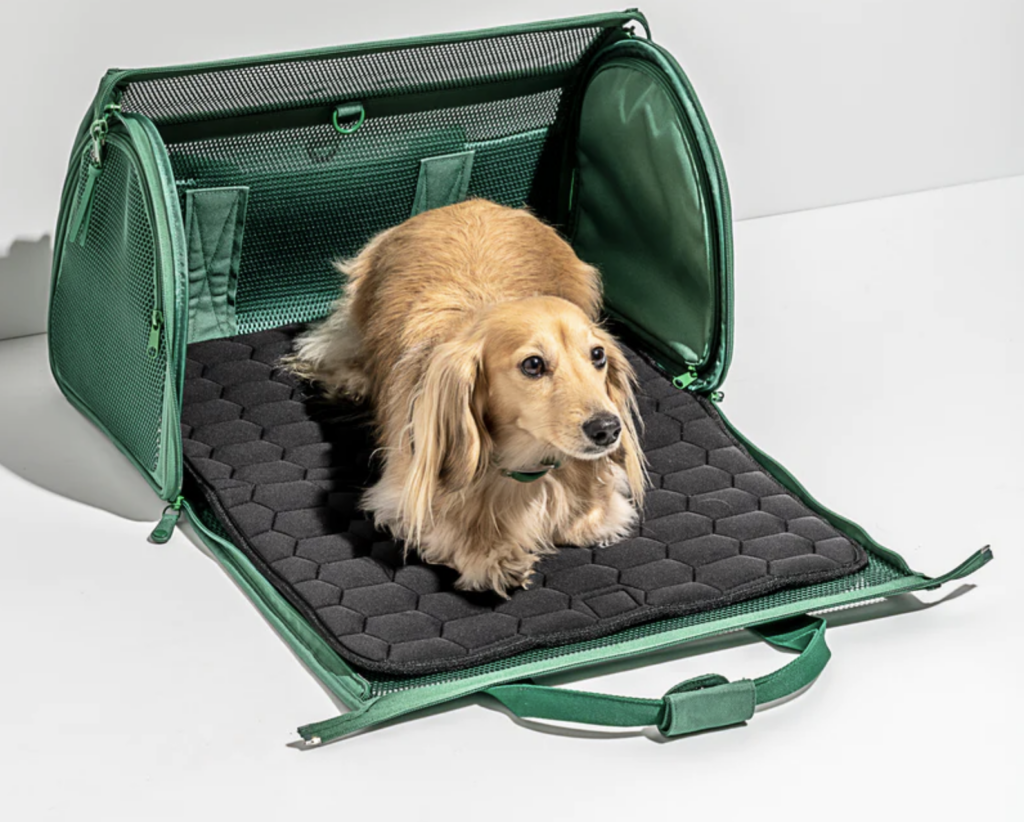 Weight: (Up to 16lbs) Measurements: 17.5" L x 11" W x 10" H
SAFE FOR CATS
The Wild One Travel Carrier is lightweight neoprene and has plenty of mesh panels for breathability. Its airplane compliant and the soft structure makes it fit easily under the seat in front of you. It has a dual-use shoulder strap that also functions as a leash on the go. The built-in clip keeps your pup secure, and there are plenty of pockets to stash your poop bags and keys.
WHY YOU WANT IT: These carrier totes are airplane compliant and fold out to be a travel dog bed on the go.
STYLE FACTOR: Wild One products typically have the trendiest of color options. The carrier comes in Spruce, Black, and Tan, but they often release new colors. There are plenty of matching accessories on the Wild one site.
DOWNSIDE: There are some complaints about small dogs and cats being able to slip through all the zippers.
THE BEST CAR OPTION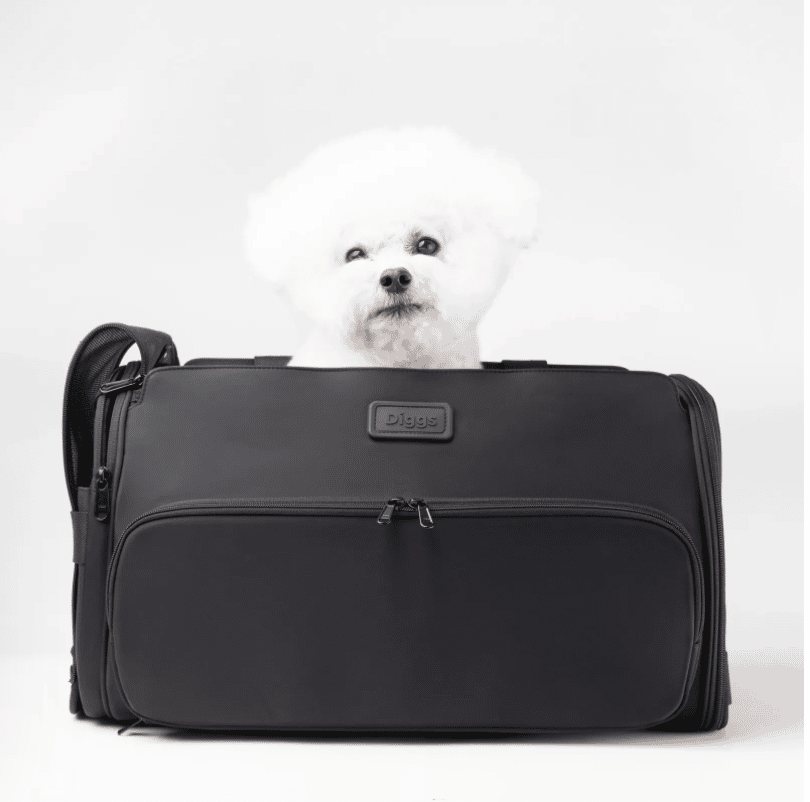 Weight: (Up to 18lbs) Measurements: 18L x 10W x 10.75H (Internal Measurements)
SAFE FOR CATS
Diggs Passenger is the only dog tote carrier we recommend for the car. I trust the designers at Diggs. They make my favorite dog crate, and this travel carrier does not disappoint. It is five-star crash tested. There is a custom seat belt strap to keep your doggo in place. It also has a legit clean waste management system. Just attach a pee pad to the included bed, and your pup (and car) is protected from accidents.
WHY YOU WANT IT: These carries are crash tested and safe for the car. The waste management system also makes clean-up a breeze.
STYLE FACTOR: The Digg Passenger Tote comes in four neutral colors. It's not flash but looks like a sophisticated piece of luggage.
DOWNSIDE: The Diggs Passenger is one of the more expensive pet carrier. It may be worth the price tag if you have the slightest bit of travel anxiety.
PUP'S CHOICE
ROVERLAND OUT-AND-ABOUT PET TOTE
SMALL: Weight: (Up to 15lbs) Measurements: 15″ L x 8″ W x 10″ H
LARGE: Weight (Up to 30lbs) Measurements 17″ L x 8.75″ W x 13″ H
The Roverlund Out-And-About is overwhelming the favorite choice of pups. Numerous reviews tout their doggos are super excited to jump into this tote. This soft sided carrier offers extra flexibility for them. The Out-And-about has a neck opening so your pup can check out the world while traveling. The canvas-covered bottom is structured for stability, allowing your pup the opportunity to stand, sit or sleep in ultimate comfort. It's also convenient for humans The bed is washable and includes large pockets to store all your extra items. It also has a padded shoulder strap, which is vital when carrying an additonal 30 lbs on your shoulder!!
WHY YOU WANT IT: The Rovelund offers so much versatility for your pup. They can stand on the structured bed, poke their head out of the ergonomic neck scoop, or duck inside and nap. This carrier tote holds a dog as large as 30 lbs! Backpack conversion makes it hand free.
STYLE FACTOR: The Roverlund has a sporty vibe and comes in five different color/pattern options to match your personal style. We love the camo/magenta version.
DOWNSIDE: While the Rovelund has padded straps, they are not adjustable. Nothing an extra carabiner can't fix.
THE ENVIRONMENT-FRIENDLY OPTION
WILD ONE – EVERYDAY PET CARRIER TOTE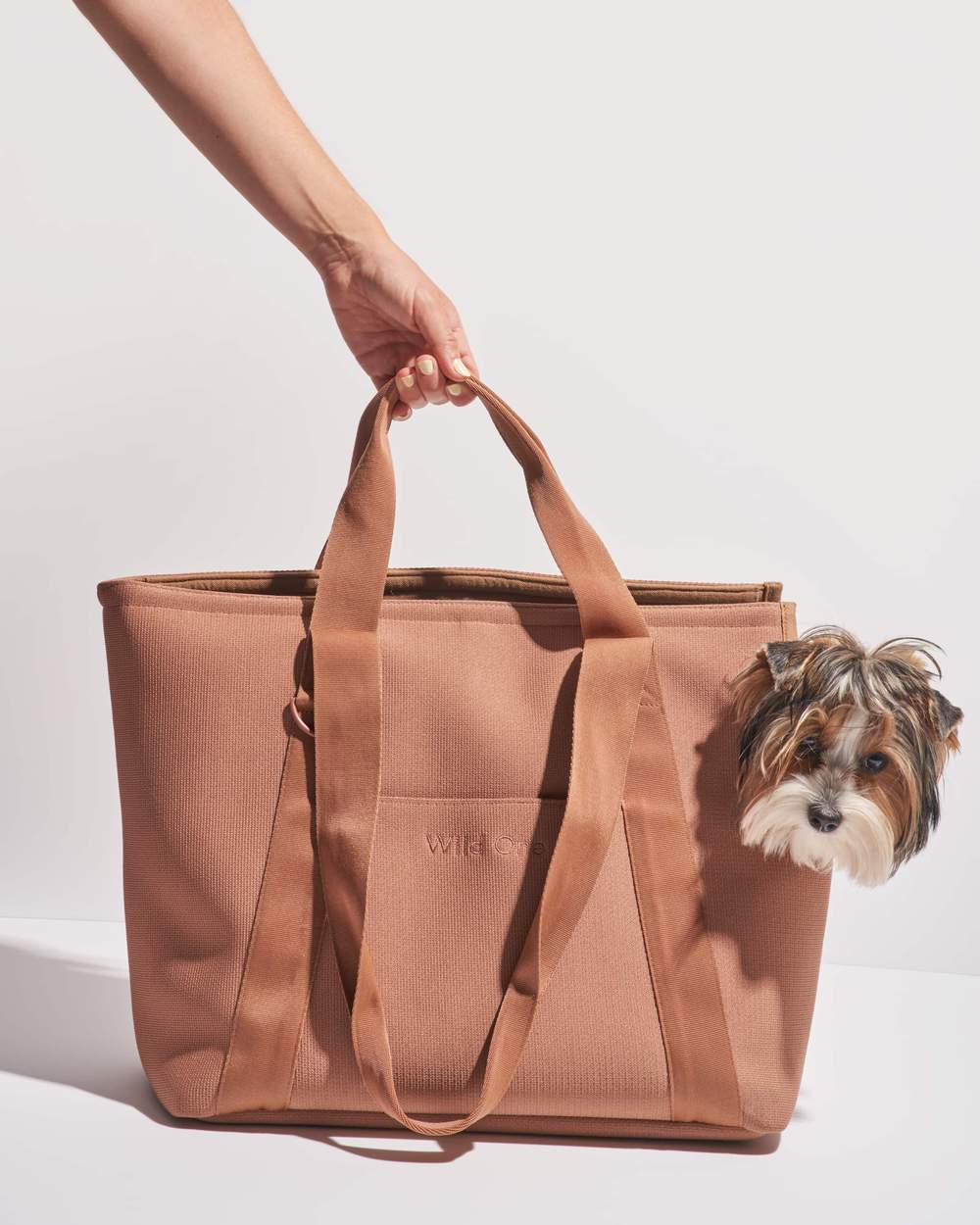 Weight: (Up to 20lbs) Measurements: 14.25"L X 21.5" W X 7.5" x H
As the name says, these pet carrier totes from Wild One are the perfect everyday carrier. It has four pockets, a machine-washable mat, and dual-length carrying straps. So if you regularly commute with your pup, this soft sided carrier crate is for you!
WHY YOU WANT IT: This everyday pet tote is made from 80 water bottles, making them the most environmentally-friendly option.
STYLE FACTOR: The Everyday pet carrier tote currently comes in Lilac, Black, and Cocoa. Color is Wildone's thing. They are often releasing products in adorable colors.
DOWNSIDE: Some reviewers feel the recycled bottles make the bag on the heavier side. It is also not machine washable, so you will need to use a cloth to spot clean messes.
THE MOST LUXE
Weight: (Up to 15lbs) Measurements: 15″L x 11″ W x 6.5″ H
If Hermes were going to make dog carrier totes, it would look like the Fable Carrier. This stylish tote is made from handcrafted leather. It comes with a mesh nylon interior for comfort and easy clean-up. The shoulder straps are reinforced, and there is a cute zipper bag. This is a great option for smaller dogs.
WHY YOU WANT IT: It is quality leather and super gorgeous!
STYLE FACTOR: This is a super pawsh bag for the most stylish uptown pets. It comes in light gray, dark green, blush, and light blue.
DOWNSIDE: This super fashionable option is just for walking around town. It is not compliant for most major airlines.
COZY AND FASHIONABLE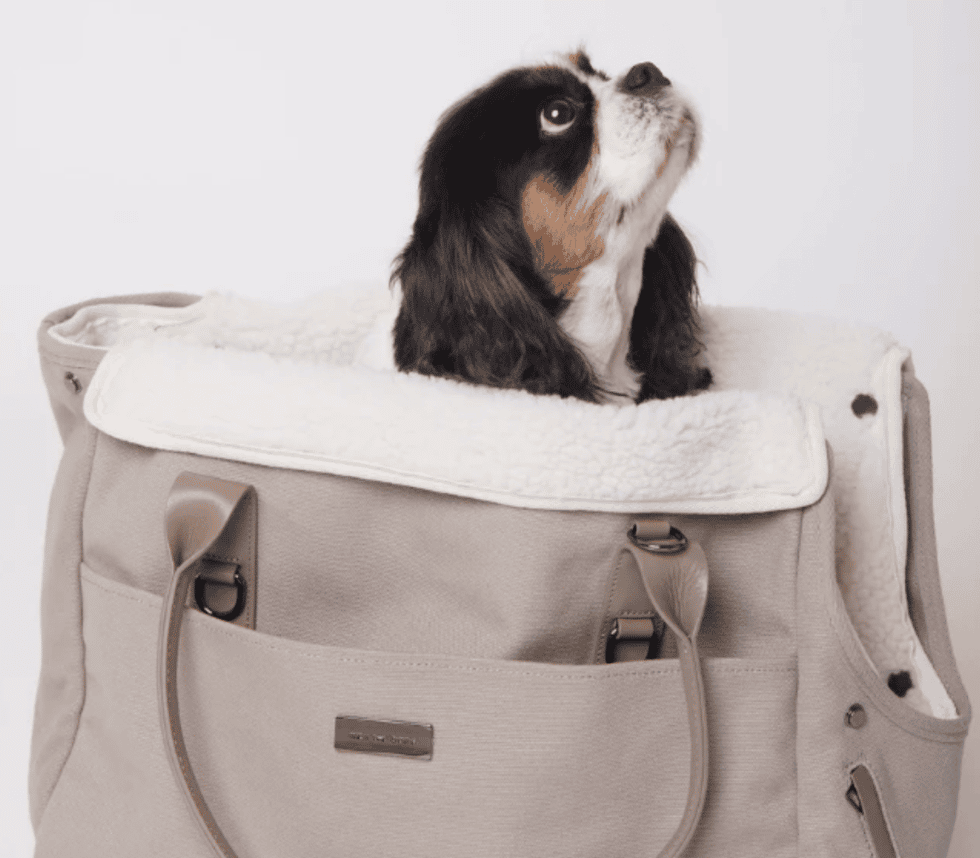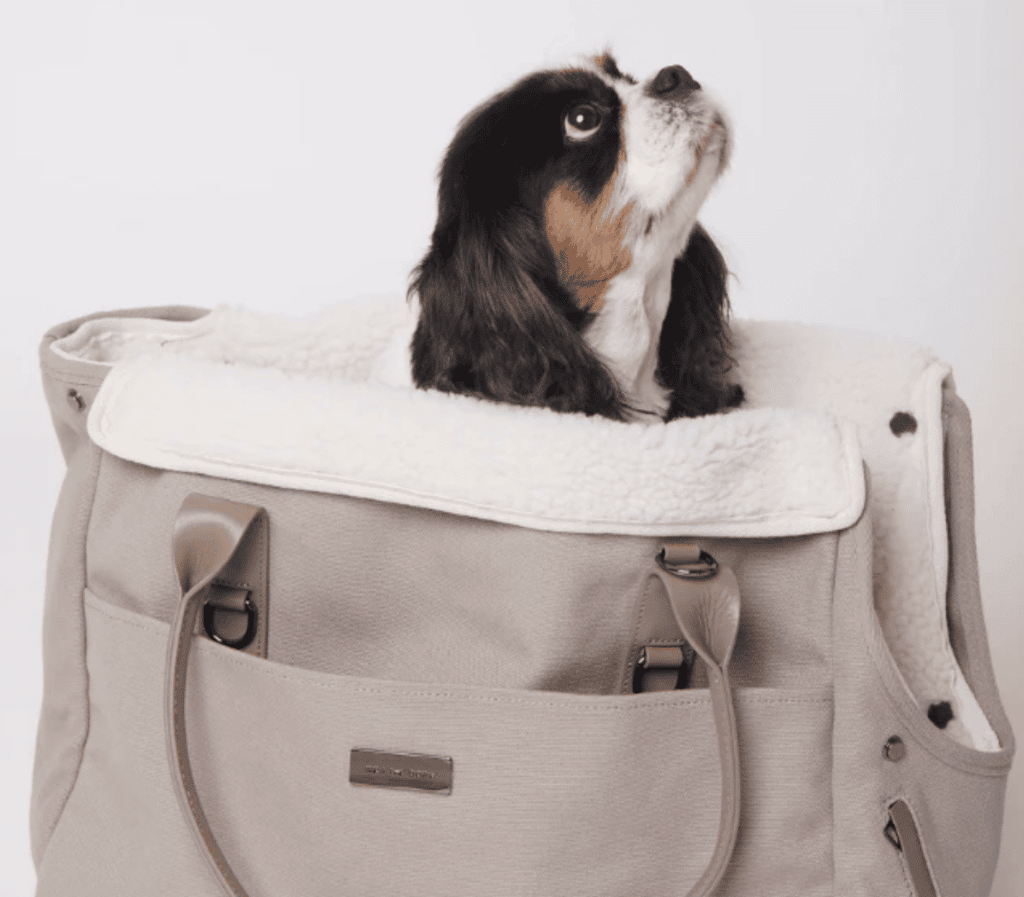 Weight: 5-22 LBS Measurements: 17″L x 14″ W x 7.75″ H
This fashionable canvas carrier has a faux sherpa lining to keep your pup comfy while on the go. Use it as a mobile dog bed or a fashion-forward way for your pooch to explore the city. There are clips for their collar or harness to keep them safe and snap openings so they can keep an eye on the road ahead.
WHY YOU WANT: The cozy sherpa lining is removable and hand-washable.
STYLE FACTOR: Comes in beige and navy. The clean canvas look has leather straps and quality hardware.
DOWNSIDE: We want more colors!!
CITY BACKPACK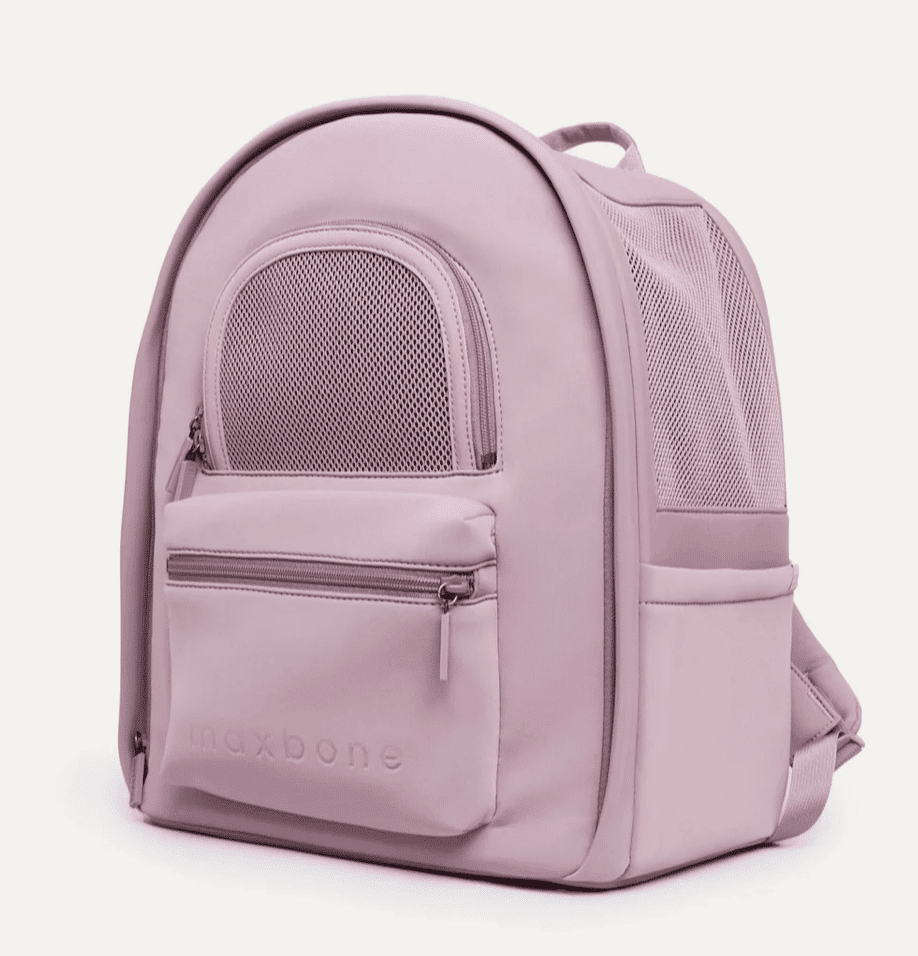 Weight: 17 LBS Measurements: 16″L x 12.5″ W x 9.5″ H
Made from soft neoprene, this city-chic backpack has all the bells and whistles to keep you and your pup comfortable when out and about. Mesh front and sides for increased airflow. It also comes with two removable faux sherpa liners.
WHY YOU WANT: This is a highly functional back with multiple storage options and safety latches.
STYLE FACTOR: The professional look of this bag makes it a perfect option for taking your pup to work. Perfect for the subway and other scenarios where you want your pup to have more of an incognito experience.
Downside: It's often sold out. Get it while it's still in stock
Find it on MAXBONE
SPORTY BACKPACK
Weight (up to 30lbs) Measurements: the backpack comes in four size. Check the chart on Amazon to determine which is right for your pup.
WHY YOU WANT IT: The backpack is a more ergonomic way to carry your pet. There are also plenty of videos to show you how to use the sports sack and how to get your pup comfortably in it for the first time.
If you want to do some hiking with your pup, the K9 Sport Sack may be the perfect fit.
STYLE FACTOR: The sports sack comes in four colors: Koral, Eclipse, Greenery, and Irongate…which are basically fancy names for Orange, Blue, Green, and Black. This is a super sporty backpack.
DOWNSIDE: The backpack doesn't come with a waist strap.
BEST SLING
SMALL: (Up to 5Lbs) see the chart on Amazon for sizing
MEDIUM: (Up to 10lbs)
LARGE: (Up to 14lbs)
WHY YOU WANT IT: This product has over 16K five-star ratings.
The Yudodo Pet Sling has adjustable straps and fits across your body, keeping your pup tightly against your body. It's made of leather and breathable mesh. There is a pretty wide shoulder pad for human comfort.
STYLE FACTOR: The slings style is cute, but this has a pretty utility feel. It comes in Black, Blue, Cyan, Brown, Green, Orange, and Sky Blue. Some versions have reflective markings if you want to get super fancy.
DOWNSIDE: Pay close attention to the sizing recommendations. There is not much room for error on this one. While the marketing mentions this works for cats, it would need to be a super docile kitty.
The Wrap Up on Dog Carrier Totes
There are a lot of stylish and highly functional totes on the market right now. Choosing which one is right for your doggo (or kitty) is hard. Start with how you will use it, then determine and choose the one that fits your vibe.
Looking for more pet tips check out our recent articles: