Modern Farmhouse Design is the perfect style for people with pets. The durable fabrics and rustic finishes hide some of the wear and tear from our fur-kids while the cozy vibe is the perfect setting for snuggly with your dog or cat. Here is how to get the look of Modern Farmhouse design with pets.
Modern Farmhouse Basics
Modern Farmhouse is a bit of a departure from Traditional Farmhouse, which includes more country and rustic elements. Modern Farmhouse still has that relaxed feel, but it's balanced with touches of elegance and features of a more modern lifestyle.
Modern Farmhouse is a collected style rather than an uptight fussy design. Crown molding and matchy matchy furnishing are replaced with distressed materials and cozy furnishings.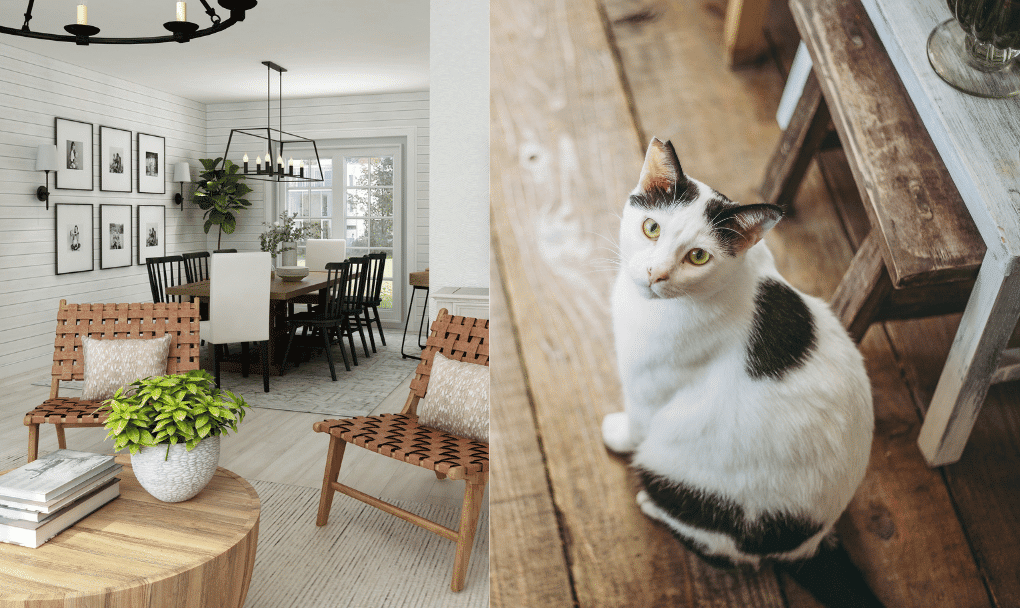 This post may contain affiliate links, and I may earn a small commission when you click on the links at no additional cost to you. As a Chewy and Amazon Affiliate, I earn from qualifying purchases. You can read my full disclaimer here
Neutral Color Palette
To create the look of Modern Farmhouse design with pets, start with a color palette of layered neutrals like whites, creams, browns, and greys. Black and Inky Blues are used for contrast and to create definition around windows and doorways. Other colors are muted and can often be seen in multiple shades throughout a room.
White and light colors can be a challenge for pet-parent because it is easier to see muddy paw prints and dark pet hair. For a more pet-friendly approach, stick with textiles in durable linen fabric or washable options like Ruggable rugs.
This Cozy Cave Cat Bed in layered neutrals of White, Grey, and Creme is perfect for an afternoon cat-nap. The essential relaxed look of Modern Farmhouse design with pets.
Rustic Finishes
Patina is the saving grace for most pet-parents, and Modern Farmhouse is all about it. Rustic finishes on flooring and furniture can hide any stray pet scratches or even a bit of a chewed edge. Knotted wood and exposed brick hide imperfections and can stand up to our pets' daily activities.
These wall-mounted elevated pet feeders allow you to create a Modern Farmhouse feeding station in your home. Pair them with a galvanized food storage bin or vintage treat canister to complete the look.
This Modern Farmhouse Crate Topper converts your dog crate into a piece of furniture. Modern Farmhouse Design with Pets can be stylish and highly functional.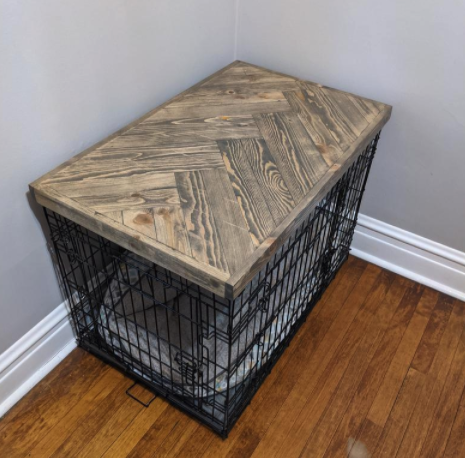 Find at Bernese Builder on Etsy
#Shiplap
Shiplap gets its own section because it is the darling of Modern Farmhouse décor. It can be a savior for people with pets because it adds a layer of rustic durability to drywall or furnishings. It's an excellent option for dog rooms, cat walls, and doggie mudrooms. The painted surface makes it easy to wipe down and more durable than drywall.
It's also an accessible material to work with for DIY projects because it covers up trim and detail work. If you want to build a cat bed or dog house, shiplap is an affordable and straightforward solution. It is easy to go overboard with such a versatile element so use with some restraint.
Hang leashes and walking gear on these shiplap-mounted hooks to add a modern farmhouse feel to your mudroom or entryway.
We are always looking for solutions to make dog crates look less of an eyesore in our homes. Modern Farmhouse design with pets creates opportunities to turn these industrial elements into lovely rustic farmhouse pieces. This custom Modern Farmhouse crate uses shiplap and white framing to create a dog crate that looks more like a stylish piece of furniture.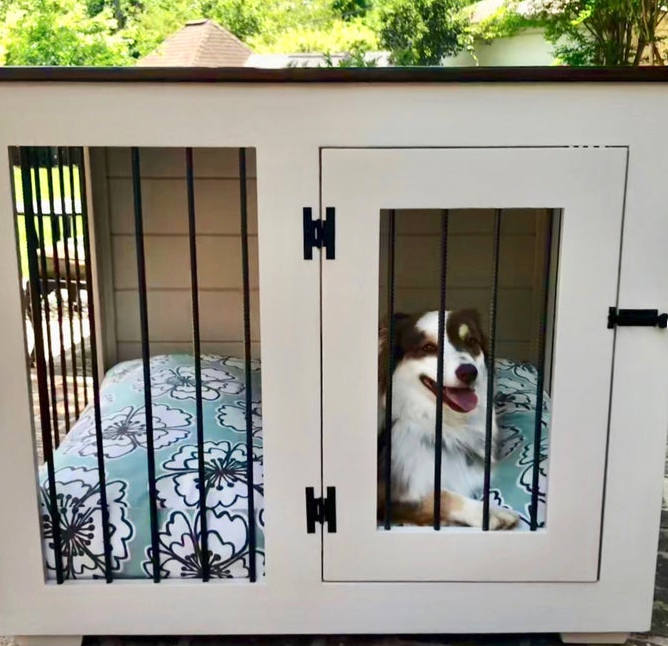 Find at Three Spoiled Dogs on Etsy
Metals
Gold, black, and silver can all work together in this world. Traditional Farmhouse is heavy on the galvanized steel, but the modern approach mixes in finished brass and matte black fixtures.
These stunning custom handmade ceramic dog bowls have a touch of gold lining the rim of the bowl. This would be a gorgeous additonal to any farmhouse kitchen.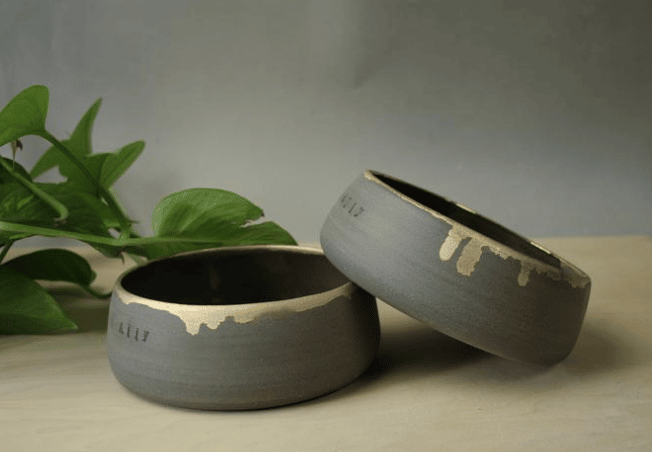 Find it at Zuze Ceramics on Etsy
These galvanized hanging half buckets are a clever way to store pet toys or leashes in a doggie mudroom or a dog walking station.
Leather pairs well with the engraved metals on these farmhouse inspired dog collars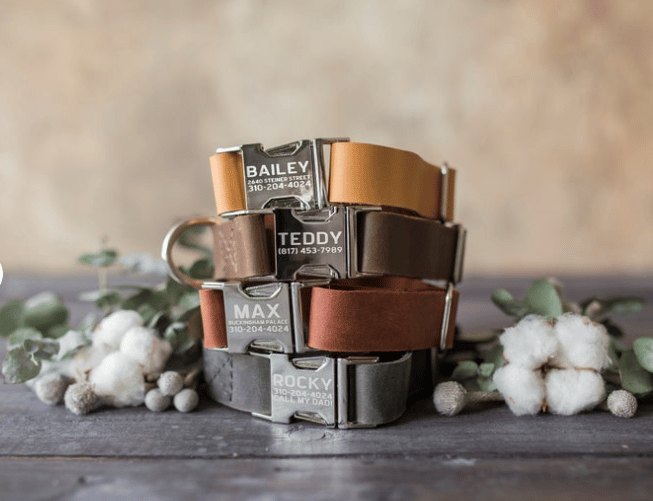 Find at So Good So Wood on Etsy
Textiles
If you love cozy throws and lots of pillows, you are in heaven with Modern Farmhouse décor. Layering textiles is also an excellent way for pet-parents to protect furniture without it looking like a pile of dog blankets.
To get the perfect textiles for Modern Farmhouse design with pets, start with a couch in a washable cover or durable fabric like linen. Then layer on washable blankets in the areas where your fur-kid likes to hang out. Choose blankets and pillows that match the color scheme of your couch, so it feels purposeful.
Fabric patterns are subdued and can have a faded or worn fabric, perfect for frequent washing. Buffalo check, ticking, and graphic florals are common Modern Farmhouse patterns. Choose a color that matches the color of your pet's fur or a design that can easily hide it.
We have this Orthopedic dog bed for Scout in a blue and white ticking pattern. It's washable, looks great in our living room, and Scout loves that it is easy on her joints.
Buffalo check is another quintessential Modern Farmhouse fabric pattern as seen in this cotton buffalo check dog bed duvet.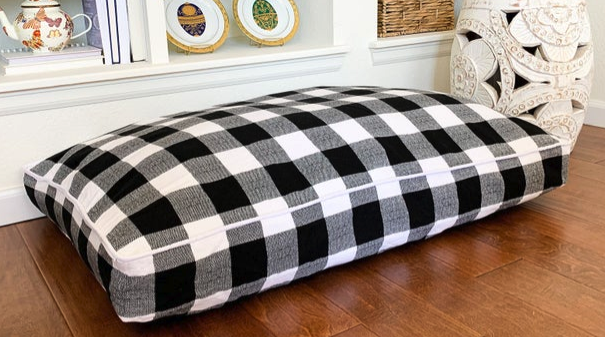 Find it on Loyal and Lush on Etsy
Textures
Modern Farmhouse design with pets truly works when it strikes a contrast between the hard materials and the soft, cozy accessories. Get the look by mixing textures like the natural fibers of farmhouse baskets, distressed metals, and ceramics.
Seagrass and woven rope baskets are perfect for hiding dog toys or pet blankets. These affordable options from Amazon can hide all those unruly pet accessories in classic farmhouse storage.
This melamine treat jar is paired with a warm bamboo lid. It will add a sophisticated and functional touch to your farmhouse kitchen.
This rustic rope leash is paired with a brass hook for a Modern Farmhouse look on the go!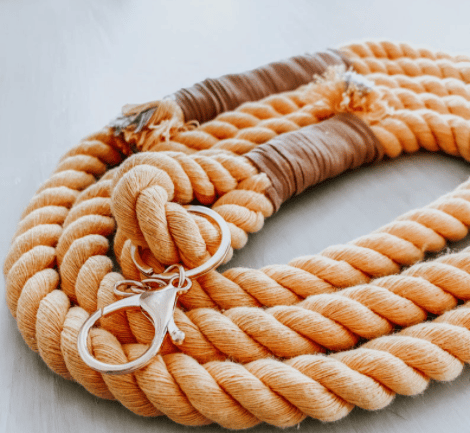 Find at Muddy Paws Training on Etsy
Artwork
Modern Farmhouse artwork is typically authentic vintage finds like signs, graphics, and upcycled pieces with a sense of history. It is often personal to the people or area where you live. Larger graphic labels are used on canisters, signs, and this adorable water bowl.
Designers of pet products are taking it up a notch, and pet beds are now pieces of art. This knotted cat bed reminds me of the Studio McGee-inspired knot figurine, but it's a lot cozier. Your cat is going to love relaxing in this work of art.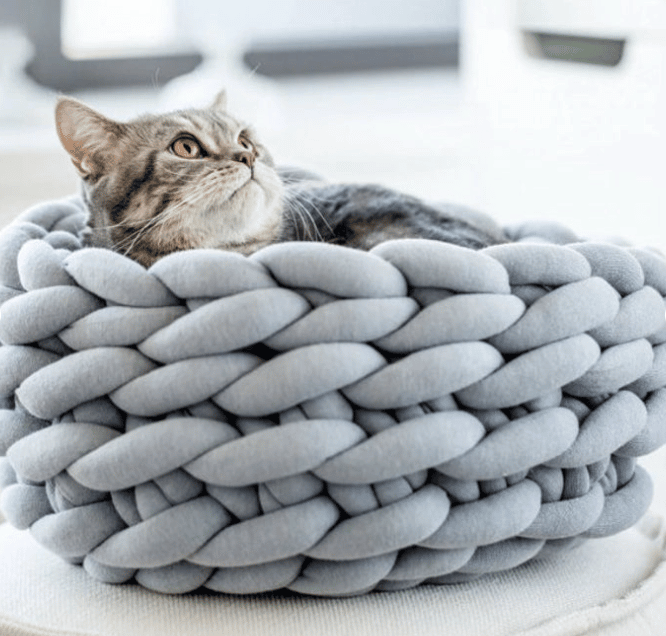 The warm wood of these wall-mounted cat shelves is another pet-focused way to create beautiful wall art. They can be used as sleeping areas or steps to other wall-mounted cat furniture.
The Wrap-Up on Modern Farmhouse Design with Pets
We can live with pets and have beautiful homes, and Modern Farmhouse is the perfect style to make it happen. This relaxed and casual décor celebrates imperfections. It creates a home where the focus is on enjoying your time with your family in a comfortable space. Which is the perfect backdrop for cuddling with our fur-kids
Check Out Our Other Pet-Friendly Design Guides