39 Easy Things to Do with Your Dog Indoors
The best way to protect your home from doggie destruction is to give your pups plenty of activity. When it's cold outside, this can often be a challenge, so we put together a list of 39 easy things you can do with your dog indoors.
Tested by Three Zany Pups
We spent a week researching every indoor activity out there and then put each activity to the test with our three pups Scout, Mort, and August. They are all large dogs but have a range of history and zany personalities.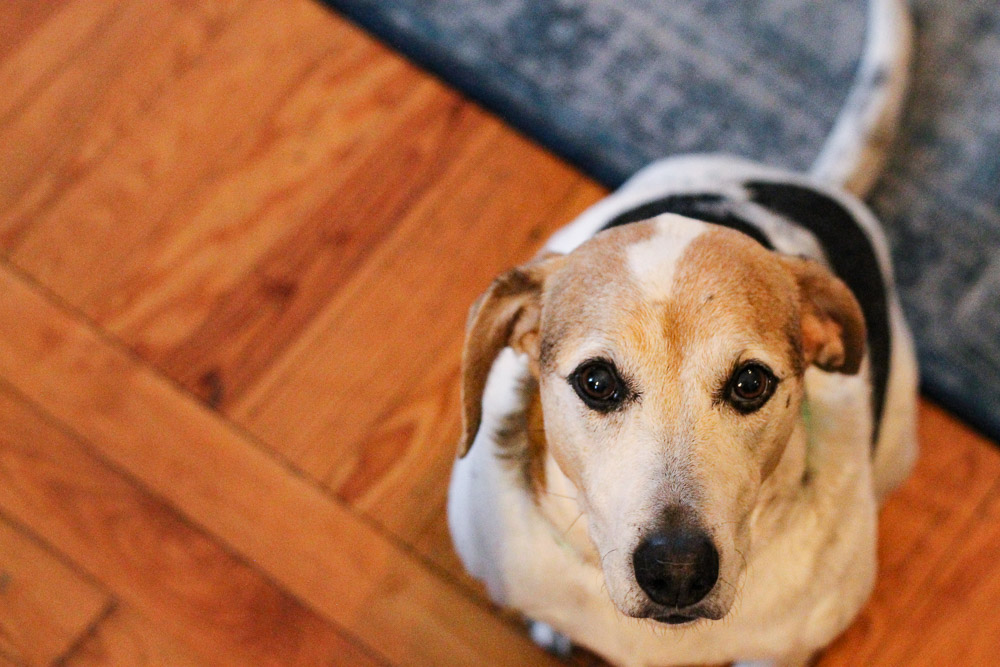 August loves toys, and his favorite game was hide and seek with the ball. Scout is great with most of the tricks because she is so food motivated. Mort really likes to cuddle, so Doga and Dog Massage were more his speed.
For most of these, I would squeeze in a couple of short 5-minute sessions throughout the day. It was pretty easy to work into our daily routine and I could definitely see a difference in the dog's moods by the end of the week.
Easy Things to Do with Your Dog Indoors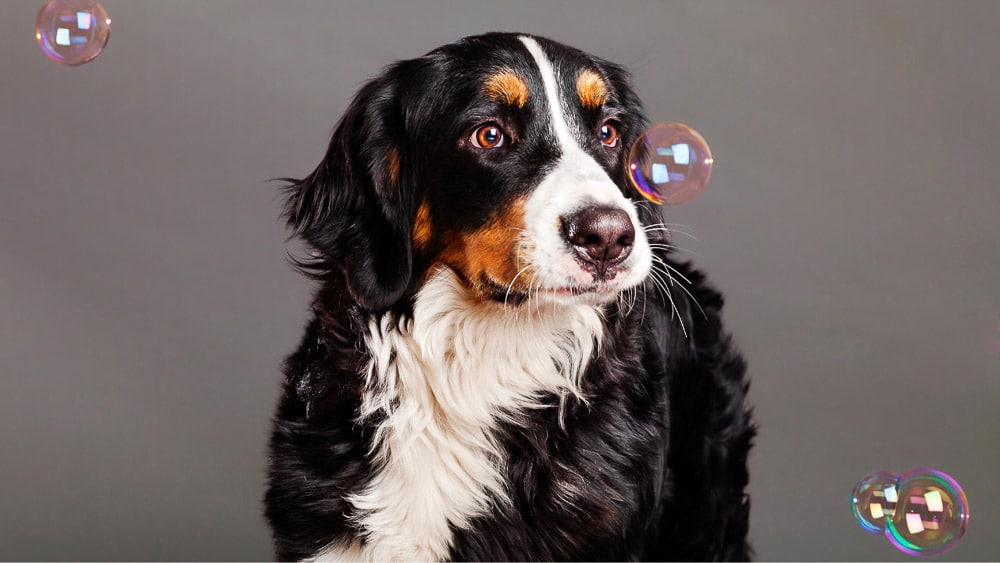 #1 Chase Bubbles
Keep your dog busy by chasing bubbles. It's a fun indoor dog game to get them engaged. Just start blowing bubbles, and point to them with great excitement. At first, you may need to catch a few of them to show your pup how it is done, but they should quickly catch on and begin to chase the bubbles. Be careful and avoid blowing them into their face.
They make bubbles specifically for dogs in fun flavors like bacon, but you can also use regular bubbles as long as they are non-toxic. When you are finished playing make sure to wipe up your dog's face and the area where you playing to avoid leaving any sticky residue on your dog or floor.
#2 Watch TV for Dogs
Your dog may not seem very engaged when you are watching Netflix, but there is actually TV designed specifically for dogs. And dog love it! A study published in Animal Cognition found that dogs can actually pick out the faces of other dogs on a screen.
Dog TV is a subscription-based option with hours of daily programming. There are also free videos for dogs on YouTube. Some videos feature a dog's POV running through trails and along beaches, set to relaxing music. Scout and Mort preferred the more active videos like Dog Pool Party.
#3 Gourmet Dining
Shake things up for your pup with a healthy gourmet meal. Try something simple like a dog-friendly chicken and rice recipe or a drool-worthy Beef Stew. For more gourmet K-9 meals check out these ten gourmet recipes for dogs.
#4 DIY New Dog Toy
Dogs love a new toy! Shake things up with a new dog toy, that you can easily put together from items in your home.
Braided Tug Toys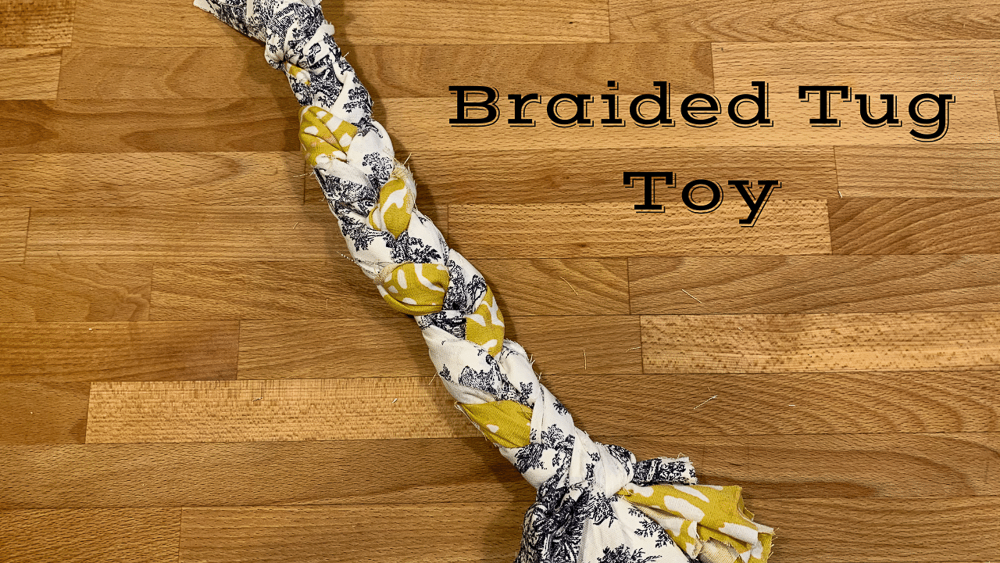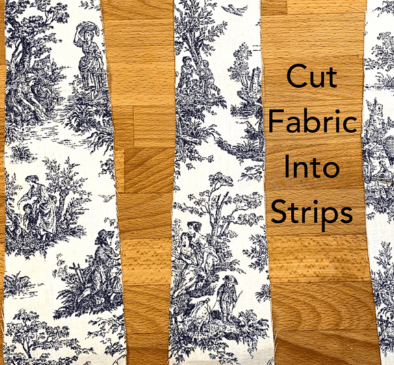 To create the braided tug toy all you need is scissors and fabric. You can cut up an old t-shirt, towel, or whatever fabric you have. We had some leftover upholstery fabric from when we recovered our dining room chairs. We ran it through the washing machine to make sure it was safe for them to chew on.
Then cut up the fabric into strips and stack them into three piles. Tie a small strip of fabric around the top and then braid them together. Tie another small strip of fabric at the bottom to hold the braid and Voila! You have a braided Tug Toy that your dog can enjoy for hours of playtime.
Tennis Ball Tug Toy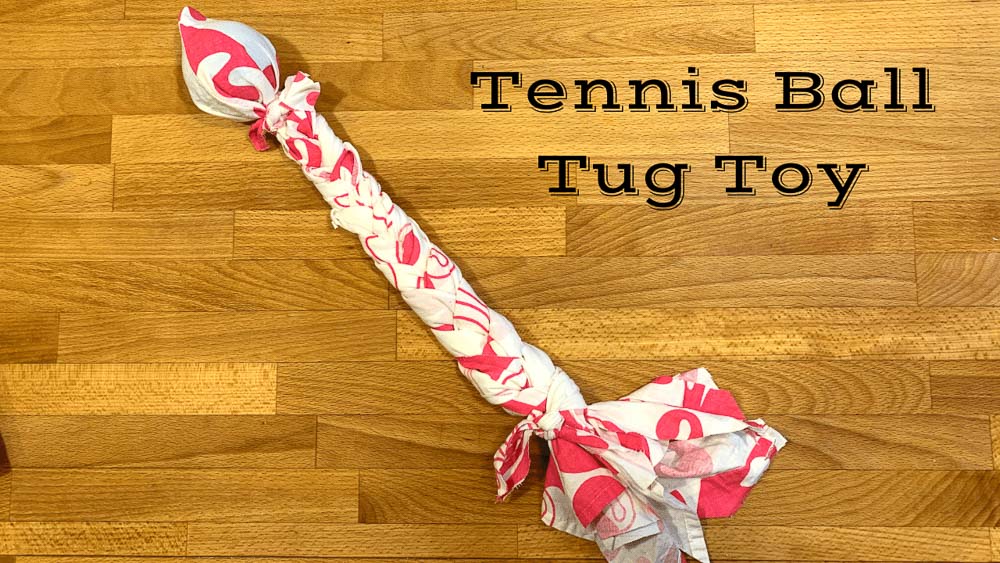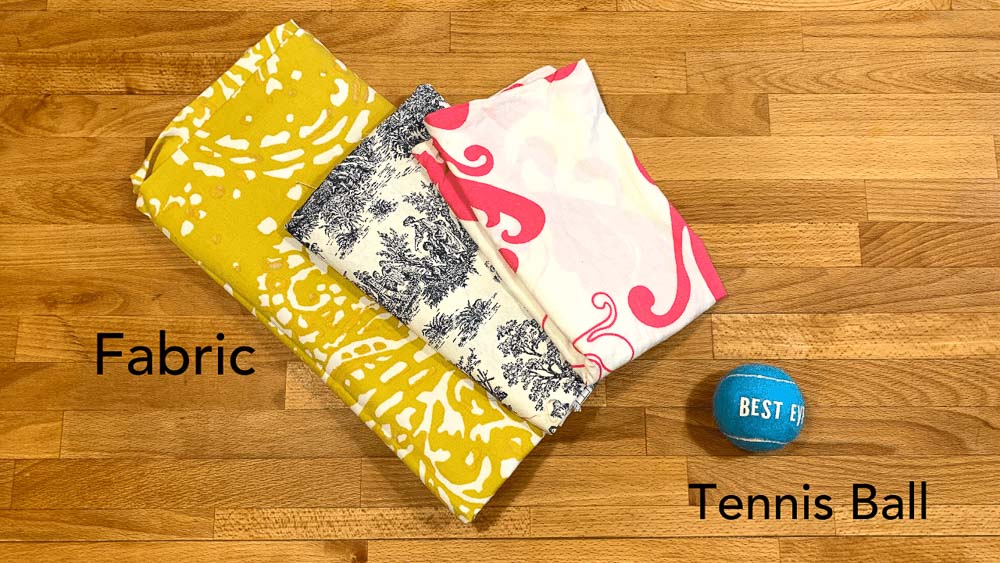 The tennis ball tug toy is similar to the braided tug toy but includes a tennis ball. We tucked the ball in the corner of an old pillowcase and secured it into place with a small strip of fabric. You could also tie it on both ends if you were using regular fabric.
Then we cut the bottom into strips and braided them. We secured the braid by tying it with another piece of fabric. This is Scout's favorite. She loves to play fetch with it.
Water Bottle Crackle Toy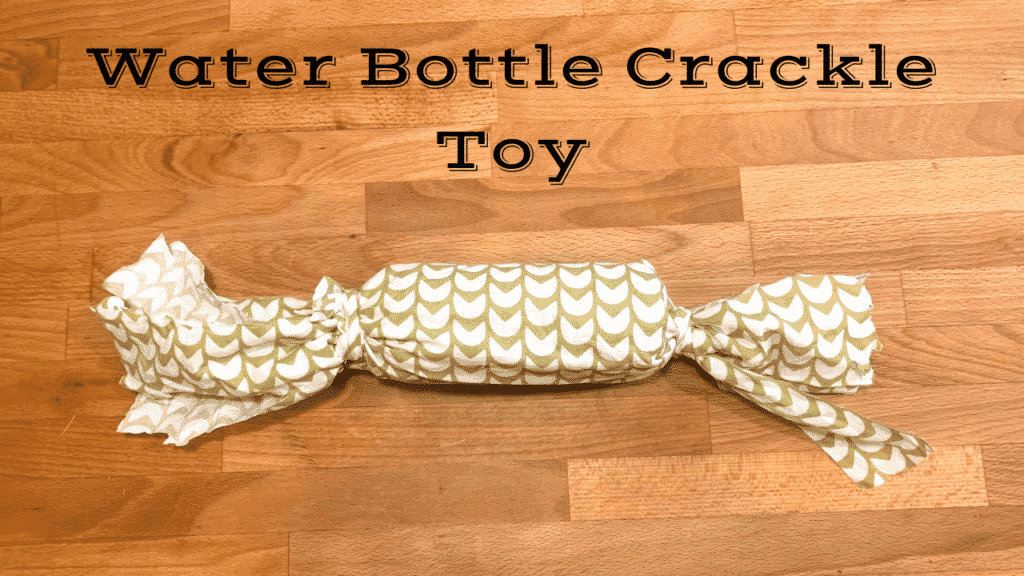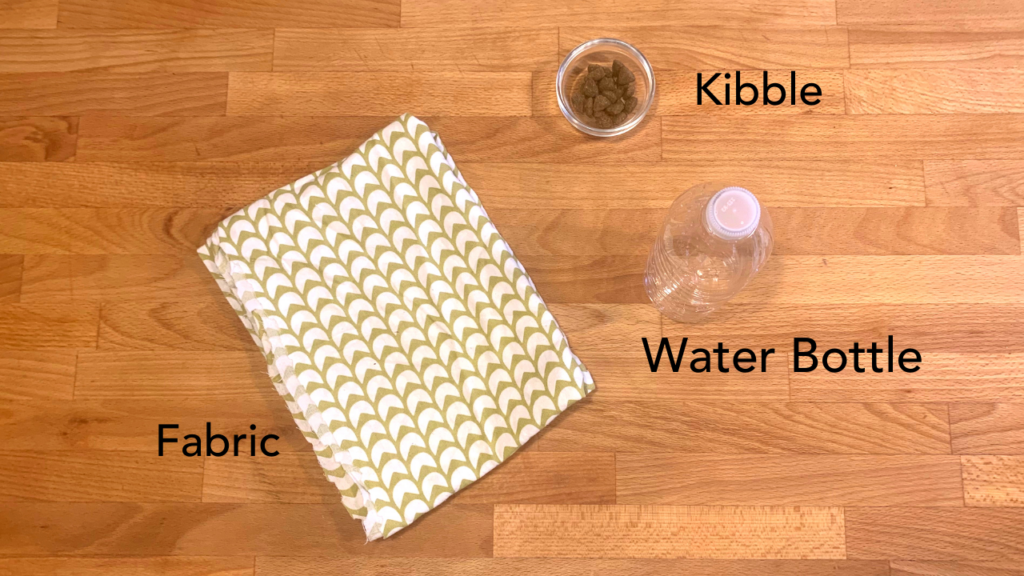 To make the water bottle crackle toy, you need a water bottle, a small amount of kibble, scissors, and some fabric. First, add kibble to the water bottle. This creates a rattle when they shake it. Then roll the bottle in fabric or cover it with a sock. Secure it into place by tying it with a small piece of fabric.
#5 Doggie Ice Cream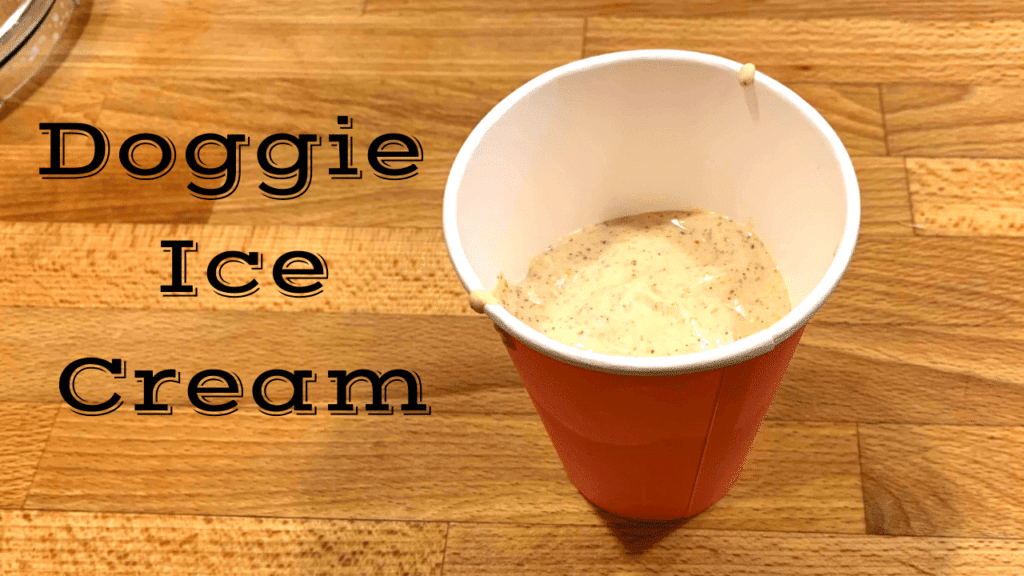 Doggie ice cream not only tastes delicious, but it also takes a lot of time and focus to eat it. Dogs love it, and it keeps them entertained. You can buy it at the grocery store, or you can pick up a Pupaccino at Starbucks. It's also very easy to make. There are plenty of fun recipes out there, but a simple and delicious option is this peanut butter, banana, and yogurt combination.
Peanut Butter – Banana Doggie Ice Cream
1 Banana
1 Tbsp Peanut Butter (without xylitol)
2 Tbsp Plain Yogurt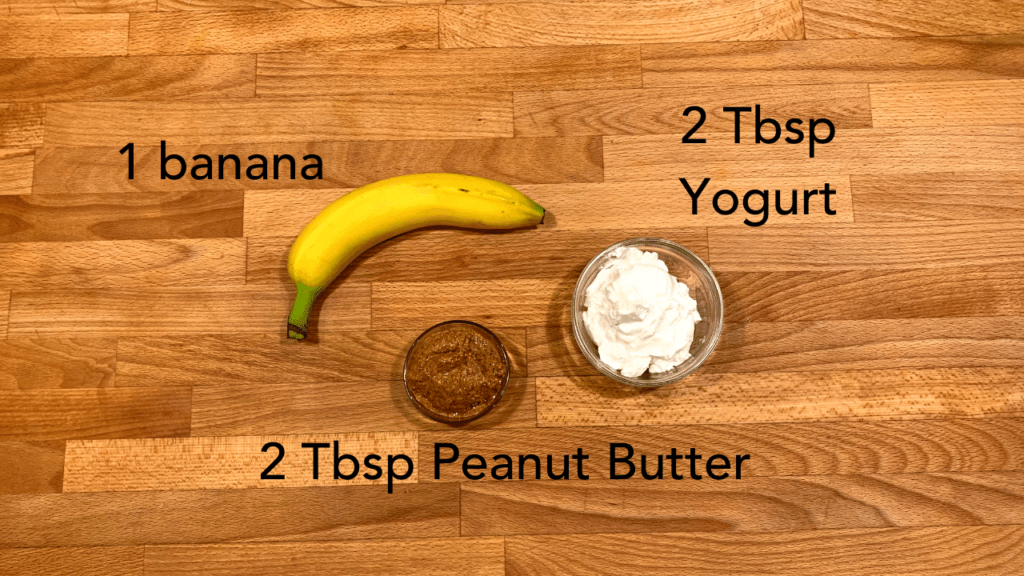 Combine all three ingredients in a blender, then spoon into a freezer-safe container. Pop it in the freezer for a couple of hours. It takes Scout about 30 minutes to finish one serving, and she is a dedicated hound dog.
#6 Take a Nap
While we are often searching for ways to expend our dog's energy during the day, there are still plenty of benefits to taking a nap with our dogs. It lowers their stress level and yours too! Don't feel guilty about an afternoon nap with your furball. It's good for you and your dog's health.
Read our post about the other health benefits from sleeping with your pup
#7 Tug of War
I have always been hesitant about tug-of-war because I thought it increased aggression. Actually, with proper boundaries, tug of war can be a great way for your dog to burn off some energy and increase their confidence.
To create the proper boundaries:
You should be the one that introduces the game and dictates when it is played
If your dog touches you the game is over
Practice the "drop it" command before you begin.
If your dog does not drop it on request, the game is over. Hold onto the toy but let your arm relax until they release.
If you have a dog with a history of aggression, make sure there are no other dogs around when playing, and consult a vet or behaviorist to confirm this is a good game for your pup.
#8 Snack Time with Homemade Treats
Change up their boring snacks with some homemade Dog treats. They will be engaged in the cooking process by watching you in the kitchen and then will enjoy a special afternoon treat. Try these Peanut Butter and Pumpkin Dog Treats.
Then hide treats and let your dog search for them!
Spa-Day Things to Do with Your Dog Indoor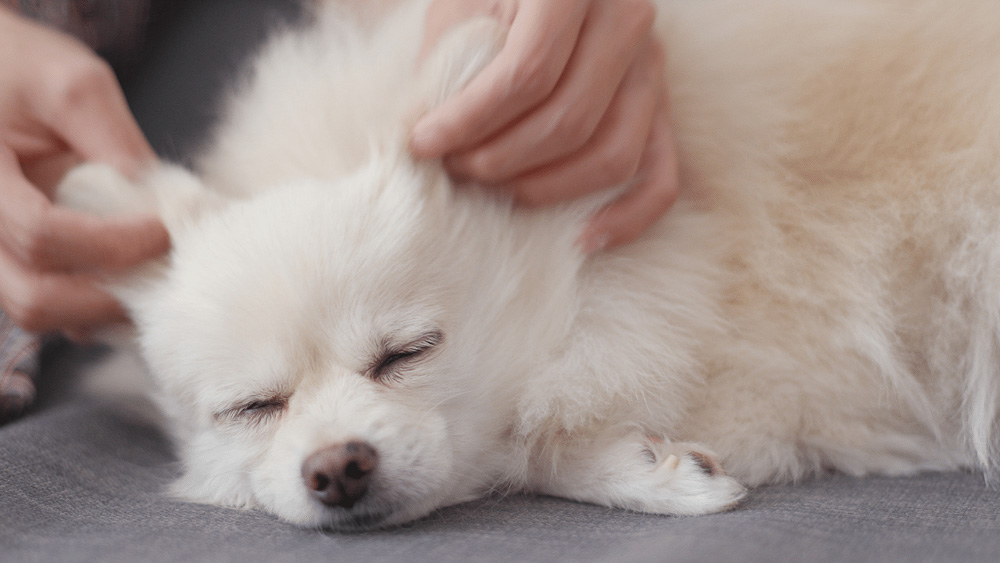 #9 Doggie Massage
Doggie massage strengthens your bond with your pet and may increase their circulation and mobility. There is still limited research on the health benefits of doggie massage, but it is all the rage in the holistic dog world. If you can't find a local doggie-spa that offers the service, Moderndog Magazine breaks down how to do it at home.
#10 Paw-icure
This may sound like a stressful activity for dogs that are not in love with having their nails cut. If that is the case, schedule some time to sit down with your pet and massage their feet while giving them some high-value treats. You can eventually work up to clipping their nails.
For the dog that already loves a good nail clipping, add a massage with some paw salve. There are even nail pawlish kits in a variety of colors for the full Paw-icure treatment.
Social Things to Do with Your Dog Indoors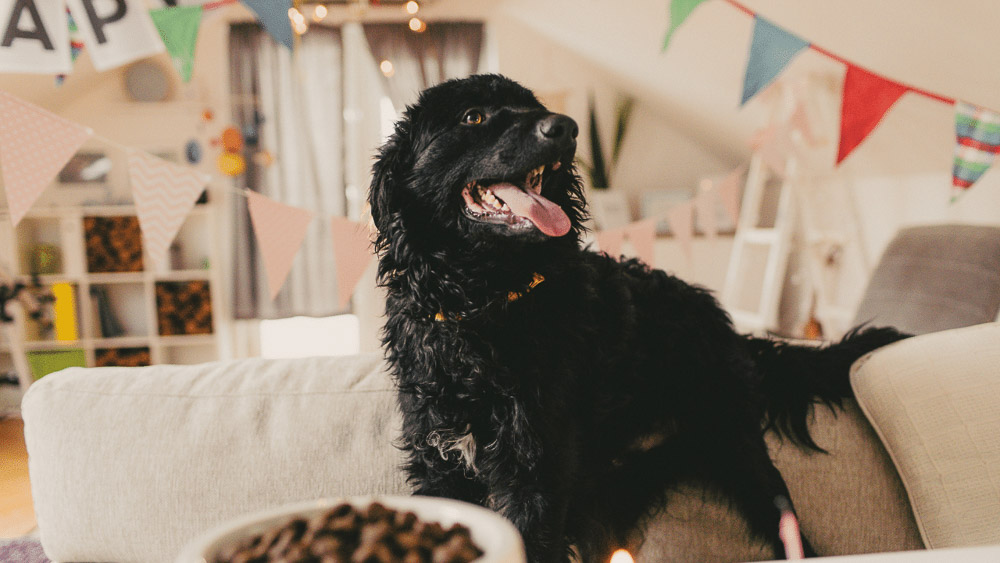 #11 Doggie Playdate
Set-up a Doggie Playdate with your pup's bestie. This will keep them entertained for a whole afternoon. They can squeeze in some social time while expending a ton of energy. If your dog isn't getting out and about as much during the colder months, it may be smart to prioritize scheduling some social time.
#12 Dog Party
Our dogs give us so many daily cuddles and licks of appreciation. It only makes sense to celebrate them regularly. Whether it's a Birthday, Gotcha Day, or just a Wednesday, take some time to party with your pup.
Invite some friends, break out the party hats or bandanas, and celebrate with a dog-friendly cake. Before you send everyone home with a goodie bag, make sure to commemorate the day with plenty of pictures.
#13 Create a Social Media Fan Page
What is the unique thing about your pet? Use it to set-up their Instagram fan page. Then spend time each day taking a fun photo with your pet.
While this may not seem like an activity for the dog, it does take training and engagement to pull off a photoshoot. They will enjoy the attention both in real life and on social media. Don't forget the hashtags!
Games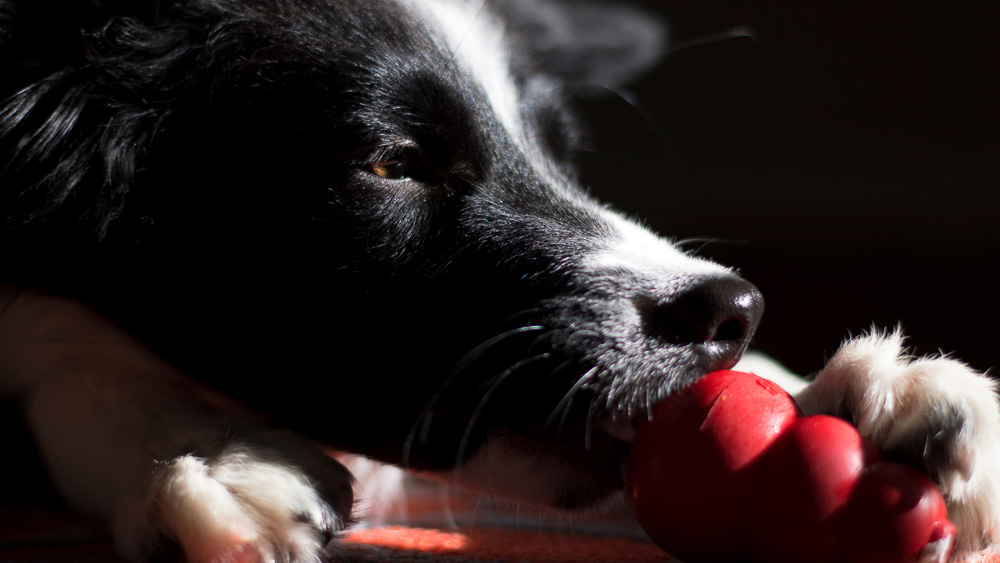 #14 The Reliable Kong
There is always the old reliable Kong that you can stuff with peanut butter or easy cheese and freeze. There are thousands of Kong stuffing recipes if you want to take it to the next level. No matter what you freeze inside it, a Kong will give your pup at around 30 minutes of engagement.
#15 Play Hide and Seek
The dog version is slightly different from the game we played on the playground. In this version, we are hiding a dog toy. The first step is to choose a toy that your dog loves and hide it in front of them. Then ask them to find the toy. Once they catch on to the game, make them sit outside the room while you hide it, and then bring them in. As they get better at the game, you can increase the hiding place's difficulty.
This is August's favorite game. I will often find one of his favorite hide-and-seek toys at my feet while working as a hint he is ready to play.
#16 Food Puzzles
Food Puzzles are a great way to keep your dog engaged. Even more so if they are food motivated.
There are plenty of food puzzles that you can purchase, but you can create a simple version with a paper towel tube. Cut some kibble size holes in the paper towel tube, add kibble, and cap the ends. It's like a cardboard version of Jeopardy.
#17 Snuffle Time
A Snuffle Mat looks a bit like a bath mat with small pieces of fabric tied to it. You hide kibble or treats in it and your dog has to use their nose to find the food. It's a great way to distract them if they are barking at the mailman or doing something destructive. You can DIY them, but since you need to wash them regularly, I prefer to purchase a well-constructed version.
We actually feed meals to our hound dog using the snuffle mat. It has been a game-changer. You can read all about how we won dinner with the Snuffle Mat here.
#18 Wild Sits Game
This game can help with impulse control. While your dog is on a leash, get them riled up. Run around, cheer, dance, sing – whatever you can do to get the party started. Once your dog is into the swing of things, ask them to sit and reward them when they calm down. After a few rounds, your dog should get the gist of the game and increase their reaction time..
It's a great way to expend some energy when you are inside on a cold day, but it may also help you have a bit more control of your pup when you are out and about.
#19 Guess Which Hand Game
To play the guess which hand game, you need super smelly treats. Put one in your hand as your dog is watching. Close your fists and ask your pup, "Which Hand?" If they choose the wrong one, open up your hand and show them your treat-free palm. When they choose the correct hand, praise them, and reward them with the treat.
Once they understand the command "Which Hand" and get a feel for the game, you can put the treat in your hand behind your back to increase difficulty.
#20 Shell Game
This is the classic game of putting a treat under one of three cups, then moving them around and letting the dog guess which cup it is in. I had to use clear cups to teach our dog Mortimer the game, but he has now graduated to paper cups.
Exercise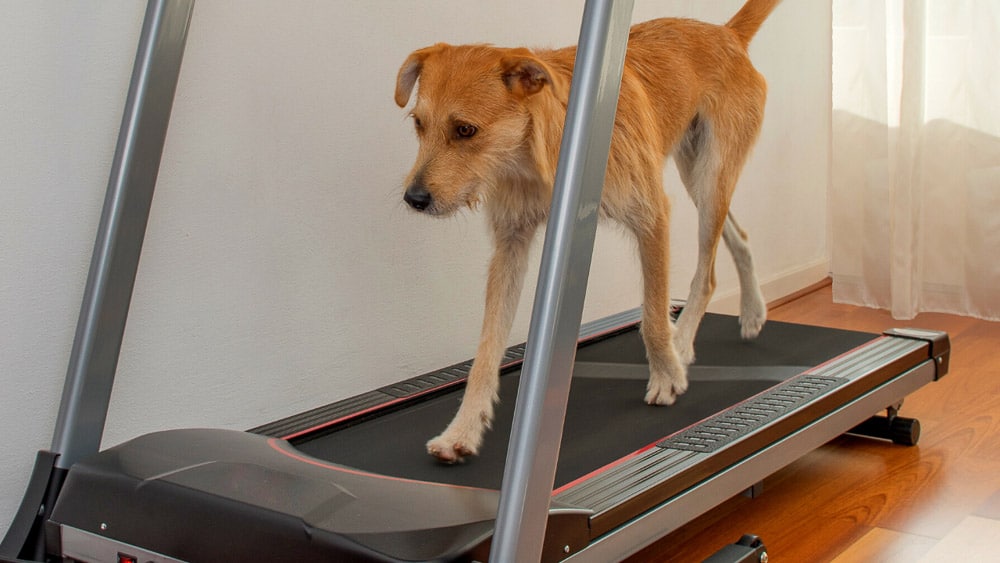 #21 Walk on a Treadmil
There are great benefits to your dog walking on a treadmill, but you must first train your dog to use it. Because of the noise and movement, getting over the actual fear of the machine in the first hurdle. Never force your dog on a treadmill. Go slow, do the proper training, and always make sure they are properly supervised.
#22 Indoor Fetch.
The key to indoor fetch is to choose the right place in the house and a soft ball so that you don't break anything. Choose a hallway or a space without breakables. Also, make sure it's a place where your dog can run without slipping or hurting the floor. Give the ball a gentle toss. Reward your pup when they return the slobbery ball.
#23 Flirt Pole
The flirt pole is basically a large cat toy for dogs. It's a stick with a soft rope that has a toy or rag tied to the bottom. You wave the toy around and your dog chases it. Make sure you have some space for them to run around you. It's a good way to practice impulse control, by asking them to engage and then to stop. You can easily make a DIY version of a Flirt Pole at home.
#24 The Great Toy Dig Challenge
The Great Toy Dig Challenge is like fetch through blankets. Similar to getting them to fetch the ball, bury a toy at the bottom of a laundry basket with blankets and cue them to find it. You can increase the difficulty as they learn the game
#25 Doga
Whenever I do Yoga at home, the dogs love to hang out on my yoga mat or lick my face when stretching. Well, now they can finally get to do their own Dog Yoga or Doga. Yoga studios offer Doga Classes, but you can also find a class on YouTube. Mortimer and I chose this class, and it was fun, actually super fun. I am not sure he knew what was going on, but he had a great time.
#26 Walk (or Run) the Stairs
If you have stairs in your home, doing a few laps up and down the stairs with your dog is a great way to get some exercise. Make sure the stairs are slip-resistant. You don't have to run. Walking will still give them exercise and can be safer for some pups.
#27 Freestyle Musical Dance
At first, I thought this was about breaking out the Spotify and dancing around your pup, which is a legit thing to do with your dog indoors and is a regular activity here at Barking Bungalow.
It turns out there is actually a World Canine Freestyle Organization, where people performance complicated routines with their pups. We are talking coordinated jumping, spinning, and fancy jumps over each other. It's a whole thing. If you are looking for a new hobby for you and your pup, this looks like a blast.
For easier doggie dance training, check out this adorable video.
#28 Dogstacle Course
You can create a small dogstacle course in your home. The goal is to get your dog to run the course with commands and hand signals. This will provide mental stimulation, and you should also see some improvement in their obedience training.
Create tunnels using dining chairs or ottomans with a blanket on top. Use small footstools or pillows for hurdles. Have them army crawl under stable coffee tables and zig-zag around boxes or laundry baskets.
Easy Tricks You Can Teach Your Dog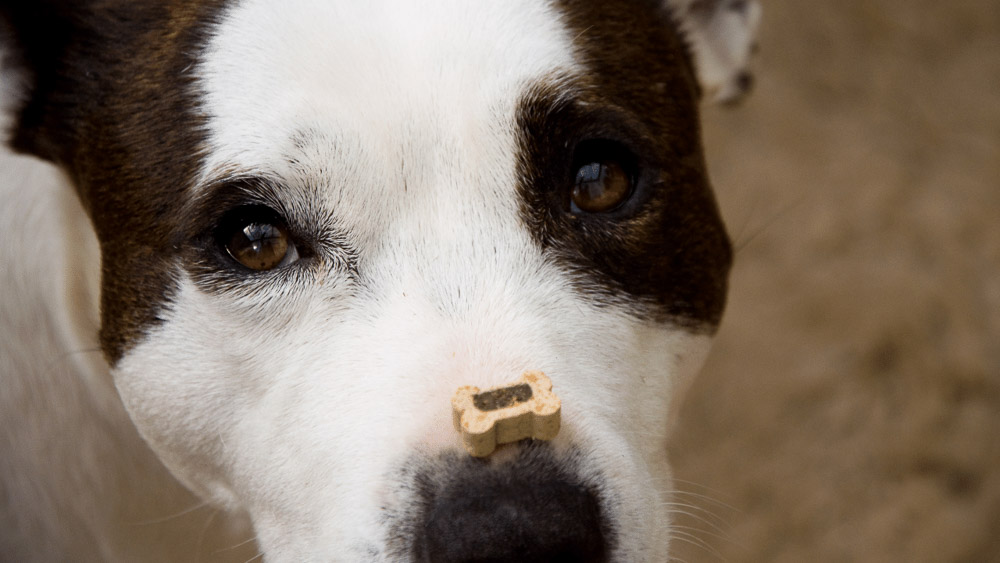 #29 Treats on the Nose
The treats on the nose is for the dog with more advanced impulse control, but it's actually pretty simple and attainable. Start by teaching the dog to put pressure on your hand below their chin. Then progress to resting a non-treat item on their nose while pressing into your hand. Finally, you guessed it! You swap the non-treat for a treat.
#30 The Salute
This is another simple trick and our dog Scout picked it up quickly. It sounds kind of funny, but you place a post-it or piece of easy to remove tape above their eye. When your dog makes a motion to take it off, say "good salute" and reward them with a treat. Eventually, it evolves not to include the tape.
Check out the step-by-step instructios here.
#31 The Crawl
This is a great one to learn if you want your dog to run an obstacle course. It's easier if your dog has some experience with clicker training, but Scout and Mort were still able to pick this up quickly without being up to date on their clicker training.
Once your dog is in the down position, you can lure them forward with your hands and then click and reward as soon as they move forward.
https://www.youtube.com/watch?v=THZVkTgvUmcu0026feature=emb_logo
#32 Teach Your Dog the Names of Their Toys
The first step here is to pare down the toys. Choose three or four that are very different in shape and function. They get one toy at a time, play with (no fetching) and introduce the name. Keep it simple. Choose ball over fluffy dragon toy. Then repeat the name of the toy while playing with it. Eventually, hide it and encourage them to seek it out. Continue the game and increase the distance while repeating the toy's name.
Check out the step-by-step instructions here.
#33 Teach Them to Grab Their Leash
To teach your dog to grab their own leash first, start by sitting on the floor with your dog and ask them to "take it." If they are not familiar with this command, you can place it in their mouth. Then repeat "Drop it" and reward them. You graduate to moving close to the door and then swapping "take it" for "leash,"
#34 Handstand Trick
If your adult dog is healthy and looking for a challenge, you may consider teaching them the handstand trick. To begin, your dog will need to know the "back-up" command. You will need a ramp to increase the incline over time slowly. Ask the dog to back up on to the ramp. You will eventually progress so that the dog is jumping up and pressing their back paws on the now perpendicular ramp.
Check out this video to see the step by step instructions.
Training
#35 Take an Online Class
There are tons of free videos online that will help you teach your dog to sit and other standard obedience skills. Dog training is an insanely unregulated industry, so make sure any videos you watch are from trained behaviorists or certified dog trainers. Gone are the days where we use fear-based tactics to train our pups. If you run into a video that suggests that, it's a warning sign this is not a legit trainer.
If you are up for spending a little bit of money, The Dunbar Academy is Ian Dunbar's online school. He founded the Association for Professional Dog Trainers. It's a small fee if you are doing this for more than just keeping your dog busy in the winter.
#36 Clicker Training
Clicker training is often the first basic step for all obedience training. It's a way to mark the moment you want to give the dog positive reinforcement. Timing is essential. Often this is more about the person figuring out how to coordinate the clicker and giving the reward.
The first step is charging the clicker. Basically, by clicking and rewarding the dog, you train them about the clicker's joys and how it means great things for them.
Once you have it down and you have charged the clicker with your dogs, the training possibilities are endless.
To get started check out this info from the AKC
#37 Train Them to Pick Up Their Toys
Training your dog to pick up their toys will keep them active and has the side benefit of cleaning up around the house. If your dog already knows how to play fetch, it makes this easier to teach.
Start your clean-up training by tossing out a toy to get your dog's attention. Stand near their dog toy storage box or basket. Once they have picked the toy up, encourage him to move toward you. Then ask them to drop the toy with the "drop it" command. Then give them a treat. Eventually, add the clean-up cue
Click here for the step by step training and check out our full post on dog toy storage ideas.
#38 Scent Work
Scent work tasks a dog to locate a hidden cotton ball, typically scented with essential oil. This activity plays into a dog's instinct to hunt. It's a competitive sport for some pups. If you are interested, you can find certified instructors to help train your dog. Here is a full breakdown of the sport from Journey Dog Training.
#38 Agility Training
Agility training is when a dog and their handler complete an obstacle course. (This is a major step up from creating a dogstacle course in your living room). There are many benefits including building confidence, self-control and improving communication between you and your pup.
Here is a fun way to get started
So How Much Exercise Does My Dog Need?
Without exercise and engaging activities, your dog may become bored, and the next thing you know, they are taking it out on your coffee table. Each dog has different activity needs based on size and breed. Before you start any exercise, regimen consult your vet to understand how much activity they need and your pet's safest options.
While you still need to take your dogs on walks in the colder months, there is often a decrease in activity when it's cold outside. Choose one of these 39 things for your dog to do indoors to expend some of their mental energy, keeping your pup happy and your favorite furniture safe from chew marks.
For more tips to keep your home and pet happy drop your email below.