9 Ways to Celebrate the Holidays With Your Pet

Our pets bring us so much joy throughout the year, it only makes sense they are a part of our holiday festivities. So swap some gift shopping for a little merry playtime with your fur-kids. Check out these 9 ways to celebrate the Holidays with your pet. They will love it as much as you will!

#1 Tour of Lights
Our neighbors have been quite festive this year. Each home has been decked out with beautiful lights. Take an evening walk with your pup around the neighborhood and enjoy all the light displays. It's a great way to celebrate with your pup. If your dog enjoys car rides you can even venture out of the neighborhood and enjoy the celebration of lights around town.

#2 C is for Cookie
Everyone loves a Cookie! Especially your fur-kids. Make your dog or cat some pet-specific holiday cookies this season. Check out this festive sweet potato-based recipe for dogs and these festive tuna treats for cats.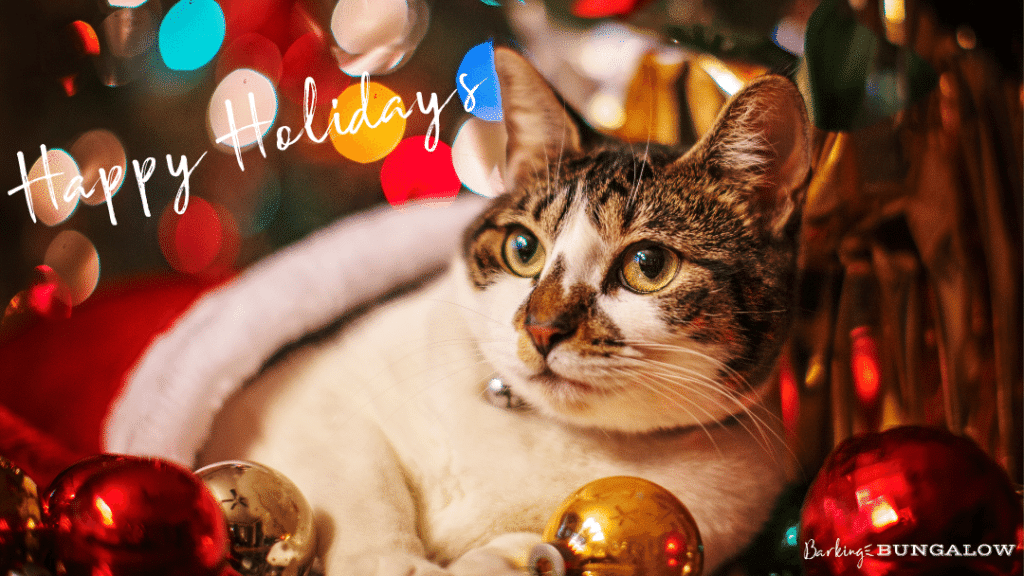 #3 Santa-Ready
Get your fur-kid ready for Santa by making them a customized stocking. You can jazz up a store-bought version or make one with this simple pattern.

#4 Hanukkah-Pup
If you and your family celebrate Hanukkah, include them in the celebration with their own applesauce. Leave out the sugar and keep it simple with just water and apples.

#5 Go Caroling!
The first dog Christmas Carol was released this year. Check it out. Set to pup-soothing reggae, this will get any K-9 in the holiday spirit.

#6 The Gift of Giving
I can't hide the fact that we buy a ton of toys and stocking stuffers for our pets, but this is also a great time of year to donate to your local shelter or the ASPCA. Helping a cat or dog find their fur-ever home is the ultimutt gift.
#7 Walking in a Winter Wonderland
Our pups love a walk in the snow. We don't get much of it here in Eastern Tennessee but a quick trip to the mountains and we can find some. If you have the opportunity, treat your pup to a walk in a winter wonderland.

#8 Decorate with your Fur-kid
So, maybe your cat isn't a huge help when it comes to hanging Christmas lights but they can help you decorate the tree with their cute image. Create custom ornaments for your cat or dog, and decorate the tree with them for many years to come.


#9 Holiday Movie Marathon
Grab some cozy blankets, the remote control, and cuddle up with your fur-kid to watch a Holiday movie marathon. You will love the sappy storyline and they will love the extra cuddle time. (It's also a great time to break out those pet holiday cookies you made)
From the entire pack here at Barking Bungalow, we wish you all a peaceful and safe holiday season chock full of furry snuggles.
Looking for more Pet-Friendly Holiday Content? Check out or other holiday posts.