How to Create a Dog-Friendly Shower
We have big dogs over here at Barking Bungalow. There isn't an option to lift anyone into a tub when it's bathtime. To get our furry bunch washed, we had to figure out an indoor non-tub solution so we decided to create a dog-friendly shower. I checked out Pinterest and fell in love with the amazing full-on dog washing rooms. They are mind-blowing with their elevated washing stations, gorgeous tile, and designated drying areas. They are super dreamy. Alas, every square inch of our 1,600 square foot Bungalow has to be multi-functional, so we had to figure out how to convert our bathroom into a dog-friendly shower.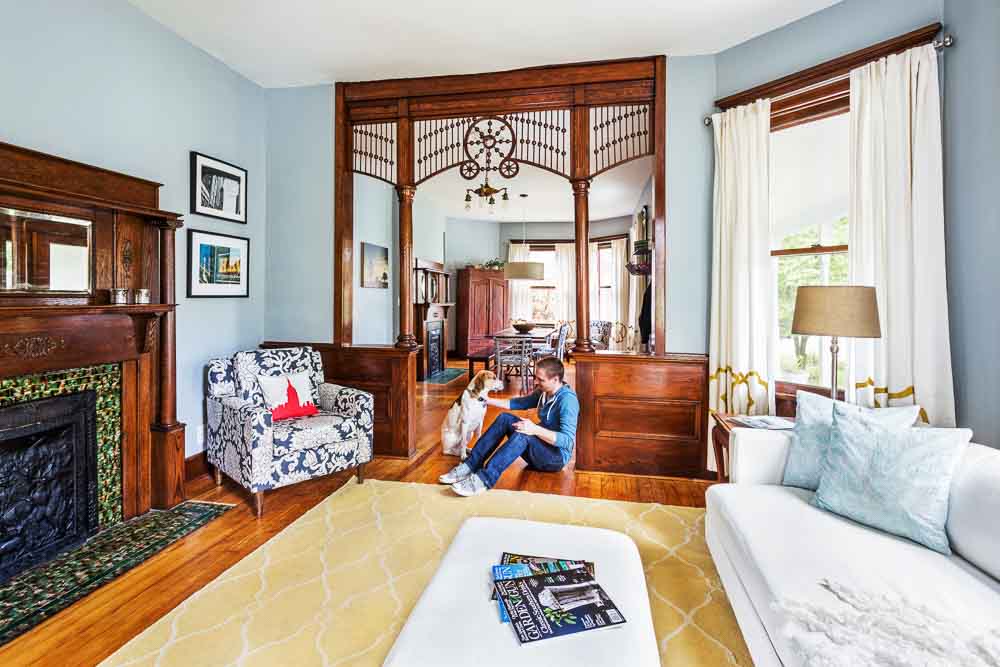 When I bought this home in 2013 it was a total renovation. I was fortunate to work the most amazing architects Sean and Sara Martin, from Open Door Architecture. They specialize in historic home renovation and helped me create a space for my modern lifestyle while keeping the historic authenticity of the home.
One of the challenges was creating a dog-friendly shower that could also work for non-dog owners when it came time for resale.
Photo by Denise Retallack Photography
This post may contain affiliate links and I may earn a small commission when you click on the links at no additional cost to you. As an Amazon Affiliate, I earn from qualifying purchases. You can read my full disclaimer here.
Dog-Friendly Shower – Renovation Ideas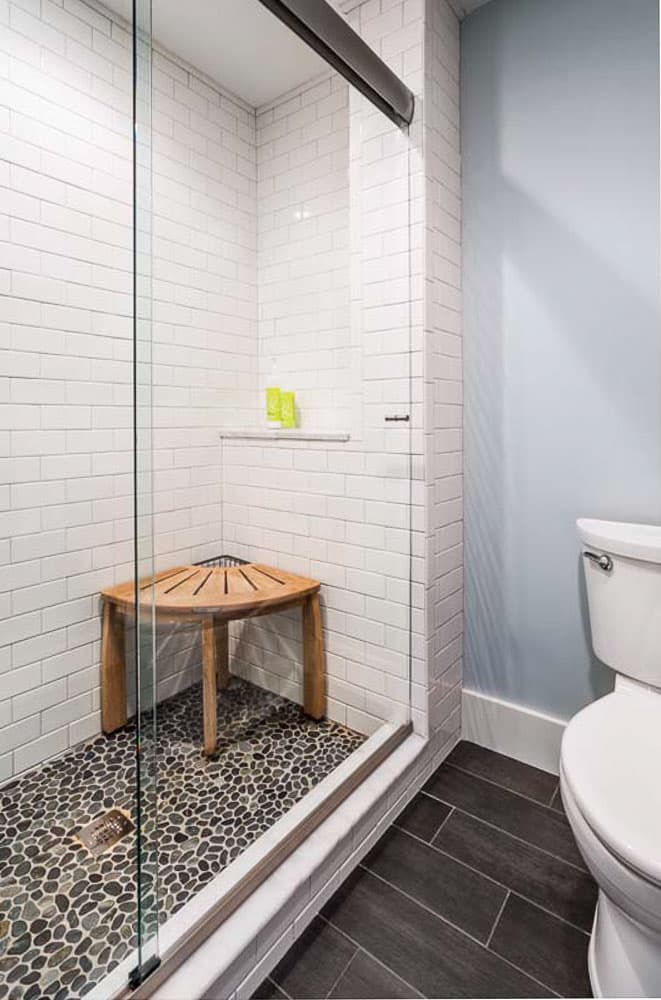 Originally the shower was a bathtub that had a creepy dark shelf in the back. When we converted into a shower, we kept the extra space, making it a little larger than a standard stall so it can accommodate a person and a large dog.
There is also enough space to add a small bench so I can sit and wash the dog at their level. Major back saver.
Sean added this handy tile shelf which is great to store human and dog shampoos
This may seem obvious, but we made sure there was a door on the shower. I personally love the modern doorless designs, but you really need a series of locks and damns when washing multiple dogs. The dog-friendly shower door keeps them enclosed while you wash them. I also heart there is a door on the room to the shower, which keeps the dogs and messes contained post-wash.
Photo by Denise Retallack Photography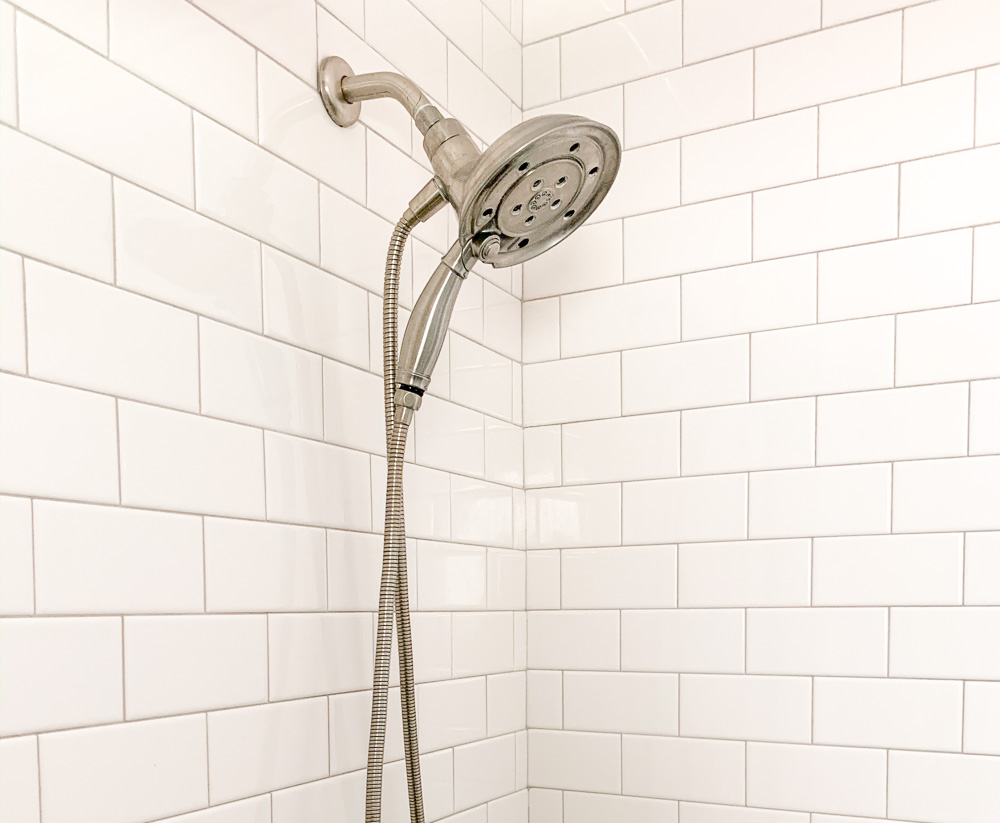 The architects also suggested installing a shower head with a handheld option. It was such a great idea. We got the Delta In2ition. It makes it much easier to wash the dogs. You can bring the water to them rather than figuring out some hijinx to get them under the showerhead. The handheld option also makes cleaning the shower a breeze and after washing three dogs you need all the help you can get.
Getting your Dog to Love your Dog-Friendly Shower
There is actually no way to get any of our large dogs somewhere their big paws don't take them. The next step was getting the dogs to want to go into the shower on their own. We are not dog trainers, but this is how we got our pups to love bathtime.
First, we would hide treats in the shower and leave the door open. Then we would go away and let them discover the treats on their own. We did this once every couple of days until they were confident about going inside on their own.
Once they were comfortable by themselves we would join them and give them a treat while keeping the door open. Our dogs do not like to feel trapped so we wanted to slowly build-up to closing the door.
The next step was to repeat the above but close the door and treat them. Then we quickly open it and exit
We would then repeat the above but sit down on the bench or increase the time in the shower.
Once they entered the shower on their own and their body language seemed relaxed we went ahead and gave them a full bath.
The next day we left some treats in the shower so they would have a happy response to the space and clear any potential stress from the day before.
One note, we do this with one dog at a time to limit any food aggression issues.
A Super Distractor
We have a silicone fish with suction cups on the back that we fill up with cheese wiz (or you can use peanut butter). We stick it on the shower wall and they lick the fish while we bathe them. It's A-MAZ-ING and a great distractor.
In addition to treats, we let them discover the fish on non-bath days to build up their positive feelings about the space.
Our dogs now actually enjoy bath time. They even sit outside the shower when the other dogs are getting their bath and wait for their turn. Totally unheard of, right?

Getting them to love bath time has given me the confidence we can make our dogs enjoy anything if make it a fun game, treat the heck out of them and design the space to work for them.
Read more pet-friendly design ideas
For more home design ideas that work for you and your pets, subscribe below!