How To Keep Dogs Entertained While at Work – 25 Solutions!
Whether leaving your pup to head out to the office or taking a zoom call from the other room, figuring out how to keep dogs entertained while at work can be a struggle. Don't worry. We have some tried and true K9 boredom busters to keep you and your pooch stress-free during the workday.
Physical VS Mental Stimulation
It's a smart plan to give your pup some exercise before you start your workday, but mental stimulation also plays a big part in the daily temperament of your pet. Some dogs can be more exhausted from fifteen minutes of brain games than a thirty-minute walk. When considering how to keep dogs entertained while at work, factor in activities that will provide some mental stimulation.
This post contains affiliate links and I may earn a small commission when you click on the links at no additional cost to you. As an Amazon Affiliate, I earn from qualifying purchases. You can read my full disclaimer here
How to Keep Dogs Entertained While At Work -Interactive Toys
Our pup Scout recently injured her knee and was prescribed complete rest for weeks. We were desperate to find ways to entertain her while she had to be confined to her doggie pen. We tested tons of interactive toys. These were the five best interactive toys we tried.
The Kong
The Kong is the original interactive toy. You can pack it with peanut butter, broth, fruit, veggies, yogurt, and dog treats. Freeze it, and your dog will have around 30-45 minutes of engagement. They are super safe and durable. Our pups have been playing with these for years.
(BTW: Avoid Peanut Butter with xylitol which is toxic to pups.)
West Paw
We have been big fans of West Paw dog toys for years. We purchased the frisbee called Zisc and toss-toy called the Tizzi at least five years ago. Our dogs play with them daily and other than being a little slobbery; they are still in great shape.
The toys are made here in the states, and they use 100% recycled materials.
(The company also has a great sense of humor. It's hilarious to see our dog Augi holding the Tizzl with these bright green legs hanging outside his mouth.)
So I was excited to try the West Paw Interactive Options. They are dishwasher safe making clean-up super easy. So we bought a few and just rotated them out.
The Toppl
Similar to the Kong, you can fill the Toppl with frozen goodies and let your dog nudge them out. There are some small rubber nubs at the bottom where we smeared a little easy cheese, giving Scout an additional task.
You can also put the small and large Toppl toys together, and it can work as a treat dispenser or as an added task to pull them apart to get the treats. The Toppl provides tons of options and keeps your dog engaged for hours.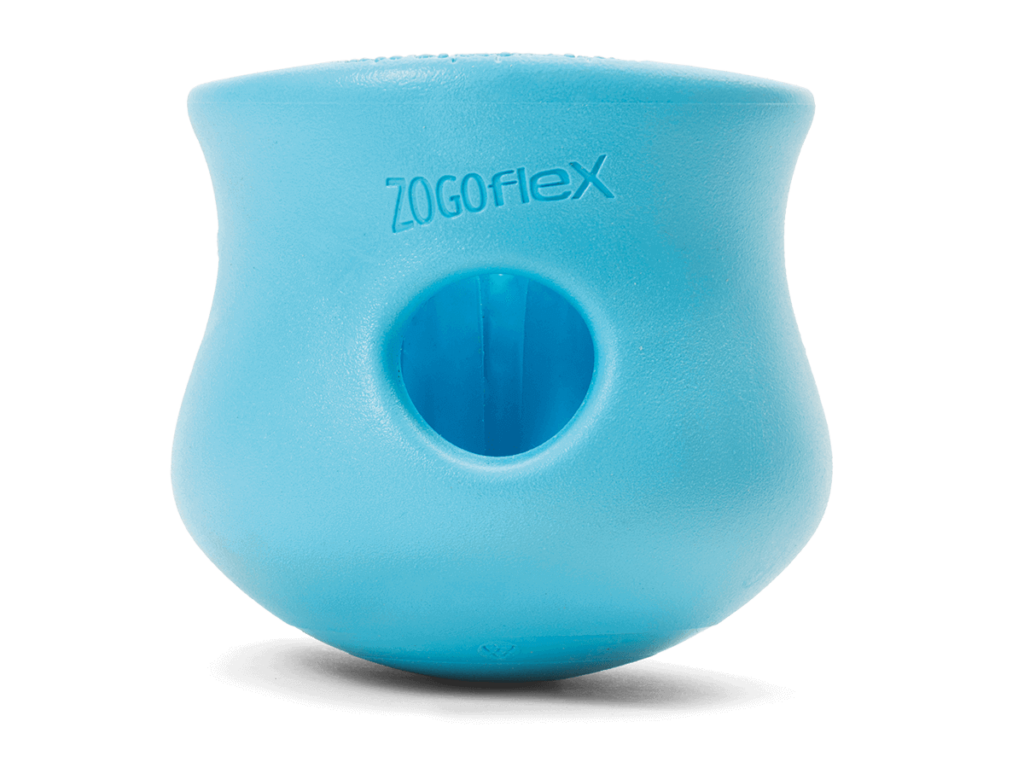 The Rumbl
The Rumbl looks like an egg that you stuff with treats. The dog will roll it around and figure out how to get the treats. Scout was pretty advanced, but this still keep her engaged for about thirty minutes. However it takes our German Shepard hours to get the goodies.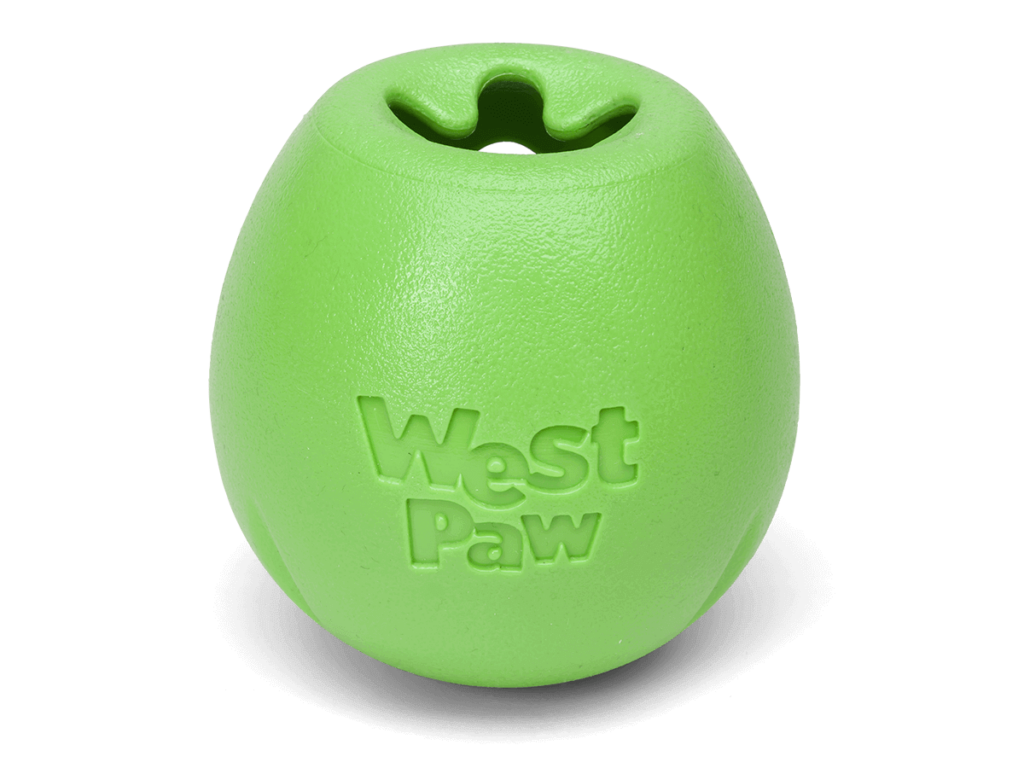 The Tux
The Tux is built for tough chewers. There is a small cavity to add some treats. We uses easy cheese and dental treats. This has the added challenge of bouncing around when they are trying to get the treats. It's also durable and fun to chew on when they finished the treats.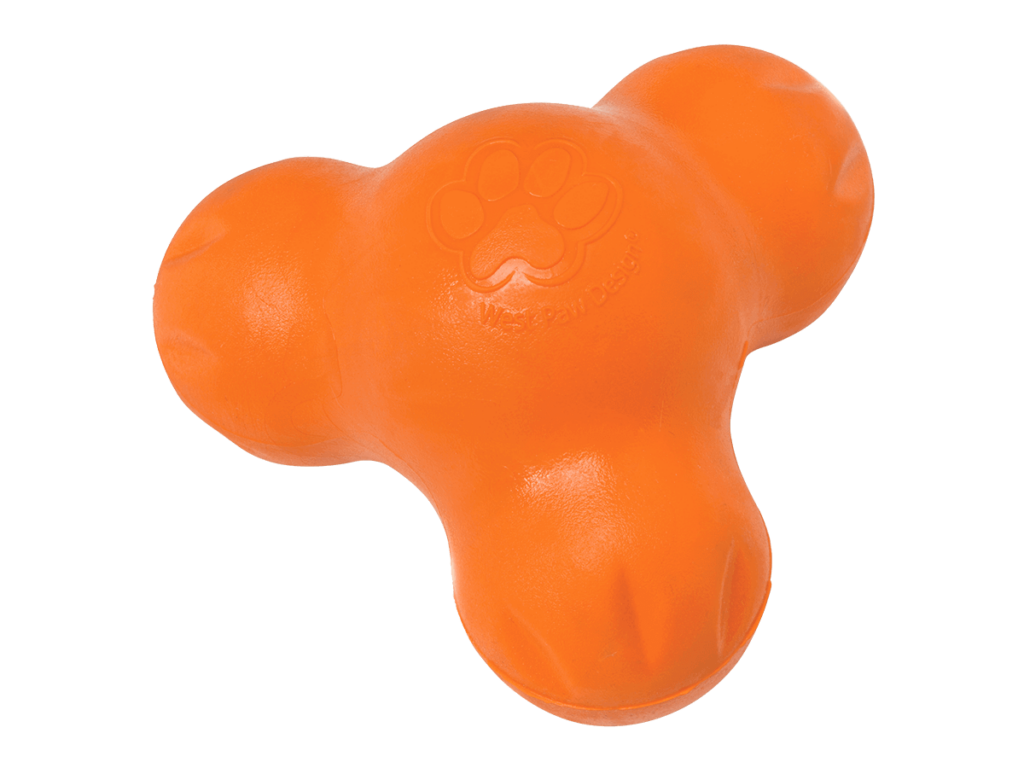 Qwizl
The Qwizl has side openings where you can tuck high-value treats and bully sticks. The slots provide access to the scent, but the durable Zogoflex materials extend the treats' life. This toy is designed for tough chewers. If you add a bully stick, this can keep them engaged for hours.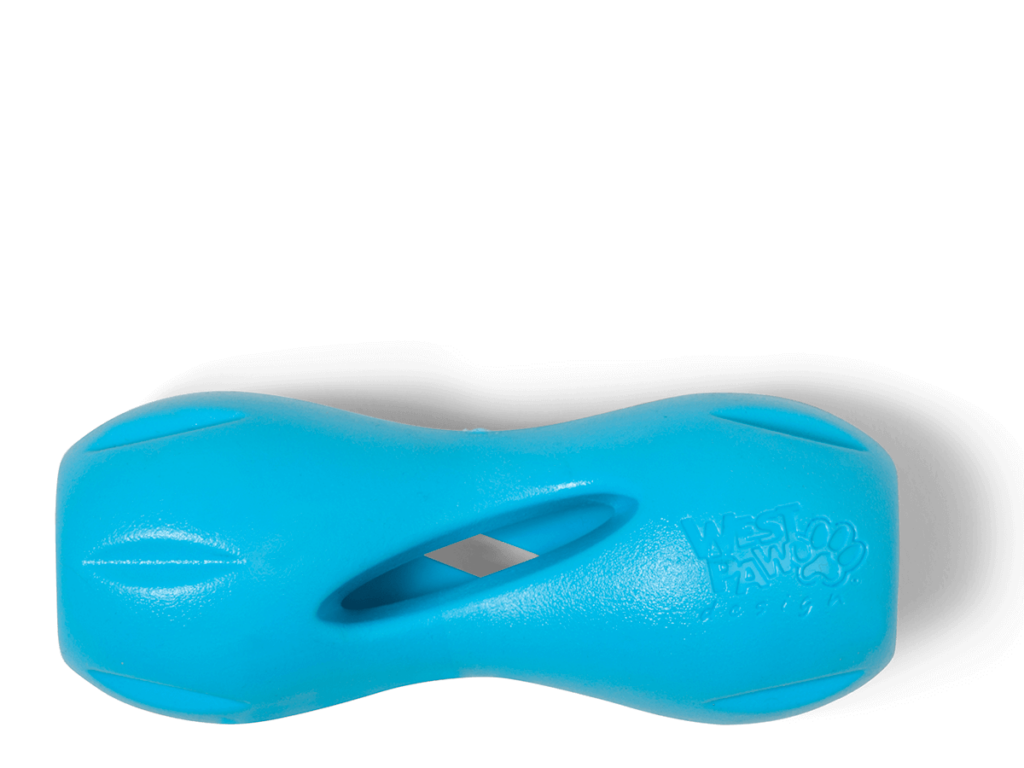 Fable
The Game from Fable is a bit of a game changer for us. The price tag was more than I would typically spend on a dog toy, but we were desperate to keep our pup entertained, and I don't regret the purchase one bit. There are multiple levels of difficulty so that your dog stays engaged and they crack the code.
You fill the top with treats and attach it to the weighted bottom. Then the dog bops it around to get the treats. The website says this will entertain the dog for about 30 minutes, but we got much more time from it. The dog gets a little tired of it after a while and will rest before returning to try to solve the puzzle.
This was a total winner for us and a great option for a slow-feeder at meal time.
How to Keep Dogs Entertained While At Work -Puzzle Games
Puzzle games are another smart solution for how to keep dogs entertained while at work. Nina Ottoson has a huge line of interactive puzzle toys on Amazon. You can get a few and swap them out. It's a bit like providing them a little job to do while you are at work.
There are four levels of toys in the Nina Ottoson line. Choose the appropriate level based on your pup's puzzle skills.
Level One Puzzles – Beginner
These toys are perfect for beginners. They have one-step actions, so they get the hang of it without frustration. (Some of the beginner toys have parts that detach entirely, which would require careful supervision)
The Treat Tumble is a beginner toy. It's a ball with hidden treats. Your pup rolls the ball in different directions to dispense the treats.
Level Two Puzzles – Intermediate
When your dog is ready, the intermediate options combine actions to access the reward.
The Hide n Slide requires your pup to open compartments to access the treats.
Level Three Puzzles – Advanced
The advanced toys require your pup to learn and complete sequential steps to reach their reward.
The Challenge Slider has twenty-four compartments and requires the dog to move each tile one at a time to find the hidden yummy treat.
Level Four Puzzles – Expert
If your dog graduates to the expert level, it must complete a series of steps in the correct order to earn the treat.
The Multipuzzle is the doggie-Jeopardy of dog toys. It requires your dog to combine sliding and rotating to access the treats.
Long Lasting Chews
If your dog does well with bully sticks or other long lasting chews this is a great way to keep them engaged. We add this bully stick holder to the bottom, so they don't eat the ends. This is especially important if they are unsupervised.
Snuffle Mat
Snuffle Mats are a bit like bath mats with fabric ribbons. They play on your dog's hunting instinct. You can hide your dog's kibble in them, and your dog has to sniff around to find the food.
This is how we feed our hound dog her meals. We went through every type of slow feeder bowl, but the snuffle mat slowed her down, and she get super excited about it. In addition to mealtime, this is great solution for how to keep dogs entertained while at work.
Lick Mat
Lick Mats are another way to keep your pup engaged. You spread wet food or spreadable treats on the lick mat, and your dog will be entertained while they lick them off. These are also a great way to keep your dog distracted while bathing them or cutting their toenails.
Busy Basket
This is an easy DIY activity to keep your dog entertained while at work.
Step One: Place a treat or long-lasting chew at the bottom of a basket
Step Two: Add your dog's favorite toys on top of the treat to hide it.
Step Three: Cue the dog with a command like "Find it" and let them remove all the toys as they navigate to the bottom of the basket to their high-value treat.
Bonus Points if you can teach your pup to return the toys to the basket.
Interactive Dog Cam
Dog Cams are getting quite sophisticated. Not only can you watch your pet, but you can talk to them, play with them using a laser pointer, and even provide treats. The apps even allow you to enlist your family and friends to remotely play with your pup. The Furbo and Pet Cube are both great options for how to keep dogs entertained while at work.
Television
Watching TV might sound like one of the crazier ways for how to keep dogs entertained while at work, but there is a TV network for dogs called DogTV. The whole goal of the network is to entertain and combat boredom when your pup is alone.
There are three categories of programming: relaxation, stimulation, and exposure. They even adjust the colors to suit your dog's eyes. So if regular TV doesn't do the trick, DogTV may be a smart upgrade for when your pup is alone.
Music
If your pup is reactionary, music can provide some white noise to drown out the sounds of the FedEx guys or the neighbor barking puppy. There are also studies that classical and Reggae music can help dogs relax.
There are plenty of dog playlists on both youtube and Spotify. If you have more of an intellectual pooch, audible also has a collection of audiobooks for dogs.
Window Options
If you have a reactionary pup, it's probably best to pull the shades on your windows to reduce their stress level. If your dog doesn't respond to the Amazon delivery person, leave your window open and create a viewing station, so they enjoy the daily activity of the squirrels and birds.
Scavenger Hunt
Our German Shepard loves a Scavenger Hunt. This requires training a little training on the front end, so they know to look for treats or toys. Give them a cue like "Find it" and let them go searching. I have found that starting in a small space and working up to larger spaces keeps him more engaged.
If it's too challenging, you run the risk of them quitting. I also find mixing some regular spots where I hide the toys is helpful. When I hide it in a new area, I place it close to a common hiding place.
You can hide the toys in the morning and provide the find-it cue before you head out to work.
Freezing Treats and Toys in Ice
In my research, I came across suggestions for freezing treats in toys in water and broth. This will keep your pup busy but can cause a mess in your house while you are away from home. This may be better for dogs who have outdoor access or if you have a mat with a lip to protect the floors.
Dog Walker
A Dog Walker is another idea for how to keep dogs entertained while at work. Schedule them for a quick walk around the block or even some playtime.
Doggie Daycare
We have two older pups and a younger, very social German Shepard. While the other two dogs enjoy napping all day, our GSD gets bored quickly. He has been to a few Doggie DayCares and comes home happy and ready to sleep.
Do your research. Choose a place that does a temperament test. You don't want your pup picking up any reactionary behaviors.
Playdates
If you have friends who have a pup alone during the day, consider playdates. There is no better boredom buster than a K-9 buddy.
How to Keep Dogs Entertained While at Work – SPACE PREP
While there are plenty of solutions for how to keep dogs entertained while at work, it is important to prep your home to make sure your pup is safe while you are out.
Crate Options
Some dogs, especially puppies, need to be crated while you are out of the house. However, there are plenty of ways to keep your pup entertained in their crate. For example, you can add an interactive toy or play music.
Our favorite crate, the Revol by Diggs Pet has a lickable interactive toy called the Groov that attaches to the crate and keeps the pups engaged for hours. Freeze it the night before and attach it to the crate before you go.
Shop Revol Dog Crate and Groov Training Aid
Playroom
If your dog isn't crate trained, but you don't want them to have the run of the house, consider creating a playroom. Remove anything that may be vulnerable to destruction and add their favorite bed and toys.
Instead of closing the door, use a dog gate. This allows them to feel connected to the other spaces while protected in their playroom.
Dog Proof
If you allow your pup access to the whole house, make sure to dog-proof the space to keep them safe. If they do experience some stress, you want to avoid any destruction which can harm them and your home.
One way to double-check this is to walk around the house with the dog's POV in mind. Think about what is accessible from their perspective.
White Noise
If your pup is a bit anxious, consider adding white noise to block out some of the audible stressors. You can purchase a white noise machine, but you can also use fans, air purifiers, or ask Alexa to play white noise.
Exercise First
Set your pup up for success by giving them some good exercise first thing in the morning. Let's be honest. It's good for us too and will help your pup relax when you are away.
The Wrap-Up On How to Keep Dogs Entertained While At Work
The first step is to prepare the space for your pup, so you know they will be safe while you are away. Then choose from one of our 25 solutions for how to keep dogs entertained while at work based on your pup's personality. Keep it interesting and rotate in different options.
If you are interested in more pup-friendly content like 25 Boredom Busters For Dogs – How to Keep Dogs Entertained While At Work, check out our recent posts.