Get Your Pet Organized
It's that time of year when everyone is prepping for the busy season ahead. We are finishing up some home improvement projects here at Barking Bungalow and getting the fur-kids organized. Pets come with a lot of stuff, and that stuff tends to get smelly and chock full of pet-hair. This easy Pet Organization Checklist will get you and your fur-kids organized in just a couple hours.
So put on some music, break out the duster and let's get organized!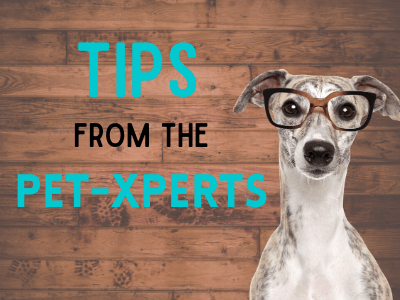 To get us started, we have some tips from one of our favorite home pet-xperts!
Taryn McLean is the CEO and Co-Founder of Help You Dwell, a professional organizational service here in Knoxville, TN. Their team helps you take on any organizational project, including getting ready for a move, event prep, and estate transition. They recently have been assisting parents in setting up home learning spaces for online schooling. This is one of those services that sounds so amazing you think you can't possibly afford it, but it is absolutely affordable. Even if you don't live here in Knoxville, you can take advantage of their online consulting and fantastic blog full of more great tips.
Taryn's Pet-xpert Organization Tips
"When it comes to organizing pet supplies, location is key. Be it a furry, feathered, or fishy friend living in your home, taking the time to categorize and store supplies in smart locations will allow pet owners to focus more time on enjoying their pets."
For dog walking, a leash and poop bags need to be near the door you enter and exit from. Take the extra time to install a hook inside of a hall closet or on the wall near the door.
For food storage, make sure you're using an airtight container near where the animal will be fed. Don't have room to hide the food bin in a closet? Be creative and find a piece of furniture that fits your style and add a plastic container inside for food storage.
For grooming/bathing supplies, find an appropriate container to house all the animal's products together in a cabinet near the tub or sink in which you bathe your pet. Just a few simple steps today can make sharing your home with a pet much more enjoyable for years to come!"
Feeling Motivated? Get your pet orgainzed with this Pet Organization checklist!
Pet Organization Checklist
Eat
Toss water and food bowls in the dishwasher for a deep clean. Give the mat a wipe down too.
Create a kitchen basket or caddy with all the pet treats. You can use cute canisters or put them into a basket and tuck into a drawer or a cabinet.
Next time you empty food canisters, wipe down the inside before adding new food.
Don't be afraid to be creative. We use recycled plastic ice cream containers to store open wet food in the fridge. It's a purrfect-fit!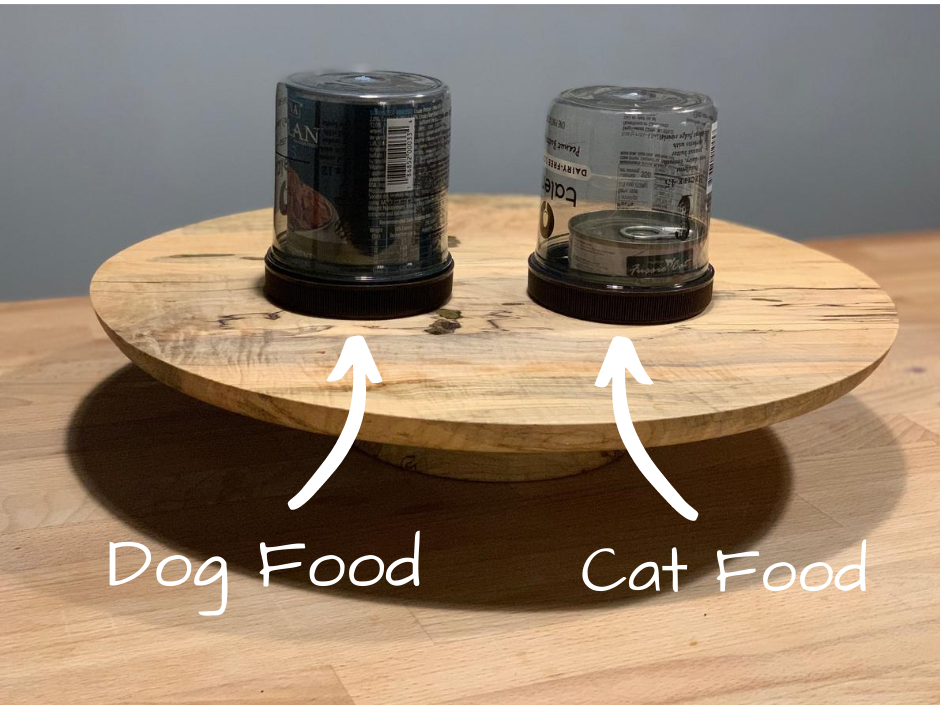 This post may contain affiliate links and I may earn a small commission when you click on the links at no additional cost to you. As an Amazon Affiliate, I earn from qualifying purchases. You can read my full disclaimer here.
Play
Go through all your pet's toys and toss anything that is in bad shape.
Wash pet toys. Toss plush toys in the washing machine. For plastic and rubber toys give them a good scrub with vinegar or even liquid soap. Avoid any bleach-based products.
Check your cat's scratcher to see if it needs replacing. Vacuum up loose cardboard.
Check out my video of 17 pet toy storage ideas.
Sleep
Wash any pet blankets and store them near where they are used. Use baskets or storage ottomans to keep them out of sight.
Give your dog's bed a cleaning. If it can't be thrown in the wash, try sprinkling some baking soda on it, wait a few minutes, and then use a hand-held vacuum to clean it up.
We have four of These Best Friends by Sheri Calming Beds. You unzip the back to remove the cushion and toss them in the wash. The fur-kids love them because they have this cushioned rim to rest their head. (I love them because they are super easy to wash!)
Walk
Take a moment to clean harnesses, leashes, and weather gear before hanging it up near the door. We toss ours in the washing machine, but you can also soak or hand scrub them.
Double-check leashes are in good shape to avoid any safety issues.
Are you feeling inspired? Check out our guide to creating a DIY outdoor dog walking station.
Bath
Create a shower caddy with all your pups bathing supplies to make bath time less stressful.
Clothing
If your pet likes to rock a sweater or some boots, give their wardrobe a once over. Toss anything you don't use and make sure everything is fresh and clean for their next fashion show.
Grooming
Keep clippers, brushes and other grooming supplies in one spot. Take some time to clean out hair from brushes and sanitize clippers.
Records
Make sure your pet's records are in order. Create a digital file to share with the household.
Ride
Wash down any nose marks on the window so your pup can start with a fresh canvas for their next car ride.
If your dog regularly rides in your car, pet carriers make regular cleaning more manageable. You can shake out the dog hair and toss them in the wash instead of spending a month vacuuming out your car. I have one made by Molly Mutt in the rough gem design. It's durable, and I like the pattern.
My husband has one by Barkbox with side flaps. It provides a little more protection from the dog hair.
Now you are organized and ready to enjoy the busy season with your fur-kid!
To get Pet-Friendly home tips delivered right to your inbox, drop your email below.