If you love Farmhouse decor, say hello to these fabulous Farmhouse style dog beds.
Dog beds and accessories do not need to be an eyesore in your home. They can actually be a design element. Choose one of these stylish farmhouse dog beds to be the focal point of your room.
This post may contain affiliate links, and I may earn a small commission when you click on the links at no additional cost to you. As an Amazon Affiliate, I earn from qualifying purchases. You can read my full disclaimer here.
Canvas Farmhouse Style Dog Beds
Canvas fabric is a subtle way to achieve that Farmhouse look. It's a smart option for dog beds because of its high durability.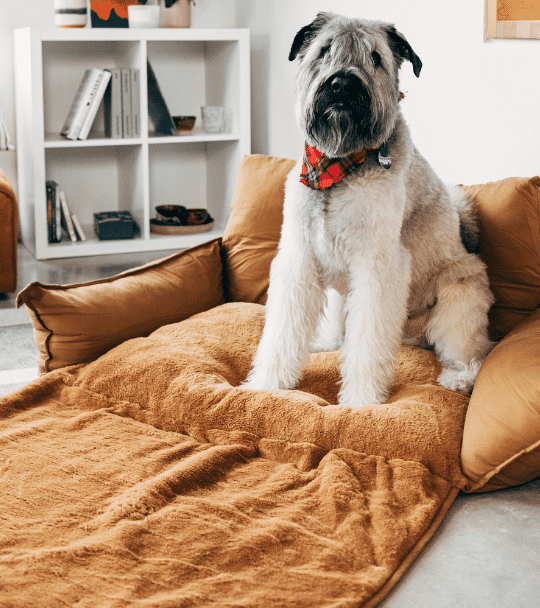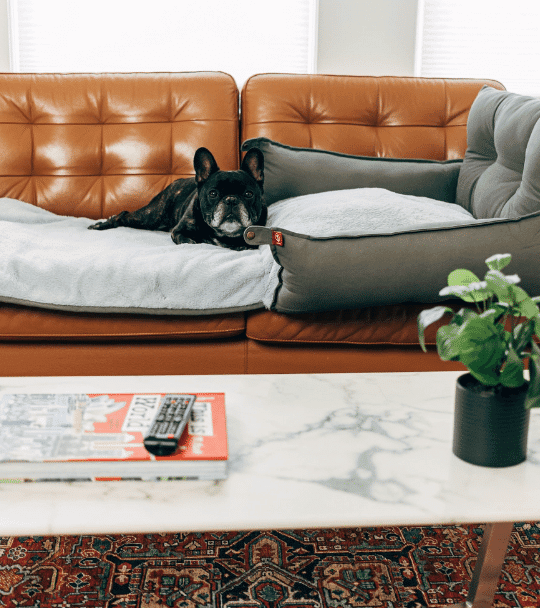 The Lucky Converter bed is pretty genius. It has all of the Farmhouse style of the Lucky Dog Drift bed but has this clever convertible rollout feature. As someone who loves a good nap with their pup, this bed allows space for you to get snuggle with your pooch. You can also roll it out on your couch for added furniture protection.
Burlap Farmhouse Beds
Burlap is a staple of Modern Farmhouse with a variety of use, from table runners to wall decor. Its durability makes it a great option for dog beds. Plus, it hides dog hair!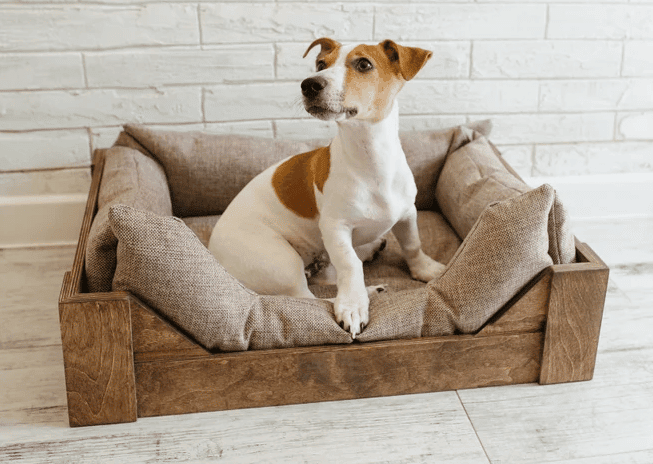 This Wooden Engraved Dog Bed from Top Dog Ideas features a burlap-inspired fabric mattress nestled into a farmhouse-style wood frame. You can even get it engraved with your pup's name.
Linen Farmhouse Style Dog Beds
Linen is essential to the layered neutral of the Modern Farmhouse style.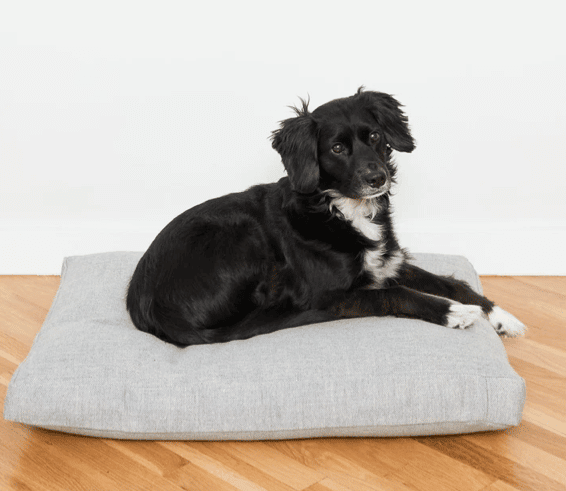 This farmhouse-style dog bed from BackUpDesign is made from linen-look outdoor fabric, making it durable enough to stand up to the activities of your pup. It comes in six different color options to match any farmhouse decor. They are fade-resistant, washable, and come with a high-quality cushion insert.
Buffalo Check Farmhouse Style Dog Beds
No pattern is more quintessential farmhouse than Buffalo Check. Mix this bold pattern with smaller white and prints to balance out the room.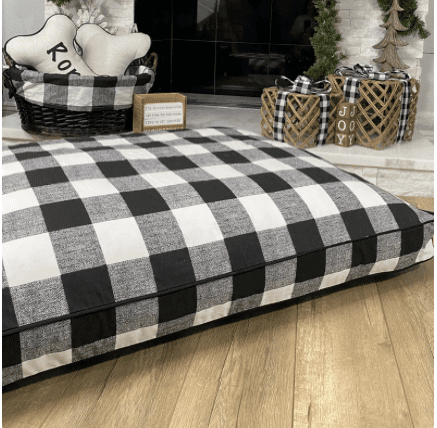 This Buffalo Check Duvet from Sammy's Beds and Threads is made of premium upholstery-graded plaid fabric. It's handmade with quality details like overlock stitching and tapered corners. You can purchase bed insets as an add-on to the duvet.
5 Harry Barker Buffalo Check Lounger
Harry Barker is also in the Buffalo check game with the eco-friendly and durable farmhouse-style dog bed lounger. It's fully washable, and hidden zippers allow for easy reassembly after washing.
Patterns and Plaid Farmhouse Dog Beds
Buffalo Check is not the only plaid that makes a mark in Farmhouse design. These windowpane options are also farmhouse chic.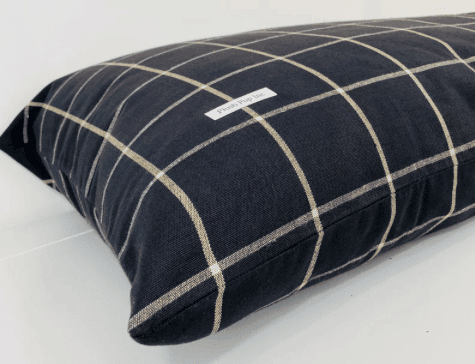 This plaid dog bed cover with muted white and yellow stripes is a sophisticated take on farmhouse style. Made by Plush Pup Inc, the bedding insert is also sold separately. This Etsy seller is known for being super helpful with any custom requests.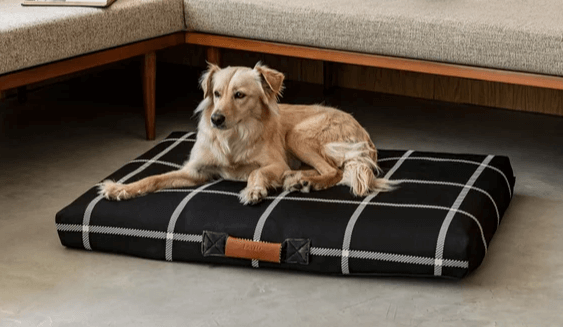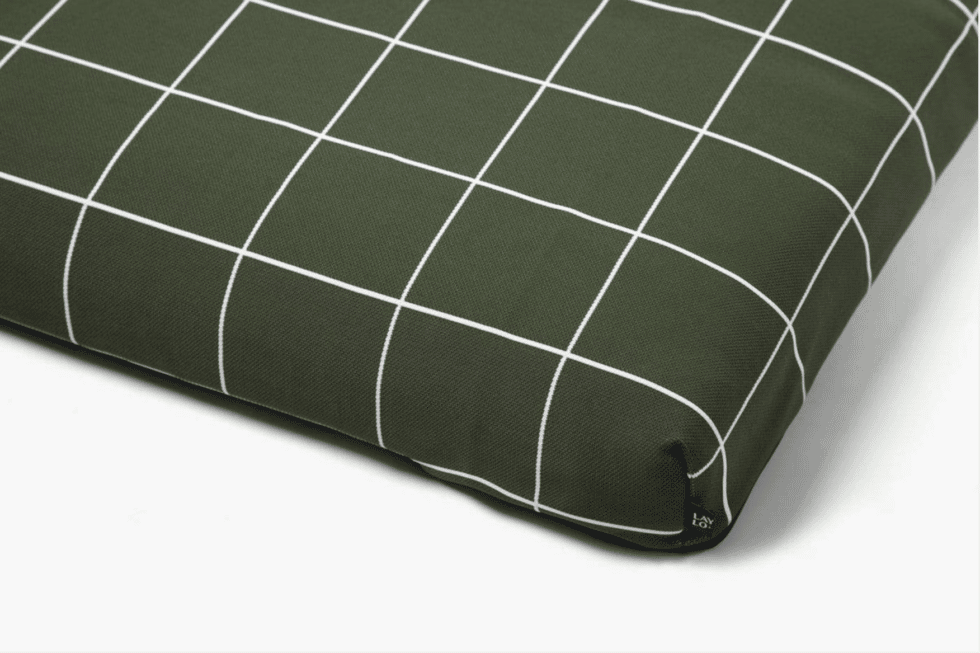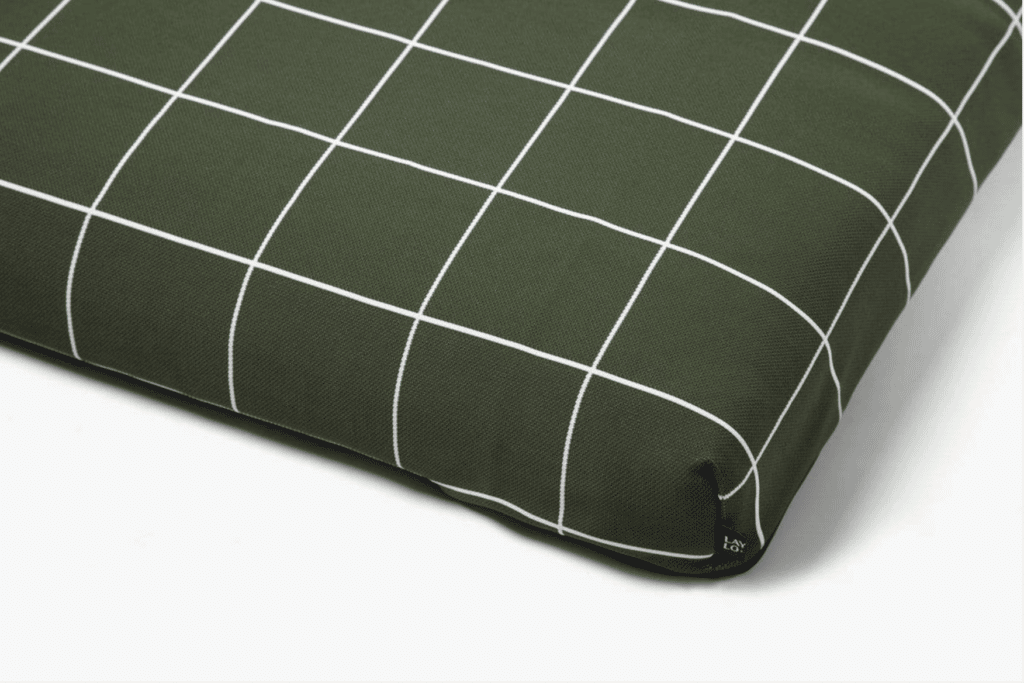 This Black Windowpane Plaid dog bed is not only super stylish but provides orthopedic support for your pup. The portable handle is not only functional but also a unique design detail. The durable bed cover is machine washable for muddy paw management. Laylo Pets has a smart system where you can order multiple covers for the same bed. Rotate out your favorite patterns and have a backup when one is in the wash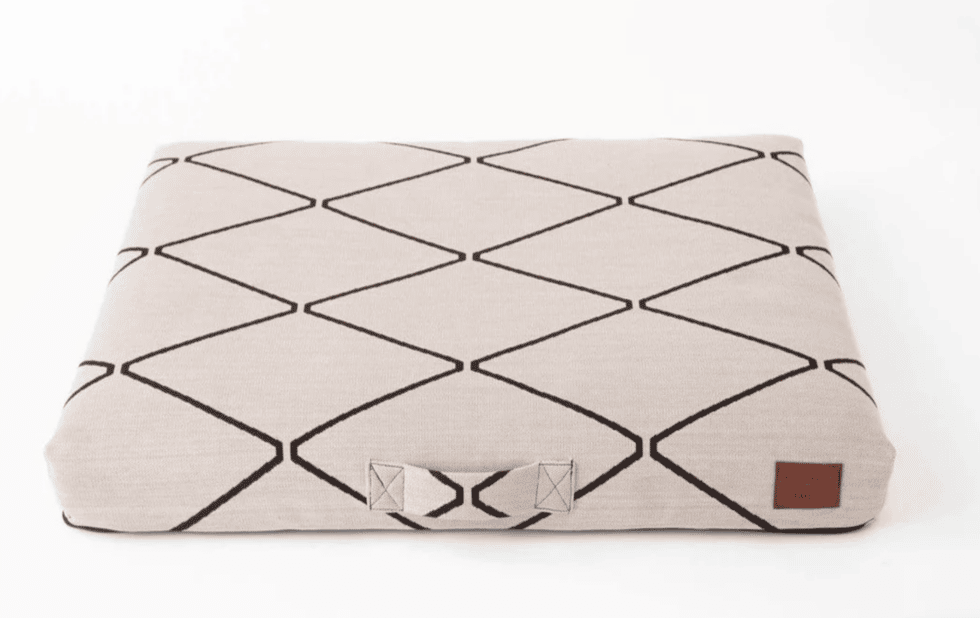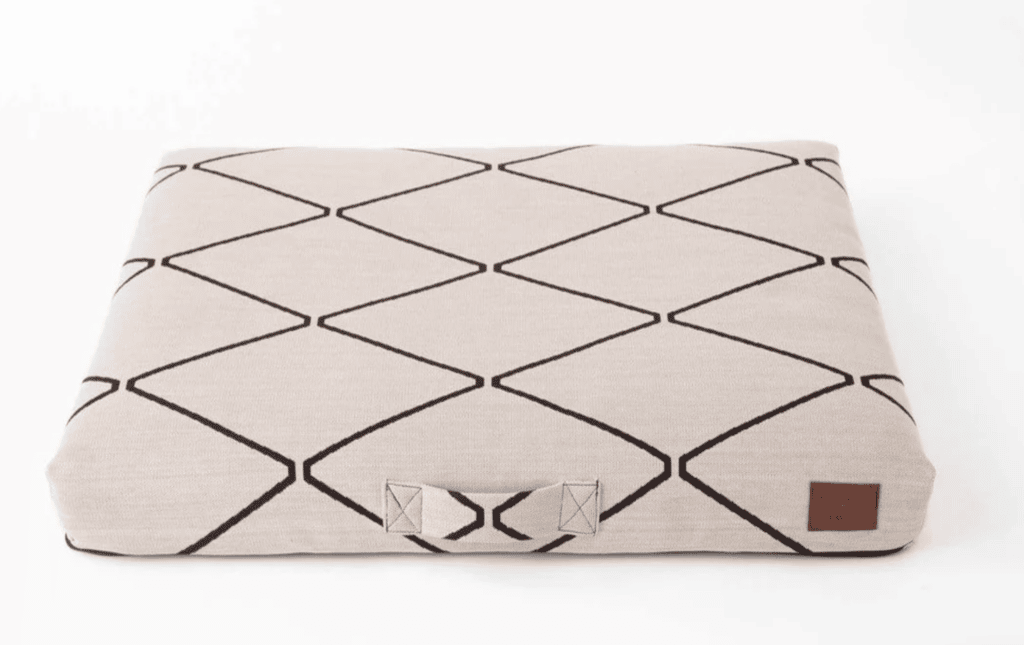 This Dimond Pattern bed in Ivory is also available from Laylo Pets. The fabric is durable, and the look is timeless.
Toile Farmhouse Style Dog Beds
Toile is a cross-over from French Country and Shabby Chic but still plays an important role in Farmhouse decor.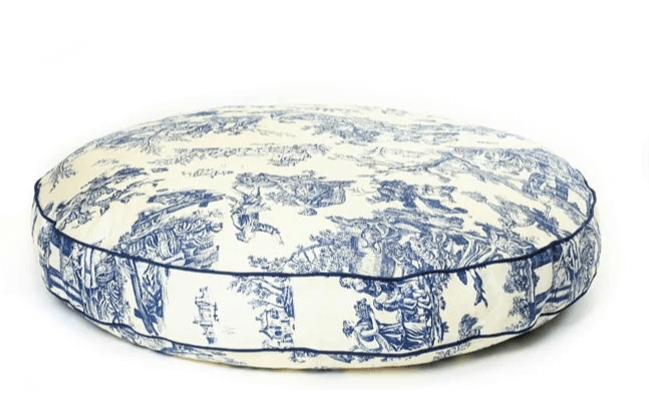 Created by GoodNighDogCo, this adorable Toile dog bed provides a fashionable and cozy place for your pooch to nap. The navy piping provides a contrast to the lighter blue and white pattern. It has a washable cover made with double-layer fabric, and the insert is made with polyfill.
10 Onyx Toile
This Onyx Toile bed is made from Microvelet, which repels hair and dirt. The donut cuddler-style bed provides side support for the pup, who likes to curl up when sleeping.
Ticking Pattern Farmhouse Style Dog Beds
Ticking is a subtle pattern that is essential to Farmhouse Style. Its small details make a great option when layering patterns.
We have this farmhouse-style dog bed and love it. It's versatile and works with many of the rooms in our home. Our dogs love It too. It provides orthopedic support and keeps them cool in the summer. We have had it for a few years now, and it still looks brand new. It's washable and super durable.
12 BarkBox Memory High-Density Foam Bed
This has the same stylish pattern as the Barkbox memory foam bed but has some additional 2.5" of orthopedic support. The bolstered sides create the perfect headrest. The durable outside cover is also washable.
13 Ticking Stripe Dog Bed Cover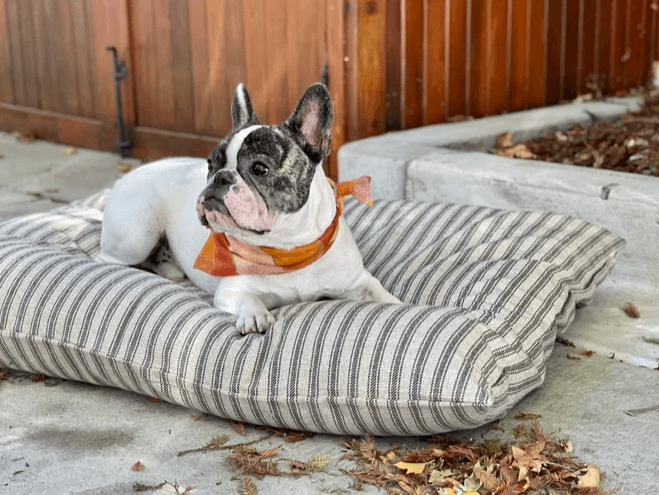 Plush Pup Inc is an Etsy star seller. Their Ticking Stripe Dog Bed is made from upholstery-grade fabric. It's handmade and washable. Pillow inserts are sold separately.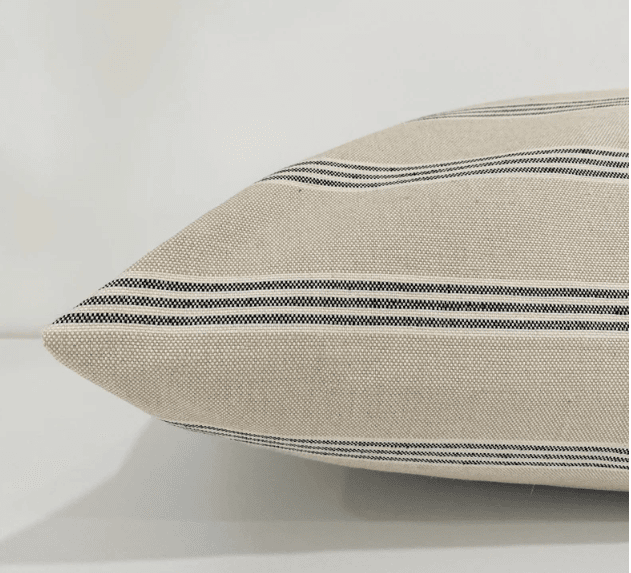 The tan base and varied stripes on this farmhouse-style dog bed are a departure from standard blue and white ticking. Brought to you by PlushPupInc, The bed cover is washable, and the insert is sold separately.
Feed Sack Farmhouse Style Dog Beds
Cotton feed sack bags were repurposed for clothes and household goods during the Great Depression and WWII. Today the fabric is a clever way to create a rustic farmhouse-style dog bed.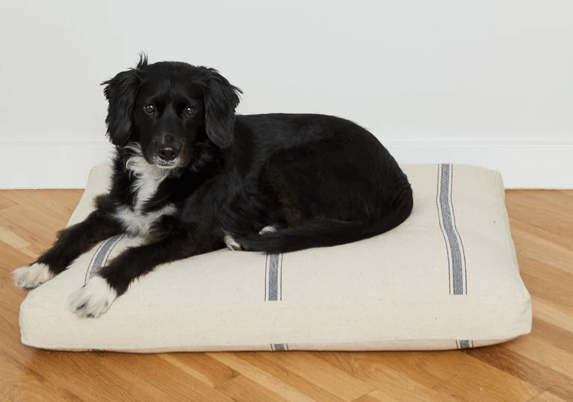 Although Elizabeth Backup of BackUp Design is taking a short break, this grain sack dog bed with Navy stripes is made to order for your farmhouse pup. The fabric is 70% cotton and contains slubs and other natural imperfections to give it that authentic Feed Sack look. The washable cover comes with an uber-comfortable bed insert.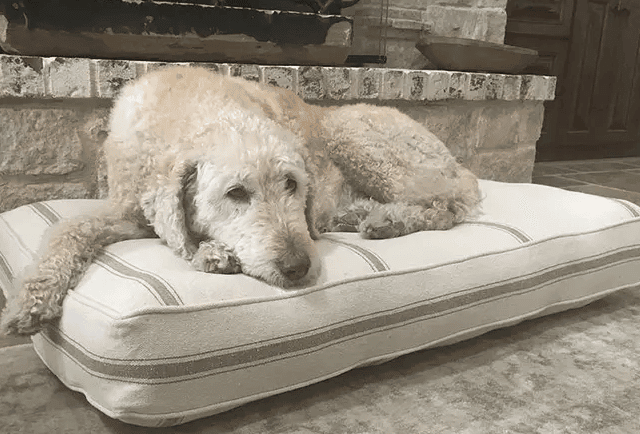 J'adore Custom Pet Beds offers this stylish feed sack bed. The bed is made with durable reproductive feed sack fabric. It has upholstery-grade zippers and a washable insert to stand up to your pup's wear and tear. It also comes in a variety of colors and feed sack patterns.
This grain sack bed is from our friends at Harry Barker. It is eco-friendly and easy to wash. They promise that high-quality inserts will not lose shape over time.
Black and White Pattern Farmhouse Style Dog Beds
Farmhouse Style is all about layering, and small black-and-white detail patterns are the perfect element to add to the mix.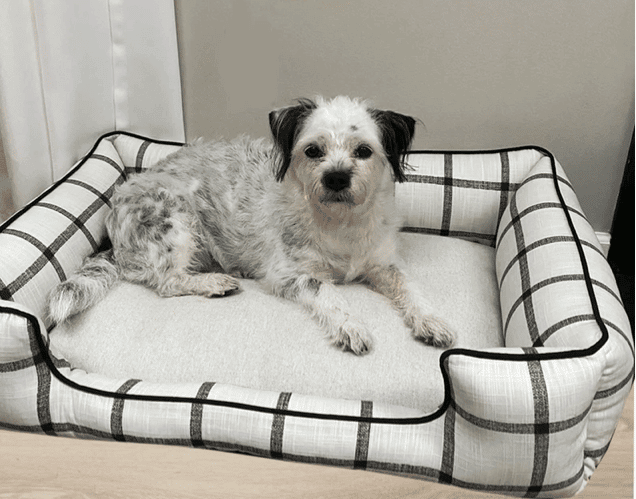 This Modern Farmhouse Dog bed is made from outdoor-rated fabric in an elegant black and white windowpane pattern. From Sammy's Sew Shop, you can choose either a stuffed insert or an orthopedic insert. If you want to go all out, you can personalize it with your pet's name.
Rural Print Farmhouse Style Dog Beds
If you want to get literal about farmhouse style these rural prints are the way to go.
19 Bowsers Durango Lounger – Brown
This bolster bed allows for ultimate comfort, while this chic fabric makes this a design statement piece. This is also a great option for pets that like to burrow in their beds.
Houndstooth Farmhouse Style Dog Beds
Houndstooth is another cross-over pattern that has made its way into Farmhouse design. It's a great option for layering large and small patterns.
20 PLAY Houndstooth Lounge Bed
This Houndstooth lounge bed has raised slides to create a resting place for your pup's head. Each piece of the bed is washable, and concealed zippers make it easy to reassemble after washing. As an added bonus, this bed is made from 100% recycled bottles.
Antique White Farmhouse Style Dog Beds
More modern versions of Farmhouse are moving away from the rustic finishes and are more focused on white furniture with cleaner finishes.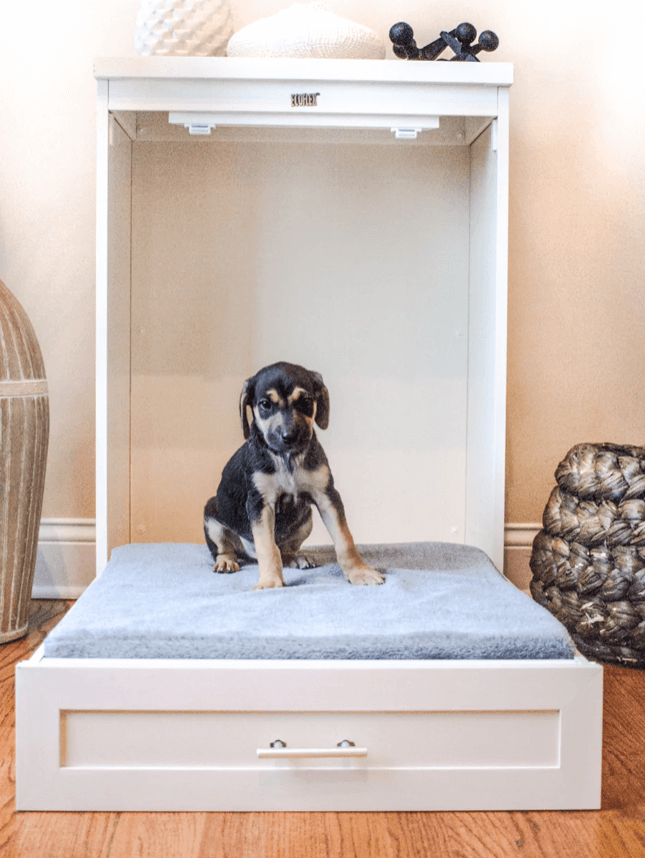 This Murphy Style Dog Bed does double duty. Pull out the bed while your pup is sleeping and tuck it away to become a piece of stylish furniture when they are playing. This is a great solution for small-space living. The memory foam cushion has a washable cover and includes moisture protection.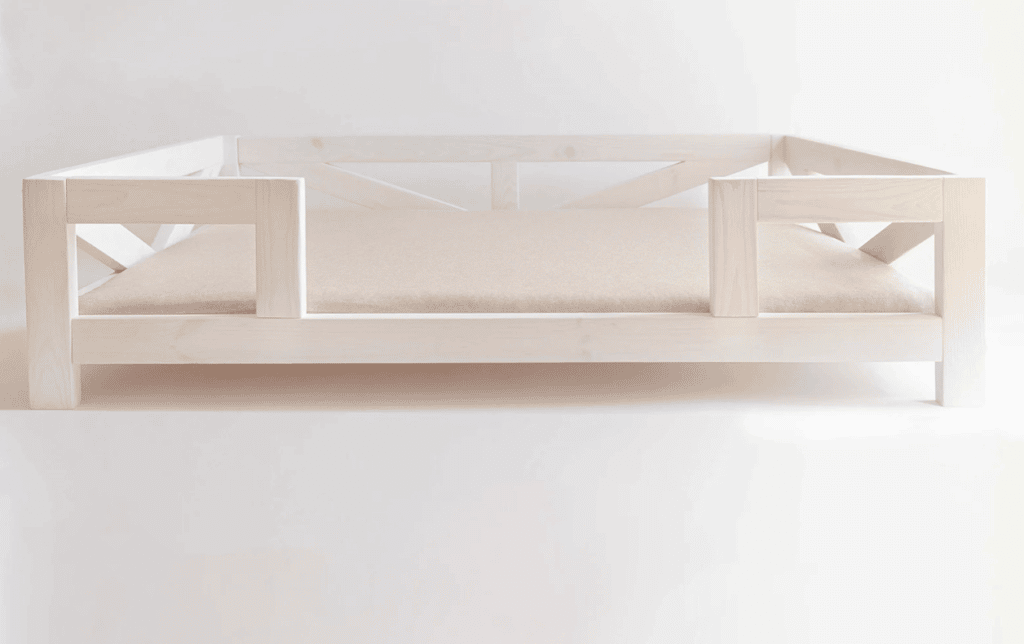 This gorgeous rustic white bed is handmade in Ukraine by Nut Woods. The mattress comes in ten different color options. Reach out to the shop owners before purchasing.
Shiplap Dog Beds
Joanna Gaines has secured our affection for shiplap. It's not just for walls. It can now be seen on dog beds.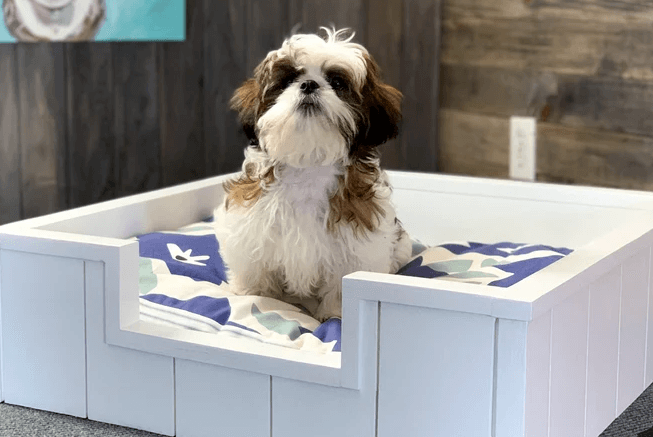 Three Dogs Farm and Wood Co. has created this sold wood dog bed with a shiplap frame. The bed will seamlessly fit into the farmhouse decor of your home. Each bed is constructed of high-quality materials and as they emphasize not using plywood. They use premium-grade fabric to create the coziest spot for your pup.
Reclaimed Wood Dog Beds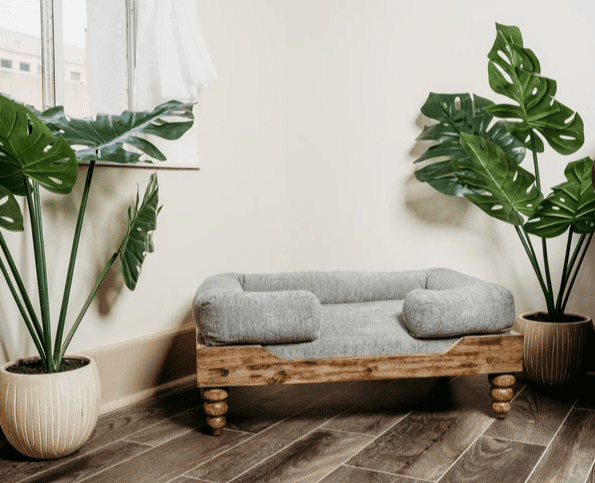 This farmhouse favorite is sold by 828 Supplies. The bed is made from Acacia hardwood and includes an orthopedic memory foam mattress. We love the farmhouse details like the wooden legs and surge smoke fabric on the bed. Please know the bed is best suitable for small and medium breeds of dogs.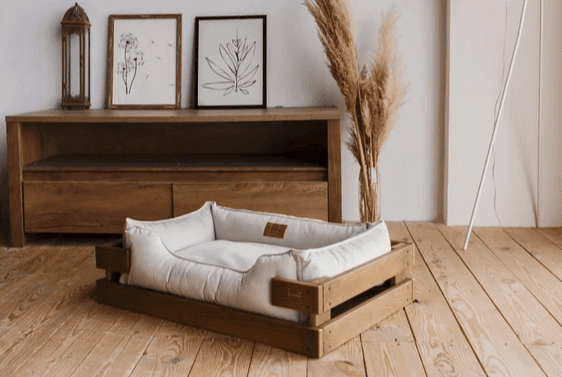 This wood bed from Harley & Cho is the perfect place for your pup to nap. Built in four different sizes, it also comes with a washable bed in a variety of colors. Harley & Cho is an Etsy favorite with over 4K four-star reviews.
Vintage Detailed Farmhouse Style Dog Beds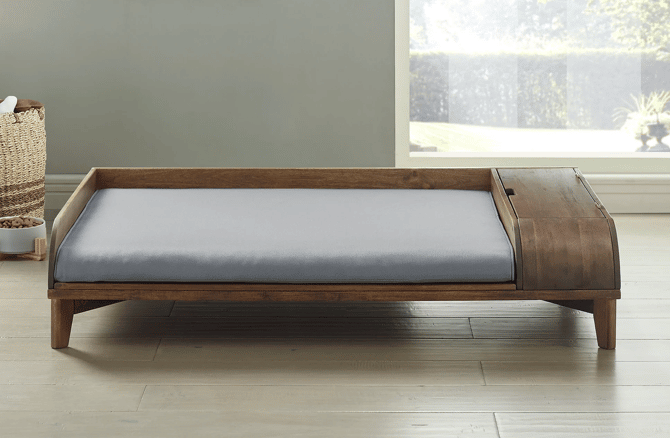 While this bed also has some mid-century modern lines, the vintage details in this bed make it a perfect fit for farmhouse decor. This solid wood bed has an Acacia bed frame that works for both indoor and outdoor use. It also has this adorable storage compartment to keep their favorite toys. A-dorable!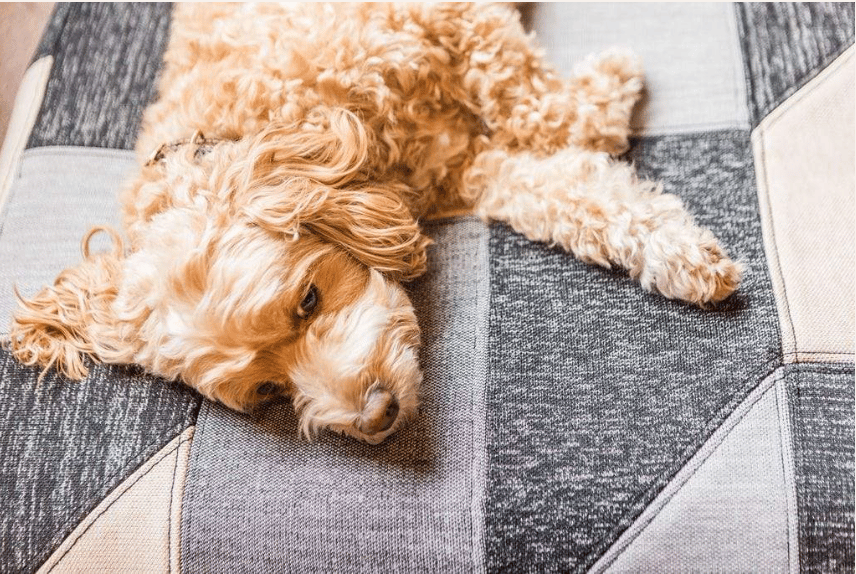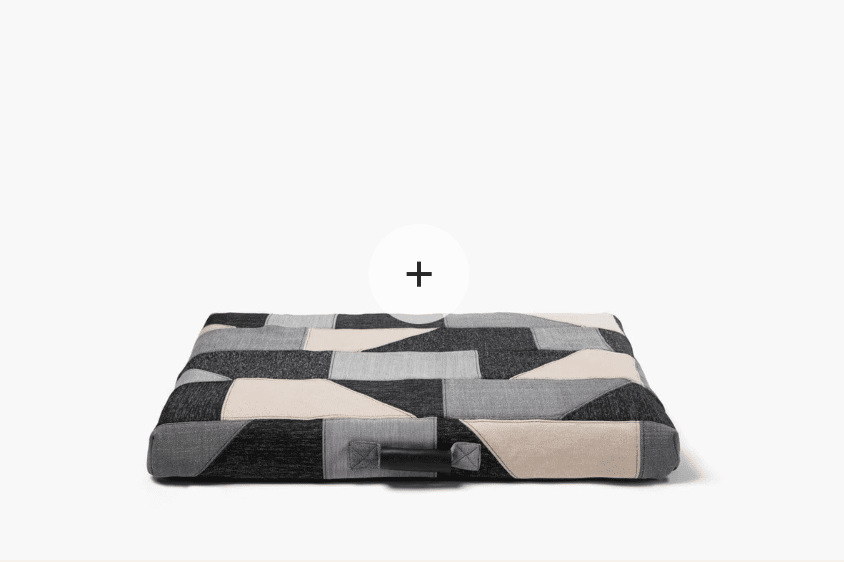 This handcrafted dog bed is from Laylo's Remade Collection and looks like a vintage farmhouse quilt. It's washable, made from recycled materials and will make a perfect addition to your farmhouse decor.
This Vintage Stripe Dog Bed from Harry Barker is eco-friendly, fashionable and comfy.
This is another pawsh and highly durable bed from our friends at Harry Barker. This comfy vintage pattern comes in five different colors.
Farmhouse Comfort Dog Beds
Farmhouse style is relaxed and comfortable and the reason this style is so popular.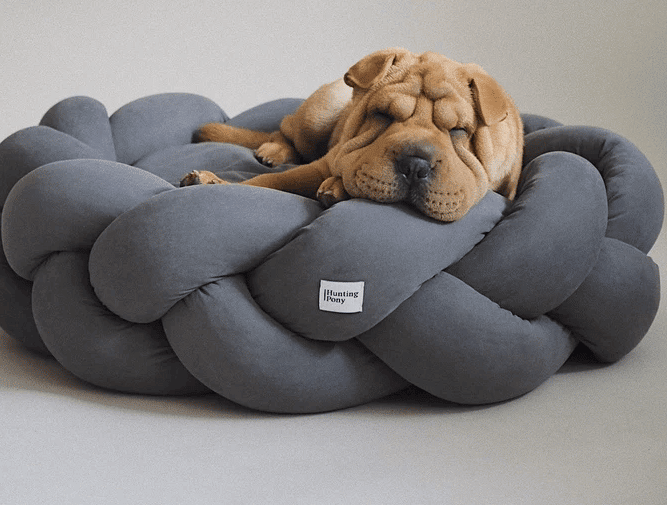 This dog bed screams comfort so much that humans will want to sleep in it. Hunting Pony brings this knit dog bed, which has a removable, washable cushion and comes in four farmhouse-friendly muted tones.
Basket Style Farmhouse Dog Bed
Baskets are the perfect catch-all for farmhouse style…including your pets.
This sturdy basket with a cushion is the perfect farmhouse hideaway for small dogs and cats.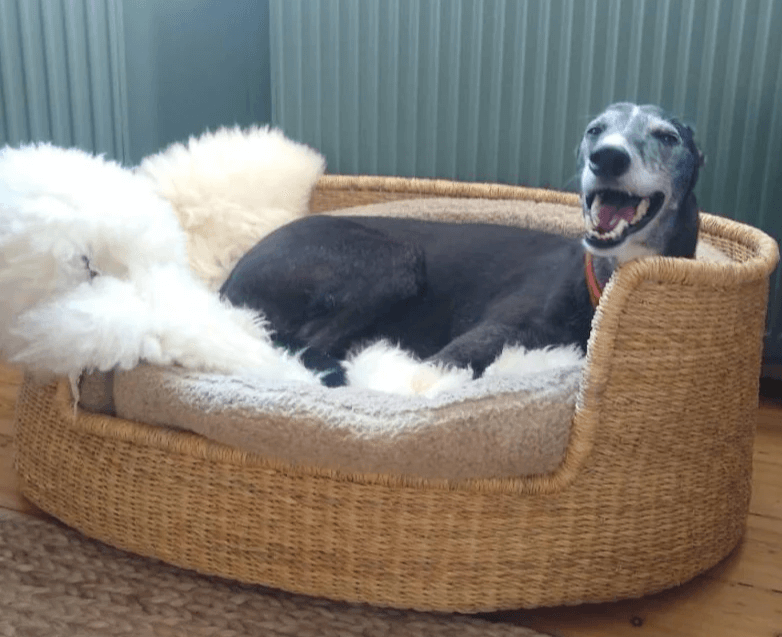 This natural Woven Dog Bed is handcrafted in Ghana and brought to us by Shirumisha Kwayu of Kwayu Fashion. The bed is made out of natural elephant grass and can be customized to fit your needs. Heads up! The shipping of the bed can take time. Be sure to order in plenty of time.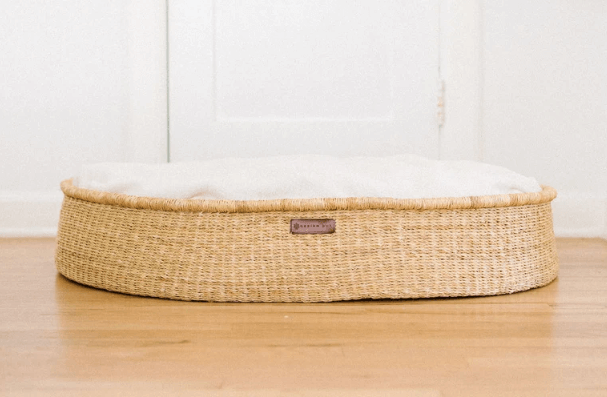 This basket lounger won HGTV's Bed New Product award. It comes with a fitted cushion and is handcrafted from elephant grass. This bed is also handcrafted in Ghana. Allow a couple of weeks for shipping. Thousands of dogs love this bed!
The Wrap Up On Farmhouse Dog Beds
From Shiplap to Buffalo Check, there is a farmhouse-style dog bed for every dog. Find the perfect fit for your pup and your home!