I love my cat, Lottie Mae. I also love my sleek and comfortable velvet wingback chair. Is there are a world where both of my loves can live in harmony? Yes, and the answer doesn't require us to live with an unsightly beige carpeted cat tree in the middle of the living room.
The best way to protect our furniture is to provide our cats with a place for them to scratch, stretch, and even hang out. However, cat scratching posts no longer need to be an eyesore. Instead of detracting from the room's aesthetic, modern cat scratchers can be an attractive design element. We reviewed the best modern cat scratchers to keep your cat happy and away from your beloved furniture.
Skip to The Reviews
Minimalist Cat Modern Cat Scratchers
This post may contain affiliate links and I may earn a small commission when you click on the links at no additional cost to you. As an Amazon Affiliate, I earn from qualifying purchases. You can read my full disclaimer here.
Why Cats Scratch
While it can sometimes feel a little personal when your cat scratches your favorite chesterfield sofa, they are probably not doing it out of vengeance. They are likely removing the dead outer layer of their claws to reveal sharp new ones.
Scratching is also a way to mark their territory, squeeze in a little stretching, and relieve some stress. It's basically aggressive kitty yoga, and if you don't create a space for it, they will make one using your one-of-kind retro chaise lounge.
My cat is an indoor/outdoor cat, but she loves her scratcher so much she takes time out of her busy day sleeping on the porch to come inside, grab some food, and give a good scrape to her modern cat scratcher. I'm not an animal behaviorist, so I don't know for sure, but I think she is marking her territory and reminding the dogs who are boss.
Choosing the Right Modern Scratcher for Your Cat
When you purchase one of these best modern cat scratching posts, it will not help in defending your furniture if your cat isn't into it. You need to get a scratcher that will fulfill their specific needs. There are a few tips and tricks to get your cat to fall in love with it, but it's essential to understand their scratching behavior before purchasing one.
PRO TIP: If you are still getting to know your cat, it might make sense to buy some inexpensive cardboard cat scratchers at first to get to know their behavior before investing in a nicer modern cat scratcher.
Vertical vs Horizontal
Does your cat like to scratch on the floor, or do they prefer a vertical scratcher where they can squeeze in a little stretching? If they are vertical scratchers, purchase a scratching post or a scratcher that attaches to the wall. For horizontal options, look at mats and flat scratchers.
Space for Lounging
Does your cat need an area for lounging near their scratcher, or are they more of a scratch-and-go kind of cat?
Material
There are three common types of materials that cats love to scratch. Materials like sisal, cardboard and carpet each have their own benefits.
Sisal: sturdy and lasts the longest with minimal clean-up
Cardboard: inexpensive but requires clean up of small pieces
Carpet: can quickly deteriorate and may encourage scratching on other carpet furniture.
Size and Sturdiness
If you get a vertical modern cat scratcher, make sure it is long enough for them to stretch fully. If it is too short, your cat will start eyeing the couch again. It must also be sturdy. The higher the tower, the larger the base will need to be. It might make sense to secure it to the wall or a large platform to make sure it doesn't move. If it falls while your cat is scratching, it will be even more challenging to get them to return.
If your cat prefers a horizontal scratcher, make sure that it is large enough that they can sit on it and scratch.
Once you choose from these best modern cat scratchers for your cat's needs, scroll down below for ideal placement and tips on how to get them to love it!
Top Picks: The Best Modern Cat Scratchers
39 x 11 x 14.3 inches ; 11.2 pounds
The sleek Petfusion Jumbo Cat Scratcher Lounge is one of our favorite best modern cat scratching post. It offers plenty of space to scratch and hang out. It's made of recycled cardboard, non-toxic cornstarch glue, and comes with organic catnip.
If you have multiple cats, the Jumbo Cat Scratcher is built for sharing and can hold up to four cats. The sleek design and substantial size make it a modern and attractive addition to your living space. It's sturdy and large enough that it almost feels like a piece of furniture. After your cats have given it a serious shred, you can flip it to the other side for a second life.
Attached it to the wall using shelf brackets to create an elevated look.
34 x 10.5 x 10.5 inches 7.5 pounds
Colors choices: gray, white, walnut brown
PetFusion also makes the Pet Fusion Ultimate Cat Scratcher Lounge with similar recycled cardboard and non-toxic starch glue construction, but it comes in this extra classy infinity shape. It has similar features as the jumbo lounge, as it comes with organic catnip and is reversible, but the Ultimate lounge also comes in three colors (gray, white, and walnut brown) to coordinate with your space.
This cat scratcher is so popular there are copycats who, according to the manufacturer, do not live up to the quality of the Pet Fusion version. Some cats find the sexy curves of the infinity shape easier to scratch, but there is less hangout area with the closed center.
Modern Boho Cat Scratchers
17.7X17.7×41.3 inches Large
14.6×14.6×31.5 inches Small
If you love modern boho design, the cactus-inspired shape of the Vetreska Cactus Cat Scratching Post may be an excellent fit for your home. The Scratching post is made with sisal rope and has two attached pink flowers. It is designed for the vertical scratcher and has two heights to choose from.
Cats can scratch and climb on the sturdy structure made from PVC pipe. It comes in two pieces, and most find it easy to put together. Some fur-parents feel it is a little on the expensive side but love its unique design and sturdy construction.
USER HACK: If the sisal on the base becomes detached, it can easily be repaired with a hot glue gun.
17 x 13 x 4 inches;
This Oval scratcher doubles as a bed for your cat. It's made of recycled corrugated cardboard and wrapped in this fun, colorful boho design.
21.5 x 14.5 x 17.5 inches
In addition to the sleek design, this scratching post can transform into an upright, floor, or end table mode. The frame is made of metal, and the scratching post is made from natural sisal.
Modern Minimalist Cat Scratchers
18″W x 18″D x 36″H
The Zip scratching post is from the smart designers at Tuft and Paw. This modern take on the cat scratcher provides enough height for your cat to stretch fully. It's made of tightly woven sisal with a wide wood base for extra durability. This is high-quality cat furniture that is designed to look good in your home and last for years.
28.5"W x 6.5"D x 1.5"H
The Tab is another clever design from the team at Tuft and Paw. It can attach or lean on the wall or be placed on the floor. It has rubber groundling for stability when set at an incline or you can use the optional wall hanger to attach to the wall. Your cat will appreciate the wide scratching surface. You will appreciate the sophisticated, clean look.
6.3 x 6.3 x 12.6 inches
This minimalist design of this cat scratching post provides a simple sisal tower with a sturdy wood base. The 32" tower gives your cat the ability for a full stretch. It gets great reviews on Amazon and has been featured in the NY Times.
22 x 5.75 x 1 inches
This chic scratching post has a sisal pad that attaches to the wall. This sleek designed cat scratcher comes with hanging hardware and is easy to hang. To extend the life of the scratcher, flip it to get use on the other end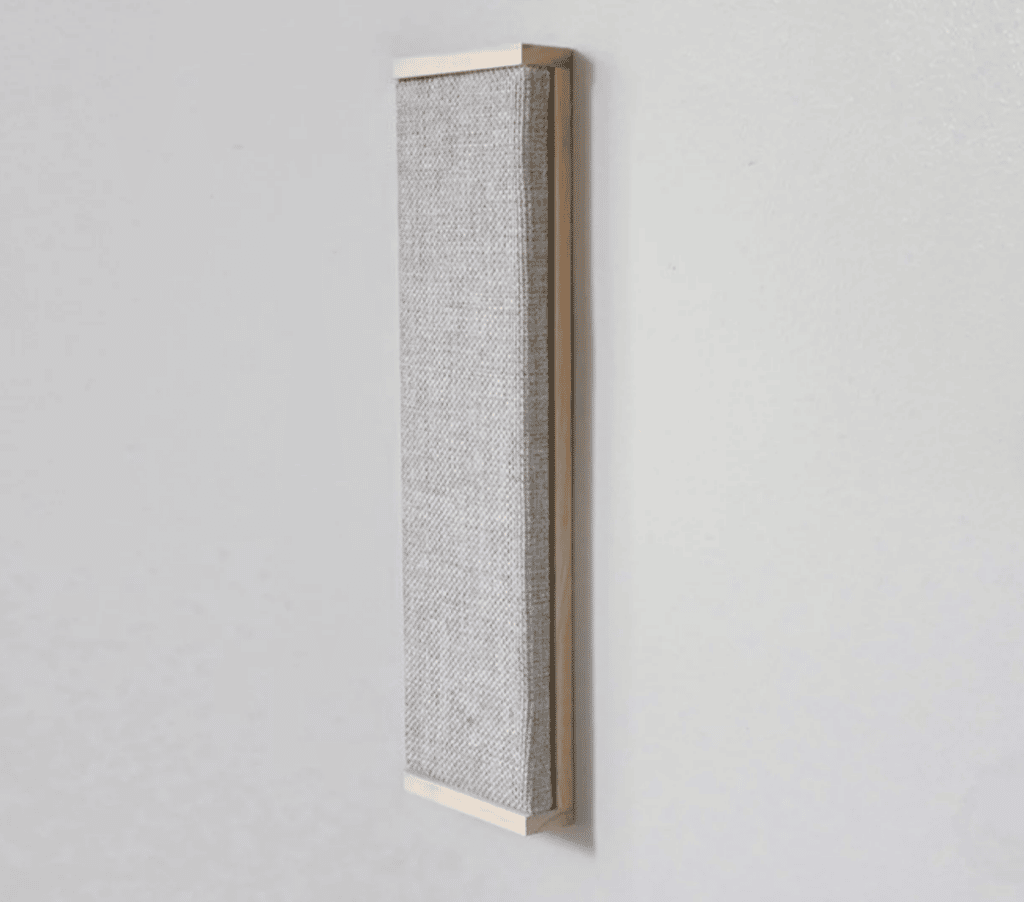 18 x 5-1/2 inches
If you want to give your cat the same sensation of destroying your couch without the actual damage, the Klosa Wall Mounted cat scratcher has is crosshatched woven textile to mimic the feel of the upholstery. It's light, slim and can be mounted at the perfect height for your cat.
O shape=16 x 8 x 16, L shape=24 x 8 x 16, T shape=24 x 8 x 16, Z shape=24 x 8 x 16, I shape=32 x 8 x 8.
Color options: Maple, Black, Multi-color, Original Kraft, Teak, Wood Drift
The Katris Modular Cat Tree provides multiple stylish design options for your home and cat. Featured in Animal Planet's "My Cat From Hell," these five cardboard block pieces come in different sizes and lock together with ten plastic clips. It comes in six different color options and can be put together to create multiple designs like a feline-friendly bookshelf, coffee table, cat wall, or cat scratcher.
The blocks are quite sturdy, and the manufacturer claims they can hold up to 300 lbs. Depending on how you put them together, you may need to attach them to a wall or base for additional stability. The higher price point may turn off some fur-parents, but this modular unit can unleash your creativity while also being an excellent place for your cat to play, sleep, and scratch.
Modern Pop Art Scratchers
12. 99×12. 60×22. 44 inches
Flavor Choices: chocolate and vanilla milk
This pop art-inspired ScratchMe Cat Condo Scratcher lets your cat scratch in the privacy of a milk carton. The cardboard scratcher fits inside the bottom, although some cats will also enjoy scratching the outside.
The ultra-modern design, including multi-lingual markings, will undoubtedly be a conversation piece at your next dinner party. It's made of five layers of corrugated cardboard and comes with catnip.
USER HACK: Many users complain the clips do not hold the structure together at the top and have used zip ties, binder clips, and super glue as an alternative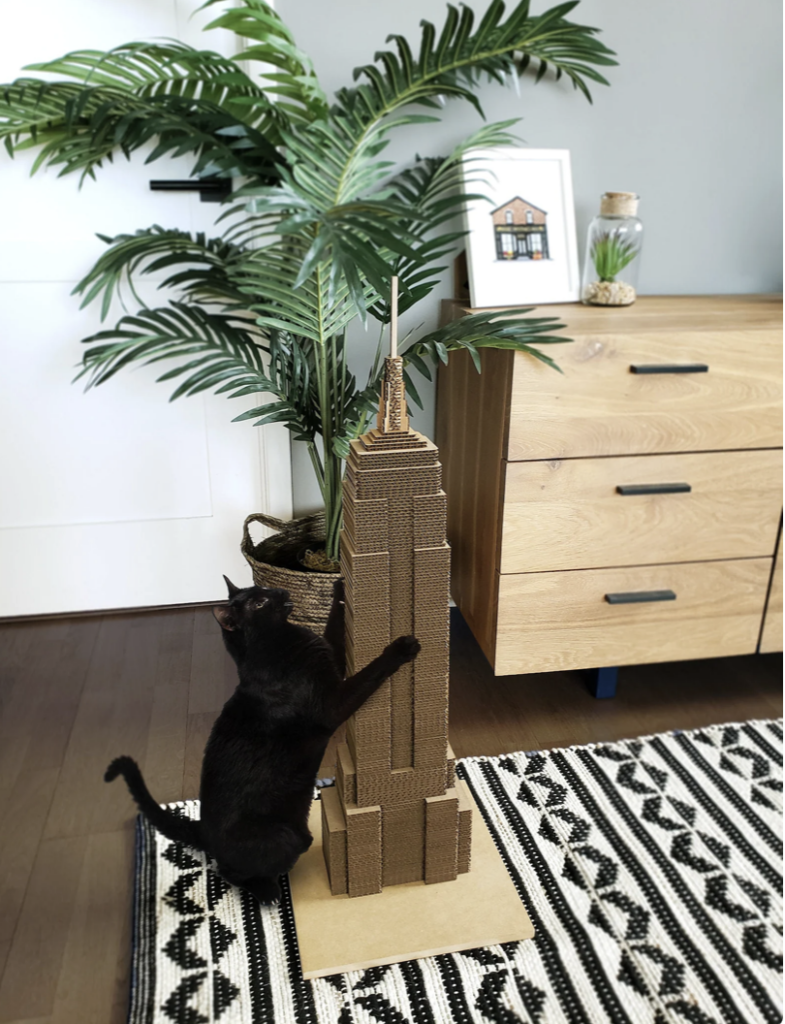 Base: 11.75″ x 11.75″ x 0.5″ MDF
-Tower height: 32" to top of the antenna
For all the I love NY fans out there, this cat scratching post is for you and your cat. It's constructed of recycled cardboard stacked into the shape of the Empire State Building. This is a fun and attractive alternative to the standard beige scratching pad. If NYC isn't where your heart lies, check out this seller's other options of city landmark cat scratching posts.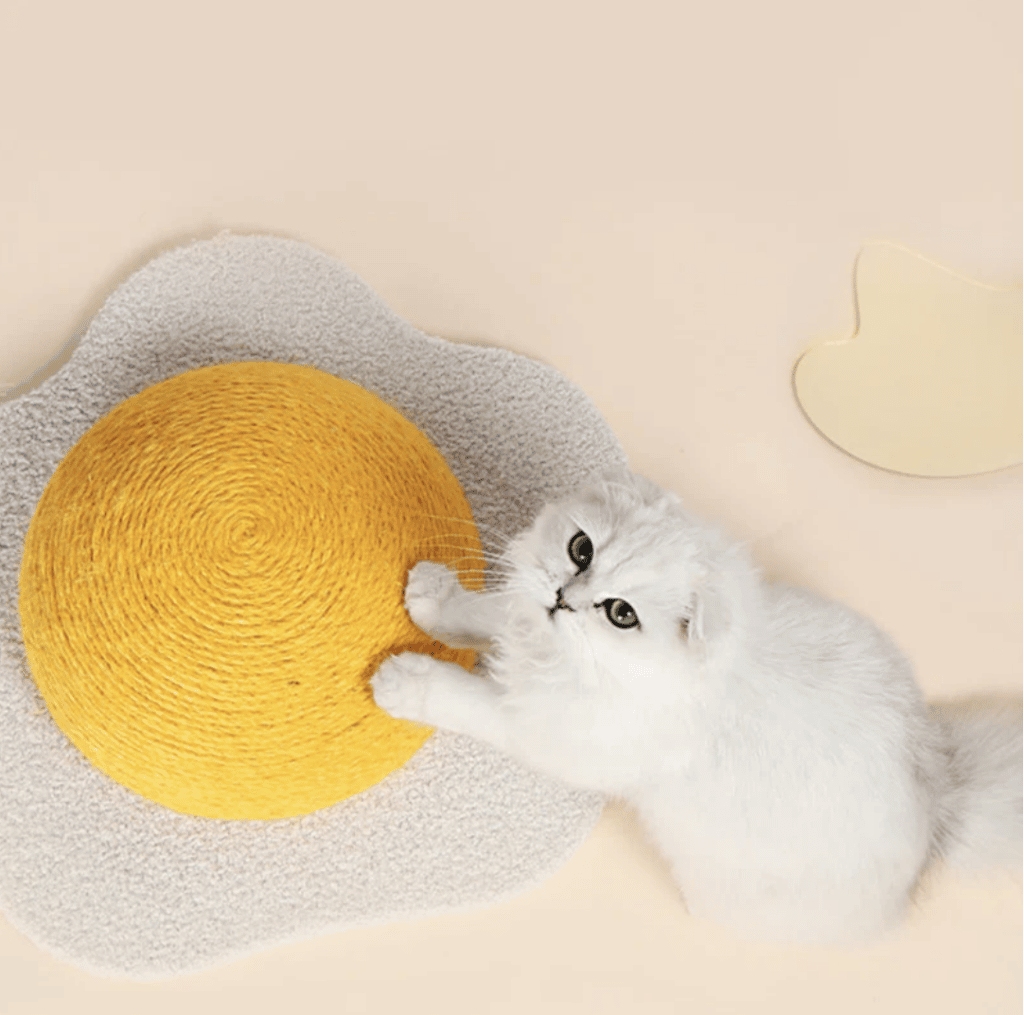 Small 11 x11 x 3.5
Large 17.5 x 17.5 x 5.5
This clever-shaped egg-shaped cat scratcher is constructed of Hand-made sisal with a wooden base and attached feather on a spring. If you are obsessed with the egg shape design, Happy and Polly also sells a matching food mat and bed.
1.81 x 23.62 x 11.81 inches
This mod pink sardine can offers cats a place to scratch, sleep and play hide and seek. It's made of recycled corrugated cardboard. It comes in three stylish colors: Black, Pink and White.
35cm x 38.8cm x 14.4cm
Turn up the music for this hilarious cat scratcher with a spinnable cardboard mixing deck and posable arm. This may not be the most long-lasting option, but the price point makes it perfect for a fun gift.
Get Your Cat to Love the Scratching Post
Now that you have chosen one of the Best Modern Cat Scratching posts for your cat, you need to make sure they fall in love with it.
I know this sounds crazy, but I was recently visiting some friends who have just added a new scratching tower to their home. My friend pretended to scratch the post, and the cat darted from across the room to start scratching. (Maybe the cat was correcting my friend's scratch technique, but either way, it worked)
Sometimes it helps to show the cat how it's done. However, it's best if you pretend to be the cat. Do not grab their paws and start to scratch.
Another option is to sprinkle a little catnip on the scratcher. Most of the best modern cat scratchers I found come with a bag of catnip.
Placement
Placement is also a factor in getting them to engage with the scratching post.
Since it is often a way for them to mark their territory, it's best to start by placing it in the most prominent room or at the center of the household hangout. Basically, you can't shove the cat scratcher in the back bedroom or a closet if you want them to use it. It's a way for them to claim the space, and if you hide it in the laundry room, they are going to convert your twill club chair into a shredded mess.
It feels a little uncomfortable to drop serious change on something your cat intends to destroy, but if it has to sit next to you and your ultra-modern sectional, it would help if it looked stylish.
If you are retraining them to scratch the post instead of a piece of furniture, place it right in front of what you are trying to protect.
Placement can relate to when they like to scratch. After a nap? Place it near their bed. It doesn't hurt to have multiple cat scratchers. If they are cute, you will feel better about them being around the house.
The Wrap Up on the Best Modern Cat Scratchers
Gone are the days when you have to sacrifice style to keep your cat happy and healthy. Whether your cat is a vertical or horizontal scratcher or prefers sisal or cardboard, one of these best modern cat scratchers will make your cat happy and home beautiful.
For more stylish cat content, like the best modern cat scratchers, check out our recent posts.