Like a growing number of folks, I'm lucky enough to work from home. One positive side effect is that I've been able to spend a lot of one on one time with my #1 gal, Jerry, my cat. I've learned a lot more about her, and while her moods can still be a little unpredictable, one pattern has quickly emerged: the less exercise she gets, the grumpier she is.
Cat depression is a real thing – indoor cats especially can suffer from lack of stimulation which can result in acting out around the house. After one too many unprovoked ankle nips, I decided to do some research into the best way for my cat to get more exercise at home. It turns out there are numerous health benefits to using a cat exercise wheel.
Best Cat Exercise Wheel
Skip to the Reviews:
Best Overall: One Fast Cat Exercise Wheel
Best for Larger Cats: Ferris Cat Wheel
Best Budget Pick: PawHut Round Hamster-Wheel
Best of Etsy: TTBuild Cat Wheel
Best Colorful Splurge: Cat-itude Cat Wheel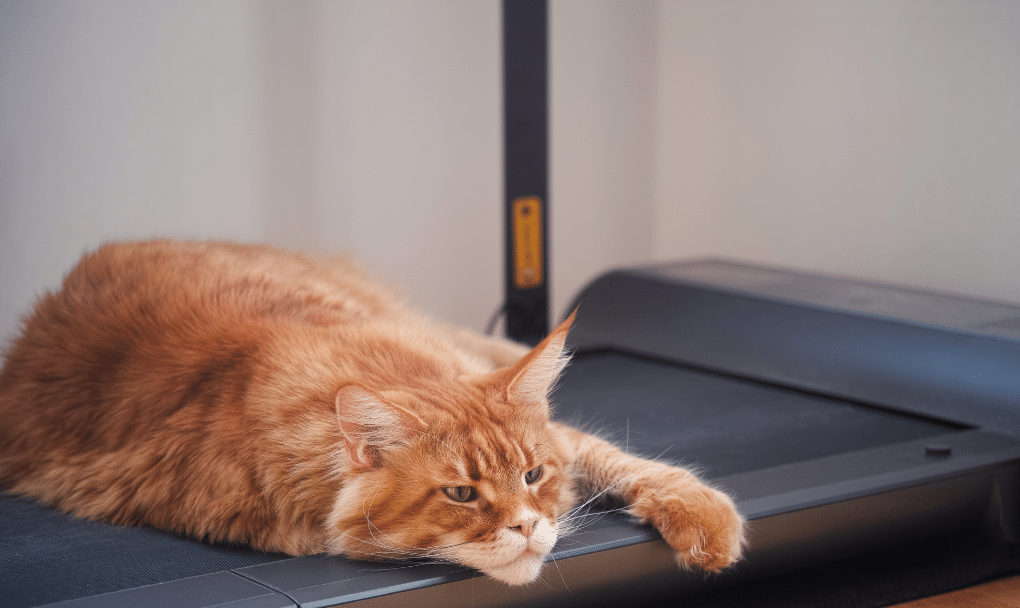 This post may contain affiliate links and I may earn a small commission when you click on the links at no additional cost to you. As an Amazon Affiliate, I earn from qualifying purchases. You can read my full disclaimer here
A Cat Without Exercise
Not exercising leaves Jerry with a bit too much energy at the end of the day, energy that she prefers to expend by being bite-y, yowl-y, and excessively needy (so sorry, you can't sit ON my keyboard). Cat lovers know the look their furry friend gets in their eye right before they knock over your water cup (again), wedge themselves inside your miniblinds, or find a "creative" place to relieve themselves – it's clear they've got too much time on their paws.
From a human perspective, it makes sense – if I spend my entire day on the couch I am definitely not my best self once evening rolls around, either. Taking walks helps me burn off some energy and elevates my mood, but Jerry is not a leash kind of gal.
I do play with her, but it would be nice to have an option that is a bit more passive on my part so I can at least pretend to get some work done during the day. After a week of deep research, I found six of the best cat exercise wheels that I'm confident could solve the problem and help Jerry be a bit more relaxed around the house.
What's A Cat Exercise Wheel? Are They Safe?
A cat exercise wheel looks a bit like large, open-sided hamster wheels. They're typically made of some combination of wood, metal, plastic, or cardboard and are large enough for a full-grown cat to run inside them. The weight of the cat's forward momentum makes them spin – think of them as cat-powered circular treadmills. Cat exercise wheels are generally considered safe, as long as the wheel itself is sturdy and correctly assembled. Make sure you monitor your cat as they get used to their new wheel, and watch for any malfunction.
How Much Exercise Do Cats Need?
Feline exercise needs depend on a few factors, primarily age. My Jerry just turned 10, so she's on the cusp of being considered a senior cat (shhh, don't tell her) and left to her own devices, her activity levels definitely vary from day to day. For most adult cats, about 30 minutes of exercise per day is recommended.
If your cat is an outdoor cat, chances are they're getting enough exercise on their own, if they venture farther than the sunbeams on your porch. If not, or if they're indoor cats, you'll need to find a way to help them get their exercise time in each day. The good news is, all exercise minutes count – your cat doesn't have to go on a 30-minute workout bonanza to reap the benefits of physical activity. A little bit sprinkled throughout each day will help keep them healthy and stimulated. If you have a kitten, you already know they sleep quite a lot – a little toy time when they're awake will likely do the trick for them.
Things to Consider When Buying A Cat Exercise Wheel
Space
Sizing of cat exercise wheels does vary, but none of them are what I'd call small. Take a moment to consider where you'd ideally place the wheel in your home and do a bit of measuring before you order. Where does your cat spend most of their time? Is that a viable space for this new addition?
Being realistic about the space you are willing to dedicate to your new cat exerciser can save you time and a potentially avoidable return later. And, while some exercise wheels will work with the base placed on low-pile carpet, a non-carpeted surface will be the most stable option. The last thing you want is your wheel tipping over and potentially injuring your cat.
Your Cat's Personality
It's no secret that cats are strong-willed little creatures. Before you decide which wheel is right for you and your cat, you might want to consider your cat's personality. Are they adventurous and willing to try new things? Would you describe them as a daredevil? Is your furry friend generally of the curious sort? If so, a cat exercise wheel might suit them well.
On the other hand, if your cat is more cautious and skeptical of anything new, you might want to make sure you introduce the wheel slowly and give them time to warm up to the idea. Any cat can enjoy an exercise wheel, but before you drop the cash on one, consider how much time you have for training and if it seems to suit their personality.
Style
Let's be real – the style of most cat furniture leaves quite a lot to be desired. Luckily, the folks who design products for pets are starting to become savvier about creating items that don't just serve a purpose, but also look good in our homes. You shouldn't have to sacrifice space in your living room for a piece of furniture that makes you cringe whenever you look at it – so don't! Many of the cat exercise wheels below are right at the intersection of form and function, so you don't have to abandon your sense of style to keep your kitty happy.
Cost
I'll be upfront: many of the higher-end cat exercise wheels that are available aren't what I'd call cheap. But if your budget won't quite stretch far enough to cover the cost of the fancier wheels don't despair. We've included a DIY solution as well as some entry-level options that might fit a bit more easily into your budget. Read on to find out more.
Best Cat Exercise Wheel Roundup
*You'll notice that a few of these wheels are currently out of stock or back-ordered due to supply chain issues related to the ongoing pandemic. If you find a wheel that you love, check the company's website frequently, as businesses are working hard to replenish stock and most expect to see inventory back to normal levels soon.
Best Overall: One Fast Cat Exercise Wheel
Assembled Dimensions: 48″ H x 47″ L
Wheel Diameter: 47″
Run Surface: 10.75″
Weight: 25 lbs.
Materials: Recycled plastic, EVA foam running surface
Color Options: Unit is black, black or cheetah print options for run surface (running surface is replaceable)
The One Fast Cat exercise Wheel is a great entry-level wheel that has been around for a few years. This company began as a Kickstarter, and through meticulous research and prototype development, they've created a well-tested and durable product, with many positive reviews. Assembly is straightforward, and if you have any issues, there are quite a few assembly videos on the website and more to be found on YouTube.
Many users report that multiple cat households have had great success with this wheel – if one kitty takes to it, it seems to inspire the others. The website has 600+ reviews, so you can get a good idea of what you're getting into before you order.
Pros
Great value
Comprehensive website with training tips, detailed assembly videos, and customer videos.
Free shipping
Cons
Made of plastic
Cons
Best for Large Cats: Ferris Cat Wheel
Assembled Dimensions: 51" L x 56" H
Wheel Diameter: 51"
Run Surface: 12.5"
Weight: 53 lbs (as shipped)
Materials: Plastic frame, EVA padded running surface
Color Options: Outer shell is white; inner running surface is available in black, blue, green, pink, or yellow
This safe, sturdy wheel will add a splash of modern flair to your home. The Ferris Cat Wheel's innovative design features six skate wheels for a super smooth glide as your cat runs. The wheel pieces simply slide into place – no special tools are needed for assembly. The website features lots of videos of the wheel in action and several pictures of small dogs using the wheel as well, so if you are a multi-pet household, this could be a chance to get the whole family in shape!
Pros
Great for larger cats – up to 25 lbs.
Could work for small dogs
Modern look with lots of color options
Cons
Quite large – could overwhelm a small space
Cat's Choice: Paws and Fish Cat Wheel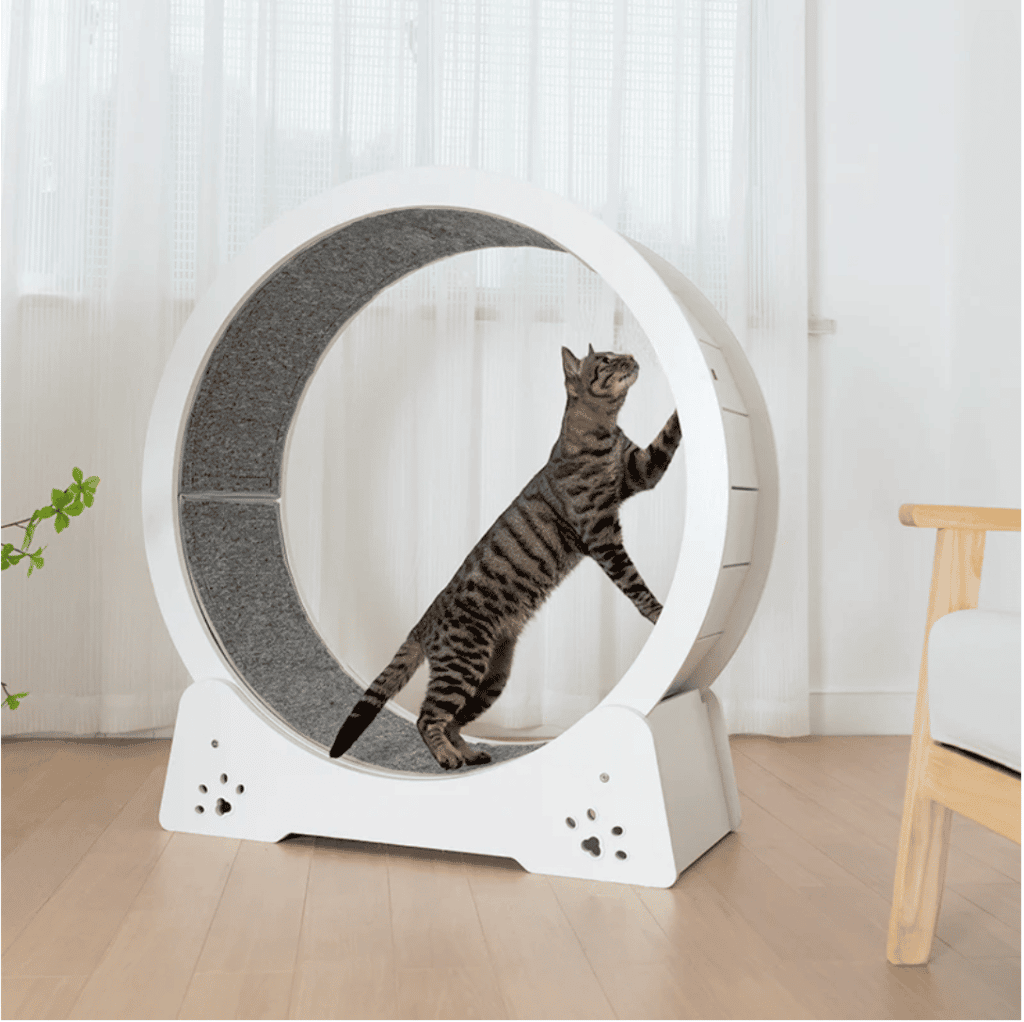 Assembled Dimensions: 37" x 15" x 40.6″ (White) 39.4 x 16.5 x 47.2″ (Natural Wood)
Run Surface: Carpet
Weight: 13 lbs
Materials: Wood, Sisel and Carpet
Color Options: White and Natural Wood.
This cat wheel from the Happy and Polly is handmade and has an ultra-quiet running wheel. Not only is this great when for zoom calls, but it also prevents the cats from getting freaked out when getting accustomed to the wheel.
The cat wheel is lined with sisel to double as a cat scratcher. Cats love this exercise wheel. It's a great option for cats who are just starting a new exercise routine.
Pros
Super quiet
Great for beginners
Doubles as a cat scratcher
Cons
Often sold out, but discounted preorders are available.
Best Budget Pick: PawHut Round Hamster-Wheel Style Cat Tree
Assembled Dimensions: 29.5″ L x 13″ W x 36.5″ H
Wheel Diameter: 29.5"
Run Surface: 7.75"
Weight: 27 lbs.
Materials: Multilayer Board, Sisal, Pile Carpet
Color Options: Natural and gray only
If you're searching for something a bit more on the utilitarian side but with some valuable extras, the PawHut Wheel Style Cat Tree might check all your boxes. This item serves multiple purposes – while it functions well as a cat exercise wheel, the outer part of the wheel is covered in sisal, which lets it do double duty as a cat scratch tree. And while it may not be what you'd consider hgh design, it does have a neutral color scheme and some cute fish and paw print-shaped cutouts on the base and back of the wheel.
For those of us who live in small spaces or who just don't want our pet accessories to take over our homes – this wheel is a great compromise. Reviewers noted its sturdy build and quiet operation. Be aware it is on the smaller side, though, and may not be appropriate for our beloved chonkers.
Pros
Ideal for smaller spaces
Value priced
Has a scratchable outer surface
Cons
Not appropriate for larger cats (best for cats 9 lbs. or less)
Looks like cat furniture
Best of Etsy: TTBuild Cat Wheel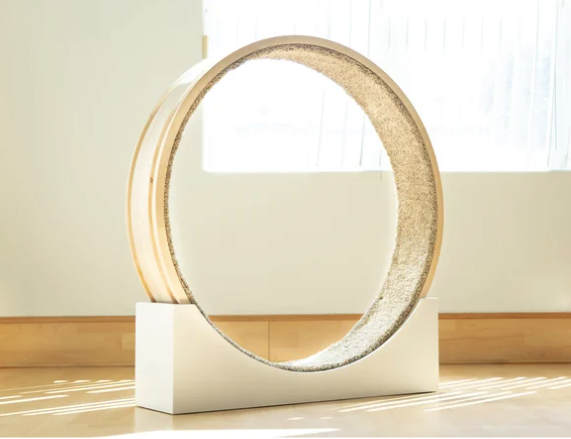 Assembled Dimensions: Medium wheel: 46" H/ Large wheel: 51" H
Wheel Diameter: Med: 43"/ Lg: 48"
Run Surface: Med: 11"/ Lg: 16"
Weight: not listed
Materials: wood, carpet
Color Options: tan, wood tone
Etsy seems to have it all, even a cat exercise wheel! This custom wheel is minimalist in its design but will fit right in wherever you decide to place it. It's available in two sizes, so you can make sure it fits your space and your cat exactly as you're hoping it will. These are custom pieces that take about a month from order to delivery. You can even check out a cool video on YouTube of the maker at work!
Pros
Custom built by a small business owner
Available in two sizes
Shipping included in the price
Cons
Limited reviews
Longer shipping time
Colorful Splurge: Cat-Tude Wheel for Cats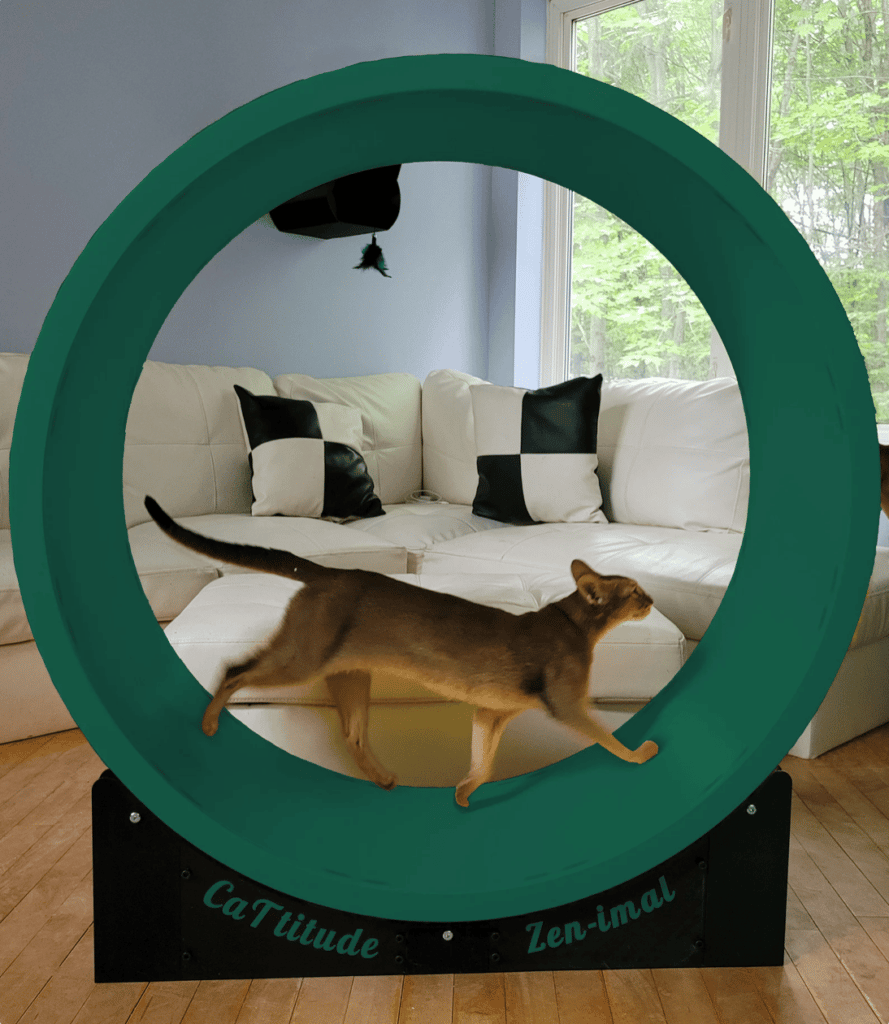 Wheel Diameter: Three feet
Run Surface: Plastic
Weight: Not given
Materials: Wood, plastic
Color Options: Multiple Bright color options
The first thing you'll notice about the Wheel of Purrrtune is the bright modern color of the wheel. This high-end cat wheel is sleek and modern looking, and with so many color options, it will fit right in with nearly any decor. While its price point makes it a bit of an investment piece, this handmade cat wheel is sturdier than cardboard options.
Pros
Beautiful design
Multiple bright color options
Cons
High price point
A limited number of reviews
Best Custom: The MaClaw Wheel
Assembled Dimensions: 48" L x 28" W x 52" H
Wheel Diameter: 48"
Run Surface: 12"
Weight: not listed
Materials: Solid wood – mahogany, oak, or pine
Color Options: The basic wheel comes in cream or black, but you can choose a more vibrant color for an additional fee. You can also add an (optional) vinyl design to the back face of the wheel (cat face and paws) in almost any color you can think of. They also do totally custom colors and custom vinyl designs for an upcharge.
This is a unique product with style for miles and lots of features that aren't found in other cat exercise wheels. Each wheel is handmade and built to order by a cat-loving couple in the UK. They make both an indoor and outdoor version, customized for either space. This wheel can be stand-mounted (like most cat exercise wheels) or wall-mounted for convenient placement in your home.
Their current wait time for a custom design is about 12 weeks, but you could potentially get yours sooner if you choose a standard color scheme/design. They don't currently ship directly to the US, but you can arrange for your own shipping. This is likely to be a bit more complex than simply ordering from a US-based company, but as the videos and pictures of all the happy customers (and beautiful wheels!) on the site show, it might be worth it for an eye-catching custom-built piece.
Pros
Handmade item created by a small family-owned business
Room for two cats to run side by side
Endorsed by a veterinarian and cat behaviorist
Cons
Slightly higher price point than other cat exercise wheels
Shipping outside the UK can be a bit complicated and potentially expensive
Training Your Cat to Use A Cat Exercise Wheel
Certain breeds seem a bit more likely to take immediately to a cat exercise wheel (think active types like Bengals, Devon Rex, Burmese, etc.) but any cat has the potential to learn to use and enjoy an exercise wheel. Treats and toys are excellent motivators, and using them to encourage your cat to just sit in the wheel is a good first step.
Once they are comfortable sitting in the wheel, you can hold the treat or toy up a bit inside the wheel to encourage them to walk forward. Whatever you do, never spin the wheel yourself with the cat inside it – this is a surefire way to make most feline friends afraid of it. Above all, have patience – some cats can take from 1 – 2 months to fully acclimate to the wheel. Many sites that sell wheels have specific tips and videos to help your cat acclimate to their specific products, so don't forget to check those out as well.
DIY Option
If you're not quite ready to pull the trigger on purchasing a cat wheel, consider an inexpensive DIY option first. This way, you can see if your cat is likely to use and enjoy an exercise wheel before you make a big investment. These options are both relatively inexpensive but do require a few tools. Here's a video guide to another DIY wheel that is less than $50 to make. These might not last forever, but they are definitely a good way to gauge your cat's interest before you take the plunge and buy one of these cat exercise wheels.
The Wrap Up on the Best Cat Exercise Wheels
Feline boredom, inactivity, and obesity are issues that many cat owners will face at one time or another. With the addition of a cat exercise wheel to your furry friend's daily routine, you can tackle these issues head-on or even prevent them from happening altogether.
And while you're in the mood to give your kitty an upgrade, take a look at these tips for super glam pet-friendly interior design.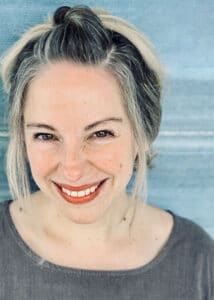 Jamie Johnson is Barking Bungalow's Cat Contributor but she is an all-around animal lover since childhood when she got her first dog, Lilly, a rescue terrier with an unfortunate underbite and a face that only a six-year-old could love. Through the years, she's befriended a variety of cats, dogs, rabbits, gerbils, fish, and lizards, just to name a few. Her current pet pal is Jerry, a flame point Siamese who loves to eat cobwebs and cuddle.