Best Slow Feeder Cat Bowl
My cat, Jerry, and I have a lot in common: we both love naps, we both need attention on our own terms, and we both look forward to our meals. Unlike me and my nightly popcorn routine, Jerry mostly has her eating habits under control.
But every now and then she goes through a phase of what I lovingly refer to as "last-supper syndrome" – the moment the kibble hits the bowl, she's in it, gulping it down with nary a crunch to be heard.
I decided to spend some time researching this phenomenon, testing some of the cat food bowls designed to pump the brakes on fast-eating cats, and sharing the best slow feed cat bowls.
This post may contain affiliate links and I may earn a small commission when you click on the links at no additional cost to you. As an Amazon and Chewy Affiliate, I earn from qualifying purchases. You can read my full disclaimer here.
Top 5 Slow Feeder Cat Bowls
Trixie Cat Activity: Tunnel Feeder
Trixie Cat Activity: Brain Mover
Doc & Phoebe's: Indoor Hunting Cat Feeder Kit
LickiMat: Classic Cat Slow Feeder
Neater Pet Brands: Neater Raised Slow Feeder
Why Cats Need A Slow Feeder?
The urge to eat quickly can be triggered in cats by a variety of factors: food competition with other household pets, changes in food brand or type, or simply run-of-the-mill gluttony (see above: my popcorn issue).
Cats are sweet little creatures of habit – Jerry always lets us know it's mealtime every day, whether her bowl is empty or full. If your daily feeding routine has recently changed or if you don't currently offer food in any kind of predictable way your cat could have a bit of anxiety about their next meal.
Or perhaps your cat pal is a rescue and has previously experienced food insecurity? If so, it may be an ingrained habit for them. These habits can be tough to break, but with a bit of diligence you can help them ease into a more relaxed attitude at meal time
Once you've ruled out any medical issues, you might be wondering if anything can slow down your cat's speed-eating sessions? My research says yes – a slow feed bowl might be the right solution for you and your favorite feline.
Choosing the Right Slow Feeder Cat Bowl
A slow feed cat bowl is simple a tool to help your cat slow their roll when a meal is served, resulting in better digestion for your cat and fewer messes for you to clean up. There are many varieties of slow feed bowls, but they generally operate on the same principle: by making it slightly more difficult for your cat to access their food, you can slow their rate of consumption.
Some feeders are simply small obstacles placed in the way of visible food and some may require your cat to solve a little puzzle before the food or treat is revealed.
Things to Consider When Buying a Slow Feeder Cat Bowl
Wet or Dry Food
Some of these slow feeder cat bowls are intentionally designed for wet or dry food. Choose one that works with your cat's food.
Other Cats
If your fast eater isn't an only cat or you have other cat friends to take into consideration, some feeders are larger and more conducive to multiple cat feedings than others.
Time Commitment
Are you a patient person? How much time do you have to put into training your cat to adapt to a new way of eating? Also, how patient is your cat? If your cat is a notorious old grump (my Jerry is a certified old grump, no shade) perhaps starting with a simpler slow feeder cat bowl is the way to go.
Types of Slow Feeders
Obstruction or Maze Bowls
Obstruction or maze bowls that simply block off food by height or depth work best for cats who are meal time wolfers that suffer no fools. Even the most stubborn cats will be motivated by the sight of their food to overcome the minor obstacles placed in front of them, but will still find that they cannot eat as quickly as before. These should require minimal training on your part to acclimate your kitty to this new way of eating.
Puzzle Feeders
Puzzle feeders add a more complex element of problem-solving – typically the food is hidden in some way and they require your cat to solve a little puzzle before eating. These will likely require a bit more one-on-one training for your cat to understand, and will likely work best for cats who are craving a bit of stimulation along with their meals.
Older, more stubborn cats could flatly refuse to put forth the effort needed to acquire their food from these slow feeder cat bowls, so be prepared to put in some training time. These are also good for smaller amounts of food – they are perfect for treats!
Tunnel Feeders
Tunnel feeders are a bit of a hybrid – there is a learning curve for cats to figure out how to access their food (the kibble may be partially out of sight) but once they realize the little tubes are where the food is now, they will likely persevere. These are generally not terribly difficult for cats to figure out, but still serve the purpose of slowing down your cat's meal time.
Once you choose the perfect slow feeder cat bowl for your feline's needs, scroll down below for tips on how best to incorporate this new element into their meal time. Now, onto the reviews!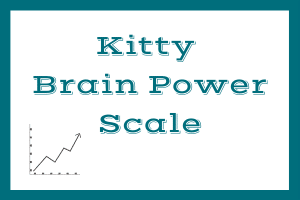 I've included my own Kitty Brain Power Scale (KBPS) rankings to help you choose which slow feeder cat bowl is right for you and your cat on a scale of 1-5
1= bless their heart, they'll do just fine
5= best for Al-purr-t Einsteins
Reviews: The Best Slow Feed Cat Bowls
Trixie Cat Activity: Tunnel Feeder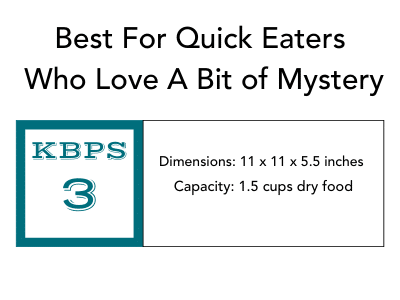 This large capacity slow feeder has a relatively small footprint and comes in a low-key plum and gray color scheme. It has a wide-mouth container on top for easy filling, and although it's made from plastic, it feels sturdy. This feeder incorporates six small tunnels that require your cat to scoop and dig for their food at the bottom of the tubes. It sits centered on a circular base tray that helps keep food from spilling onto the floor. The manufacturer includes helpful tips on how to encourage your cat to use the feeder. A note about size: the tunnel openings are large enough to be dangerous for a very small kitten. This slow feeder cat bowl is suitable for cats aged 3 months and over.
Pros
Works as a daily feeder or for treats
Adjustable output level
Dishwasher safe and non-slip backing
One year warranty
Cons
Requires a moderate amount of training
Not for use with wet food
Needs to be placed in a space where cat can access all sides of feeder
Trixie Cat Activity: Brain Mover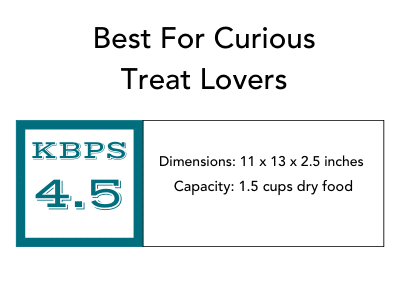 Another fun offering from Trixie, this rectangular Brain Mover puzzle feeder comes in a very chic gray/burgundy/millennial pink color combo. It's surface is split into various tasks, which, once completed, reveal hidden compartments for treats. The tasks include: pushing over lightly weighted balls, a drawer with a pull-string, and a lever for your cat to push. These tasks aren't impossible but will definitely require some time investment from you to help your cat get started. One of the best parts about the Trixie feeders is that they all come with specialized instructions and tips on how to get your cat interested that are specific to each type of feeder. In theory, you could fill the treat spaces with wet food, but I personally wouldn't – cleaning crusty cat pate remnants from tiny spaces is low on my list of fun things to do on a Wednesday.
Pros
Great for dry treat feeding
Mentally stimulating for curious felines
Includes links for training videos
Cons
Capacity too low for daily meal time feeding
Could require additional training time
Doc & Phoebe's : Indoor Hunting Cat Feeder Kit
Best for: Agents of Chaos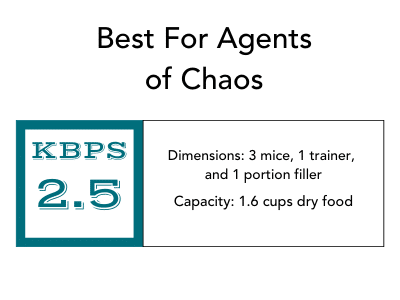 Designed by a veterinarian, Dr. Liz Bales, this unique slow feed system turns mealtime into an adventure. Dr. Bales posts that quick eating isn't your cat's actual problem – it's bowl feeding. For cats to be truly fulfilled, they need the freedom to be the hunters they were born to be. This kit includes three fabric mice "skins" that each contain a small food dispenser. Simply fill the dispensers, wrap them with the fabric mice and hide them in your house. Your cat will hunt the mice and eat when and where they like. Both the feeders and scoop are dishwasher safe and BPA-free. While this isn't an inexpensive system, it does more than simply slow your cat's pace of eating – it also taps into their natural instincts, which could directly contribute to a healthier and happier fur buddy.
Pros
Suitable for treats or regular feedings
Encourages independence
Mentally stimulating
Helps with weight control
Cons
Strings on mice tails could become detached
Potentially messy
Dry food only
LickiMat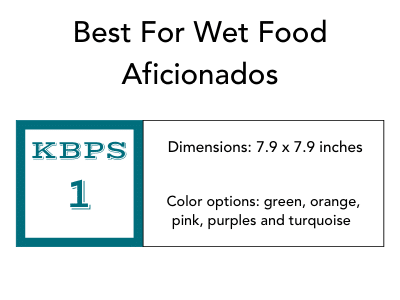 Mat Texture Styles: Buddy (best for chunky spreadable treats), Playdate (good for most types of wet cat food, tuna, etc.), Soother (for runny wet foods)
My little angel isn't a wet food fan, but I almost wish she was, because this is one of the most all-around useful slow feeders I've found. The LickiMat's primary job is to help your cat slow their pace of eating, and it does just that. These low-profile, textured surface mats provide little crevices for wet foods to settle into and require only moderate effort to dislodge. But this feeder works overtime to help sustain your cat's overall health, too – regular use of the LickiMat encourages your cat to generate more saliva, which contributes to cleaner teeth, healthier gums, and fresher breath. Plus, the act of licking the various surfaces encourages the release of endorphins and is soothing to anxious felines. A cat who is less anxious, eats more slowly, and has better smelling breath? Sign me up!
Pros
Great value
Made of food-grade rubber & dishwasher safe
Easy to use
Cons
Requires frequent cleaning
Not ideal for dry food
Neater Pet Brands: Raised Slow Feeder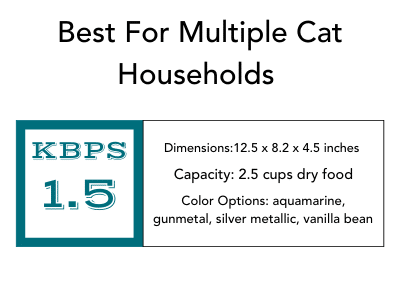 The Neater Raised Slow Feeder is a great entry-level choice into the world of slow feeder cat bowls. This feeder features rubber feet to reduce tipping, adjustable height options, and with its large food capacity, it would work well for multiple cat households. It also comes in subtle, tasteful colors and would blend seamlessly with almost any decor. The Neater Feeder is two pieces – a raised platform on the bottom (that can also be used as a water dish if you don't want the extra height) and a food bowl that sits on top. The food bowl has widely spaced ridges that help to slow down your little speed eater, creating little pockets of food that are easy to see but require a bit of finesse to access. They make a larger size for gluttonous dogs, as well.
Pros
Great choice for beginners
Suitable for wet or dry food
Large capacity
Dishwasher safe
Cons
Could potentially flip over at rowdy mealtimes
Too tall for small cats/kittens
A bit pricey
Why Does My Cat Vomit Right After Eating? Digestive Distress
Quality cat food is expensive, and seeing it head right back up for a curtain call on my living room rug is not the highlight of my day. It seems like many of my FWCs (friends with cats) deal with this same issue.
(Not) Fun Fact: when your cat's meals make an almost immediate reappearance after being eaten the first time, it's not technically as a result of vomiting – it's regurgitation. Call it what you will, it's gross and a bummer to see your little furry friend pathetically staring up at you next to a hill of undigested cat food.
My cat will sometimes even try to pick up where she left off and start snacking on the regurgitated food. It doesn't seem to faze her, but I can't ignore it and let her turn into a Gross Cat when my dream is for her to be a Not Gross Cat.
Slow Feeder Training Tips
If your kitty does not immediately take to the slow feeder cat bowl, they will at best ignore it and at worst drive you to madness with their vocal protests. Let's face it, if someone suddenly decided all your meals would be eaten from a series of little tubes that spin around on a stand, you might be grumpy about it, too. Don't despair, just keep these tips in mind as you embark upon your slow feeder journey:
Pace Yourself
Hot take: most cats are stubborn, so expecting an overnight success story is probably unrealistic. It may take a week or two to see them start to take to a new bowl. If you're using a feeder that has a learning curve, keep your training sessions brief – 10 minutes a day is a good starting point.
Set the Mood
Schedule your training sessions when both you and your cat are relaxed. Try to time your training or feeder introductions when your cat is awake, alert and at least moderately hungry.
Lower the Stakes
Sometimes less is more. By starting with a few treats rather than full feedings, your cat can slowly acclimate to a new style of receiving food.
Try DIY
If you're reluctant to drop a bunch of cash on slow feeders that might not work for your pal, you might want to try an inexpensive, temporary solution first: a paper egg carton can make a great beginner slow feeder.
The Wrap Up on the Best Slow Feed Cat Bowls
With a little patience and the right slow feeder, your furry friend will be eating at a normal pace in no time. And even if they don't seem outwardly grateful, their digestive systems will thank you with fewer messes to clean after mealtimes.
For more ways to keep your cat happy, check out our post reviewing the best modern cat scratchers.
For more pet product reviews and pet-friendly decor tips join our mailing list. We have great respect for you inbox and promise never to spam. Drop your email below and joing the pack.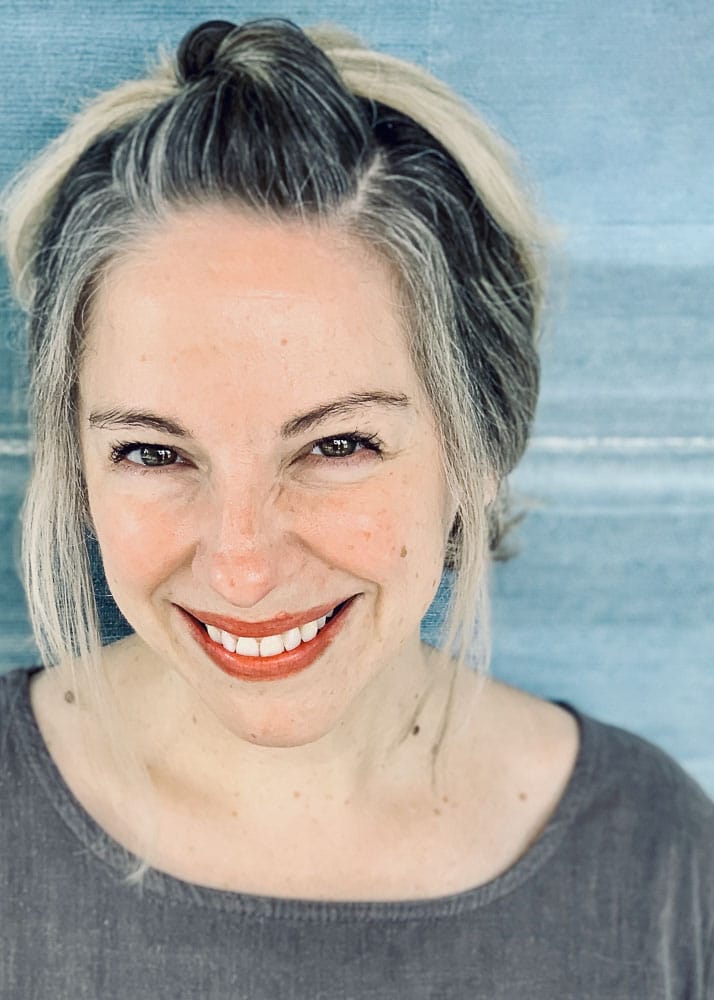 Jamie Johnson is Barking Bungalow's Cat Contributor but she is an all-around animal lover since childhood when she got her first dog, Lilly, a rescue terrier with an unfortunate underbite and a face that only a six-year-old could love. Through the years, she's befriended a variety of cats, dogs, rabbits, gerbils, fish, and lizards, just to name a few. Her current pet pal is Jerry, a flame point Siamese who loves to eat cobwebs and cuddle.