Best Unicorn Dog Costume
Every pup has a unique personality and deserves one-of-a-kind party attire like the perfect unicorn dog costume. Pumpkin and ghost getups will not do! Whether you are taking your pup trick-or-treating or out to a festive parade, you want them to look and feel their best in a well-fitted and eye-catching costume. We reviewed all the options to find the best unicorn dog costume for all those non-basic pups out there.
TOP SEVEN UNICORN DOG COSTUMES

MOST STYLISH: Nothing But Love Pink Unicorn Costume
BEST LIGHT-UP OPTION: Rubie's Unicorn Cape with Lights
BEST FOR SMALL DOGS: Ausein Pet Unicorn Hat
BEST PUNK UNICORN: Pet Krewe Unicorn Costume
MOST REALISTIC: Uheng Pet Halloween Costumes Unicorn Horn Headband
BEST FOR HOMEBODIES: Tooth and Honey Unicorn Dog Pajamas
BEST FOR DOGS WHO HATE COSTUMES: Unicorn Themed Dog Collar
Will My Dog Like Costumes?

Dressing your pup up as the latest pop culture icon may be one of the greatest joys of the holiday season, but if it causes your pup stress, it's not worth it. The key is finding the right type of costume that properly fits. Add in some fun training, and your pup will be ready to show off their inner unicorn…for at least long enough for you to take a picture.
Finding the Right Type of Unicorn Dog Costume
Every year my husband dreams up elaborate holiday card ideas that involve multiple pet costumes, set design, and all four fur-kids sitting still for long enough for us to take a picture. I love his optimism, but our best success has been finding a simple costume piece for each pet. More importantly, the type of costume piece has to be custom to their wardrobe sensibilities. There are a few standard components to pet costumes, and depending on your dog's demeanor and body type, you can find something that works for them. Typically there are headpieces, body wraps, bandanas, or collar/leash combos.
My pup Scout wore thunder vests when she was a puppy so she loves wearing a costume that wraps around her body. Some dogs prefer to wear headgear but do not want anything wrapped around their stomach. If both the head and body gear stress out your pup, they will still look majestic in a festive bandana or collar/leash combo.

No one knows your pup better than you. If they are a chewer, avoid any costumes with dangling or small parts. It's great to be ambitious but smart to start small and build up over time to the full unicorn dog costume with flashing lights.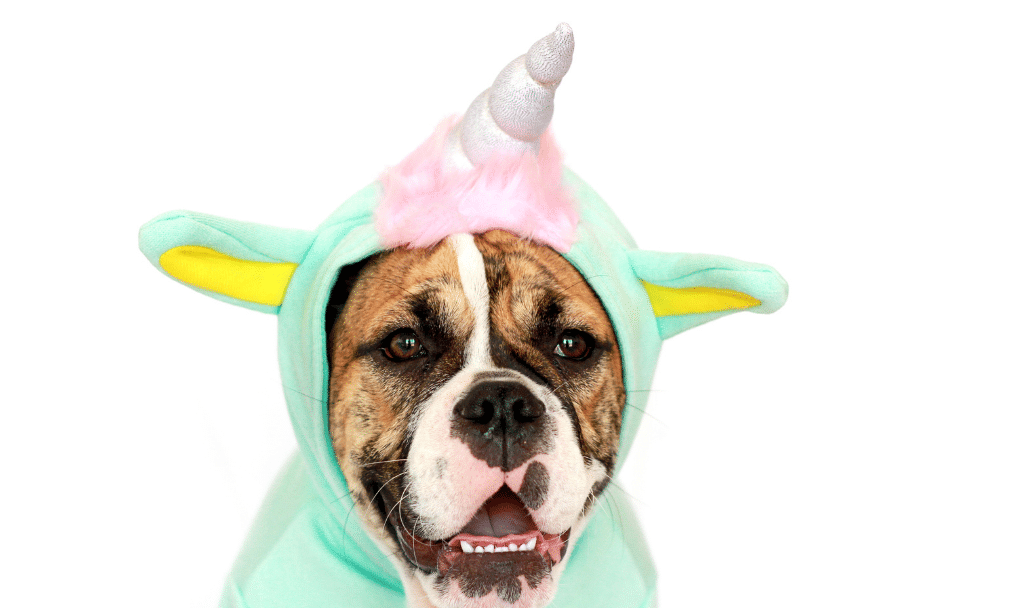 Getting the Fit Right

When it comes to pet costumes, it is worth taking the time to measure your dog's body and head to get the exact measurements. Every breed has such distinct proportions that S, M, L doesn't cut it on size. This is especially important if your dog weighs over 60lbs. I found most of the negative reviews from people with large dogs related to XXL costumes actually being for smaller dogs. Ensure the costume doesn't limit movement and if it's difficult for them to see or hear it will likely increase anxiety.

Make it Fun

You will have greater success if you take some time for your pet to get used to their outfit and make it a fun experience. Before you have any plans to put it on, let them have a good sniff and get used to it. When putting it on take it slow, provide positive reinforcement, and follow these training tips from the AKC and Humane Society.
Make it Safe
Pets communicate through body language. A costume may inhibit some of those messages when they are around other animals. Help them out and pay attention to their body language. They can also have some anxiety about you or your kid's Halloween costume, so give them time to adjust.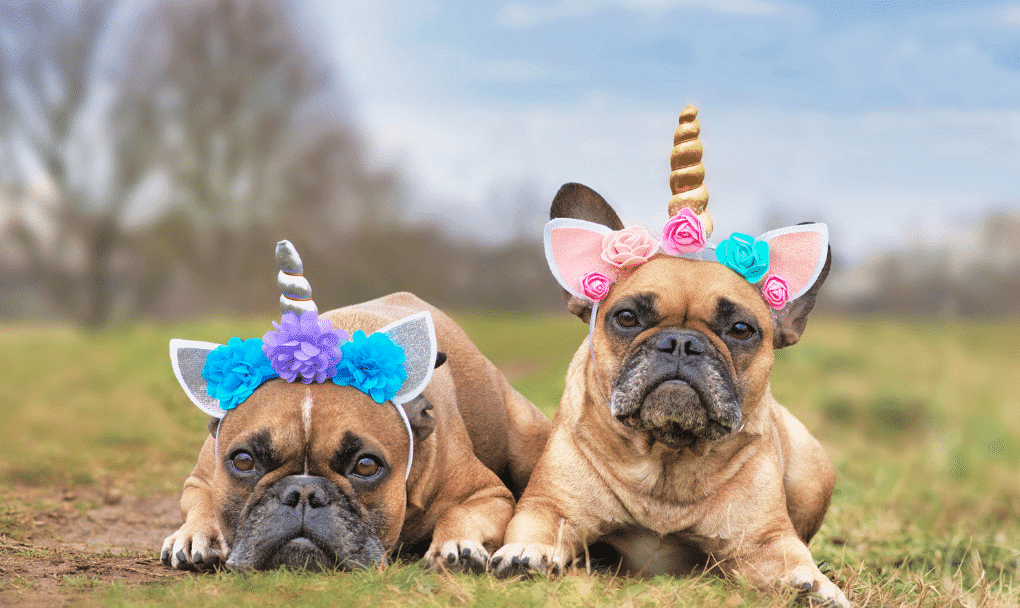 This post may contain affiliate links and I may earn a small commission when you click on the links at no additional cost to you. As an Amazon and Chewy Affiliate, I earn from qualifying purchases. You can read my full disclaimer here.
Best Unicorn Dog Costume Reviews
MOST STYLISH
The Nothing But Love Pink Unicorn Dog Costume is the perfect option for the pups looking for magical adventures in pink. This single headpiece has a white horn and pink mane. It attaches with three rows of velcro straps: under the chin, at the collar, and around the chest right behind the front legs. It comes in one size and fits most med-XL dogs. The mane is lined with soft fleece for comfort.
Pros
Classic Pink and White look
Three rows of straps create a secure fit
Great for Med-XL dogs
Cons
Sizing can be an issue with multiple straps
Does not fit small dogs
BEST COSTUME WITH LIGHTS
If you want your pup to light up the night, Rubie's Unicorn Costume has a headpiece, light-up collar and cape for the complete horn-to-toe unicorn look. It comes in a large variety of sizes from small to XXL. You may love this costume so much that you want to coordinate outfits. If that is the case, you are in luck. Human versions are available.
The headpiece has a gold glitter horn, fluffy gold fabric ears, and a multi-colored mane. It attaches under the chin with adjustable velcro. The cape is attached to the pink light-up collar that fits around the pet's neck.
Pros
Comes in a variety of sizes
Has a light-up collar for nighttime wear
Includes a head and body piece for a full costume look
Coordinating human costumes are available
Con
Horn may need some reinforcement.
Cape moves around and may need adjustments to stay in place
Earholes do not fit certain breeds
BEST FOR SMALL DOGS
If your small pup or cat wants some petite unicorn couture the Pet Unicorn hat is a great fit. It's made of a soft fleece hood, which attaches underneath their head with adjustable velcro. The mane is a mix of magical rainbow colors and includes a substantial gold horn with matching shiny gold fabric ears.

The velcro strap makes it easy to fit on your pet. It does not have ear holes, which may be a no go for your pup. It comes in just one size that fits small dogs or full-grown cats, so your Husky or German Shepard may have to sit this one out.
Pros
Great for small dog
One-pieces makes it a good option for a less patient pups
Substantial gold horn
Cons
No option for large dogs
Does not include earholes
BEST PUNK UNICORN
The pet Krewe Unicorn Costume is for all those rock-a-billy unicorns out there. The costume consists of just one headpiece. It has a white horn, small fabric ears, and a rock and roll rainbow mane. Think more billy idol than My Little Pony.
It comes in two sizes. The hood attaches with an adjustable hook and loop. The version for large dogs comes with an adjustable cord for longer wear-time but offers no ear holes if that's a must-have for your pup.

Pros
Fun Punk or Party look
Consists of just a headpiece, great for dogs who don't want chest or belly straps
Adjustable cord for large dogs helps longer wear-time
Cons:
Not for the prim and proper unicorn
No earholes


MOST REALISTIC UNICORN

This unicorn costume is a small headpiece with ear holes that are secured underneath the chin with ribbon. It has a substantial gold horn on a bed of pink and white flowers. It has a more realistic feel than the more cartoon options. It would be perfect a renaissance fair or fairy book event.

Pros
More of realistic than cartoon look
A good option for smaller dogs and cats
Includes holes for ears
Cons
Will not work for large dogs
Ribbon ties are less reliable secure fit
BEST FOR DOGS WHO LIKE TO STAY AT HOME
If you have an introverted pup who would rather stay at home, these unicorn pajamas for dogs are their dream come true. They come in multiple sizes are even recommended for Pit Bulls.
BEST FOR DOGS WHO DON'T DIG COSTUMES
This durable collar features a unicorn pattern in vibrant colors. Your pup can rock the unicorn look year-round.
The Final Wrap
There are plenty of great options out there to transform your pup into a majestic unicorn. The best unicorn dog costume is the one that fits your pup and is a style that works with their costume sensibilities. Choose a full costume or just a headpiece based on comfort. Give them plenty of treats and have a magical time.
Read More Stylish Pet-Friendly Content
If you want more stylish pet gear reviews delivered right to your inbox drop your email below.