Modern Boho design feels relaxed and free-spirited but filled with vintage treasures and well-loved textiles. I have been a huge fan of Anthropologie Home and designers like Justina Blakeney for years. So we rounded up our favorite Modern Boho Pet Accessories for cats and dogs. I love the vibrant colors, natural elements, and mixed patterns of Modern Boho home design and I think your fur-kid will too!
Pet-Friendly Boho

Some elements of Boho design are not super pet-friendly. There are a lot of tassels, delicate fabrics, and antique furnishings. On the flip side, there are also plenty of complex patterns that hide pet hair and lots of fluffy textures that are great for snuggly beds.
You know your pet best. If they love to chew on furniture choose a durable dog duvet in a boho pattern instead of a rattan version. It is possible to have a pet and nice boho things thanks to fresh designers on Etsy who are bringing the trend to our pet gear.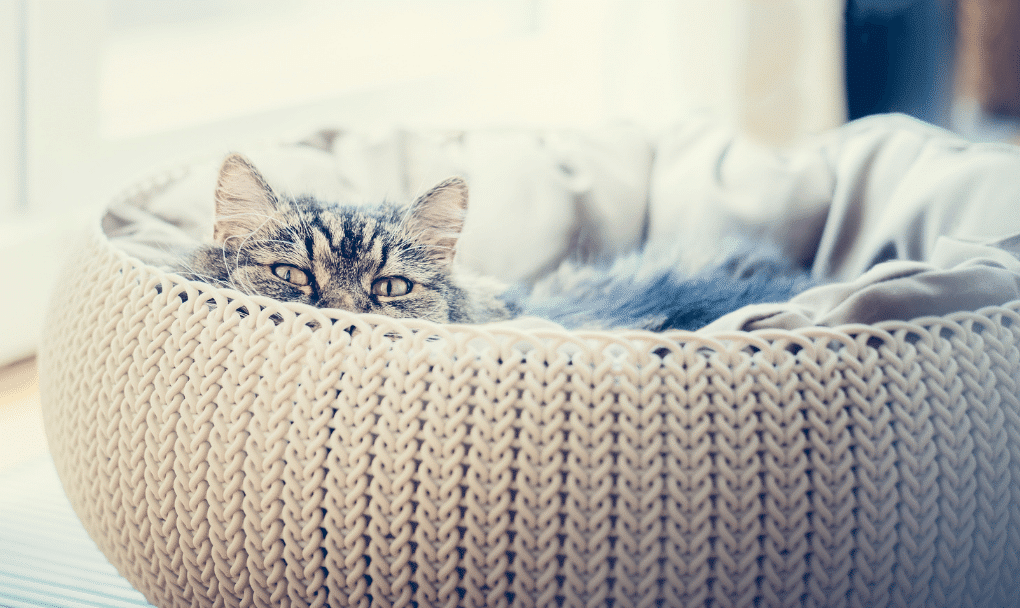 This post may contain affiliate links and I may earn a small commission when you click on the links at no additional cost to you. As an Etsy Affiliate, I earn from qualifying purchases. You can read my full disclaimer here.
ETSY Round-Up – Modern Boho Pet Accessories
Grey Pom Pom Pet Tent

Create a little private Bohomeian escape for your pet in this adorable tent.
Pom-Pom Embellished Cat Bed

Your cat will be a boho princess on this sweet cat cushion with pom-pom embellishments
Rattan Dog or Cat Bed
Nothing says Boho like Rattan furniture. Your cat or small dog will like super stylish napping in this Rattan pet bed.
Floral Pattern Bandana

The Ultimutt in Modern Boho Accessories is the floral bandana. Let your pup get into the boho flow with this bright floral pattern bandana
Macrame Leash

Unleash your dog's modern boho with this macrame leash.
Luxe Arrow Cat Collar

For the boho-luxe cat, A collar with a classic arrow pattern in metallic gold
Indigo Shibori Dog Bed
Not only will your dog have sweet boho dreams on this Indigo Shibori floor pillow, but it's also a beautiful statement piece in any room.
Dog Collar in Desert Tones

For the pup who digs earthy modern boho pet accessories check out the desert vibes of this collar in muted desert-tones
Macramae Cat Hammock
What cat doesn't want a custom macrame hammock.
Mudcloth Doggie Duvet

Let your pup's Boho spirit chill out on this mud cloth doggie duvet. (Pro Tip: Don't forget to order a matching insert.)
Check out our other Pet-Friendly Design Guides for more stylish ideas.
For more pet-friendly tips and design trends drop your email below and join our mailing list. We have great respect for your inbox and promise to never to send you spam!