How to Fix and Protect Doors from Dog and Cat Scratches

Our dogs and cats truly love being around us, and when you put a door between us, bad things can happen to that door.
We separate our dogs in different rooms when we feed them to prevent any food aggression. Our hound dog gets so excited in anticipation of dinner time that she has now done some serious damage with her nails on the back of the door.
Exterior doors are also vulnerable. Some cats or dogs scratch at the door when they want to come into the house or leave the house. The best way to protect doors from dog scratches is to use a door protector.
Damage from Seperation Anxiety
The damage could also be caused by more severe issues like separation anxiety, a complicated issue, which should be addressed by an animal behaviorist or certified trainer. It takes time to address separation anxiety or address these other behaviors.
While you are addressing the behavior issues, protect doors from dog scratches with a door protector to prevent new scratches. There are basically two types of door protectors. One version fits over your doorknob and the others attach to the door using Velcro or 3M adhesives.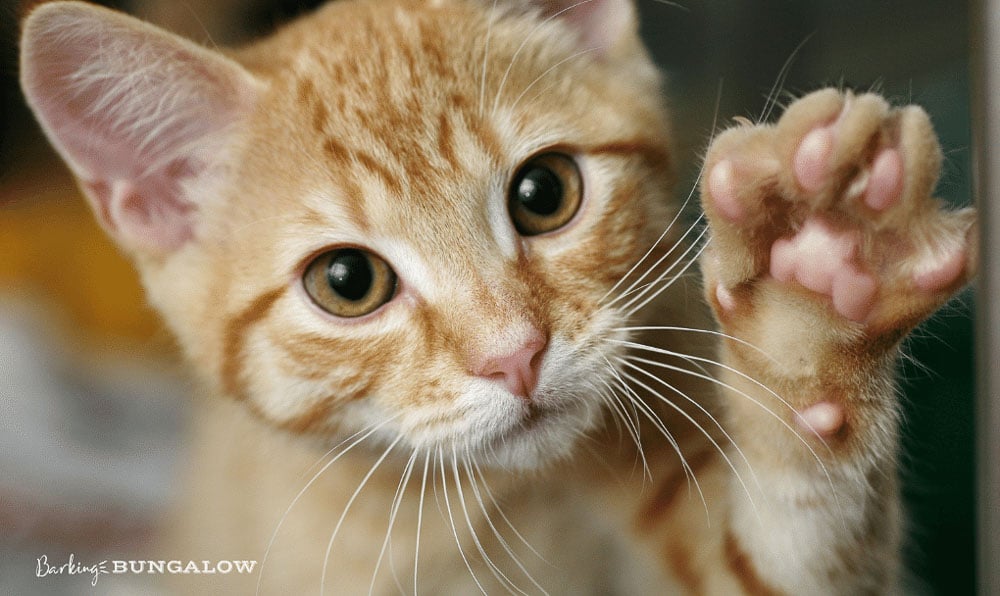 This post may contain affiliate links and I may earn a small commission when you click on the links at no additional cost to you. As an Amazon Affiliate, I earn from qualifying purchases. You can read my full disclaimer here.
Choosing the Right Door Protector
The best way to know which door protector is right for you is to use the current damage to assess your needs.
Size of Your Dog
How tall is your dog, and how high up or low is the damage on the door? This will help you determine the size of the protector you need for the door. If you have a large or strong dog, you will want to choose something with thicker plastic.
Type of Door
The type of door will also determine what type of protector you will need. If you are buying a door protector for an exterior door, make sure the plastic can stand up to your outdoor environment. Full sun can sometimes melt the plastic to the door, which can cause further damage. High humidity can decrease the effectiveness of the adhesive tape.
If you have a screen door you need a protector that is large enough that it can attach to at least three sides of the frame around the screen.
If you have a sliding door opt for the door protector that attaches to the door with adhesive stickers rather than the one that fits over a doorknob.
If you have a wood door, make sure the adhesive will not take off any paint or do further damage to the door when you remove it.
Door Handle
If you have a closed-loop handle, you will need to use a door protector that attaches with adhesive rather than the ones that slip over the door handle.
Door Jamb
If your dog or cat does damage to the door jamb, get one that covers both the door and frame. The other option is to purchase two pieces that you can use to customize to fit the door and jamb for full protection.
Protect Doors From Dog Scratches: Best Door Protectors
BEST FOR EXTENDED COVERAGE
SIZE: 20in x 44in
COLOR: Frosted White
ATTACHMENT: Fits over Door Knob
The Clawguard has a cut-out that fits over your doorknob. It's large enough that it will protect the door, door jamb, and frame. It does come with adhesive stickers but it's truly designed to easily come on and off the door. This means it's easy to take with you when you travel. It also means that if your dog is adamant about getting to the door, there is some mobility to the door protector.
The other feature of the Clawguard is that it has one side that is textured to create noise to deter your pet from scratching. If your dog has extreme anxiety, you should check with your vet or behaviorist before using it. The sound could create additional stress.
FEATURES
Easy to install and remove
Provides additional protection to door jamb and frame
One side textured to make deterring noise for scratching.
Easy to customize with standard scissors
CONCERNS
It fits over the doorknob, so it does not work for all doors
The extra coverage for the door jamb may get in the way of opening and closing the door.
BEST FOR HEAVY DAMAGE
SIZE: (18 x 12) or (30in x 30in) or (35.4 x24)
COLOR: Clear or Black
ATTACHMENT: Adhesive Backed Velcro
The Protecto door Scratch Protector is a clear durable plastic that attaches to the door with adhesive-backed Velcro. Since it does not hang around the handle, it can attach to various types of doors, including screen doors, when connected to the frame. The plastic is a durable 77mm polycarbonate, and I found it to be the strongest plastic of all the protectors.
FEATURES
Can fit most doors
More durable plastic
Does not come rolled up and can be installed upon arrival.
CONCERNS
Does not protect the door jamb
Adhesive Velcro could damage the door when removed
BEST TO CUSTOMIZE
SIZE: 36×16
COLOR: CLEAR
ATTACHMENT: 8 Adhesive Backed Velcro Coins
The LAMINATE Pet Scratch Shields come in many sizes for furniture and other uses, but the larger 36×16 is the one designed for door protection. It has a handle cut-out to fit around your doorknob. You can easily cut it to customize it to your door. The plastic is heavy-duty but a bit more pliable than the Protecto. The Laminate Pet Scratch Shield is an excellent option if you want to customize some protection for the door jamb or frame.
FEATURES
Customizable to fit door jamb (You will need two, one for the door and one for the frame)
Heavy-duty plastic, but malleable
CONCERNS
Needs customization to fit a door jamb
Plastic is not as strong as Protecto
Honorabe Mentions
SIZE: 44×24
COLOR: CLEAR
ATTACHMENT: Handle opening and Adhesive Backed Coins
The In-Hand Clear Door Scratch Protector is made of vinyl and fits over the door handle as well and attaches with sticky fasteners. This does not cover the door jamb and frame. While that offers less protection, it's easier to open and close the door than with the Clawguard which expands past the door. The vinyl offers protection from your pet's nails but if your dog is a chewer, they may try to pull it down with their teeth.
FEATURES
Easily Customizable
Vinyls stands up to claw marks
CONCERNS
Vinyl may encourage chewing
May need additional adhesive
SIZE: 33×35
COLOR: CLEAR
ATTACHMENT: 9 Adhesive Backed Velcro Coins
The Cardinal Gate Door Shield is recommended with a bit of reservation. After many user complaints, they have recently upgraded the plastic's durability. While it stands up to our pups, it may not hold up for stronger dogs. It attaches with nine adhesive squares. They recommend using two protectors for high jumpers. It also attaches to most doors, even screen doors, if you adhere to the frame. It is easily customizable with scissors.
FEATURES
Customizable
Fits most doors
CONCERNS
Not durable enough for heavy scratches
May need to use additional adhesive.
A Few to Avoid
We researched a few products that did not make the list. In general door protectors are temporary, but some options were just not worth the money. The KEBE door and Bandwagon Door Scratch Protector did not make our recommendation list. We didn't feel confident they could protect doors from dog scratches.
Door Protector Tips and Hacks
One of the most significant complaints is that most of the door protectors come rolled up making it difficult to hang. To attach them to the door, they need a solid 24-hours to lie flat under some heavy objects to straighten it out. The only exception was the Protecto, which is a less flexible plastic and came in a flat envelope.
If your cat or dog gets the door protector dirty most are easy to clean with a damp cloth.
There is a limit to the strength of any Velcro and adhesive. To keep the door protector in place, consider using additional 3M type adhesives.
Baby gates could be an added layer of protection. You can use them to prevent a dog from getting to the door, but you can also use them instead of the door. This way, your dog has access to see and hear you even if they are unable to reach you physically.
This may seem obvious and may not always be possible, but if you can regularly trim your dog's nails, it can lessen the damage to the door.
Dress it Up
Even though most of these door protectors are clear, I still wasn't in love with how it looked on our bedroom door. You can still see the adhesive dots through the transparent protector. I decided I wanted a stylish way to protect doors from dog scratches so I did a little upgrade with some wallpaper.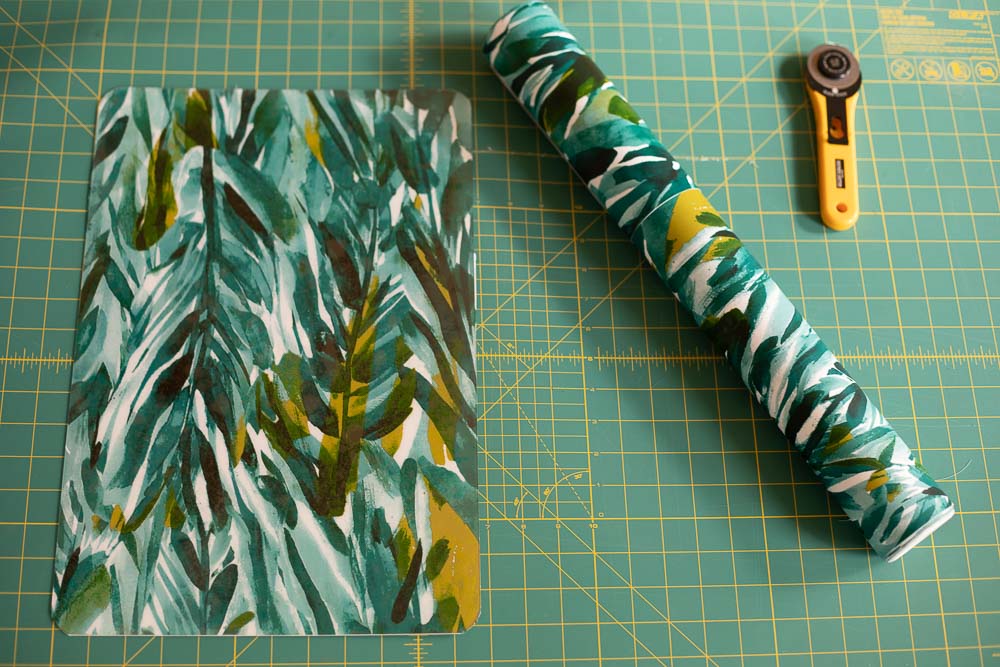 I found this wallpaper in a fun Boho pattern at Target. I cut out a piece to fit the plastic. This only works with the Protecto because it is a bit sturdier than the other protectors. I used spray adhesive to attach the wallpaper to the back of the door protector. I then attached 3M clips to the back of the wallpaper to secure it to the wall.
Sure, it's a little weird to have a patch of wallpaper on the door, but no more weird than having plastic attached to it. At least this way we get to add a fun Boho pattern to the room.
Check out more Boho finds on our post on Boho Pet Accessories.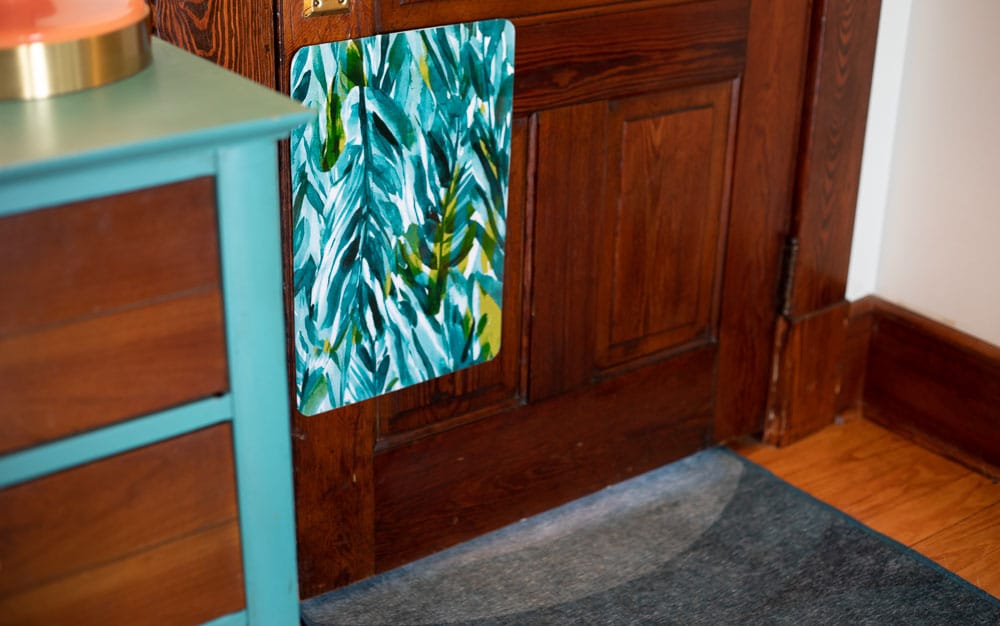 How to Fix a Door Damaged by Scratches
Before you put your new fancy protector on your door, to protect your doors, you may want to fix the damage already done by your pet. The process is a little easier if you have a painted door rather than stained wood.
Step One: Put down a drop cloth or cardboard to protect the floors.
Step Two: Sand down the damage. If the scratches cover a large portion of the door you may want to take it off the hinges and put it up on a workbench to sand the entire door for a more even finish. Vacuum up dust and wipe down the door
Step Three: Using a putty knife, fill in the scratches with wood putty. Let it dry and sand it down to a smooth finish. Wipe it down with a damp cloth to remove the dust.
Step Four: Paint or stain your door. If you are staining your door, you can use a gel stain to match the original color of the door. Start lighter and move to darker stain to get the right color.
Easy Fix
We live in this hundred-year-old Bungalow with original wood doors. They have years of patina from the people and pets who lived here before us. When we leave, we will fully restore the doors, but for now, we try to blend in the scratches with the hundred years of charm already on the door.
We don't want to sand down our doors each time a dog makes a scratch, so for a quick fix, we use Old English Scratch Cover to hide the damage. It's not a 100% fix but it does the trick until we are ready to do a full door restoration.
For light scratches on a painted door, you may be able to just lightly sand down the scratches and paint the door. If the scratches are minimal, the paint could be thick enough to cover the damage without wood putty.
Next steps
We all want our home to look nice but we also want to have happy cats and dogs. Getting your dog to stop scratching your door can be a slow process. In the meantime protect doors from dog scratches with a door protector. It will buy you some time while you train your pup.
Choose a protector that fits your pet's and home's needs. When you are ready you can easily restore your door. If you are feeling adventurous have some fun decorating and decorate your door protector.
Check out our other posts for more pet-friendly tips.
and drop your email below to sign-up for our mailing list!
How to Fix and Protect Doors From Dog Scratches