If you, like me, have an indoor cat, you've likely explored the world of catios. These outdoor protected structures for cats are growing in popularity every year.
It's natural for cats to be drawn to the outdoors, and creating a place for them to safely explore can help reduce boredom while tapping into their natural curiosity. Whether yours is a city kitty or a small-town feline, adding a catio is the perfect way to give your furry friend a new adventure.
Catios come in all shapes and sizes, and no matter your budget or what kind of space you have available, there's a catio plan that can work for you.
Once you've decided on a layout, we've got all the catio ideas to help you create a cozy oasis for your cat that will reflect you and your cat's unique sense of style.
Quick Overview
This post may contain affiliate links and I may earn a small commission when you click on the links at no additional cost to you. As an Amazon Affiliate, I earn from qualifying purchases. You can read my full disclaimer here
FOUR ESSENTIAL CATIO ACCESSORIES
No matter what your design style make sure you have these five essential accessories for maximum catio enjoyment.
1. A Place to Climb
If you've ever spied your kitty perched precariously on your tallest bookshelf, it will come as no surprise to hear that cats love to climb. Your little daredevil isn't purposely trying to raise your blood pressure – cats are always seeking to find new places to hide from potential predators and to expand their territory – even indoor cats! Plus, climbing is good exercise and a lot of fun.
2. A Cozy Nap Nook
No catio is complete without a designated place for your cat to soak up some rays and take a little rest. Adult cats sleep anywhere from 13-16 hours a day and kittens even longer. We've all seen kitties curl up in some less than ideal spaces (ours is partial to baskets filled with clean laundry), but with a little planning, you can create the perfect stylish spot for your best pal to catch some zzzs.
3. Toys and Entertainment
Cats are born with a strong urge to hunt, and toys are the perfect outlet to satisfy that urge while keeping the wildlife in your area safe. A variety of toys in your catio will make sure your frisky feline never gets bored and can get a bit of exercise to boot.
4. A Spot for Scratching
A kitty who loves to scratch can be a real nuisance if they decide to hone their skills on your favorite armchair. When gathering catio ideas, a dedicated area for scratching is a must. Cats are born to scratch – it helps them relieve anxiety and mark territory. Since your new catio will be their exclusive hangout, including a place that's appealing to scratch is a great idea.
START WITH A STRUCTURE
Once you've figured out your budget and assessed your available space, the first step is to buy or DIY a structure.
READY-TO-ASSEMBLE (RTA)
RTA is the best choice if you don't consider yourself particularly handy or if you don't have the time to start from scratch. While you won't be able to customize your structure quite as much as a DIY option, the biggest advantage is clear – for a bit higher up-front cost, the time from a good idea to assembled catio will be much quicker. Here are a few stylish RTA catio ideas:
DO-IT-YOURSELF (DIY)
If you're feeling industrious or have a handy friend willing to pitch in, there are many affordable DIY plans available for you to build the catio you've always dreamed of. The plans and tools needed are fairly straightforward, even if you're a newbie builder – in fact, a catio can be a great way to get your DIY feet wet if you're interested in customizing every aspect of your creation. Here are a few DIY catio ideas.
ON-TREND CATIO DECOR
Once you have your structure, it's time to deck out your space with the catio ideas in any trending style.
Boho Treehouse
A Boho-themed outdoor space is perfect for the cat owner who wants their catio to blend in with the natural environment. Give your kitty a chance to reach new heights in this leafy cat tree. They can safely perch high above the ground in this sturdy climber and as an added bonus – no watering!
Stay on the cutting edge of design with this handmade Macrame Hanging Cat Bed. It's a perfect spot to do some bohemian cat dreaming.
When it's time to play, these inexpensive feather flutter balls will fit the bill – lightweight and fun to chase, these tap into your cat's natural hunting instincts. The feathers are reminiscent of a fun bird chase without the messy cleanup.
The chic, cat grass planter in natural wood, comes complete with all you need to grow your own patch of kitty-friendly grass. This cute planter will add a touch of the outdoors to your catio and provide a delightful snack for cats that love to chew on grass.
Alpine Chalet
Yodelayheehoo! Time to head north to gather inspiration for decorating the kitty chalet you've always dreamed of with these Alpine Chalet catio ideas.
Even if you don't live in the mountains, you can still take your cat to great heights with these cat climbing stairs. Made of solid wood and covered in resilient sisal, these rustic-chic stairs do double duty as both a climbing activity and a scratching opportunity and are perfect for a smaller catio.
Mornings and evenings outdoors can get cool, and if you live in a colder climate, there will be chiller days all around. This cat cabin has a sturdy, sleek design and will offer additional protection from the elements.
It's simple to make this bed into a hygge hideaway with the addition of this furry Floof Cushion. This cozy cushion is reversible – one side is plush faux fur and the other is Ultrasuede and both are perfect for snuggly afternoon naps.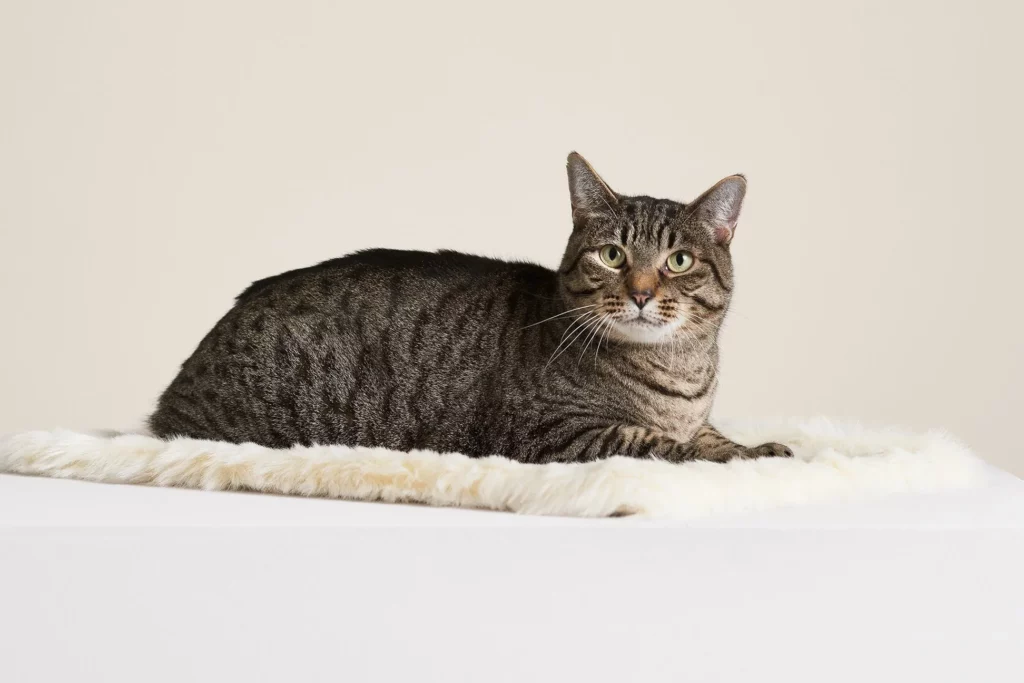 When it's time to play, this Toss-A-Fox feather toy will make your little hunter feel like a king of the forest! This adorable plush fox is covered with firmly attached feathers and is great for solo or interactive play.
Modern Loft
Modern style stands the test of time, and these catio ideas are no exception to this rule. If your decorating leans toward clean lines and geometric shapes, this is just for you!
Your cat is the center of your universe, so why not show them with this luxe Spaceship Alpha Ultra Modern Cat Bed. A sleek shape and twin transparent lookouts ensure protection and coziness while maximizing style. This out-of-this-world cat bed has strategically placed air holes to increase circulation and prevent echoing.
Find at CatsPlay Cat Furniture
Nobody likes to think about litter boxes, but if you're successful in making your catio enticing, your furry friend will want to spend a lot of time inside, which means a place for kitty elimination will be necessary. This Modern Litter Box is a solid choice that's easy to clean and still looks great.
This Modern Cat Tree is a great choice for a multi-purpose, modern way to serve several feline needs simultaneously. This four-story, high-rise cat tree offers hiding spots, climbing opportunities, and built-in scratching posts, too. Available in two wood-grain finishes, natural and gray, this tower is sure to give your cat hours of enjoyment.
Don't forget a bit of entertainment for your modern kitty – the unique Funny Roller has two levels and multiple balls that roll on a track for hours of no-mess fun. It's sure to keep your cat entertained while its natural wood design will look stylish on your catio.
Desert Chic
If you're all about that desert life, we've got the perfect catio ideas for you! Let's face it – cat scratchers are not always the chicest of cat accessories. But if you want to create a southwestern style and still give your cat a chance to stretch its claws, then look no further than this cactus cat scratcher.
When it's time to rest, this cozy hammock will do the trick. Your cat will be eager to curl up and take a break in this Southwest-inspired fleece. This hammock mounts to the wall and holds up to 45 lbs.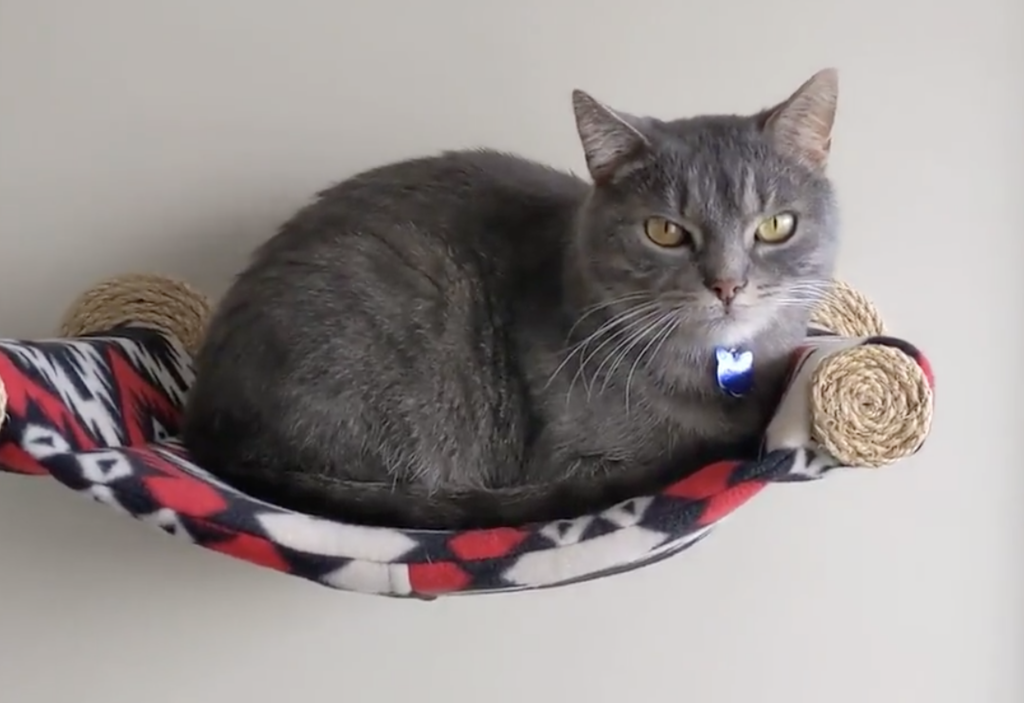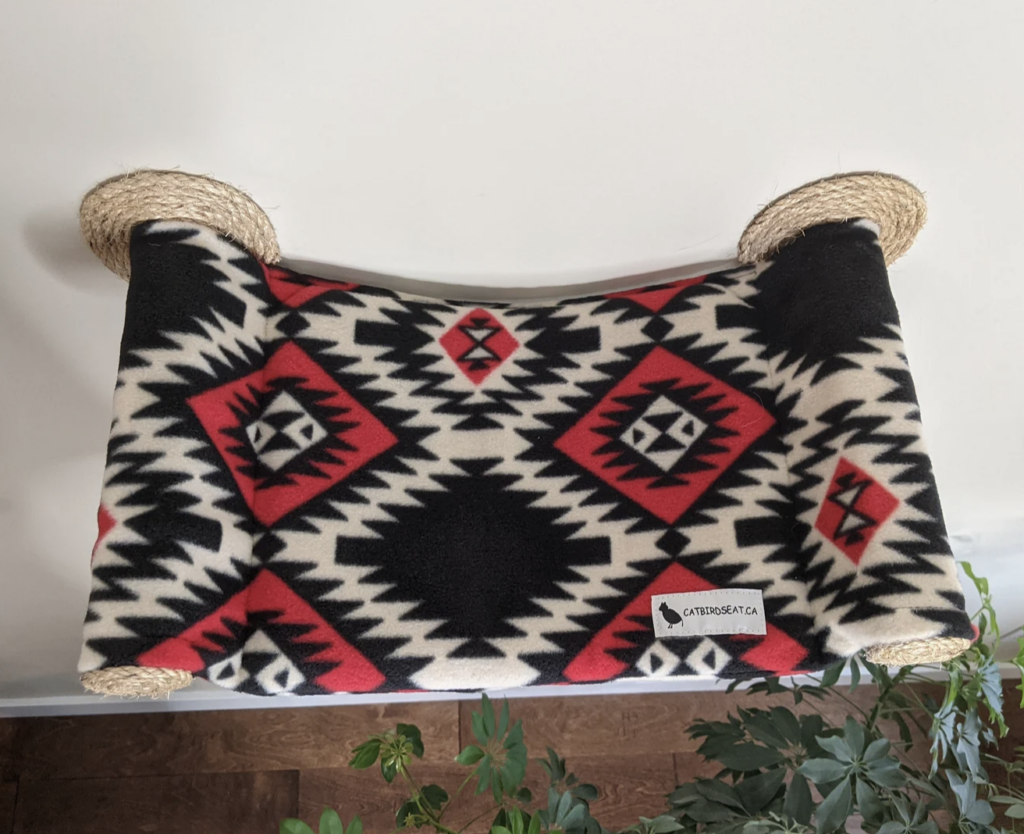 When it's time to climb Real Wood Cat Tree the stands 45" tall and gives your feline friend a wonderful, cozy perch! Made of real tree branches, this cat tree is a step above the rest.
Keep it simple when playtime rolls around with these Natural Straw Balls from KONG. Made with eco-friendly straw and filled with quality catnip, these will have your cats batting and chasing in no time.
THE WRAP-UP ON COOL CATIO IDEAS
We hope these catio ideas helped to spark your imagination as you embark on a journey to create a new space for your furry friend. Barking Bungalow believes that pets and style can go hand in hand and that any space has the potential to be both pet friendly and stylish with a bit of planning. If you're ready to take your home to the next level of kitty-friendly design, take a look at these articles about chic cat wheels and modern cat scratchers for more inspiration.
Jamie Johnson is Barking Bungalow's Cat Contributor but she is an all-around animal lover since childhood when she got her first dog, Lilly, a rescue terrier with an unfortunate underbite and a face that only a six-year-old could love. Through the years, she's befriended a variety of cats, dogs, rabbits, gerbils, fish, and lizards, just to name a few. Her current pet pal is Jerry, a flame point Siamese who loves to eat cobwebs and cuddle.