8 Best Modern Dog Crates – Stylish Dens for Your Pup!
There are so many incredible benefits to having a dog crate in your home, but man, are those wire versions ugly. I take pride that our home is a collection of furnishings that are meaningful to our family, and a big chunky metal dog crate does fit into that picture.
Thanks to some innovative product designers, there are now sleek modern dog crates with improved functionality. Dog crates no longer need to be an eyesore. They can even be a beautiful design element in your home.
We reviewed the best modern dog crates so you can find the perfect pet crate for your fur-babe.
Skip to Modern Dog Crate Reviews
Best Minimalist Design: Fable Crate
Best Lightweight: Kind Tails Pawd
Industrial Modern: Moderna Dog Crate
Indoor Dog House: PetSo Dog House
Sliding Door Option: Dordrecht Crate
End Table Style: Unipaws Dog Crate
Budget Find: Casual Home Dog Crate
Benefits of a Dog Crate
Dog crates are one of your first purchases when you get a new puppy, and they are a critical part of crate training and teaching them to do their biz outside. They also protect your dog and household from the risks of chewing during house training. Some humans struggle with the idea of the dog crate because it reminds them of a dog kennel and brings up feelings they are caging their dog. However, dogs are den animals, and with a little crate training, a pet crate provides a den-like space for your pup in your home.
How to Determine Dog Crate Size
Your pup's crate should be just large enough for your dog to lie down and be able to stretch out. To find the correct size dog crate, you need to measure your pup from the tip of the nose to the tail base. (Do not include the length of the tail.) Add 2-4 inches to the measurement. This will be the length needed for your dog crate.
To measure the height, get your dog into the sit position and then measure from their head to the floor. Add 2-4 inches to this measurement for the proper height for the cage. Dog crate companies make size suggestions based on weight estimates, but you should always check that the pet crate measurements work for your pup.
You can use a puppy divider to make a larger dog crate small enough for your puppy. Adjust the pet crate divider or remove it as they grow.
Where to Place Your Modern Dog Crate
When looking for the ideal place for the dog crate, consider a low-traffic area away from outlets, cords, or toxic plants. Avoid placing a pet crate in direct sunlight or near heating and cooling vents. Some homeowners find smart ways to create a built-in pet crate under the stairs or a kitchen island, but with these stylish modern dog crate options, you are more likely going to want to show it off!
This post may contain affiliate links, and I may earn a small commission when you click on the links at no additional cost to you. As an Amazon Affiliate, I earn from qualifying purchases. You can read my full disclaimer here.
Best Overall Modern Dog Crate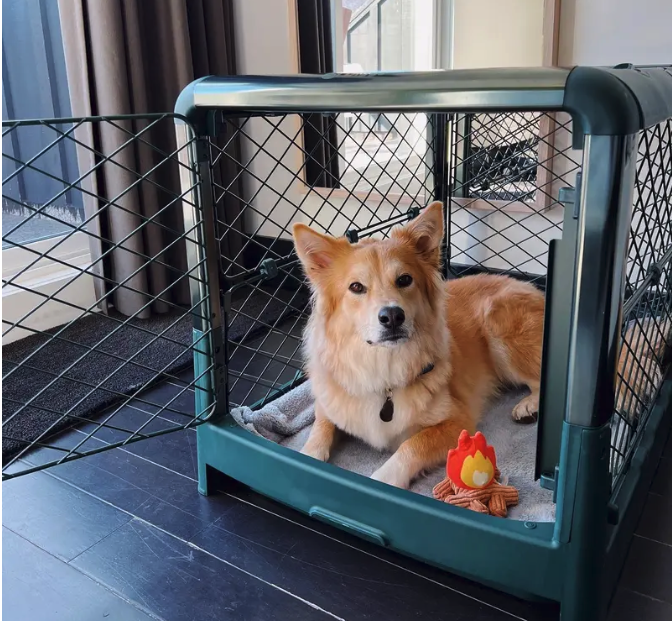 SMALL:
Dimensions: 25″L x 19″H x 17″W
Crate Weight: 25 lbs
Recommended for dogs up to 30lbs
MEDIUM:
Dimensions: 32″L x 22″H x 20″W
Crate Weight: 32 lbs
Recommended for dogs up to 50lbs
LARGE:
Dimensions: 44″L x 28″W x 30″H
Crate Weight: 53 lbs
Recommended for dogs up to 90 lbs
The Diggs Revol dog crate a highly functional modern dog crate with a slick modern design.
It's our top choice for the best overall modern dog crate because it is both stylish and sturdy. The heavy-duty construction and diamond mesh pattern keep your dog safely in their dog crate while you are away.
The Revol features multiple door openings and a removable plastic tray for easy pet crate clean-up. It's collapsable with a handle and wheels making it super convenient for traveling. It's one of the only modern dog crates that have size options from a small or medium sized dog to X-large dog
This is one cool dog crate. You can purchase matching pet crate pads named the Snooz, and a popsicle-shaped training toy called the Groov that attaches to the crate's side to keep your dog distracted while you walk out the door. This makes it a practical dog crate option for pups with separation anxiety.
The Digg brand is notorious for having amazing customer service, and there is clearly a passionate group of innovators behind this product. It's encouraging to see this kind of ingenuity in the pet and home space. From dog beds to crates and carriers, this team is dedicated to creating smart and stylish products.
Best Minimalist Design
SMALL:
Dimensions: 24.5″ deep x 18″ wide x 20.5″ high
Crate windows: 2×2 inches
Recommended for dogs weighing 25lbs or less
MEDIUM:
Dimensions: 32″ deep x 22.5″ wide x 23.5″ high
Crate windows: 2.5×2.5 inches (65x65mm)
Recommended for dogs weighing 25-50lbs
The Fable Crate minimalist design is stunning. The body of the crate is made from premium wood with a front gate that comes in metal or clear acrylic. The front gate slides into the pet crate for easy storage. The unique design provides maximum airflow and light. This modern dog crate can even be used as a stylish side table and provide a calm and cozy den for your pup.
The Fable crate also comes with a stylish dog bed.
The team at Fable warns this handcrafted pet rate is not a good option for chewers, and make sure your pup's head is larger than the windows when choosing a size.
Best Lightweight Crate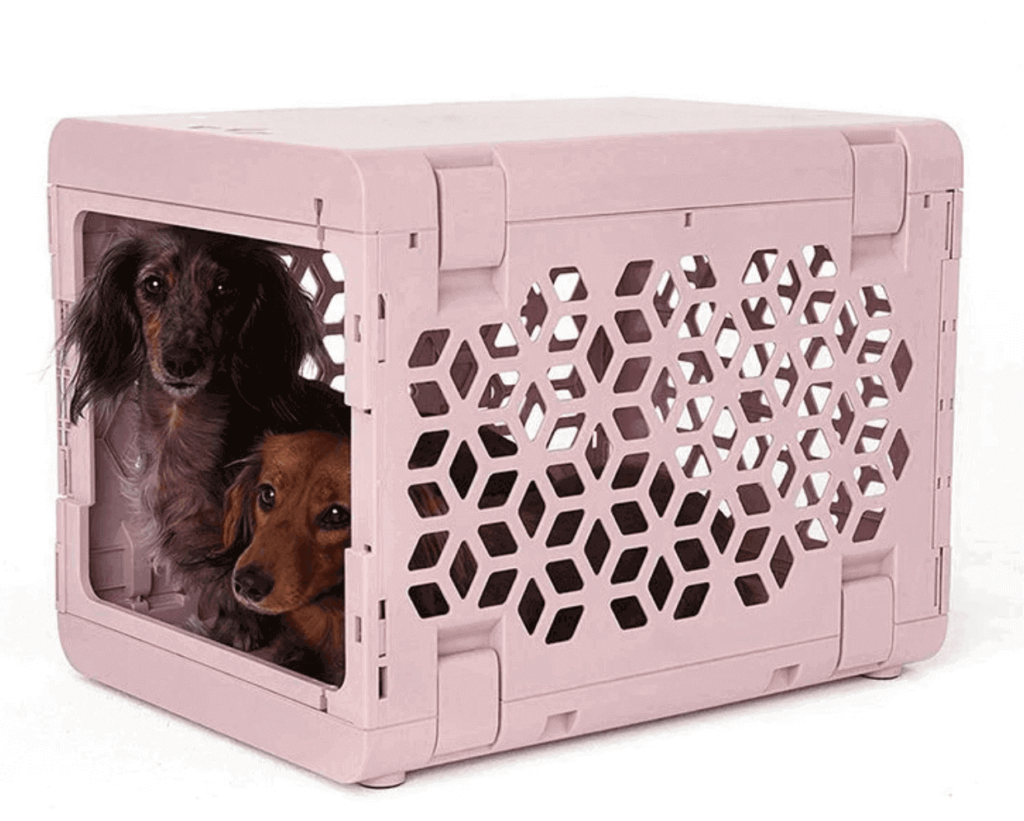 SMALL:
Dimensions: 21L x 16H x 16.5W
Crate Weight: Weighs 7 lbs
Recommended for dogs 5-15lbs
MEDIUM:
Dimensions: 26L x21 H x20W
Crate Weight: 12 lbs
Recommended for dogs 10-25 lbs
KindTail's Pawd is also redefining the dog crate for modern homes. They refer to the Pawd as a comfortable nesting space for your pup. The door is designed to stay open when you are home, unlike the original dog crates where the gate swings about when not locked.
It's made from lightweight ABS plastic and collapses into an easy-to-carry flat case with a handle. There are two sizes – small and medium, and it comes in four stylish colors: white, gray, green, and pink. A matching crate-sized dog bed and luxe lounger is also available.
Best Industrial Modern Crate
Dimensions:
Large: 36″ x 23″ x 26″
Xtra-Large: 42″ x 28″ x 31″
This Moderno Dog Crate is an eye-catching architectural piece that will look stunning in any modern home. The Industrial chic cabinetry is accented with brushed stainless steel bars and hardware. It has two openings and a fitted pad (sold separately) for maximum comfort. This attractive dog crate option is one of the only cool dog crate designs that offer a large and an XL option. It has an upscale look and matching price tag, but you pay for some creative innovation and quality materials.
For more Pet-Friendly Industrial Modern home design ideas, check out our full guide.
Best Customizable Modern Dog Crate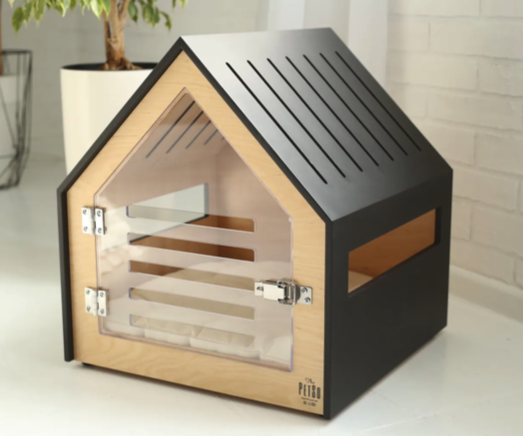 DIMENSIONS:
Small: 17″x17″x19″
Medium 23″x23″x25″
Large 27″x27″29″
The PetSo Modern Dog Crate may be considered more of an indoor modern dog house, but it's gorgeous and has over 200 5-star reviews. That is no joke on Etsy. The colors on this modern dog house are completely customizable to fit your home decor. You can even customize it by adding your pup's name.
This stylish dog crate is handmade from quality plywood and comes with a washable cotton bed. This unique crate has a see through acrylic door with there plenty of slats for ventilation and light. This is a great option for small dogs
For more Pet-Friendly Mid-Century Modern Design Ideas, check out our full guide.
Best Sliding Door Option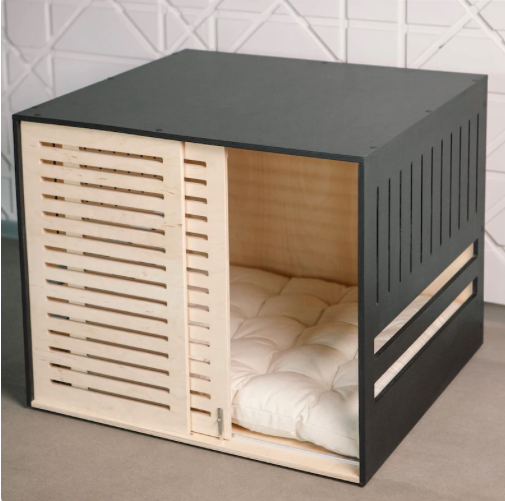 DIMENSIONS:
Small: 26″x19″x23
Medium 30″x28″x25
Large: 46″x28″x32″
This sliding door crate is also from the team at NicePeopleWorkshop and is a great option for large dogs. This is a beautiful wooden dog crate option for your modern home.
You can choose the color scheme to match your decor and personalize it with your pup's name. The main feature of this crate is the sliding door. Three ssides of the dog crate have slates for ventilation and light, although this dog crate provides more privacy for your pup than any other dog crate on our list. It's a great option for small dogs
urd
Best End Table Option
Unipaws Furniture Style Dog Crate
DIMENSIONS:
Large: 41″ x 28″ x 31″
Medium: 36″ x 23″ x 26.2″
Small: 26 x 22 x 6 inches
The Unipaws multi-purpose dog crate doubles as an end table or furniture. It has two doors with plenty of ventilation and provides the doggo with a full view. This style will work well with transitional decor.
The Unipaws dog crate is made from MDF. While this is a better material than standard pressed wood, it doesn't make it a great option for chewers or pups in training.
There are a couple of modular elements of this furniture-style dog crate. You can choose which side you would like the door to open, depending on your floor plan. You can also remove the side panels of two dog crates and connect them to create a larger version.
The Unipaws also has a similar dog crate with a modern mesh design.
Budget Find
Dimensions: Multiple sizes
The Casual Home Wood Crate is designed to look like an end table and is perfect for homes with transitional decor. It comes in five different colors and patterns, but the criss-cross option is the more modern style. It is lockable, but its sturdy wood construction does not make it a great dog crate option for training puppies or dogs who like to chew. Some people have complained that it has arrived chipped and is a bit difficult to assemble, but the double functionality of a dog crate and side table is great for small spaces.
The Wrap Up on Modern Dog Crates.
Reinventing the dog crate is no easy task, but I think these new design teams have stepped up to create a collection of unique dog crates. The sad dog kennel is a thing of the past. There are now many wonderful modern dog crates to choose from. Find the one that fits best for your dog and your design style.
If you are interested in more modern finds for your pup, like our round-up of modern dog crates, check out our similar posts.