Hollywood Regency
Glamorous Pet-Friendly Interior Design
Hollywood Regency isn't top of mind as a pet-friendly interior design option. Its ornate details, glass top tables, and extreme glamour seem like a dangerous mix with fur balls and muddy paws.
However, with a bit of strategy you can bring pet-friendly Hollywood Regency design into your home or apartment. There is so much drama packed into this style that you can balance the over-the-top glam with durable pet-friendly basics.
Whether you are looking to revamp a room or add a few of these classic pieces to your home, there are plenty of pet-friendly Hollywood Regency design options for your home.
The Basics of Hollywood Regency Design
Hollywood Regency was born in the Golden Age of Hollywood in the 1930s when designers like William Haines and Dorothy Draper decorated celebrity homes with the ultimate glitz and glamour. An interior design style was born, mixing clean mid-century modern furniture with art deco details and eclectic décor.
The style is romantic, glamorous, and wonderfully playful. As someone who prides themselves in being practical, Hollywood Regency attracts my rebellious-side. It seems like just the style to avoid if you let your dog sleep in your bed, and yet that impracticality may just be the essence of Hollywood Regency Design.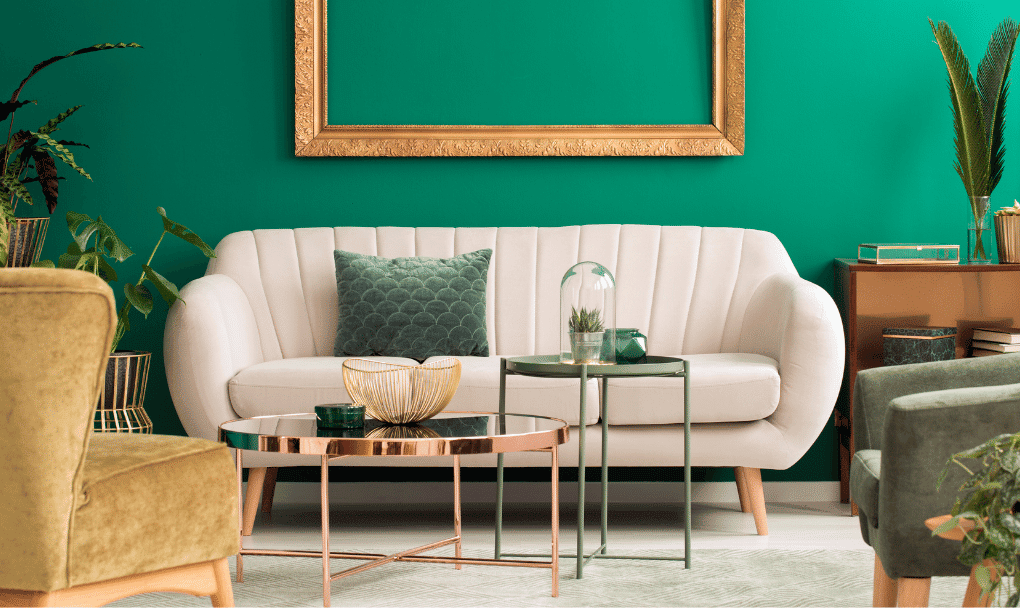 Pet-Friendly Interior Design Strategy
To begin you need to get real about your pet, their needs, their destructive behaviors, and the impact they have on your home. Do you have a chewer? A shedder? A hardwood scratcher? All of the above? You can make it work.
Play up the elements where your pet will not have an impact, and then double down on durability where it matters. If you don't have a chewer, you can pull in style with more ornate furniture legs. If they shed like crazy, consider a more basic sofa with washable slipcovers and bring layers of pattern in with wallpaper and wall hangings.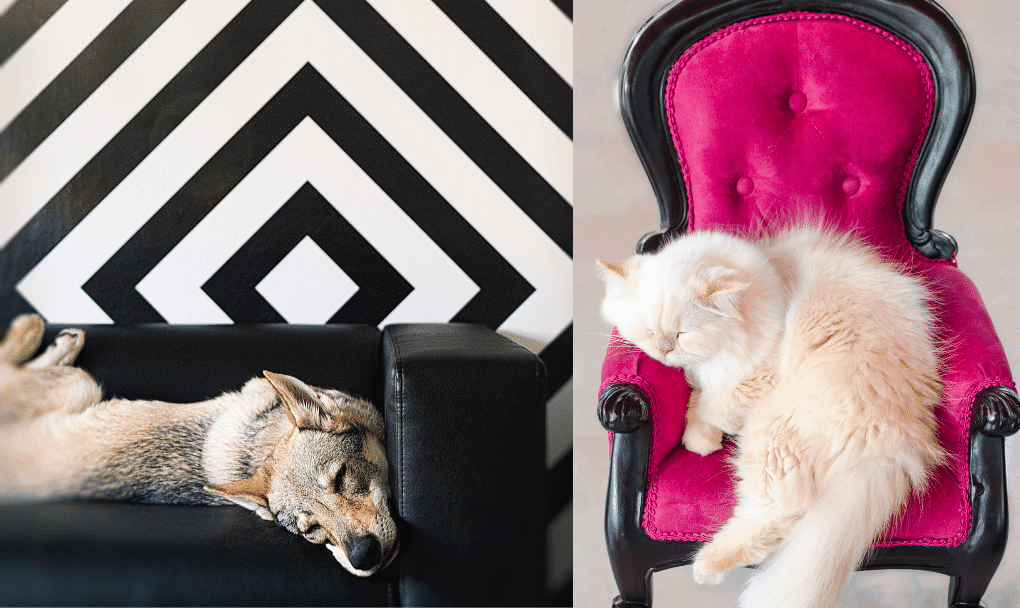 This post may contain affiliate links and I may earn a small commission when you click on the links at no additional cost to you. As an Amazon and Chewy Affiliate, I earn from qualifying purchases. You can read my full disclaimer here.
Hollywood Regency Color Palettes
Hollywood Regency is ornate and dramatic, and it can easily cross the line from maximalist design to overwhelming mess if you are not careful. For this reason, most modern executions keep to a pretty simple color palette with unapologetic pops of color. For example, black and white paired with a single jewel tone or a lush green paired with metallic highlights.
Pet-Friendly Interior Design Luxe Furniture
Sofas and Couches
Like mid-century modern, Hollywood Regency furniture has a sleek low profile and is not the room's focus. While there are classic pieces like fanned back velvet sofas, a more pet-friendly option would be to find something sturdy in a performance fabric that is easy to wash. Use this simple set-up as a backdrop for other elements of luxe decor.
However, if you are in love with the tufted velvet sofa, there is a viable option for a pet-friendly home, thanks to microfiber velvet. These synthetic fabrics look and feel like velvet but are easier to clean and protect. This Novogratz Velvet Convertible couch sold by Amazon is made from microfiber velvet making it soft enough for a cozy nap, and durable enough so your pup can join you.
Learn more about fur-resistant fabric in our post on Pet-Friendly Velvet
Coffee Tables
Coffee tables from this era have glass tops precariously placed on large metal bases. While this is a stunning combination, it's not necessarily a safe option for pets who like to play. Lucite is a safer option than glass, but it can easily be damaged by claw marks if your pet is a scratcher.
For a pet-friendly option, opt for a large and sturdy tufted ottoman. This Christopher Knight Home Velvet Ottoman from Amazon is large enough to set trays on and sturdy enough to keep pets safe. It will bring the drama of style to the room without the trauma of broken glass or claw marks.
Metallics
Metallics are everywhere in Hollywood Regency, and this is a plus for chair legs. A brass chair or table leg is less tempting to the perpetual chewer than a wooden version. In general, accent chairs can be a great way to bring in style without alerting your dog's destructive tendencies because they can often be boring to them.
Sure, there are exceptions. If you have a cat or dog that sprays, the accent chair could be the perfect target. However, for most pets, the accent chair goes unnoticed. It's too small to sleep in, and it can often be made of fancy elements like Lucite, cold leather, or metal. Most high design accent chairs can sit in the corner, untouched by our pets, yet bring in tons of style.
This Meridian Velvet Upholstered Dining Chair from Amazon has a stunning art deco inspired frame in polished gold.
I am always on the lookout for furniture for our cat that isn't an eyesore. Cats want to command a lot of room in our home and we can either give it to them in a stylish and non-destructive way or they will take it upon themselves to take over your favorite furniture items. The Refined Feline Faux Fur Cat Tree and Condo is everything I can hope for in cat furniture. It adds a serious amount of glam to any room.
Black Lacquer
Black Lacquer deserves a whole section of its own in the Hollywood Regency design guide. From end tables to armoires and bed frames, Black Lacquer is a glamorous finish on any piece of furniture. The downside if you have fur-kids is that one small scratch can stand out on this polished surface.
If you have a cat that likes to scratch furniture and still want to incorporate some black lacquer elements into your home, consider pieces you can keep away from pets. A large picture frame or a serving tray, like this Modern Hexagon Tray from Amazon.
If something should happen to one of your black lacquered pieces, I can pass along one behind the scenes trick from home improvement TV as a solution. It's the magic coverage of the black sharpie. It can often be a lifesaver, but it's not a total fix for larger claw marks. Larger imperfections will require new lacquer and blending powder.
Lighting
Lighting is a great way to bring Hollywood Regency design into a pet-friendly home. Glamorous chandeliers and pendant lights are quintessential to the style. You can really go all out with crystal chandeliers and ornamental pendants lights in brass and gold, and it will be so far out of your pet's reach you will never have to worry about it.
Astra Straburst Chandalier from Amazon
If your cats like to swat items off the side table like ours, avoid the table lamp. Although the Hollywood Regency versions are stunning with tassels and crystal embellishments, it will be heartbreaking to see that investment come crashing down to the floor with a swipe of a paw.
Pattern
The glamorous and playful patterns of Hollywood Regency are one of my favorite elements of this style, and there are plenty of ways to include these patterns as pet-friendly interior design in our homes. with bold wallpaper, pet accessories, or busy fabric that easily hides pet hair.
Malachite
Malachite is an opaque, green-banded mineral used in Hollywood Regency décor items. Add it as patterned wallpaper or in luxury pet accessories like these stylish Malachite pet collars from Etsy's Friendship Collar shop.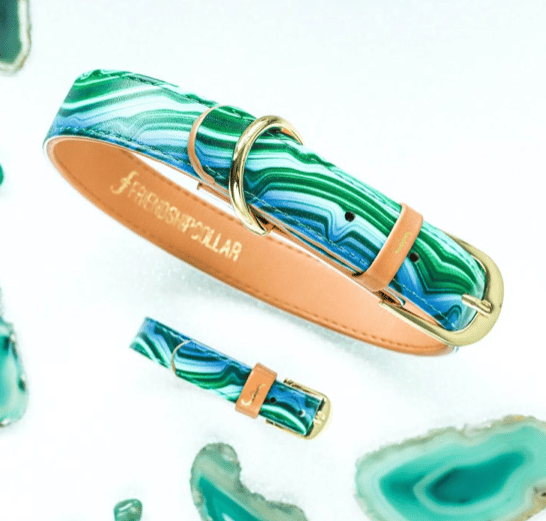 Bold Stripes
Thick black and white stripes are frequently seen in Hollywood Regency homes. This dramatic look can be layered in the background or added as a pop of pattern like this Black and White Stripe Bowl from Etsy's MomoChardoStudio.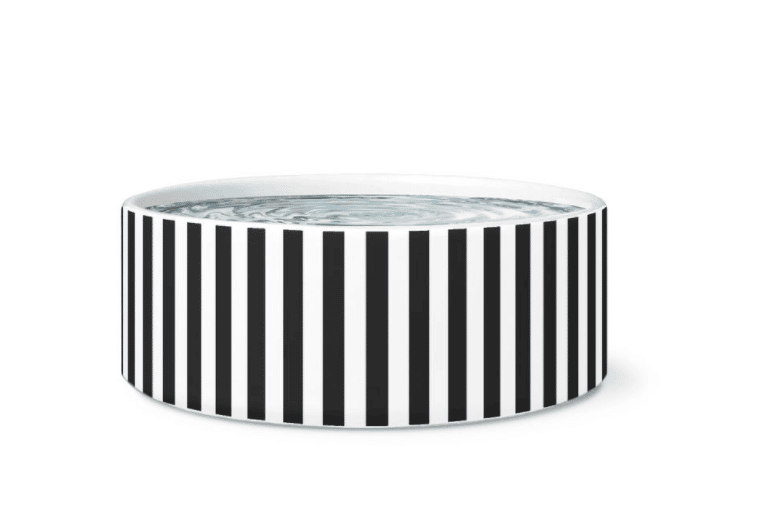 Oversized Botanical Prints
Add these lush Botanic Prints with fabric, wallpaper, and rugs. This pet bed duvet with oversized palm prints from Etsy's Anita's Casa shop is the perfect way to bring this bold pattern into a pet-friendly home.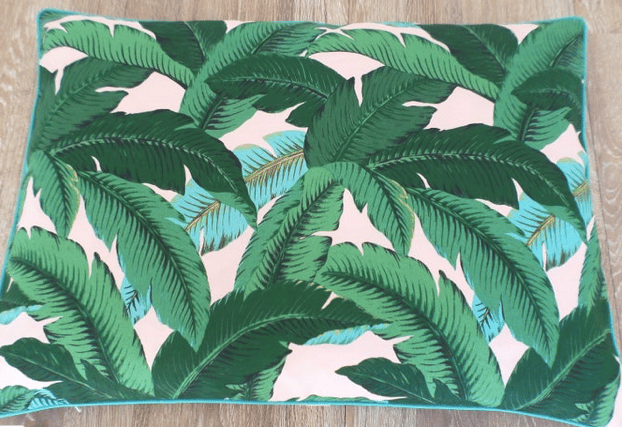 Zebra Stripes and Animal Prints
Zebra and other animal prints can be seen in wallpaper, rugs, and décor items like this wild zebra print dog leash by Etsy's Wakakan shop.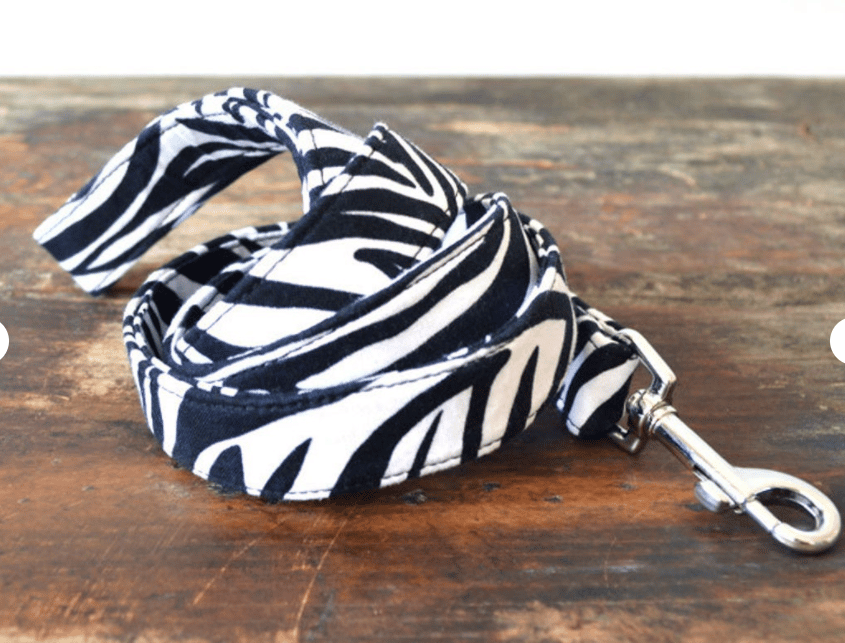 Chinoiseries
Chinoiseries patterns are found in wallpaper, fabrics and ceramics similar to these Chinoiserie food and water dishes by MomoChardoStudio.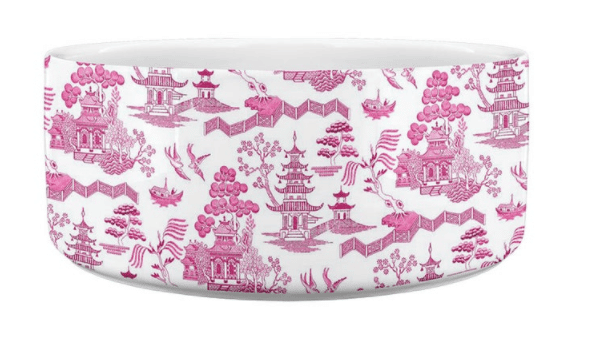 This blue and white Chinoiserie Pet Bed from Etsy's Design By Merriment is another way to bring this pattern into your home.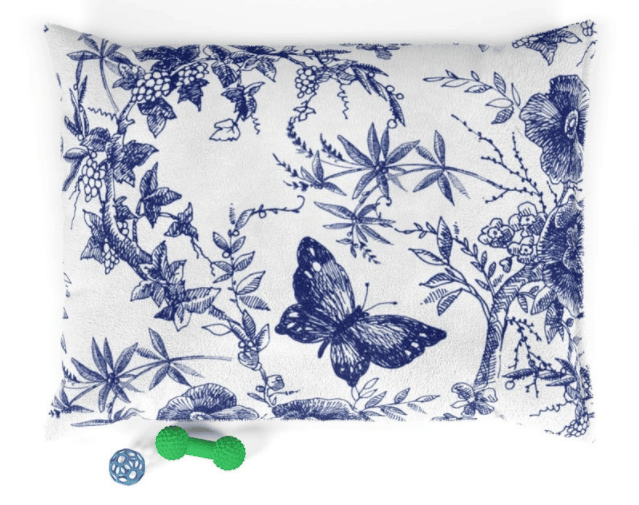 Greek Key Pattern
Greek Key patterns are seen on furniture, rugs and window treatments. This Greek Key Dog Collar by Etsy's KelverKilpz is a fun way to adorn your dog with some Hollywood Glam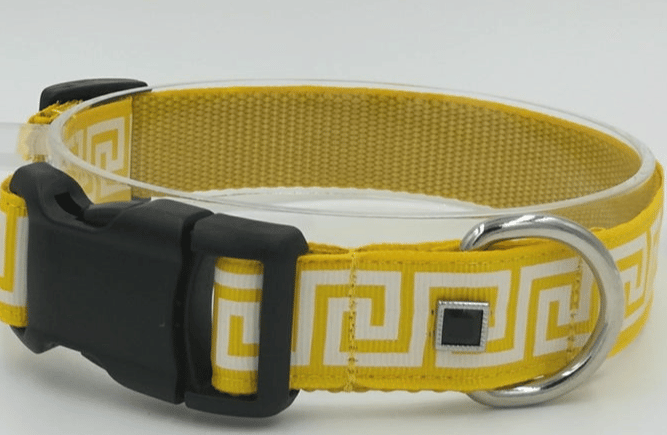 Pet-Friendly Interior Design Glam Textiles
Windows
Hollywood Regency windows have floor to ceiling curtains in lush velvet fabric. This approach may be an option if you have a labradoodle or another non-shedding pet, but this is a no go at our home. If you want a similar pet-friendly option, consider washable versions. .
Rugs
My favorite pet-friendly rugs are from Ruggables. They are ideal for any type of pet-friendly interior design. They come in two pieces, with a washable top and non-slip bottom. We have six Ruggables in our home. They protect what is left of our hardwood floors, and they are easy to clean. I do not have an affiliate partnership with Ruggables, but I think they are essential for a pet-friendly home. They have so many designs to choose from; no matter your style, they have an option for you..
I found a some great Hollywood Regency options including a black and white Zebra print, bold tropical patterns, and high-pile faux fur rug.
We also have a washable faux cow skin rug simliar to this Cow Print Rug from Amazon that we toss in the washing machine. They are great to layer on other rugs for that luxe Hollywood look.
Sculptures and Accessories
Hollywood Regency rooms are chocked full of sculptures and accessories. This is a challenge for pet-friendly interior design when you have pets who love to bump into things while playing. If you want to add these more fragile accessories to your home look for places where you can put them on display while remaining undisturbed. Try tucking them into sturdy bookshelves or on top of out of reach mantels. There are also many sculptured elements you can hang on the wall, like a spectacular star mirror.
Languid sculptures of dogs and gold-horned rams were more popular motifs. If you need more animals represented in your home, choose one of these classic beasts.
More Pet-Friendly Interior Design
With designers like Kelly Wearstler, Caitlin Murray, Kathy Kuo, and Jonathan Adler, Hollywood Regency is back on the scene. If you have pets, you don't have to sit this one out. I firmly believe that you can have a glamorous home and live with pets. Pet-friendly interior design is possible, with a little creative strategy, you can bring these luxe elements into your homes. After all, our pets deserve some glamor too!
For more Pet-Friendly Interior design ideas, check out our other Pet-Friendly Style Guides