It is possible to live with a dog or cat without being weighed down by all the extra pet stuff. The truth is our pets really only need a few essentials items for food, shelter, and play.
Whether you are committed to living a minimalist lifestyle or love minimalist design, there are many benefits to paring down all the extra stuff. Don't worry, living with a Minimalist dog is not out of reach.
Our Process
We work from home and live with three large dogs and a cat in a 1,600 square feet Bungalow. It can quickly feel like we are drowning in half-eaten dog toys. It's hard to stay focused on anything with so much stuff around. It was time to cut down on our pet's clutter so we could spend more quality time with our fur-kids and less time taking care of their fur-stuff.
So we made a list of essentials and spent the weekend sorting through every pet item we owned. Then we researched living minimalist FB groups and minimalist design. We found a ton of smart solutions and strategies for living minimally with dogs and cats.
The Benefits of a Minimalist Dog and Home
The visual state of our homes can make a significant impact on our mental health and productivity. This is why parents spend so much time begging children to clean their rooms before doing their homework, right?
Increase Focus
It's similar for adults. Have you ever been diligently working on something important when a text or email crosses your screen? The next thing you know, you are deep into the second page of the 60% off candle sale at Anthro.
Increase Relaxation
The same mechanism applies to our homes. When you are trying to spend quality time with your family, the visual overload of a messy space can pull you away from the restorative power of relaxing.
Increase Free time
Plus, taking care of all the extra stuff is time away from what is important to us, whether it's getting more walks in with the dog or giving the cat more playtime.
No matter how overwhelmed your home is with dog beds and ratty dog toys, the process of minimalizing the distractions is a simple project and will leave you and your home feeling refreshed.
The Bonus: You can help out an animal shelter by donating your extras.
Create a List of the Essentials
Whether you are preparing your home for a new puppy or paring down your pet's overgrown collection of stuff, the first step is to create a list of the basics for your pet.
Sleep
Crates: The crate is essential for housebreaking a puppy and they also provide the dog with their own space in the home. If your dog is still growing, get a crate to house them as an adult and use a spacer (usually included) to limit the space as they grow.
Bed: Choose a washable option in durable fabric for easy maintenance. If your dog loves their crate, you may be able to skip the bed.
Eat
Bowls: Your dog will need to have a couple of bowls—one for water and one for food. We also have a splash mat to protect the floor, but you can avoid that purchase if you keep the water bowl on the tile.
Dog Food and Medicine: Every dog needs dog food. We store ours in air-tight containers in the hall closet. We keep heartworm prevention, and other medicine tucked away in a kitchen canister.
Clean
Grooming Supplies: Shampoo, a brush, and nail clippers will get your dog looking dapper and keep down the shedding. You may also want to get a solution to clean their ears and a dental kit. It may only be essential for our dogs, but we use a silicone fish with cheez whiz to keep them distracted while we bath them. All supplies go into one easy to find a (waterproof) container to keep down the clutter.
You can read more about our dog-friendly shower here.
Play
Leash and Collar: Dogs need exercise. Even if you have a large backyard, walking the dog has additional training and bonding benefits. Leashes and collars are items that get purchased multiple times when you are still learning about and training your dog. You could decide to switch from a standard leash and collar to a harness, gentle leader, or training collar. To cut down on the multiple purchases, you can borrow from friends to see what works before purchasing.
Poop Bags: You don't have to get a fancy pouch, but it is mandatory to get the bags.
Toys: Toys are where it typically goes off the rails because they are just super fun to buy. The reality is they only need 1-2 toys per dog. You can decide based on your dog's behaviors if they need an interactive option or the classic squeaky toy.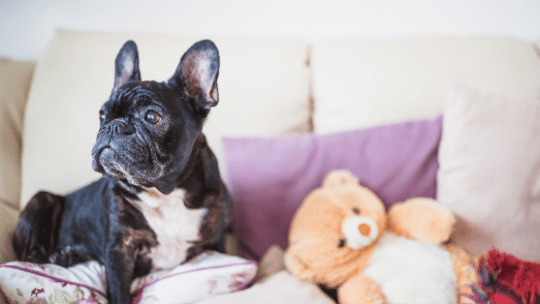 Pare Down the Chaos
Now that you have your list of essentials, it's time to gather every pet item in your home into two piles—one for toys and the other for everything else.
Put the toys aside for a moment. Go through your list and pick out one item for each essential thing on your list. Then take everything that remains and put it in a box in the closet. After 6-8 weeks, if you haven't used it, it may be time to donate it to the puppies in need at a shelter.
Take into consideration seasons. We swap our German Shepard's donut-cuddler dog bed in the winter for a cooling mat in the summer. No one wants a Marie-Condo hangover, be practical about what you give-away.
Wrangling Dog Toys
It's time to take on the dog toys. Gather and divide the dog toys into two piles. One for plastic and rubber toys. The other for plush and rope toys.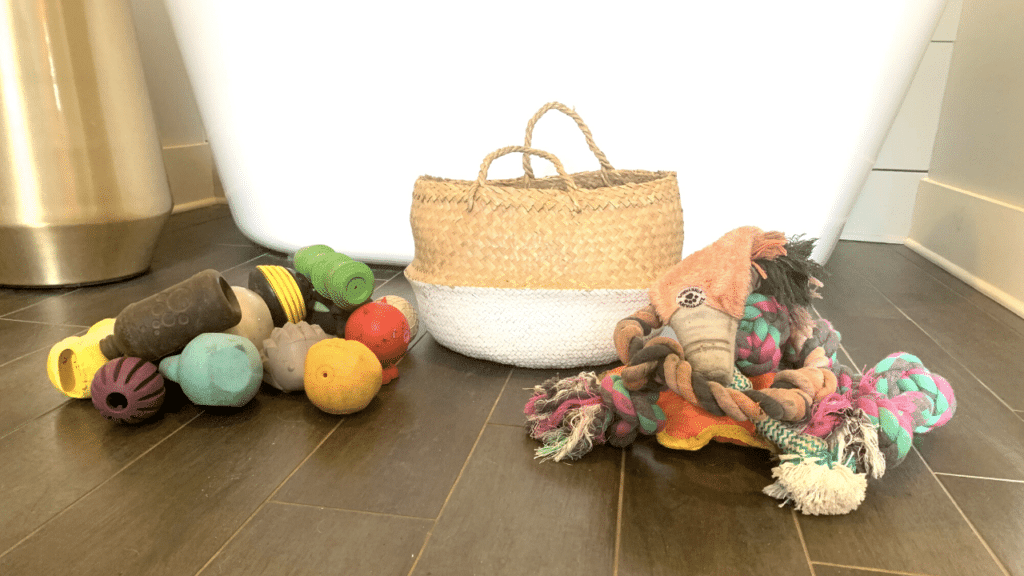 Toss any toys that have rips, tears, or have been overly chewed. You want to avoid pieces breaking off and becoming choking hazards. Also, look for any sharp edges on toys the dog has created from chewing. They can end up cutting their gums. One benefit of having fewer toys is making sure the ones in play are in good condition.
Cleaning Rubber and Plastic Toys
Soak toys in some water and anti-bacterial dish soap. Use a scrub brush to loosen debris. A toothbrush will help to get into any small crevices.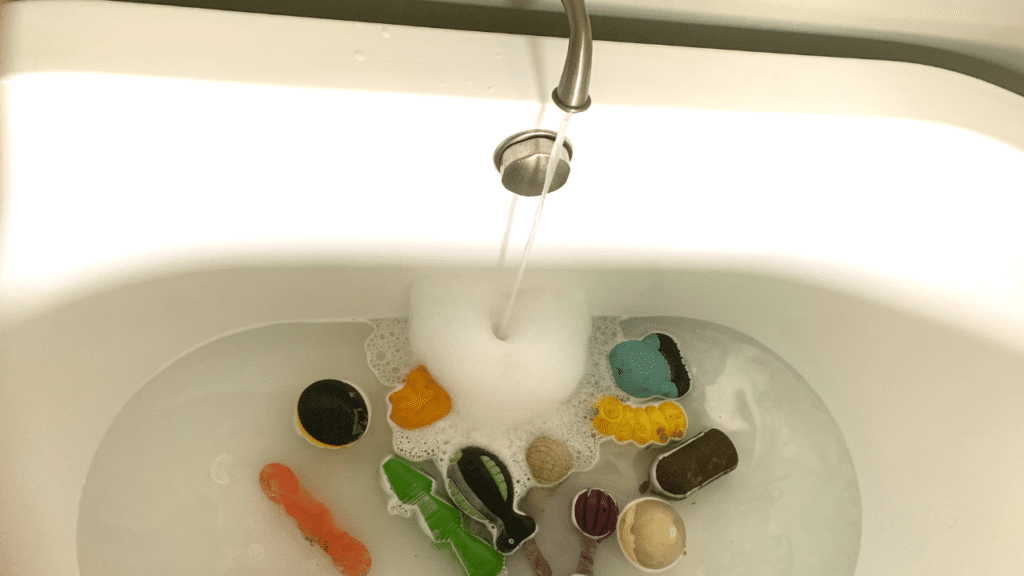 Rinse and set to dry. Make sure there isn't any water still caught in the center of the toy. Give them a good squeeze before putting on a towel to dry.
Cleaning Plush and Rope Toys
Even if a plush toy has a squeaker, you can toss it in the washing machine. Use cold water to avoid damage to the plastic parts. You can throw rope toys and non-squeaker plush toys in the dryer. Let squeaker and plush toys with plastic elements air dry.
The Minimalist Dog Gets Two Toys at Time
If you feel guilty about buying your dog tons of dog toys, you can let yourself off the hook… a little. Dogs prefer new things over familiar ones. In a study published by Animal Cognition, pup consistently chose new dog toys over familiar ones.
On the flip side, we don't have to drown in dog toys to keep them happy. There is a trick to making old dog toys new again.
Instead of leaving all the toys out all the time, they get two (per dog) in a rotation. When it's time to make the swap present the new toy (from the pile of old ones) with great excitement, you can also introduce an old toy in a new way. Instead of tossing it, use it as a tug toy.
For more toy storage ideas, check our video of on 17 Pet Toy storage ideas.
Minimalist Design for a Pet-Friendly Home
The golden rule of maintaining minimalism is one in, one out. The idea is that each time you bring something in for your pup, something else should leave the house.
Even when you pare down all the accessories, the bright colors of leashes and kennel-inspired design of the dog crate can make your home feel a little meh. We can pull a few design tips from Minimalist Design to keep our homes visually tranquil while having a pup.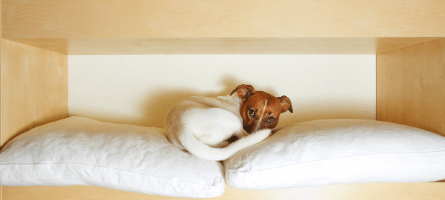 Clean Lines
When purchasing furniture and dog accessories, clean lines, and the lack of embellishments can cut down on the visual chaos. I love Boho and Vintage furnishings, but it can quickly feel cluttered with the addition of fluffy dog beds and an assortment of squeaky toys. It's also easier to see when accidents happen so that they can be quickly cleaned up.
If you already have some ornate furnishing that you love, let those be the focus of the room by keeping down competing visuals.
Aim for Monochromatic
At one point, we had a pink, orange, donut pattern, teal, and navy-blue leash on our wall. Each leash was individually cute when purchased on its own, but as a collection near the door, it looks like the entrance to a circus.
I am not saying toss out all your leashes, but when purchasing, consider that the leash or poop bag holder is part of a visual collection of items in your home. If they were all a soft gray, it would be easier to see the blue velvet couch.
Focus on Functional
In Minimalist Design, each item in your home should be functional and add value to the room; it is even better if it is dual-functional. Dog crates that double as tables or a countertop fit the bill.
Prioritize Storage
Having a place to store your dog accessories to keep things out of sight will cut down on visual ping-pong.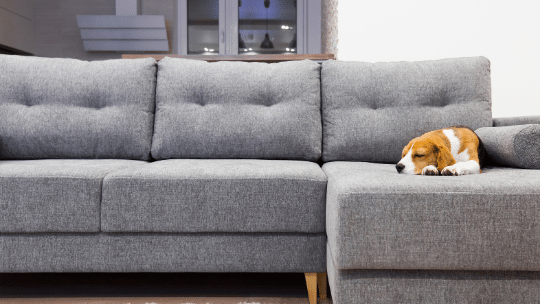 This post contains affiliate links and I may earn a small commission when you click on the links at no additional cost to you. As an Affiliate, I earn from qualifying purchases. You can read my full disclaimer here.
Modern Dog Accessories
There is good news for the minimalist dog. There are many new emerging designers who are creating modern dog accessories, making it much easier to find poop bags that don't look like…poop. These innovative brands use minimalist design to make more functional products while cutting down on the visual noise of typical dog and cat accessories.
Wild One is the leader of the pack in modern pet essentials. Each line is "developed with a function-first" perspective to keep your pup staying safe and looking posh.
Their monochromatic walking kits streamline the purchasing process. They look great on a walk or hung up by the door.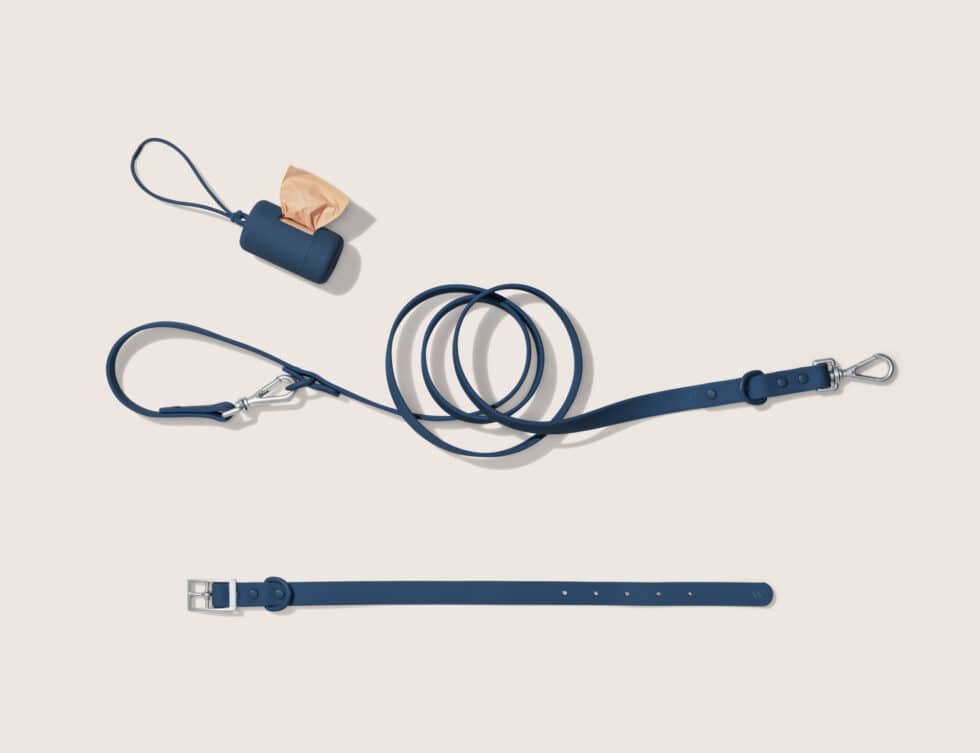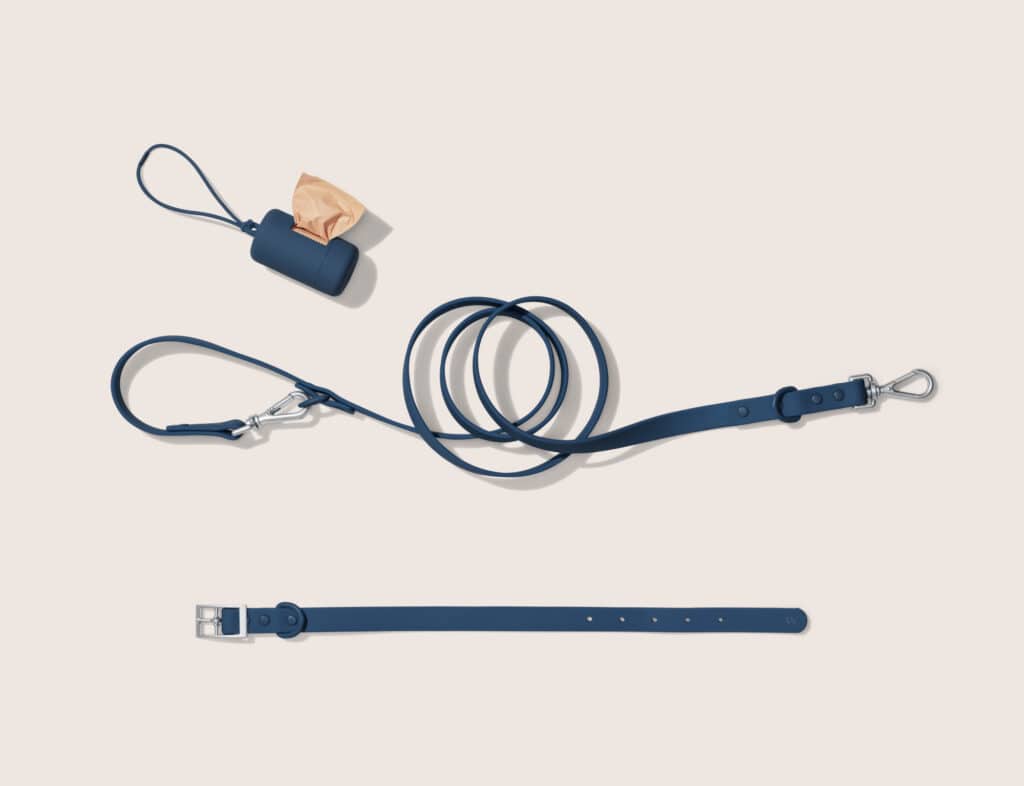 The Wild One Home Kit is complete with a bed and bowls. The bed is made with a waterproof and washable cover and features foam sides for snuggles.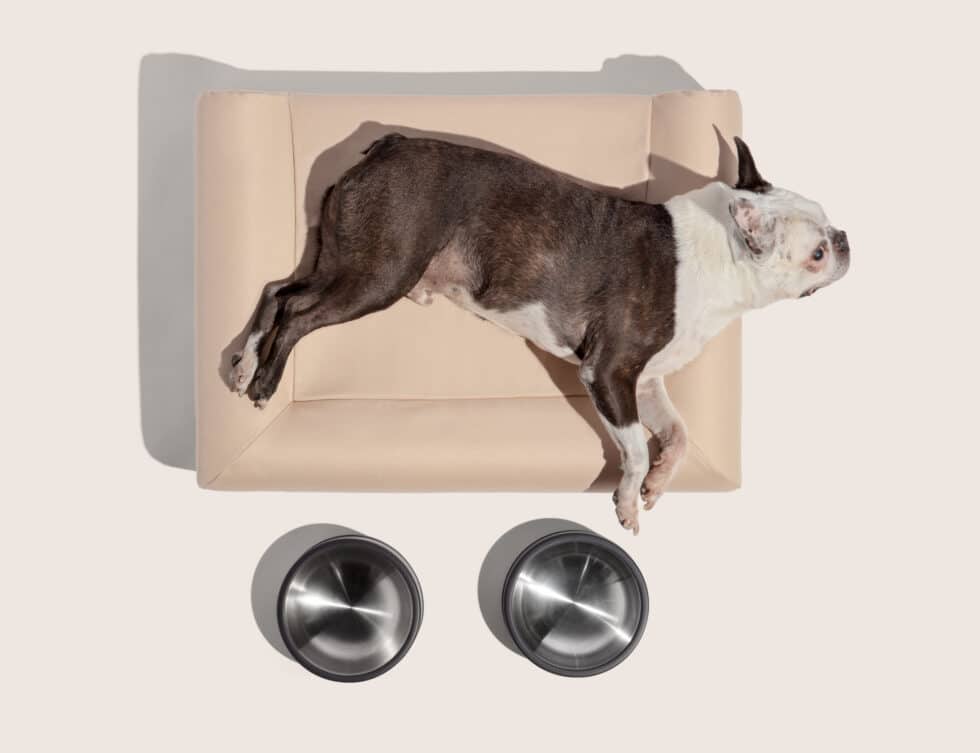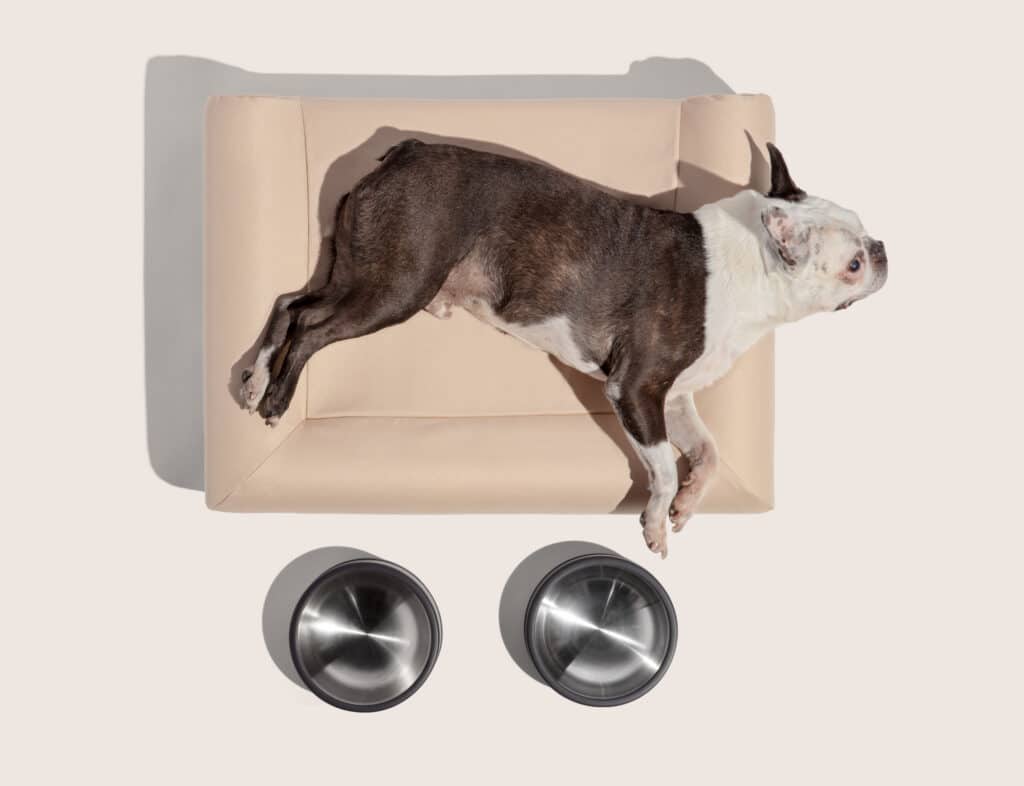 Wild One has also modernized the dog toy. Perfect for the minimalist dog, their dog toy kits include a Triangle Tug, Twist Toss, and Bolt bite. Your dog will love chewing on the natural rubber and organic cotton. Unlike the half-eaten plush toy with loose stuffing falling out of it, these dog toys will look great in your home.
The Revolv dog crate by the team at Diggs is ergonomic and easy on the eyes.
| | |
| --- | --- |
| | The Revol is a collapsible dog crate that is easy to set up, transport, and store. Revol's design, inspired by baby industry quality standards, incorporates premium materials, ergonomic easy-to-use doors, and is sturdy and durable. Puppy divider included. Dogs up to: Small: 30lb / Medium: 50lb / Large: 90lb |
Their other genius product is the Groov Training Aid.
| | |
| --- | --- |
| | The Groov is a first-of-its-kind crate training tool that helps pups love their crates. Whether you are introducing your puppy to a crate for the first time, re-training an older dog, or just giving your pooch a special treat to enjoy safely in the crate, Groov makes crating easier and more enjoyable for everyone. Groov is made from high-quality, food-grade, BPA-free all-natural rubber, and is ergonomic and durable. Best of all, Groov is easy to use and is compatible with Revol and most traditional wire crates. |
Check out our post on Modern Dog Crates for a full review.
Tuft and Paw creates attractive modern solutions to replace the traditional eyesore of cat accessories.
The Puff Modern bed is made from contoured foam. It creates a comforting and secure place for your cat to hide while also keeping an eye on things.
If you are looking for a minimalist litter box the Cove is the way to go. The sleek no-nonsense design is perfect for the cat. This litter box looks so good you don't have to hide it.
Each Herzog collar and leash is made from eco-friendly, ultra-soft silicone that is easy to clean, scratch-resistant, and super comfortable for your pup.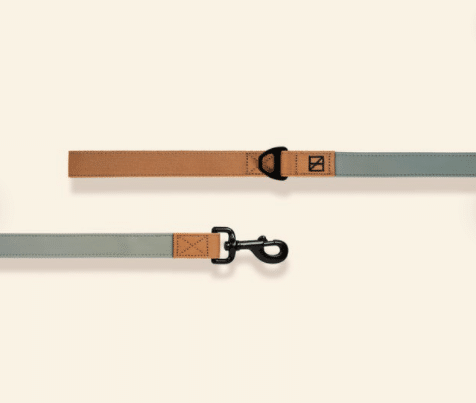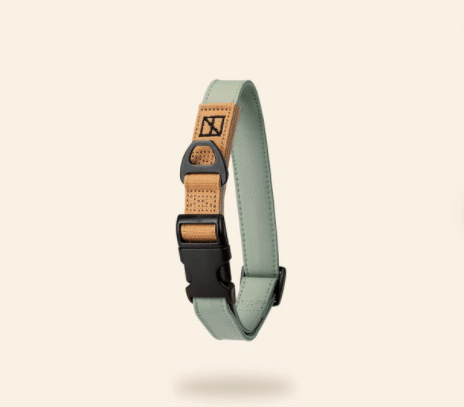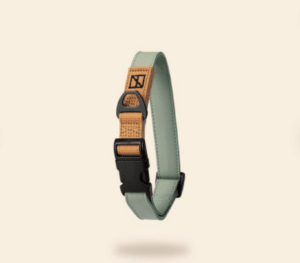 Check out their full shop on Etsy
Modern Pets living has many beautiful minimalist pieces that your dog and home will love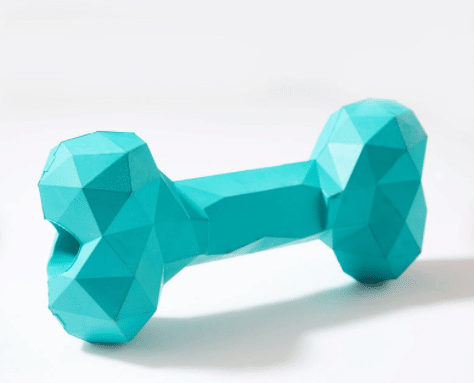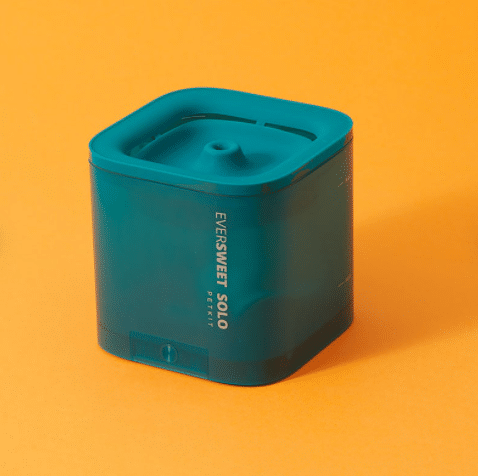 Minimalist Dog Waste Bag Holder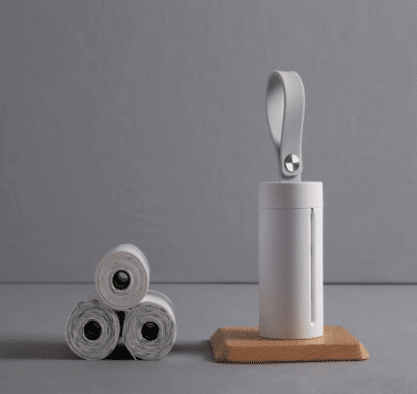 Check out their full shop on Etsy
This sleek white ceramic dog and cat bowl from NOrdic Minimalist is a beautiful additon to any modern kitchen.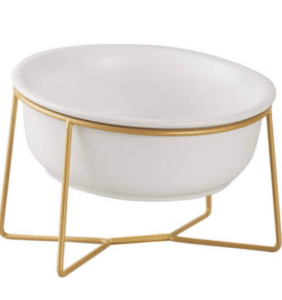 Check out their full shop on Etsy
Any minimalist dog would love to nap under this airy linen roof line of this indoor dog house from KM Designs.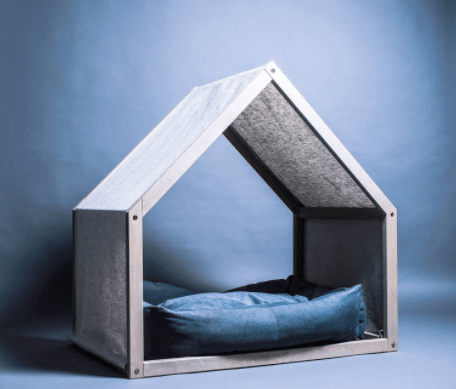 Check out their full shop on Etsy
Next Steps
Once you have pared down all the extra stuff you have collected from living with a dog or cat, you can begin to be mindful of new purchases. We can take time to consider if our pet really needs this new bedazzled dog bed. Is it something that I want to look at, step over, and clean on a daily basis?
There is some trial and error when purchasing pet accessories. Don't beat yourself up if you purchased a cat scratcher your cat instantly rejects. Your cat's loss is a gain for our many fur-friends in shelters that can benefit from your extra items.
With less stuff, we can keep our focus on spending time with our fur-kids and not tending to their stuff.
Don't settle for poorly designed dog accessories. There are affordable modern dog essentials that are durable, will look great in your home and your fur-kids will love.
Find more pet-friendly design ideas in our Pet-Friendly Scandy and Modern Industrial Design Guides.
If you want more design guides sent directly to your inbox drop your email below and join the pack!