5 Best Puppy Starter Kits
Everything You Need for Your New Puppy!
Bringing home a new puppy can be overwhelming. You want to be totally prepared but you also don't want to waste a bunch of money on stuff you are never going to use. Getting a dog is already a big investment without adding a bunch of extra stuff. After raising five puppies of our own, we now have a list of must-have items for when you first bring home your pup.
You can use this list to pull together all the individual items you will need, or you can go the more convenient route and purchase a Puppy Starter Kit with all the essentials. We reviewed the top five Puppy Starter Kits so you can find the one that fits perfectly for your puppy and lifestyle.
Click Here To Skip Down to The Puppy Starter Kit Reviews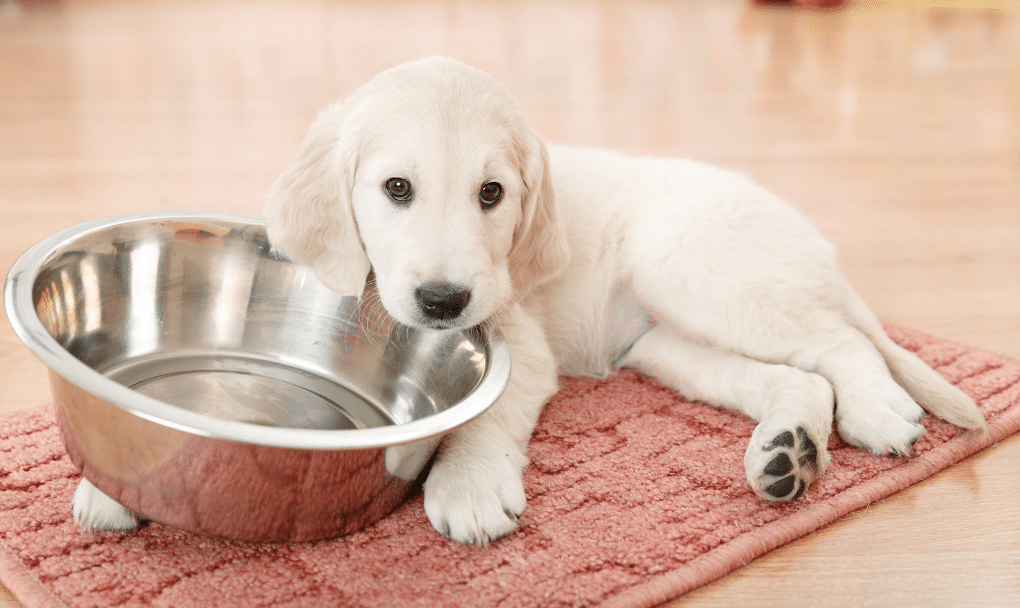 This post may contain affiliate links and I may earn a small commission when you click on the links at no additional cost to you. As an Amazon Affiliate, I earn from qualifying purchases. You can read my full disclaimer here
Puppy Starter Kit: The Essential List
Puppy Collar
Your pup will need a collar with an id tag as soon as you get them. Choose a lightweight option to avoid it weighing down their necks or rubbing against their skin. You should be able to fit two fingers comfortably underneath the collar when it's on them. Too loose, and your puppy will try to remove it. This Blueberry Classic Solid Nylon Dog Collar is a quality option that comes in a bunch of fun colors so you can pick that fits your pup's personality.
Puppies will not grow to their full size until the end of their first year. If you were planning to purchase a diamond-studded collar, maybe wait until your fur-kid is fully grown.
Also, consider getting your puppy microchipped so they can make it home to you if they lose their collar.
Leash for Walking
A standard leash is about 4-6 ft long. A nylon version will do the trick. They may enjoy chewing on it, so find something durable or plan to purchase multiples until they grow out of the habit. I like these leashes with the padded handle. When they are young they pull all over the place so I appreciate the extra padding. They come in every color imaginable so you can pair it with their collar.
Retractable leashes can be a bit problematic. You have less control over your pup with them. If your dog is not trained or if you are still getting to know them, it's easier to manage them with a standard leash rather than a retractable version.
Food and Bowls
Puppies will knock around their food and water bowls and create a big mess on your floor, so it's smart to get something with a non-slip bottom. Metal is an excellent choice for a starter bowl. Ceramic bowls work too if they are super stable.
If you want to avoid replacing the bowls when they get to be full-grown go ahead and get an adult size bowl in the beginning. Unless you have a very tiny tea-cup breed, a puppy will be able to eat and drink from a large bowl. We use these modern ceramic bowls from Waggo.
If you want extra protection for your floors, consider using a rubber mat to contain the mess. I love the look of this boho-inspired version from Amazon.
Dog Food
Your pup will need food when you bring them home. Consult your vet on the right type based on their size and breed. Puppy food is highly caloric to provide them with the nutrients they need to grow. If you are adopting an adult dog they don't need puppy food. Instead, get food based on their size. (Also, kudos to you if you are adopting an adult dog!)
You can always keep it in their food bag tucked away into a closet, but you may want to consider these air-tight containers to keep food fresh and prevent unwanted pests.
The Bed, Crate and Blanket
Crate training is a great way to housebreak your dog and protect them from getting into trouble around your home. Crates can also protect the dog if they have destructive separation anxiety. Choose a crate that is large enough for them to turn around and lay down comfortably. If it's too large, it makes housebreaking more challenging. 
Dog Crates do not need to be big ugly wire cages. There are plenty of beautiful modern options. Check out our post on Best Modern Dog Crates for our favorites.
You can put a blanket or bedding in the crate, but it should be chew-proof and waterproof for puppies.
You may also want to get them a dog bed to create a space outside the crate. The key is to make sure it is easily washable. Hands down, all our dogs and cat love the Best Friends by Sherri Donut Cuddler. It's the first bed that they prefer over the couch. They are easy to wash and stylish.
Poop Bags
If you plan to take your pup for walks, you will need poop bags. These compostable bags are a little better for the environment. You can also get a poop bag holder to attach to your leash, so you don't forget them when you head out the door.
Training
When you first bring home your puppy or dog, they will need a little time to adjust to your home before you start obedience training. Before you purchase clickers, long leads, and tons of training supplies, consult your trainer for a list of what you will need. This can be very different based on their training style.
Treats
You can use puppy food as a treat at first. Once you start training, you may need to upgrade to more high-value treats. Consult your vet and trainer for a recommendation for your pup.
Toys for Puppies
Puppies start teething around four months, so it's smart to have some toys for them to chew on rather than your table legs. Choose some options with a variety of textures.
Ensure that plush toys are suitable for puppies and don't include elements that can become choking hazards.
Kong toys are the King of dog toys. They are great for teething but are also interactive. They are safe, reliable, and will buy you some time if you desperately need to distract your pup.
Grooming Supplies
It's great to start grooming your puppies pretty early. Make it fun. Treat them and let them get accustomed to your touching their paws and looking inside their mouth. Getting your dog to enjoy grooming is crucial. Not only does it keep your pet healthy and make vet visits more manageable, but it also will help cut down on dog hair and messes around your home.
Our dogs love the Kong Zoom Groom. It looks a bit like a toy so they are not afraid of it. It's soft and almost like a massager. It doesn't pull on their hair so you are not in danger of creating a bad grooming experience when they are pups.
Puppy Proofing Supplies
Baby gates are a great way to keep your pup contained without them feeling closed off behind a door. The baby gate will allow them to be separated from you but they will still be able to see and hear you. They are also helpful if you are introducing a new dog to a home with existing pets.
We still use baby gates with our adult dogs. If we have guests over or if someone needs a time out we can use the gates to give them some space. So we have invested in baby gates that work with the decor or our home like these freestanding versions.
Accidents happen. If you have carpet, you may want to be prepared with some neutralizing carpet cleaner. We use nature's miracle which seems to prevent the pups from returning to the scene of the crime for repeat accidents.
Bonus Items: Travel Accessories
Many of the essential kits included travel bowls and water bottles. If you have a young puppy still waiting for shots, this may not be an immediate priority. However, you might want to consider something to protect your car when taking your pup to the vet.
We have had a bunch of car carriers but the Bark Box 2-1 Seat Cover/Pillow Set is the best at protecting the car from dog hair and mud. It also has pillows that help stabilize the dogs while we are driving.
Puppy Starter Kits
If pulling all that together does not sound like fun, don't stress. There are plenty of Puppy Starter Kits out there to get you ready for your new arrival.
THE MUST-HAVE
This is not a comprehensive kit, but it has something that no other kit provides: The Snuggly Puppy. This cozy plush toy has a pulsing heartbeat and heat pack to soothe your Puppy during stressful times. It has over 20,000 positive reviews on Amazon. Some pet parents say they finally got their first night of good sleep after introducing the snuggly puppy to their pup.
The hardest moment of training a puppy is to put them into that crate at night and go to your own bed. I would lie awake feeling like the biggest jerk for leaving my little fur-kid in their crate. I knew in my head is was the best thing for the pup but my heart was screaming "Go Get the Puppy!!" Knowing that your pup has a sweet little friend to cuddle with makes it so much easier. It calms their nerves and yours.
This also makes a great gift for new puppy parents. It's basically the gift of sleep.
INCLUDES: 5 ITEMS
Snuggle Puppy
Three extra heat packs
Plush snuggle blanket
Puppy's first toy
Pupcicle puppy teething comfort aid
BEST FOR DESIGN LOVERS
I am not ashamed to say that good design is essential to me. It's a huge adjustment to have a dog in your home. All their "stuff" will make a big impact on your space so it helps if their pet accessories look good on top of being functional.
The Wild One Walk and Play kit included everything you need to walk and play with your Puppy. These are high-quality items that will last into adulthood.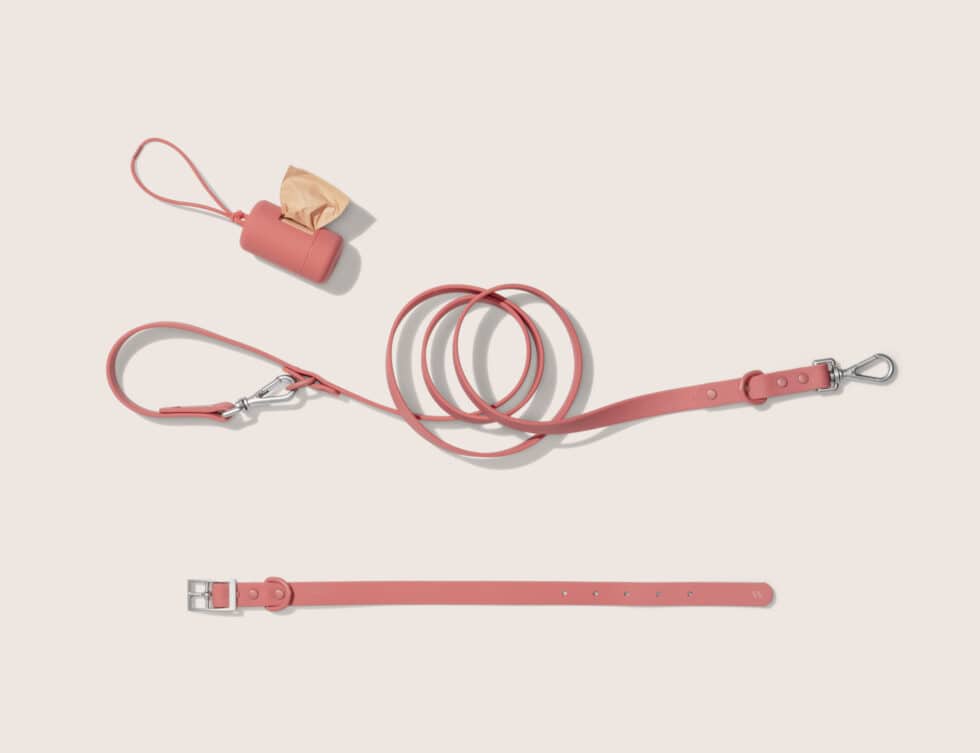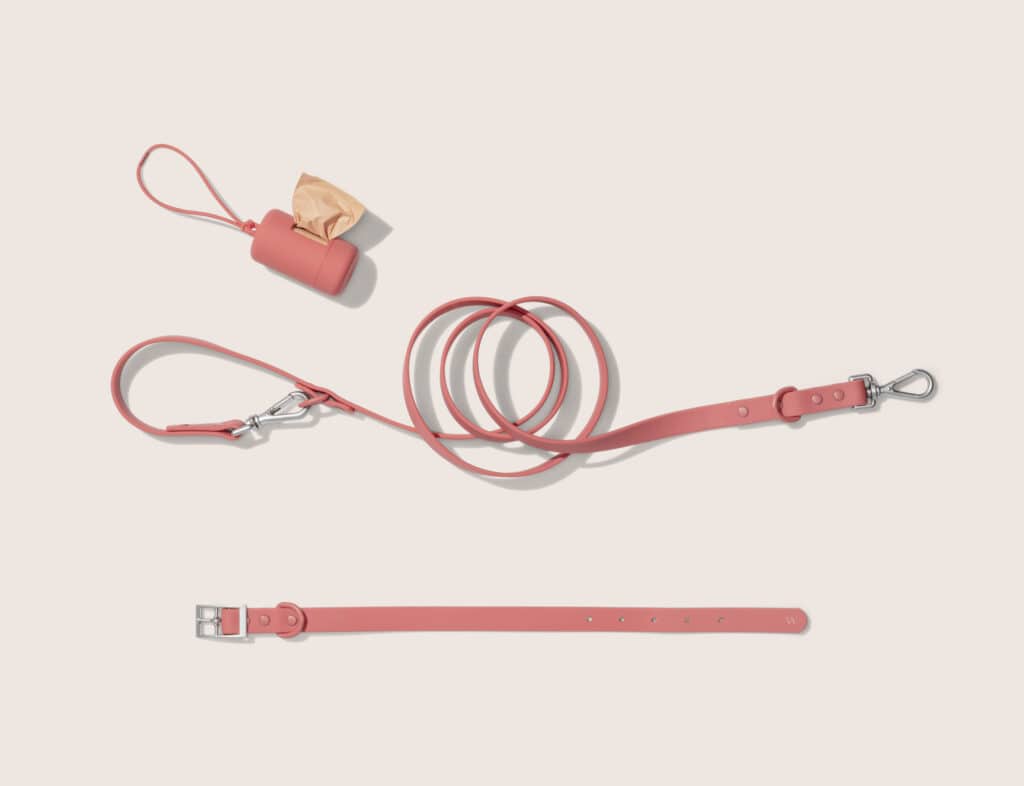 INCLUDES: 6 ITEMS
Harness
Leash
Poop bag carrier
Triangle Tug Toy
Bolt Bite treat dispensing toy
The Twist Toss
COLORS: Navy / Blush / Tan / Coral Red
HIGH QUALITY TOYS
The Midwest Puppy Starter Kit has toys made by Kong, which is one of the safest and most reliable dog toy brands. It also includes the Kong Zoom Groom brush, which is the perfect intro brush. There are kits for small, medium, and large dogs.
The one issue is that the dog bowls are designed to attach to the dog crate, but most puppies should not have water inside the crates until they are older and can hold water for an extended period of time.
It also includes puppy pads which are not neccesarily essential and could cause some confusion with house training.
INCLUDES: 9 ITEMS
Kong Classic toy & treats,
Zoom Groom puppy brush
Kong Wild Knot Bear
Dog collar
Leash set
Mid West dog bed,
Pack of 7 training pads
Two dog bowls
AFFORDABLE ESSENTIALS
This kit is the most affordable way to get all the essentials. There are no bells and whistles here, but the classic kit includes everything you need for a new puppy.
INCLUDES: 12 ITEMS
Pet blanket
Dog leash
Collar set
Two steel dog bowl
Pet grooming glove
Dog nail clippers
Two dog travel bowls
Rope toy
Ball toy – Interactive Feeder
Squeaky Monkey Toy
There are two upgrades
The 15 Piece Upgraded Version adds a few training items.
A treat pouch
Housetraining doorbell
A dog clicker
The 22 Piece Kit includes additional rope toys and (non-stuffing) plush toys
Three plush non-stuffing animals
Five rope toys
Rope ball
One teething rings
Rope Frisbee
BASICS WITH A FEW BELLS AND WHISTLES
The Setonware kits have solid basics and come in three colors. It also has some useful items not seen in the other bundles, like a lick mat. You can spread peanut butter or wet food on the lick mat, and your Pup will stay engaged by licking it off. It's great for puppies, but we use the lick mat with our adult dogs too. It distracts them while we clip their toenails or give them a bath.
INCLUDES: 23 ITEMS
Two Food bowls,
Dog blanket,
Dog Leash
Treat dispensing ball
Lick pad
Grooming glove,
Treat Bag,
Two Collapsible Travel Bowls,
Puppy training clicker,
Potty doorbells,
Teeth cleaning chew ring,
Two rope toys,
Six rolls of waste bags with a dispenser
COLORS: Blue, Pink, and Tangerine
Congrats on getting a new puppy! Whether you decide to DIY or purchase a Puppy Starter Kit, you are beginning a great adventure full of fun messes and messy kisses. We are excited to come along with you on the journey and promise to be there for you along the way.
Check out our other dog-friendly posts!